Introduction
When I was a kid, I spent the majority of my growing up years in East Africa.
I dreamt about visiting Zanzibar, experiencing the mix of cultures, exploring the narrow lanes of Stone Town, and sampling the delicious coastal cuisine.
Pictures of pristine turquoise waters and white sand kept me inspired, and I knew I had to visit eventually.
It wasn't until becoming an adult, during university when I had my first opportunity to visit the island. My first trip to Zanzibar was with my family, and we really only spent time in Stone Town before returning to Dar Es Salaam.
Stone Town was fascinating, but I didn't get to see much by way of the beaches. And on top of that, I didn't have a clue which beach to go to – Zanzibar (Unguja) is a decent sized island.
Back to Zanzibar…
So on my latest trip to Tanzania, this time with my wife, I decided we needed to go back to Zanzibar, and see as much of the island as we could.
We caught a quick flight to Stone Town from Dar Es Salaam, stayed there for a few days, and then made our way, using local transportation to the northern beach town of Nungwi.
From Nungwi, we slowly made our way down the East Coast of the island, stopping for a few days in a few of the main beach town destinations and checking them out.
In this Zanzibar travel guide, I'll be covering information about where to stay and what to do, but since I have such a huge passion for food, I'll be expanding the food side of travel a little more in depth.
I hope this guide will help you decided where to go, what to see, and what to eat when you visit Zanzibar.
The Challenge…
One of the challenges of visiting Zanzibar is that it can be hard to decide which town or beach you want to go to.
The goal of researching and writing this Zanzibar travel guide for food lovers was not only just to eat (my favorite activity in the world), but to figure out the pros and cons of each of the major town destinations on the island – in an attempt to help visitors to Zanzibar decide which destination is right for them.
It's a relatively small island, but it's still big enough to the point where you have to decide where to go, and which destination will best suit your interests when you're there – are you going for a honeymoon? a family vacation? a diving holiday? a beach-bum backpacking trip? or to explore the food and culture?
Keep reading this guide to discover Zanzibar.
Table of Contents:
This Zanzibar travel guide in a single article is about 15,000 words and includes many photos, so I decided to include a table of contents to help you navigate it better (or you can just read through the full guide).
Would you like this guide as an eBook?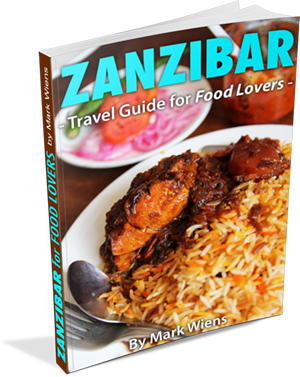 This Zanzibar travel guide is huge – it's over 14,750 words long! So I decided to make it into a downloadable PDF eBook so that you can read it offline or access it later.
You can download the eBook for FREE, or your can choose to support my work by paying what you want.
Note about Zanzibar
Zanzibar is composed of two main islands: Unguja and Pemba.
Unguja is the main island (and the island this guide is all about) and it's the island that's often referred to when someone just mentions "Zanzibar."
Pemba Island is north of Unguja, and is much less developed – however tourism is beginning to pick up on Pemba for its quiet beaches and especially for its incredible diving.
Though technically Zanzibar includes both Unguja and Pemba Islands, I'm going to refer to Zanzibar just as Unguja for the sake of ease throughout this guide.
Arriving and Leaving Zanzibar
Arriving by Plane
There are quite a number of flights from Europe that fly straight to Zanzibar, sometimes stopping in Kilimanjaro along the way (but skipping Dar Es Salaam altogether). If you take an international flight straight to Zanzibar, you'll have to get your Tanzania visa on arrival (visa info section below).
Plane from Dar Es Salaam
A quick 15 minute flight from Dar Es Salaam is convenient and easy to arrange. There are two main airlines that fly back and forth, Precision Air and Coastal Aviation.
On my latest visit to Zanzibar I took a flight with Precision Air and a round trip ticket cost just $80.
Normal prices on Coastal cost around $50 each way. But if you are in Dar Es Salaam, do check both airlines to see who has a better deal for the dates you want to visit.
Zanzibar Exit Fees: Keep in mind that upon leaving Zanzibar by air you'll need to have US Dollars readily available to pay the airport tax.
Domestic flights: $11 per person
International flights: $48 per person
They are pretty strict, so make sure you have the money to pay or you may not be able to leave!
Ferry from Dar Es Salaam
If you're a tourist visiting Tanzania, the ferry is not really much cheaper than taking a flight, and it takes a lot longer and isn't always the most comfortable. That being said, taking the ferry is a good experience and it can be fun.
In Dar Es Salaam, it's best to purchase your ferry ticket a day ahead of time, especially in the peak travel season or around local holidays. The Dar Es Salaam passenger ferry terminal is located on the waterfront in downtown, right off Sokoine Dr.
Azam Marine is one of the best companies that offers ferry service to Zanzibar. They have a relatively new fleet, and the Kilimanjaro series of ferries are pretty decent and modern.
From Dar, ferries depart at 7 am, 9:30 am, 12:30 pm, and 3:45 pm. Rates for non-residents are from $35 – $40 one way. Check out their website for more information and you may also be able to book online: http://www.azammarine.com/
If you choose to take the ferry in one direction and fly the other direction, you should take the ferry from Dar Es Salaam to Zanzibar instead of vice-versa.
The return journey to the mainland can sometimes be very rough. That being said, if you are prone to seasickness, you may want to avoid the ferry altogether and take the flight, not to mention it's almost the same price and much quicker, and less of a hassle.
Tanzania (Zanzibar) Visa
Zanzibar is governed under The United Republic of Tanzania, so therefore a Tanzania visa is required to stay on the island.
If you come by ferry from Dar Es Salaam, you will already have a Tanzania visa, in which case you don't need anything extra when you arrive in Zanzibar. You do need a valid passport, which you have anyways, and occasionally you'll have to fill out an entry card (sometimes not), but you don't need anything extra (this is just to monitor tourism).
Same goes for domestic flights from other parts of Tanzania. You just arrive to the airport and can head straight out without any extras. The last time I flew into Zanzibar from Dar Es Salaam, I didn't even need to fill out an entry card (so it just depends on how immigration is feeling that day…!).
If you fly directly into Zanzibar on an international flight, depending on which country you're from, you can apply for a Tanzania visa on arrival, and some countries don't need a visa at all. If you are eligible for a visa on arrival, here's what you need to do:
Fill out tourist visa application form (you'll need an address in Zanzibar like the hotel you'll be staying at, so have all that information available). Applications are either available online or at the airport once you arrive.
Fill out your arrival card available at the airport (they might give it to you on the plane)
Passport that's still valid for at least the next 6 months
$100 (this is for US citizens, may be less or the same for your country). Make sure the dollars are crisp and dated 2006 or newer.
Note: Also make sure you are up to date on your vaccines, especially Yellow Fever.
Warnings, Safety Precautions, Valuables
One of the biggest concerns traveling to any destination (no matter where you choose to go in the world), is safety and security.
The first step is to check with your embassy and also the current news about what's going on. An example would be to check the current travel advisory on http://travel.state.gov/.
There have been a few reports of criminal activity such as rape and a small acid attack in Zanzibar. But all in all, Zanzibar at the moment is a relatively safe and stable place in Africa.
On a more tangible level, let's go over a few things to keep in mind when you're actually in Zanzibar.
First thing to remember is that theft in Zanzibar, is quite common.
Most of the time theft in Zanzibar is non-violent, meaning more along the lines of pickpocketing.
But at the same time, it's best to use discretion when carrying valuables around on the street. If you carry around a DSLR camera, it's normally fine, just know your risks, be attentive, and be prepared.
Some stretches of beach, particularly in the Nungwi area, when you get away from hotels, are known for theft.
Lonely tourists walking down the beach carrying big cameras and cash can be attacked by thugs that jump out from hiding in the rocks.
So the main thing to learn here is that you should not really walk down the beach carrying anything you're too attached too.
And number two, when you're walking along the beach, try to walk with a group, walk a little ways away from the shore and rocks, and pay attention to your surroundings.
Most hotel rooms, at least starting from the mid-range options, normally have a safe deposit box.
Be sure to lock your valuables, even your laptop, in the safe before heading out. In more budget guest houses, they occasionally have safe boxes at the front desk where you can store your belongings before you head out.
For the most part in Zanzibar, utilize common sense, like DON'T leave you bag on the beach unattended and go for a quick dip in the ocean (even if it's just for one minute), and you should be fine.
Also, I would recommend just taking it easy, and not trying to dress or look over the top luxury.
As a final personal note, my wife and I traveled to Zanzibar for two weeks and we trekked all around the island taking local transportation and walking a lot. She and I both felt quite comfortable without many safety concerns.
Note: As a tip, when I do need to carry a lot of money or valuables (like after going to the ATM or transferring hotels) I carry most of my cash and credit cards in an "in the pants wallet" (click here to see what I mean). I also carry a normal wallet in my front pocket where I keep about $10 worth of money at any given time.
Taking Photos and Videos
Zanzibar, with its huge tourism industry, is not new to the camera, and just about everyone knows and has seen many people taking photos.
So overall, it's easier to take photos in Zanzibar than in mainland cities and villages in Tanzania where people are often less accustomed to seeing cameras.
Overall, throughout Stone Town and the beach villages, you are free to take photos of just about everything (but read the people section below) – buildings, beaches, landmarks, etc.
However, like in all of Africa, taking photos of government buildings and government people is pretty much off limits and you'll get a stern word from an official (if he sees you) to not take photos (this includes airports and soldiers).
When it comes to people, markets and villages, Zanzibar is still very traditional.
So while it's normally alright to take general photos of the surrounding area or village, if you specifically aim your camera a someones face, they probably won't be too happy (or they'll want money).
In order to be courteous, just ask, or motion to a person if it's OK to take a photo (with a big smile on your face). Some will say yes, others no, but it's the right thing to do.
In the beach villages kids will often come up to you asking for a photo, then occasionally after you take the photo, they will then extend their hands for money.
I don't think it's a good idea to give them money.
We don't want to encourage them to keep doing this. Instead you can tell them "no money," from the start – before you ever take a photo. Once you say that, many of the kids are just happy to have a photo and then see themselves on the LCD screen.
Cost of Traveling in Zanzibar
Zanzibar, in my opinion, is a little overpriced on a whole.
Accommodation and food, plus activities like diving, are usually the main expenses on any trip to the island. The most budget places to stay, are really not great quality, and for mid-range accommodation the costs really add up.
Overall, Zanzibar is not a budget travelers destination, and many people often come on holiday looking to spend money and have a luxury stay.
That being said, there are some cheaper options, and there are ways to get by on a budget, which I will share with you throughout this guide.
Here's a rough guide of how much you'll be spending on a variety of necessities in Zanzibar.
Accommodation:
Budget: $15 – $60 per night for a double
Mid-range: $60 – $150 per night for a double
Luxury: $150 – $500 per night or more for a double
Food and Drinks:
Food at local restaurants in Stone Town is quite affordable (around $2 – $3 for a good meal) but when you get to the smaller beach villages, and have to eat at hotel restaurants, you pay more like $10 – $15 per meal.
Local restaurant meal: 3,000 – 5,000 TZS ($1.75 – $2.92)
Normal hotel restaurant meal: 15,000 – 20,000 TZS ($8.77 – $11.70)
1.5 liter bottle of water at shop: 1,000 TZS ($0.58)
Overall Budget:
Low Budget: About $50 – $75 per person per day
Mid-range: $75 – $150 per person per day
Luxury: $150 and up, per person per day
Tips on how to save money
Like I normally mention in all my travel writings, don't try to do everything.
Focus on the things you really want to do, and spend your money on those. If you're a lover of history, spend your money on going to the museum and seeing the ruins in Stone Town, but if not, you may be able to skip them.
Breakfast is sometimes served complimentary at hotels, so chow down for breakfast, have a late big lunch, and for dinner stay in your room and eat oatmeal and fruit (this is what I did quite often to save money).
Seasons of Zanzibar (Low, High, and Peak)
The price of accommodation in Zanzibar changes drastically between the three tourist seasons: low, high, and peak.
Visit Zanzibar during peak season and you could easily pay twice as much on accommodation as you would during low season.
Also, during low season you have more flexibility to bargain, as rooms are empty. So at a hotel for instance, you could either show up, or contact them ahead of time and ask for a discount.
However, there are tradeoffs. Low season is normally rainy season, so conditions are not always that great.
Low season: April – Mid-June, November
High season: Mid-June – Mid-December,
Peak season: Mid-December – Mid-February, Mid-July – Mid-August
These are just estimates, some hotels have their own schedule of low and high season, and pricing system.
Zanzibar Food: 10 Dishes You Should Try
Zanzibar, with its strategic location just off the coast of East Africa, has long been a melting pot.
Arab traders from the Middle East, Portuguese invasions, immigrants from India – the list goes on. The result is a truly unique Zanzibar culture and a mixture of marvelous cuisines.
The spices from Middle Eastern and Indian cooking, paired with the wonderful natural ingredients and seafood from Zanzibar, makes Zanzibar food so delicious.
Here are 10 different foods and snacks that you should eat in Zanzibar.
1. Biryani
Biryani, with origins in the Middle East and parts of India, is also one of the most famous dishes to eat in Zanzibar.
The rice is cooked in a variety of spices, and then paired together with a meat or fish curry, that always accompanies the rice.
As opposed to pilau (like below), biryani is the style where the rice and curry dishes are cooked separately and then combined together to make the dish complete.
Popular versions include fish, beef, and goat.
2. Pilau Rice
Unlike biryani, where the rice and dish are cooked separately, pilau normally intends that the rice and meat and spices are all combined and cooked together. So it's a bit drier than biryani (as there's no curry sauce), but it also tends to be a little more spice flavored than biryani.
This is what the technical difference is, however the rules are stretched in Zanzibar, and you can often get pilau with a piece of deep fried fish (obviously not cooked with the rice).
Both biryani and pilau are excellent, and you should definitely try them both to see which one you prefer. I like them both equally, and can't pick a favorite, so I normally just order 2 plates!
Get exclusive updates
Enter your email and I'll send you the best travel food content.
You can get pilau with beef, goat, or fish.
3. Octopus Curry (mchuzi wa pweza)
Octopus is a favorite seafood in Zanzibar and it's widely eaten at both street food stalls and fancy hotels throughout the island.
On the eastern beaches of Zanzibar, you'll often find people searching for octopus trapped in coral rock pools when the tide goes down. They then will often beat the octopus on a rock to tenderize it.
Slices of octopus are normally cooked in a blend of rich spices like turmeric, coriander, and then simmered in a think coconut cream gravy. The result is nothing short of marvelous. Octopus curry is easily one of my favorite things to eat in Zanzibar.
4. Urojo (mix)
In mainland Tanzania, they call it Zanzibar Mix, but on the island they call it urojo – and to my understanding, they are basically the same dish.
It's a mishmash of a dish, a unique creation, that begins with bhajias and other crispy fritters, all mingled in a curry gravy and topped with more crispy fritters.
It's sort of like the ultimate Tanzanian Zanzibari junk food in a bowl, and you should definitely give it a try.
5. Mandazi (& Other Cakes)
A mandazi is basically the Swahili version of a doughnut, a deep fried lump of dough that's lightly sweetened and occasionally seasoned with a hint of cardamom.
The dough is usually cut into a triangular shape, then deep fried until it turns dark golden brown, and usually enjoyed with a hot and sweet cup of chai.
You'll find mandazis everywhere from sit down restaurants to street food stalls where they often sit in glass cabinets waiting to be purchased.
There are all sorts of other random deep fried treats to snack on in Zanzibar such as: samosas (a triangle of fried dough usually filled with meat or vegetables), vitumbua (rice flour coconut cake), among others.
6. Zanzibar Pizza
I have no idea what the origins of this rather bizarre and tasty concoction of ingredients is, but it is famous throughout the island, especially at the Forodhani night market in Stone Town.
They basically take a small ball of dough, thin it out and start frying it on a hot pan surface. Then goes in whatever ingredients you asked for – like chicken or beef or fish – and then a mixture of peppers and onions, and and egg then gets poured into the middle of the dough.
The final step is to add some mayonnaise and processed happy cow cheese to the mix, and fold up the Zanzibari pizza (video) into a rectangle.
7. Mishkaki
For a delicious meat snack, usually either chicken or beef, grab a few skewers of mishkaki.
To me, mishkaki is somewhere in between Indian style and Middle Eastern style kebab skewers, the meat marinated in a nice blend of spices and sauce, then grilled to charred perfection on the outside.
The sticks of mishkaki are great to eat for a meal, and in Zanzibar, especially around the streets of Stone Town, you'll find them grilling them up in the late afternoon.
In Dar Es Salaam, you'll find huge skewers of meat, while in Zanzibar they are normally a little smaller.
8. Octopus and Casava
Along with mishkaki, another popular street food snack in Zanzibar is the combination of octopus pieces with fried cassava.
The octopus is usually fried as well, diced into bite sized pieces, and served on a piece of yesterdays newspaper along with some chunks of fried cassava (like a starchy potato).
Once you get your street food snack, you can either sprinkle on some salt, or get a squirt of the chili tomato sauce that's often provided.
9. Chips Mayai
Comfort food at its finest would describe this popular east African style French fries (chips) omelet.
The French fries are first deep fried, then tossed into a skillet with a couple of eggs, and fried into a circular omelet. The result is far from anything remotely healthy, but I would have to say that it's quite tasty.
I like to eat my chips mayai with some extra chilies, kachumbari (tomatoes and onions), and a douse of tomato sauce to make things tangy.
10. Durian
One of the world's most unique and amazing fruits is available, during season, in Zanzibar.
Living in Thailand, I have become quite obsessed with the king of fruits, and there's nothing more enjoyable for myself than being able to taste a durian in every country possible.
Durian is normally only available in season, so unfortunately if you visit Zanzibar on off durian season it might be impossible to find. But if you're there during season, make sure you sample this delicacy.
You'll find plenty of other good tropical fruit in Zanzibar too.
Stone Town Travel Guide
Why should you go to Stone Town?
Stone Town is the major city, the cultural and historical capital, and a fascinating melting pot.
The town is a great place to visit in order to learn about the history of the island, visit museums, explore the narrow lanes of the ancient town, and find local Zanzibar restaurants.
If you like to eat, Stone Town provides by far the best local style Zanzibari food on the island, in my opinion.
Everyone that travels to Zanzibar should either stay for a few days, or if staying at a different beach, should at least come to explore Stone Town for a day trip away from the beach.
Top Things To Do in Stone Town
The Old Fort – The Old Fort, located across the street from the Fordhani Gardens in central Stone Town, was built by Omanis in 1699. There's not so much to do or see here, but you can walk around the ruins, visit the souvenir shops within and outside the fort, and go to the art gallery. The official Zanzibar Tourism office is located at the entrance of the Old Fort. They are quite helpful and willing to give you information about Stone Town. | Hours: daytime | Price: Free
House of Wonders – The House of Wonders, dominating the central oceanfront near the Forodhani gardens, is one of the most recognizable structures in Stone Town. It was formerly a palace, built in 1883 by the second Sultan of Zanzibar, Barghash bin Said. Nowadays, the House of Wonders, with the huge cannons that sit out front, is a museum showcasing the history and culture of the island. Overall, I prefer the Palace Museum, but if you want to learn all you can about the history of Zanzibar, go for it. | Hours: 9 am – 6 pm daily | Price: 5,000 TZS ($2.92)
Palace Museum – Also known as the Sultan's Palace or Beit el-Sahel, this central Stone Town museum is a three story mansion built for the Omani Sultan and his family in the 19th century. The entire home is now a museum that's filled with artwork, paintings of the various Sultans, original furniture and decorations, and lots of interesting historical artifacts. You can get a great view of the harbor and ferry terminal from the third floor balcony. | Hours: 8:30 am – 6 pm daily | Price: 5,000 TZS ($2.92)
The Hamamni Persian Baths – There's not much to see or do at the Hamamni Baths, but if you happen to be strolling past, you might take a peek inside. You enter the small dungeon style doorway and there's a small entrance fee where you pay the lady and get a ticket. Men sitting around the attraction may approach you, saying the entrance fee is something like 5000 TZS. Avoid them and just walk inside and there's a lady who you buy your ticket from for $1 (1,500 TZS). Once inside you just look around for a few minutes and that's that. | Hours: 9 am – 6 pm daily | Price: 1,500 TZS (it's barely worth paying anything for though)
Anglican Cathedral and Former Slave Market Site – Zanzibar has a long history, and was once the center of the Middle Eastern slave trade. At the site of the current Anglican Cathedral is where many of the slaves that left the island were traded. The cathedral was built after the slave trade ended. The site is more of a memorial, where you can see the chamber used to hold former slaves. | Hours: 8 am – 6 pm daily, but on Sunday you can only enter after the service around noon | Price: $4 or 6,000 TZS
St. Josephs Cathedral – The Roman Catholic cathedral in the heart of the winding lanes of Stone Town can be accessed from the backside entrance. It's an iconic landmark in the Stone Town, and if you happen to walk past it, you can enter the compound and take a look inside. Alternatively, from the rooftops of many of the hotels in Stone Town, you'll see the steeples rising high above the Stone Town skyline. | Price – Free

Walking the lanes of Stone Town

Explore the Lanes – Easily the top attraction of visiting Stone Town is to just get lost exploring the ancient narrow lanes. On both sides of the lanes you'll discover souvenir shops, hotels, restaurants, cafes, places of worship, street food stalls, and produce vendors. Kids going to school, Vespas cruising thundering past, and carts full of oranges, are just a few of the things you'll encounter on any stroll through Stone Town. If you feel like you're walking in circles, you probably are. But don't worry, locals are happy to point you in the right direction.

Darajani Market – Just outside the narrow lanes of Stone Town is the lively Darajani Market. This is the place where nearly all types of food supplies and ingredients from around the island are traded and sold. Giant stalks of plantains, stacks of cassava, and spices like cardamom, cinnamon, turmeric, and cloves are all represented. There's a large section of the market dedicated to fresh meat and also a fish market where you can check out the auction and occasionally spot huge sailfish and tuna. | Hours: all day | Price: Free
Where to Stay in Stone Town
Kisiwa House
Kisiwa House is a luxurious boutique hotel that's incredibly well designed and extremely comfortable.
We had the privilege of staying for a night, and it was a truly memorable stay; Care is put into every detail of the hotel. The rooms include a comfortable Zanzibari bed, fridge, tv, safe deposit box, and many other amenities to make your stay extremely pleasant. The wi-fi was also excellent, and the staff were friendly and helpful. We loved our stay at Kisiwa House!
Prices: $150 – $200 for a double
Website: http://www.kisiwahouse.com/
Contact: [email protected], +255 (0)24 2235654, +255 (0)24 2236786
Africa House Hotel
One of the classic colonial hotels in Zanzibar is the famous Africa House.
The luxury hotel has a history of being built by a slave trader from Oman, later becoming an English club of East Africa, and now a boutique luxury hotel. The hotel has lots of character and antique elegance, plus a great communal social area on the second floor which is an amazing place for a drink or meal with a wonderful view of the Indian Ocean.
Prices: $150 – $200 for a double
Website: http://www.africahousehotel.com/
Contact: [email protected], +255 (0)774 43 23 40, +255 (0)777 212621
Zenji Hotel
Just a stones throw from the Stone Town central ferry terminal, Zenji Hotel is a boutique mid-ranged friendly guest house.
The rooms are outfitted with Zanzibari style beds and local decoration, air condition, and a safe box for your valuables. Additionally, the Zenji Zanzibar Foundation is a locally owned and organized project that aims to support local communities on the island, and many of the crafts are displayed within the hotel.
The staff at Zenji Hotel are extremely helpful and willing to help organize anything or just offer advice. The hotel is located near the ferry terminal, so not right in the center of Stone Town, but a 5 – 10 minute walk away (just so you know) from the Stone Town lanes.
Additionally, a few of the best restaurants in all of Stone Town, like Passing Show Hotel and Mukhy's are located right next to Zenji Hotel.
Prices: $65 – $100 for a double
Website: http://www.zenjizanzibar.com/
Contact: [email protected], +255 776 705 592 or +255 774 276 468
Karibu Inn
Karibu Inn is a decent option if you're looking for a real budget place to stay in the heart of Stone Town. The rooms are basic, clean, and functioning, but don't expect too much extra.
A great thing about Karibu Inn is its location, just before Shangani Road and across the lane from NBC Bank. When you check in, make sure you ask for towels and a top sheet.
Prices: $40 for a double, $15 bed in dorm room
Contact: [email protected], +255 24 223 3058
Kiponda Bed and Breakfast
Located within the Stone Town lanes behind the Palace Museum, Kiponda is a family style run bed and breakfast in a local area.
It's an original building, designed in Arab and Swahili styles. The rooms are of decent size, clean and cozy, and a good deal. Get a room with AC if you can.
Prices: $40 – $60 for a double with breakfast
Website: www.kiponda.com
Contact: [email protected], +255 24 2233052
Also, find more places to stay in Stone Town here.
Best Restaurants in Stone Town
When it comes to local Zanzibari food, there's no better place on the island to experience it than right in Stone Town, the largest city.
While there are plenty of Western and international restaurants, I've chosen to focus my suggestions (and use my calories) on places that serve local cuisine – after-all, I'm a firm believer that the best food to eat when you travel to any destination you travel, is local food.
Stone Town, is in my opinion, the best place on the island when it comes to food.
1. Lukmaan Restaurant
Lukmaan restaurant is one of the most well known local standards for tasty Zanzibari food.
You'll find delicious dishes like biryani, pilau rice, fried fish, a variety of pre-made curries, and a selection of deep fried snacks like samosas and mandazis.
Lukmaan is a great restaurant to experience the authentic flavors of Zanzibar. There's no menu, but you just point and choose, or tell the servers what you want, and then pay at the counter before grabbing a seat.
What to eat: Their pilau rice is particularly excellent, one of the best I've had in Zanzibar, and also try their octopus curry which is excellent. Expect to pay about 5,000 TZS ($2.92) per person for a stunning feast.
How to get there: It's located on New Mkunazini Rd., just a short distance from the Anglican Church and former slave market
Open hours: 7 am – 9 pm daily
2. Passing Show Hotel
Just like Lukmaan, Passing Show Hotel is another extremely famous Zanzibar food institution and serves just about the same menu, equally delicious.
The restaurant serves a steady stream of hungry customers through the day, dishing out favorites like goat and fish biryani, rice pilau, beans, stewed vegetables, and a full assortment of deep fried snacks. They also make a marvelous fresh tamarind juice if you need something sweet to drink.
What to eat: The curries are good, the biryani and pilau are both decent, and the stewed green vegetables are wonderful. For a great meal you'll spend about 5,000 TZS ($2.92) per person.
How to get there: From the Stone Town ferry terminal, head away from ocean on Malawi road. Walk for a couple hundred meters, and just after Zenji Hotel, you'll see Passing Show on your right hand side.
Open hours: 7 am – 9 pm daily
3. Al-Jabry Restaurant
Another local favorite for Zanzibari food in Stone Town is a restaurant known as Al-Jabry.
I was actually searching for a local Zanzibari dish known as boko-boko, a meat porridge soup, when many locals in the area pointed me to Al-Jabry, and that's how I first heard about the restaurant.
They have all the local dishes available, including biryani and pilau, but I haven't had a chance to try them all myself yet, but I'm sure they are pretty good. The boko-boko was interesting and good.
What to eat: biryani, pilau, curry, beef soup
How to get there: Al-Jabry is located near the old slave chamber
Address: Tharia St., Mkunazini Rd, Stone Town, Zanzibar
Open hours: 7:30 am – 10 pm daily
4. Forodhani Gardens
Every evening, beginning at about 5 pm, street food vendors wheel out their tables to the Forodhani Gardens to prepare for the evening street food fest.
All sorts of seafood like lobster, fish, shrimp and octopus are displayed on skewers, pre-cooked, and when you order it, they will be quickly heated over charcoal.
I'm going to tell you right now, the seafood is not the freshest, and although it does look tempting, you may want to avoid it.
The good news is, there are other things to eat like Zanzibar pizza, a roti filled with meat, veggies, an egg and cheese and then wrapped up and fried, a chicken shawarma stall, a number of vendors that sell urojo, a Zanzibar snack soup mix (popular with locals), and fresh sugar cane juice to wash everything down.
Some of the seafood vendors can be a bit aggressive to try and get you to buy from them, but most of the time it's in a nice way. Just kindly say no thank you and keep moving.
How to get there: Show up at the Fordhani Gardens anywhere from around 5 pm – 9 pm each evening
Prices: Zanzibar pizza (2,000 – 4000 TZS depending on what you get inside ($1.17 – $2.34), Chicken shawarma (3,000 TZS ($1.76), plate of seafood (10,000 TZS ($5.85), uroja mix (2,000 TZS ($1.17), sugar cane juice (1,000 TZS ($0.58)
Open hours: 6 pm – 9 pm daily
5. Mzuri Sana
Mzuri Sana is a small local restaurant that serves delicious Tanzanian and Zanzibari food, and it happens to be owned by a Chinese lady.
The informal restaurant has indoor seating and a few tables in the front. You walk inside, choose whatever you'd like, and then the dishes will be served to you.
Eggplant, collard greens, fish soup, fried beef, chapatis, bread, mandazis, and rice are a few of the dishes available.
The food is simple but good.
What to eat: All the dishes are simple and tasty. I had beef mixed with carrots and onions, green vegetable, a fish tail soup, a crispy chapati, and 2 cups of chai all for 6,000 TZS ($3.51).
How to get there: The restaurant is across the street from Zenji Hotel, on Malawi Road
Open hours: 7 am – 9 pm daily
6. Mukhy's
Mukhy's is a little restaurant street food stall that mainly serves grilled tandoori chicken, an assortment of deep fried snacks, and cold sodas.
The chicken in particular is absolutely wonderful, and the crew of staff are all very friendly.
The food is tasty and cheap.
What to eat: Chicken and chips (6,000 TZS ($3.51) or mishkaki and chips
How to get there: From the Stone Town ferry terminal, walk away from the ocean on Malawi road. Around 30 meters, on the right hand side, just before you get to Zenji Hotel, you'll see Mukhy's.
Open hours: 7 am – midnight, but very informal hours, they are open most of the time is what the owner told me.
7. Jaws Corner – Coffee
A legendary local cafe, and a place I make a point to visit every time I'm in Stone Town, Jaws Corner is where men come to drink a few cups of coffee, talk about politics, and play board games.
The coffee is always served hot and occasionally the coffee master will have a bucket full of kashata (like a peanut brittle) available to nibble on with your black coffee.
The cups are just rinsed in normal water, so if you're concerned, you may want to bring your own cup (however, I've enjoyed many cups and never had a problem).
What to eat: Zanzibar style coffee (100 TZS ($0.06) per cup, and you can easily have 2 – 3 cups or more, and it won't break your bank)
How to get there: It's tricky, but the coffee shop is located at the intersection of Cathedral St., Baghani St., and Soko Muhogo St. Ask any local and they will point you in the right direction, just keep going until you get there.
Open hours: Early in the morning until late in the afternoon
Best Beaches in Zanzibar
Choosing and enjoying a beach or a destination in Zanzibar is all about expectations.
Through this Zanzibar travel guide, I hope to uncover some of your expectations and advise you on a destination that will cater specifically to your interests, so that you have the time of your life visiting Zanzibar.
Here are the beaches that I will cover in this part of the Zanzibar guide (I've tried to include the pros and cons of each town, so you can get a better idea if it will suit your interests).
Nungwi & Kendwa – Beautiful swimming beaches, parties, water sports, resort, family, backpacker
Matemwe (and Uroa and Pongwe) – Peace and quiet, diving, local culture, family
Michamvi Peninsula – Resorts, beautiful beach, luxury, family
Bwejuu – Great local Zanzibar culture, friendly village, backpacker
Paje – Beautiful beach, water sports like kitesurfing, budget, backpacker, family
Jambiani – Beautiful beach, water sports, backpacker, family, local village life
For each of these towns in Zanzibar, I'll do my best to give you a picture of what it's like, so you can better decide where you want to go.
I'll also share what there is to do there, where to stay, what to eat, and any other tips I figured out when I was there.
Nungwi Travel Guide (North)
Nungwi is located at the very northern tip of Zanzibar. After Stone Town, it's one of the most popular areas of the island, and it's the seconds biggest village in Zanzibar.
Nungwi is known for being a major fishing village, and they are also locally known for their traditional dhow sailboat making – best on the island.
Getting to Nungwi
If you book a higher end resort or hotel, they may arrange to pick you up from either Stone Town or the airport (either for a fee or included).
However, to get to Nungwi village on your own, there are a number of choices.
Private Taxi – It's easy to get a taxi directly to Nungwi, and you can arrange either through a hotel or get one yourself. Many taxis hang out along the side of the streets in central Stone Town, especially in the Shangani district. Should cost around $30 – $40, though you will likely be quoted higher at first, so do some talking. Takes about 45 minutes.
Shared Tourist Van – Ask at any of the guest houses in Stone Town, and you can reserve a seat on a shared tourist van direct to Nungwi. Usually 10,000 TZS ($5.85) per person, depart in the morning each day at about 8 am (may have an afternoon van as well depending on demand). Takes about 1 hour.
Public Dalla Dalla – The local form of dalla dalla transportation, also known as the chicken bus, is another fantastic way to get to Nungwi. Dalla dallas leave from the Darajani Market. Just show up at anytime (best in the morning), load yourself into #116, wait until the dalla dalla is full, and then over-full, and then you'll depart. It's a good local Zanzibar experience, but don't expect a comfortable ride… you might have a stock of bananas on your lap, some fish at your feet, and other passengers in every hole in the back of the truck. But if you enjoy this type of experience, go for it. Costs 2,000 TZS ($1.17) per person, and the ride can take 1.5 – 2 hours, with many people in and out at lots of stops. Dalla dalla will drop you off in the center of the Nungwi.
Why should you go to Nungwi?
Nungwi and Kendwa (located just a 5 minute drive from Nungwi), in my opinion, have the best swimming beaches on the island.
The water is both deep, turquoise blue and clear, and when you're on the very northern tip of the island, the water is not affected very much by high and low tide (like the East coast is, more about this later).
Along with one of the best swimming beaches in all of Zanzibar, Nungwi is a good option if you're looking for nightlife, action, parties, and social interaction – it's one of the most popular beaches – so you have more of a chance of meeting other travelers.
Nungwi village itself is quite large and a good place to explore the culture of Zanzibar – though they are very accustomed to tourists – maybe too much so – and there are many touts.
Pros: beautiful beach, parties and clubs, lots of activities, diving, sailing, snorkeling
Cons: louder than other beach towns, more touts, more muggings, huge all inclusive resorts, expensive
Where to stay in Nungwi
Nungwi is well known as a beach resort town in Zanzibar, having many high-end, all-inclusive resorts.
Many of the resorts such as the Zanzibari, Essque Zalu Zanzibar, or the Z Hotel, cater specifically to Italian tourists who often fly straight from Italy, drive directly to their Nungwi resort, and spend their entire Zanzibar holiday at their resort without leaving.
But even with the many resorts, there are still a few smaller hotel style residences as well as some bungalows available in Nungwi.
Ras Nungwi Beach Hotel
Described as laid-back luxury, Ras Nungwi Beach Hotel is just that, plus a lot more.
This upscale hotel is located on an extremely quiet strip of private beach. It's the type of hotel you want to go to for extreme relaxation and for an experience where you can have time to yourself without any outside noise from others. The panoramic views of the Indian ocean from Ras Nungwi are incredible.
Also the staff are always willing to accommodate your every desire, doing things like setting up a romantic meal on the beach.
Pros: Peaceful and serene, private beach pretty much all to yourself, amazing views and sunrises, the full range of resort activities and facilities, excellent service, beautiful grounds, good for romance / couples
Cons: Located a few kilometers from Nungwi town (for activities, restaurants etc.), since it's on the East side of Nungwi there's a huge difference in low and high tide, swimming in the sea is not the best
Website: Ras Nungwi
Prices: About $100 – $200 per night
Langi Langi Beach Bungalows
On the very northern tip of the island, just a short distance from the center of Nungwi village, is Langi Langi.
Though called bungalows, it's more of a hotel style in my opinion, but it's still small and friendlier than the giant resorts, and the rooms are nicely furnished, and clean.
For beach lovers, it hardly gets better than Langi Langi, because the hotel is literally right above the crystal clear water.
Pros: amazing swimming beach and view directly from the hotel, good restaurant
Cons: It's a loud area, and there's not a lot of space, hotels surrounding on both sides
Website: Langi Langi Beach Bungalows
Prices: I was quoted $100 for a double per night, but prices do fluctuate quite a lot by season
Paradise Beach Bungalows
One of the budget accommodation / backpacker options in Nungwi is Paradise Beach Bungalows, located adjacent to Langi Langi.
Again, the beach here is magnificent at both high and low tides, you can easily swim and enjoy the water. The rooms are basic, but clean enough and functional, and they are all just a few steps from the sea.
Also, this central area of Nungwi has plenty to offer by way of tour agencies, diving, shopping, nightlife, and food.
Pros: awesome beachfront, good location, affordable price, meet backpacker travelers
Cons: nothing fancy, bare bones
Prices: I was quoted $50 for a double, but do negotiate, and rates change according to season
Find more places to stay in Nungwi here.
Top Things To do In Nungwi
Walk around Nungwi village – Nungwi is the largest village outside of Stone Town – it's not big, but it's a pretty good sized village – home to a few thousand residents. The village is famous for its dhow (a traditional East African) sailboat building. You are free to walk to the local fish market, the dhow construction yard, and also within the village to see local living conditions and life. Nearly all hotels, and a number of official tour operators in Nungwi, offer Nungwi village tours. It's worth it to hire a guide, especially if you want to take photos, and also because the guide knows how to get around the village. Private guided tours usually start around $15 per person, but you can usually get down to $10, or even 10,000 TZS per person. Always do some negotiating. We hired a guide from the tour operator just outside the Mnarani Aquarium in central Nungwi town along the beach – recommended.
Dhow cruise – In my opinion, one of the best things you can do in Nungwi is take a sunset cruise on a local dhow sailboat. Dhows, a wooden built boat with a canvas sail, were originally introduced likely from Yemen hundreds of years ago. They are a truly important part of transportation and industry (still used for fishing) on the island. There are both private (my high recommendation) and group cruises (more party style) available. In the late afternoon, there's just nothing quite like taking to the beautiful turquoise Nungwi sea while gracefully sailing with the wind. I arranged my private dhow cruise with the tour agency adjacent to the Nungwi Aquarium. From Nungwi, the dhow normally sails westward along the coast well past Kendwa, before turning around to catch the sunset. Price for private dhow cruise will cost $40 – $50 for 2 – 3 hours.

Mnarani Turtles Conservation

Mnarani Turtles Conservation – Located in the center of Nungwi village along the coast and next to the village fish market, is the Mnarani Turtles Conservation park (aquarium). The small conservation aims to preserve and habilitate sea turtles which breed on Mnemba island (just off the coast of Zanzibar). It's really small, and in my opinion, it's not really worth the entrance fee, unless you really like turtles or want to support their cause (it is a good cause). Just outside the conservation is a tour agency that offers a number of good Nungwi tours. Price – $5 per person, and with that you'll receive (without asking) a guide, who leads you around for about 5 minutes and then wants a tip (this is very common in Zanzibar).
Diving, Nungwi – like much of the island of Zanzibar, Nungwi is popular for diving. I'm not a diver, so I don't know much about it, but here are some sites to check out: http://www.divezanzibar.com/,  http://www.diving-zanzibar.com/en/index.html
Food in Nungwi
Like I've mentioned already, Stone Town is by far the best place in Zanzibar to eat local food.
Nungwi, a much smaller beachside village, has very few local style restaurants (because many locals that live in Nungwi simply don't have a need to eat meals at restaurants when they can eat at home).
So when it comes to eating in Nungwi, there's mostly a selection of hotels and overpriced average food at touristy restaurants at hotels.
However, since Nungwi does have quite a few staff that work in the tourism industry, you can find some small restaurants that dish out Zanzibari food.
Mina Restaurant
Mina Restaurant is a little tiny shack-style eatery located next to Jambo Brothers Bungalows. They serve a plate of pilau rice with a choice of beef or fish, beans, and green vegetables, a typical Zanzibari meal.
Mina restaurant offers a pretty decent local meal at a budget price, yet still within the touristy district of Nungwi.
The cooks and guys that run Mina Restaurant are all quite friendly as well, and their food is a welcome relief to the tourist catering restaurants that dominate Nungwi.
Open hours: breakfast, lunch, and dinner (that's exactly what they told me)
Price: 3,000 TZS ($1.76)
Langi Langi Restaurant
Built on stilts above a gorgeous section of ocean, Langi Langi bungalows has a pretty decent restaurant.
I've got to say, I was pleasantly surprised with the food, though it being a tourist restaurant.
Prices are high, but the food and ambiance make it worth it. Choose from a variety of Zanzibari dishes like octopus coconut curry with pilau, a full range of grilled seafood and meats, and the usual hotel food like pizzas, pastas, and salads (you'll find this at all hotel restaurants in Zanzibar).
Open hours: 12 noon – 3 pm for lunch and 6:30 pm – 9:30 pm for dinner (breakfast is only served to hotel guests)
Prices: Most meals run 15,000 – 20,000 TZS ($8.78 – $11.70) or so
Kendwa Travel Guide
Years ago, when I visited Zanzibar for the first time, I spent a couple of days in Kendwa, and it was one of the most memorable beach experiences I've had – swimming in beautiful warm water, beach volleyball in the evening, hanging out with friends at night – things like that.
Kendwa has shifted a little to accommodating quite a few spread out all-inclusive resorts now, and there are just a few bungalow types of places.
Kendwa is only a couple kilometers from Nungwi, but it's much quieter and has less of an actual village to explore.
Though it's mostly quiet, it's home to the full moon party, at Kendwa Rocks, which can make things loud and more rowdy.
Pros: amazing beach, quiet during the day but can be loud parties at night (depending on what you're looking for)
Cons: limited things to do, not a lot of hotels, very few dining options, no village
Where to stay in Kendwa
Sunset Beach Bungalows
This bungalow hotel is located on a huge property, and they have a range of different rooms, some on the beach and others a little walk inland. The beach is wonderful, and the grounds are peaceful and relaxing.
Pros: Amazing beach, lots of sand, lots of space so you can choose to separate and isolate yourself and relax or mingle and meet others
Cons: The actual grounds of the hotel is not that well designed
Website: http://www.sunsetkendwa.com/
Prices: $60 without AC, $100 with AC
Le Toits De Palme
This small hotel in Kendwa, has a few bungalows and banda rooms, some of which have good sea views.
Website: http://www.lestoitsdepalme.com/
Pros: Good seaviews, awesome beach
Cons: Can be loud due to surrounding parties.
Prices: About $70 for a double
Kendwa Rocks
Kendwa Rocks is one of the most famous places to stay in Kendwa. You can choose from a selection of coral rock bungalows to forest bungalows, each with their own unique style.
The beach is really nice, and it's a great place to hang out with friends, play beach volleyball in the evenings, and also the full moon party is hosted here. Kendwa Rocks is not the best place for a honeymoon, but more for beach parties.
Pros: Great beach, decent accommodation but could use some improvement
Cons: Perhaps a bit overpriced, loud sometimes at night
Website: Kendwa Rocks
Prices: Bandas are the most basic and cheapest rooms at about $50 – $60 per night, and other better rooms can run from $100 – $130 per night
Find more places to stay in Kendwa here.
Matemwe Travel Guide (& Uroa and Pongwe)
Matemwe, south of Nungwi on the northeastern side of Zanzibar, is a pleasant cultural village with a beautiful sandy beach, nearby dive sites, and good relaxing accommodation options.
Ocean swimming is possible but not the best on the island (that would be Kendwa probably), but the overall scenery and ability to take long peaceful walks along the expansive sandy beach, is a highlight.
Also, for diving and snorkeling, Matemwe is the closest village to Mnemba Island, one of the most highly acclaimed underwater sites in Zanzibar with a possibility of around 10 different dives.
Matemwe is the type of village where, as soon as you pull up, you'll want to ditch your shoes, and walk around barefoot, enjoying the sand and admiring the natural coastline.
Why should you go to Matemwe?
Go for diving and snorkeling, peace and quiet without loud parties or rowdy vacationers, to see local Zanzibar village and cultural life.
Matemwe makes a great place for both couples and families that want to spend quality time with each other, in a super quiet place.
Pros: Diving (easy access to Mnemba Island), peace and relaxing, extremely laid back, nice friendly village, walks on the beach
Cons: Not many dining options, not a great swimming beach
How to get to Matemwe:
Depending on your travel itinerary in Zanzibar, you can either get there from the airport, or from Stone Town.
You might ask around for a shared tourist van, but chances are, there aren't enough people to fill up a van going to Matemwe, so you really have two choices: private taxi or public dalla dalla.
Private taxi –  Taxi costs about $30 – $40, do negotiate for the best deal.
Public dalla dalla –  Dalla dallas leaves from the Darajani Market, #118 Matemwe, and should cost about 2,000 TZS ($1.17) per person all the way to the village.
Where to stay in Matemwe
Matemwe Beach Village
Matemwe Beach Village is the ultimate relaxing, no shoes, type of place to stay in Matemwe.
It's a nice place, but they have found the perfect balance of nice to laid-back living.
Just to throw it out there, Matemwe Beach Village stood out to me as having some of the best hotel food of all the hotels I stayed at. Both the western dishes and the Zanzibari food were both excellent. Breakfast was wonderful too.
All around, for a relaxing peaceful place, this is one of my top picks in Zanzibar, and I just love the scenery in Matemwe.
Pros: Beautiful scenery, local cultural life, diving and snorkeling, relaxing rooms, barefoot kind of place, great food at the hotel, the hotel can arrange any kind of Zanzibar tour for you
Cons: Not a great swimming beach
Website: http://www.matemwebeach.net/

Prices: Around $90 – $130 per person including bed and breakfast
Zanzibar Retreat Hotel
This place is small and has a family run feeling to it. The rooms are quite nice, close to the beach and with a nice central pool.
Pros: Quiet, peaceful, beach view
Cons: Might be a little compact so if you're really looking for a place to be alone it's not the best option, here you might be chatting with others more
Website: http://www.zanzibarretreat.com/
Prices: $100 – $150
Green and Blue Zanzibar Ocean Lodge
For a luxury option in Matemwe, you might check out Green and Blue Zanzibar Ocean Lodge. This is the type of place where you can indulge in some spa therapy, enjoy extreme peace and quiet and seclusion.
Website: http://www.greenandblue-zanzibar.com/
Prices: $100 – $200 per person
Find more places to stay in Matemwe here.
Things to do in Matemwe
Relax – I think Matemwe might be one of the finest, most laid-back, places in all of Zanzibar designed for relaxation. Something about those palm trees, the white powdery sand, the clear waters of low-tide, and that breeze, all add up to a place where you can feel at ease.
Stroll along the beach and along the reef – Another excellent activity option in Matemwe is to take a stroll along the beach at low tide (at high tide the water can come quite high leaving little beach to walk on). The atmosphere, with lanky swaying palms, a continuous breeze, and thick vegetation along the edge of the beach, makes for great scenery. At low tide, you'll also have an opportunity to wade through the shallow and clear waters. Be sure to stop and observe the local seaweed farming, and discover sea creatures within the low tide rocks and reef. Many of the guest houses and hotels offer reef walk tours as well as Matemwe village tours.
SCUBA Diving and Snorkeling – Along with relaxation, one of the main draws to Matemwe is diving and snorkeling. Just a short 30 minute boat ride from the village, is Mnemba Island, a well known atoll that teems with an abundance of underwater scenery. Mnemba Island is not only for SCUBA divers, but also for snorkelers. Nearly all hotels have their own dive center, Matemwe Beach Lodge being a credible option. A full day trip for diving costs about $135, while the same full day trip snorkeling costs about $45, all-inclusive with gear, boat transportation, and lunch.
Food in Matemwe
Other than at hotels and guest houses, there are few restaurant options in Matemwe.
In the center of the small village, there are a couple local stalls where you can occasionally get greasy fried foods like samosas and mandazis (Tanzanian donuts), and possibly some tiny street food mishkaki kebabs. Other than that, it's hotel eating.
I stayed at Matemwe Beach Village, and I'm happy to report that the food at the restaurant there was excellent (thought not exactly budget).
Their philosophy is to keep a small rotating menu aligned with what's locally available and fresh. Octopus and fish are common, and there's also usually meat and vegetarian options. For breakfast I chose eggs benedict over a warm biscuit, and it was one of the best I had in Zanzibar.
Uroa / Pongwe
To be honest, I personally wasn't all that impressed with Uroa.
The beach isn't great, and the town is not that nice to walk around. Unless you're just looking for a place that's super quiet, without anything to do, and without great accommodation options, I wouldn't really recommend Uroa.
Pongwe on the other hand, is quite nice, and while there aren't very many options for too many things to do or see, Pongwe Beach Hotel is beautiful. It's a wonderful relaxing place, good for families and couples, and nice and secluded.
Michamvi Peninsula Travel Guide
Just north of Bwejuu a few kilometers, you'll get to the Michamvi Peninsula.
The peninsula is dominated by luxurious high-end resorts where many people come to spend a leisure holiday while barely leaving their residence.
The beach water is amazing, with multi dimensions of dark blue, light blue, and turquoise water that sparkles off the coral below. The water is a painting worthy sight.
Why should you go to Michamvi Peninsula?
If you're looking for amazing beaches, luxurious and extremely expensive resorts, and watersport possibilities, you might look into the Michamvi peninsula.
It's a great all-around section of the island, but you won't find much local culture or village life to experience (such as in the neighboring Bwejuu village).
Another downside of Michamvi Peninsula is that there's not much to choose from by way of budget hotels, so if you're looking for those, it's best to head a bit south to Bwejuu or Paje.
Michamvi Peninsula would suit couples or families looking for a resort style vacation.
Pros: nice beach, relaxing, not rowdy
Cons: expensive, resorts, not much local life
Where to stay in Michamvi Peninsula
Starting from the very northern tip, yet still facing east, which is the side with the nicest beaches, you'll find:
I'm going to just be honest and say most of the hotels located on the Michamvi Peninsula are way out of my league and many can cost anywhere from $100 – $500 per night – or even more at some of the really exclusive places. So if this is what you're looking for, it's worth researching more.
Since I was doing research for this guide, I was able to get some tours of these hotels, but for the most part they don't even allow visitors to just walk into these hotels – you have to have a booking.
The Rock Restaurant
One of the most famous restaurants in all of Zanzibar is the The Rock Restaurant, a restaurant that occupies its own island chunk of coral.
During low tide you can often walk to the restaurant, but during high tide you have to get there by boat, or swim.
The menu mostly includes seafood dishes. I've personally never eaten here, but friends have told me that it's very expensive, small portions, and service is lacking.
So if you go, go for the view and the experience.
Bwejuu Beach Travel Guide
Bwejuu, located just south of the Michamvi Peninsula is a gem of a destination in Zanzibar.
It's truly a wonderful mixture of serenity and peace paired with a very friendly village where you can actually experience the warm and friendly Zanzibari culture, without being hustled by beach touts.
I think what I like most about Bwejuu, is that it's still small and not over populated with tourists, so local people are still very nice and the village is very friendly.
The lanky and occasionally corkscrewed palm trees that are so famous around Bwejuu also make for excellent scenery.
Bwejuu is one of my favorite places on the entire island of Zanzibar, and one of my top picks in this Zanzibar travel guide.
Why should you go to Bwejuu?
Bwejuu is just plain beautiful.
The village is small and friendly, the beach is pretty decent (for looking at, not great for swimming), and the lanky swaying palm trees set the scene for easy-going relaxation.
There are a number of budget style bungalows, some mid-ranged options, and a few higher end choices, but overall, Bwejuu would be more of a mid-ranged budget beach destination to choose.
Bwejuu is not the beach to pick if you're looking to party and stay up all night; It's more of a quiet, read a book, sleep early, wake early, kind of a beach.
Pros: friendly local people, great cultural immersion village, extremely laid back, some nice budget bungalows, quiet, peaceful
Cons: beach is not very good for swimming
How to get to Bwejuu
Private taxi –  From Stone Town a private taxi will cost anywhere from $40 – $50. If you take an official taxi from the airport, the rate is $60. Also, if you pre-book a hotel in Bwejuu or along the East Coast, you can communicate with them about transportation.
Shared van –  Occasionally from Stone Town you can catch a shared van to the East Coast beaches, normally with drop offs at Bwejuu, Paje, and Jambiani. Shared vans normally cost around $10 per person and can be arranged from both tour agencies and the budget guest houses (like Karibu Inn) in Stone Town.
Public dalla dalla – If you want to get by on the cheap, dalla dallas will be waiting for you at the Darajani Market.
Where to stay in Bwejuu
Belllevue Guesthouse
Located on the northern side of Bwejuu, about a 10 minute walk from the center of the village is Bellevue Guesthouse.
The small and warm guest house has a real easygoing feel to it, with lovely gardens, a cool breeze, and a view of the ocean. The variety of rooms are furnished with natural and artistic Zanzibari decorations, with a homely feel.
The entire town of Bwejuu is calm and relaxing, so Bellevue is a great place to escape all noise and a fantastic place for peace and tranquility.
For food, Bellevue has weekly BBQ nights and Swahili dinners on Sunday, which present a great opportunity to sample local cuisine and meet other guest.
Pros: Small and friendly atmosphere, wonderful rooms that are artistically decorated and spic and span, they financially support a local NGO, known as JENGA, and support the village of Bwejuu.
Cons: Not located directly on the ocean, about a 2 minute walk to the beach, but there is a view of the ocean from the grounds.
Prices: From around $50 – $100 per night
Website: http://www.bellevuezanzibar.com/
Contact: [email protected] +255 777209576
Pakacha Bungalows
If you want a bungalow where you can wake up in the morning, never put on shoes (or even a shirt), sit on makeshift reclining beach benches while listening to the sound of the palm trees all day, Pakacha Bungalows has your name written on it.
The bungalows are nothing fancy, but decent and rustic, and there are a few different room options to choose from, including a real beach-bums honeymoon suite for the budget honeymoon.
I didn't stay at Pakacha Bungalows myself, but I did go there to hang out, see the room, and also did eat there once. The food, though it took quite some time to prepare (about 2 hours), was quite delicious. You can get local Zanzibari food there.
The local owner, Ali, is a very jolly friendly man.
Pros: Awesome setting, right on the beach, unforgettable palm trees, right inside Bwejuu village, budget prices
Cons: They don't offer much by way of extra activities, it's mostly a place you just go to relax and read
Prices: $40 – $60 per night depending on room and season
Mustapha's Place
Located in the southern part of Bwejuu village is Mustapha's Place, sort of a Rastafarian hang-out.
You'll find Bob Marley posters, green, red, and yellow flags, and reggae music always in the background. Rooms are basic but nice and service is good. If you choose to stay at Mustapha's, make sure you're ready for the rasta style experience.
Pros: Good place to stay for a chill out, coral walls with lots of natural construction – eco friendly, friendly, budget, good location in Bwejuu village
Cons: Not located directly on the beach, if you're not the reggae type it's not the place for you
Prices: Depends on number of people and season, but rates begin around $15 per person
Website: http://www.mustaphasplace.com/
Contact: +255 (0)7720 99422, +255 (0)24 224 0069
Find more places in Bwejuu here.
Things to do in Bwejuu
There aren't so many activities available in Bwejuu, but that's part of the beauty of it.
Looking for diving, snorkeling, or other water sports? Bwejuu doesn't have much of an infrastructure for that.
Spending time in Bwejuu is more about lazying about, sitting under the breezy shade, reading books, going on beach walks, and possibly taking some day trips to other nearby beaches and villages.
Walk around the village and beach – By way of villages in Zanzibar, Bwejuu is probably my favorite. The village is long and skinny, paralleling the coastline. The kids are nice, the adults are happy to greet you, and it's just a nice environment.
Play football on Playstation – Believe it or not, just up from the beach, near where they mend the fishing nets in Bwejuu village, there's a little shelter where you'll find a TV, a well used Playstation, always a few boys, and even stadium seating (two rows of wood planks set up for playing and watching). I stopped in for a few games, costing me a total of 200 TZS, and it was a great experience.
Kiteboarding and watersports – To be honest if you come to Zanzibar for kiteboarding or other watersports, you're better off staying in Paje or Jambiani (very close to Bwejuu) – but if you want the peace and quiet of Bwejuu you could stay here and then go to Paje for watersports.
Food in Bwejuu
Pakacha Bungalows – Their restaurant serves a pretty delicious selection of local Zanzibari favorites. We had Swahili seafood curry, a combination of squid, octopus, and prawns all cooked in a rich spicy tomato based curry sauce. It was served with a big portion of pilau rice, greens, and some kachumbari (tomatoes and onions). The atmosphere and local style of Pakacha makes for a great laid-back dining atmosphere. Do be aware that food often takes about 1 hour or a bit longer to prepare (that's just the way it is). Prices are expensive in the 15,000 – 20,000 TZS ($8.77 – $11.70) per meal range. Not too many other options for dining in Bwejuu.
Shopping for food – If you need to go shopping for food or other necessities, there are a few small stores in the center of the Bwejuu. You won't find much, but at Mombasa Store there are small snacks, bottles of water, and a few other small odds and ends.
Paje Travel Guide
Paje has long been known as one of the best kitesurfing beaches in the world, and along with being great for watersports, it's one of the best swimming beaches in Zanzibar as well (second only to Nungwi and Kendwa in my opinion).
The atmosphere is nice and laid back, not so cultural like Bwejuu, but a great place to either meet new friends, or to keep to yourself and just enjoy the beach.
Paje would be the second liveliest village after Nungwi, so there are more restaurant and bar options than other surrounding villages. Accommodation ranges from budget to mid-range, with a few new higher end choices.
Why should you go to Paje?
If you are either looking to kitesurf, take kitesurfing lessons, or to swim in the ocean, Paje has your name written on it.
Overall, I like the beauty of the palm trees and village culture of Bwejuu, but for beach swimming and water sports, Paje wins.
Paje especially attracts a younger, backpacker style of travelers. That being said, there are some bars, but it's not really a party destination (though there are some hotels that do throw parties). Paje is a good mixture of peace and quiet, nice beach, and activities if you like.
Pros: kitesurfing capital, water sports, swimming beach, more choices of restaurants and budget bungalows
Cons: not much village culture, more beach touts
How to get to Paje:
Private taxi – From Stone Town you should be able to bargain for a taxi ride to Paje for about $40 – $50. Directly from the airport, the official rate is $60, but this is quite high as it's official from the airport.
Shared van – Occasionally from Stone Town you can catch a shared van to the East Coast beaches, normally with drop offs at Bwejuu, Paje, and Jambiani. Shared vans normally cost around $10 per person and can be arranged from both tour agencies and budget guest houses (like Karibu Inn) in Stone Town. Just tell the driver what hotel you're going to, and he'll drop you off.
Public dalla dalla – If you want to get by on the cheap, dalla dallas will be waiting for you at the Darajani Market.
Where to stay in Paje
Ndame Beach Lodge
We had a fantastic stay at Ndame Beach Lodge.
It's local style, basic accommodation, but the rooms are very clean, self sufficient, and everything functioned well.
The beach directly in front of the lodge is quite stunning as well, beautiful sand and pure turquoise waters.
The hotel is located in the north of Paje, before much of the bulk of Paje activity, so it remains very quiet and peaceful along the beach (when you go swimming you almost have the entire beach to yourself).
This was one of my favorite places I stayed in Zanzibar.
Pros: Amazing beach, local run, clean basic and functional rooms, restaurant food is quite good and relaxing at the restaurant is wonderful
Cons: I really liked it, but don't expect anything fancy, service is adequate but not 5-star
Website: Ndame Beach Lodge
Contact: [email protected], +255 777 86 34 21
Prices: Prices for a double range from around $60 – $100, but this is a place you need to bargain, and they are often willing to go down as long as they aren't fully booked. Breakfast is included, nothing spectacular, but all the basics and buffet style. This is also a great place to come during low season.
Dhow Inn
The Dhow Inn is one of the few luxury options on Paje beach. Enjoy the same gorgeous views of the the sea, plus you can also take dips in the swimming pool and enjoy the amenities of a nicer place to relax and sleep.
Pros: Luxury hotel but it's still in the center of Paje village (not isolated like other fancy hotels), nice beach, private terraces, modern design
Cons: Expensive, resort style
Contact: +255 (0) 777 525 828, [email protected]
Prices: From $130 upwards
Website: Dhow Inn
Kilima Kidogo Guest House
Located at the southern end of Paje, on the way towards Jambiani, is the friendly Kilma Kidogo Guest House. The owner is extremely nice and passionate about taking care of her guests to the fullest.
The rooms are adequate and the setting is friendly, relaxing, and beautiful.
Pros: Small friendly place, great environment
Cons: Towards the end of Paje, so there aren't too many dining options around
Contact: [email protected] +255(0)777201088
Prices: $150 – $200
Website: http://www.kilimakidogo.com/
Find more places to stay in Paje here.
Things to do in Paje
Paje is most famous for its great kiteboarding conditions, but if you just like beautiful ocean you'll also have plenty to do in Paje.
Kitesurfing – With strong steady winds, warm weather, sandy bottom beaches, and meter deep clear turquoise waters, kitesurfers consider Paje to be one of the premiere places in the world. If you're already an expert or if you want to take lessons, there are a few options for you. Check out both Kite Centre Zanzibar and Paje by Kite for reputable services.
Diving – Along with being a kitesurfing paradise, Paje also has a number of PADI certified diving and learning course opportunities. If you're interested in learning how to dive, Paje has you covered. There are a number of good dive sites in the south of Zanzibar, around the Kizimkazi area that you can visit. However, if your main intention in Zanzibar is to dive, you're probably best off basing yourself in Matemwe or Nungwi.
Swimming – Of all the beautiful beaches in Zanzibar, Paje has some of the most attractive waters. However, just like all of the East Coast of the island, the high and low tides are drastically different. On top of that, there is plenty of open space and open water, so you always have plenty of space to enjoy the beauty.
Reef Walk – When the tide is low, you can wade through the water, but you can also choose to participate in a reef walk, either solo or accompanied by a guide. A guide will be able to point out things you'll probably miss, but you can still enjoy walking through the shallow water and reefs by yourself. Make sure you have a pair of reef shoes so you don't get cut up.
Sail on a dhow – Either you can arrange through whatever hotel you're staying at, or you can talk to one of the dhow owners yourself for what you want to do, but one of the best experiences in Zanzibar is peacefully sailing on a traditional sailboat.
Food in Paje
Ndame Beach Lodge
The restaurant along the beach at Ndame Beach Lodge not only has an amazing view, and you can eat with your feet in the sand, but the food isn't bad either.
The grilled fish, fried chicken with masala curry sauce, and even the pizza is pretty good. Meals are in the 15,000 – 20,000 TZS ($8.77 – $11.70) range.
Kinazi Upepo
Written on the sign as "Thai fusion sushi" you'll find just that – some of the Thai classics, and a menu of sushi as well.
I didn't have a chance to eat here myself, as I came too early for dinner and it was closed, but I stopped in, checked out the menu and facility, and it looked worthy of a try. It will cost about $20 per person (without drinks).
Jambiani Beach Travel Guide
Jambiani is one of the most well rounded villages and beaches centers in Zanzibar.
For starters, the beach is spectacular, not quite as good for swimming as Paje, but the views and color spectrum of the ocean is amazing.
Why should you go to Jambiani?
Jambiani is a very well rounded village and beach town in Zanzibar, from swimming and watersports to local culture and village life.
If you're interested in watersports or island adventures, Jambiani has plenty to offer. It also caters to those who intend to spend a quiet and leisure vacation without too much noise.
Strolling along the beach is quiet and safe and you can see women harvesting seaweed during low tide. I think families with kids, couples, and individuals, will all enjoy Jambiani.
There's also a good variety of accommodation from budget bungalows to more expensive boutique hotels, and some places attract a younger crowd, while others are perfect for families or couples.
Pros: amazing beach, watersports, laid-back, nice cultural village, friendly people
Cons: Drastic low and high tide
How to get to Jambiani:
Private taxi: From Stone Town you should be able to bargain for a taxi ride to Jambiani for about $40 – $50. Directly from the airport, the official rate is $65, but this is quite high as it's official from the airport.
Shared van: Sometimes from Stone Town you can get a shared van to the East Coast Zanzibar beaches. They normally take groups and drop off at Bwejuu, Paje, and Jambiani. Price is $10 per person and can be arranged from tour agencies and budget guest houses (like Karibu Inn) in Stone Town. Tell the driver where you want to go and he'll drop you off.
Public dalla dalla: For the cheapest transportation option, the local, back of the truck dalla dalla leaves from the Darajani Market to Jambiani whenever it's full. Take dalla dalla #109 directly to Jambiani.
Where to stay in Jambiani
Red Monkey Lodge
Towards the southern end of Jambiani village is Red Monkey Lodge, a super chilled out lodge that's perched on top of a small coral rock with a great view of the sparkling clear beach, and occasional monkeys that come to hang out.
The owners and staff are very aware of their surroundings and make great efforts to do projects and help the local community.
Red Monkey Lodge has a laid back atmosphere, yet at the same time it really caters to adventure seekers who want to get out and explore both ocean activities and island excursions like biking and hiking.
Pros: Great atmosphere and place to have a drink or just chill out – nice communal areas, great views of the ocean, private little beach cove, integrated into the local village of Jambiani, great service
Cons: A little expensive for what you get, strange mosquito netting (not a net around the bed, but a net to section of the room)
Website: http://www.redmonkeylodge.com/
Contact: [email protected], +255 777 713366
Prices: $80 – $100 for a double per night
Jambiani White Sands Bungalows
Located on a great stretch of white sand, and right along the beach is White Sands.
Some of the rooms literally open straight to the sandy beach and when it's high tide you can literally step out of the hotel and into the water.
In the evenings you can watch ladies harvesting seaweed, men maintaining their boats, and guys playing football in the sand. White Sands is a good all around hotel in a wonderful location.
Pros: Location is superb, small and friendly, quiet, staff are nice, good deal for what you get (when compared with other hotels), clean and newly renovated, they have wi-fi that you can access from your room (rare)!
Cons: Food is not very good, a little cramped of a place
Prices: For a double you'll pay around $50 – $70, beach facing bungalows are more expensive
Website: White Sands
Casa del Mar
For a very relaxing, semi-upscale option, check out Casa del Mar.
The beach directly outside is beautiful, the rooms are spacious and well designed, and the grounds are neatly organized, and well maintained.
Casa del Mar especially attracts couples, families, and older travelers.
Pros: semi-upscale, small hotel with just 14 rooms so you never have to worry about being surrounded by too many people, eco-friendly built from all local Zanzibari materials, good management
Cons: I just toured the facility and it looks pretty good
Prices: $90 for double without ac, $110 for room with ac (prices vary according to season)
Website: Casa Del Mar
Contact: [email protected], +255- 24 2240 400
Al Hapa Bungalows
A mid-ranged bungalow option that is especially good for a younger crowd that's looking to hang out and mingle is Al Hapa Bungalows.
The dhow sailboat bar at the center of the hotel makes a good meeting place where you can hang out beachside. Rooms are clean and quite new.
Pros: Nice location, beautiful beach, good for meeting others, bar, nightlife
Cons: Maybe a little noisy at night
Prices: Doube is $65
Website: Al Hapa Bungalows
Contact: [email protected], +255 773 048 894
Palm View Bungalows
There are some other VERY cheap options in Jambiani, like Palm View Bungalows and Demla Bungalows if that's what you're looking for. Just check it out before you make a commitment and don't stay if security doesn't look adequate for you. These places aren't really very nice, but if you're on a real budget they could work.
Pros: Alright if you're on a tight budget, backpacker style, great beach locations
Cons: Security is not good, service is not much, not very clean (you might want to bring your own sheets)
Prices: Around $20 – $30 for a bungalow, but do bargain down as they are often not full and don't have set prices
Find more places to stay in Jambiani here.
Things to do in Jambiani
Kitesurfing – Not as developed as a kitesurfing beach as Paje, yet Jambiani also has some prime conditions for the sport. One of the main centers is Kite Worldwide, adjacent to Red Monkey Lodge.
Deep sea fishing – Red Monkey Lodge offers specialized deep sea fishing trips. Contact them to make a plan and for prices.
Blue Safari tour – For those that love sand, beach, and sunbathing, a blue safari tour is a must. You're normally taken in a boat to various sand banks where you can swim in the pure water, soak up the sunshine and relax. Tours are normally a full day and include a big seafood lunch in the middle. Most hotels can arrange it for you.
Arranging Zanzibar tours such as the Kizimkazi dolphin tour, a spice farm tour, or a jozani forest tour are all easily accessible from Jambiani.
If you're not planning to spend time in Stone Town, Jambiani is probably the next best place to arrange tours around the island. Tours can be arranged from any hotel or guest house, or you can even personally talk to a taxi driver and do it yourself.
Food in Jambiani
Overall, I wasn't very impressed with the restaurant options in and around Jambiani.
Within the center of the village there are a few local Zanzibari restaurants where you can eat pilau rice, beans, chapatis, and mandazis, and drink tea. But most of the local food is heavy on the carbs and oil without much protein.
There are also a few Jambiani restaurants that serve local style food like Palm View restaurant, run by a crew of rastas, and they serve mostly fresh catch fish. The food is alright at best, but since they only cater to tourists, they tame flavors down and it wasn't really very good. Also, since they don't always get much business in a day, freshness is not always the best.
I also tried a number of hotel restaurants, all of whom served very average meals.
Red Monkey Lodge does serve good quality and fresh seafood dishes like grilled fish, but portions are tiny. That being said, if Red Monkey Lodge hosts a Swahili buffet (occasionally), sign up immediately, it was the best meal I had in Jambiani, really good.
Coral Rock hotel and White Sands both have restaurants with nice views of the ocean, but the food is quite bad and prices are all around 15,000 – 20,000 TZS ($8.77 – $11.70) or a bit more for a meal – overpriced and not very satisfying.
Conclusion
Thank you for reading this extensive Zanzibar travel guide for food lovers.
I hope this resource will give you many ideas about places to go and foods to eat when you visit this incredible island just off the coast of East Africa.
I hope this resource will give you ideas about the places you want to go, help you focus on the things you want to experience, and discover delicious food to eat, when you visit this incredible island just off the coast of East Africa.
No matter if you're looking to have an all inclusive relaxing resort vacation, or a beach-bum laid-back getaway, it's the diverse melting pot of cultures, the stunning beaches and beautiful natural scenery, and the friendly charm of local Zanzibari people, that makes visiting Zanzibar such a unique joy.
Download this Zanzibar travel guide as an eBook!
I've compiled this entire gigantic Zanzibar travel guide into an easy to use offline eBook format in PDF.
You can download the eBook for FREE, or your can choose to support my independent travel guides by paying what you want.
Please leave a comment if you have questions or tips…
Disclaimer – Some of the hotels I mentioned in this guide, I stayed at for free, but I only received complimentary accommodation because I contacted them and wanted to include them in my guide. That being said, all opinions and thoughts are my own. Additionally, within this guide, there are a few affiliate links. As an example, for a few of the hotels, if you make a booking through the link provided, I'll get a small commission. Thank you very much for your continued support. – Mark Wiens
Get exclusive updates
Enter your email and I'll send you the best travel food content.