Ask just about any local Zanzibari for a great local Zanzibari food restaurant in central Stone Town, and they'll either point you to Lukmaan (another great restaurant), or Passing Show Hotel.
Both restaurants serve nearly the same menu, a full range of Zanzibari favorites like pilau rice and biryani, and a variety of curries, stews, and greens.
Over the past few years, I've been to Zanzibar a number of times, and Passing Show Hotel is a restaurant I never skip (and you shouldn't either).
By the way… Passing Show Hotel is not really a hotel, but a restaurant – just like in Sri Lanka they sometimes refer to restaurants as hotels.
The menu is clear and simple – I'd say they did a great job with the simplicity of their menu.
You can choose biryani or pilau wither chicken, mutton, fish, beef, or veg, or you can go a totally different route and try the rice with curry (also a great option), or the Passing Show spaghetti (an option I have never explored yet).
There's also a few other options, and then a bunch of snacks like samosas and mandazis (donuts).
Another speciality at Passing Show Hotel in Stone Town is their tamarind juice, which nearly everyone who eat there gets.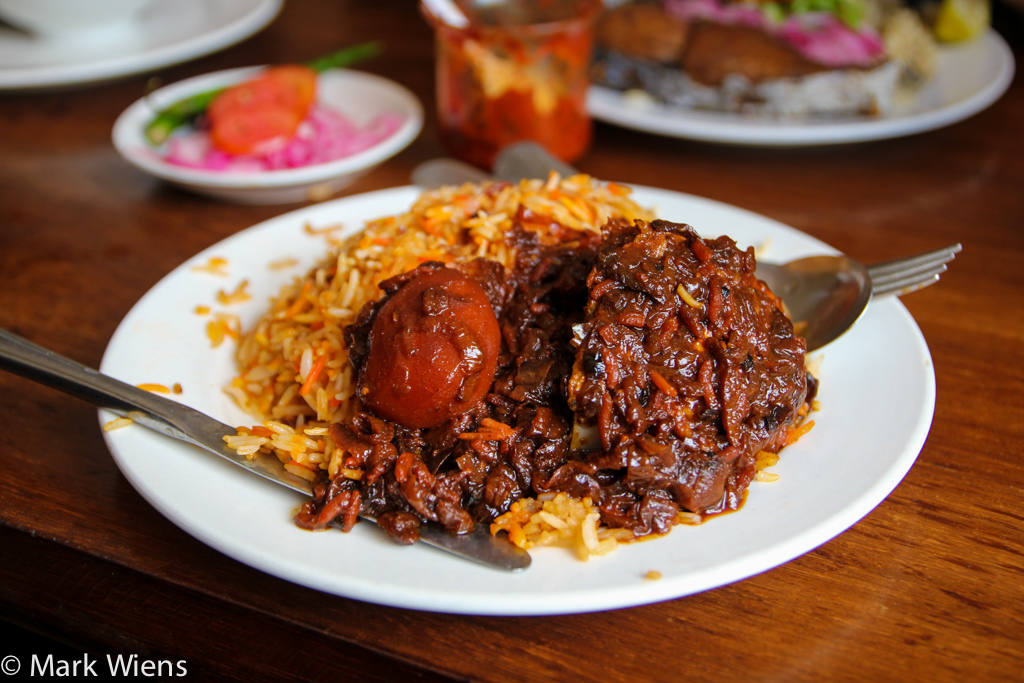 What is Zanzibari food?
The islands of Zanzibar, situated just off the coast of Tanzania (not far from Dar Es Salaam), have a long history of trade with Arabs, Portuguese, and Indians.
Spices and culinary techniques from the Middle East and India, paired with the variety of fresh seafood and produce available on Zanzibar, add up to create a wonderful blend of dishes.
Get exclusive updates
Enter your email and I'll send you the best travel food content.
Pilau rice and biryani are two of the most common Zanzibari foods, and both of them have origins, perhaps in Persia or India.
While I probably prefer the Zanzibari curries over at Lukmaan, I think the biryani wins at Passing Show Hotel.
You can choose to get it with chicken, mutton, fish, beef, or veg. Mutton is one of my favorite versions, but it tend to run out quite early in the day as its popular.
The Zanzibar style mutton biryani at Passing Show Hotel is unbelievably tasty, and I've had it a number of times before, but this time I went with the fish.
Price – 5000 TZS ($2.90)
For biryani, the rice is cooked, and though it's colorful, it's quite plain tasting on its own; There's just a hint of seasoning, maybe oil on the rice.
Massive flavor…
The massive flavor comes from the biryani sauce, which is piled on the side of the rice with your choice of meat smothered somewhere within it.
I'm not entirely sure about all the ingredients included in the biryani sauce at Passing Show Hotel, and I could taste a light, but well balanced blend of cumin, coriander, onions, garlic, ginger, among many other things.
The sauce was almost caramelized, but not sweet, just an incredibly rich mixture.
The rice, though it looks like a big pile, is not actually all that filling.
You will probably be surprised at how much long grain basmati rice you can eat.
It looks like a lot, but it's really fluffy and airy.
The rice is prepared quite plain, seasoned maybe with just a hint of spice and a little bit of oil. When paired with the biryani sauce, that's what makes it incredible.
Also at Passing Show Hotel, you can head up to the front of the restaurant and see what other Zanzibari food dishes they've prepared for the day – there are usually some prepared curries and side dishes to try.
I decided to get a bowl of green vegetables, which I think they told me was pumpkin leaves. It was excellent, soft and almost creamy. Went well with the biryani.
Price – 2,000 TZS ($1.16)
Ying (my wife) decided to get the pilau with fish.
Pilau rice is one of the most widely available Zanzibari foods on the island. In villages you can often find it in small hole-in-the-wall restaurants.
For pilau, the rice is cooked with more spices like cumin, coriander, and cinnamon. The rice itself is often more flavorful, though less colorful, than the rice used with biryani.
She got the pilau rice with fish, which came with a nice piece of fried fish, and garnished with some pickled onions on top.
The pilau rice was pretty good, but I'm a bigger fan of the biryani. Pilau can be a bit on the dry side, and I love the saucyness of biryani.
Also, don't forget to ask for a plate of extra pickled onions, tomatoes, and chilies, these garnishes also add extra awesome flavor to your plate of biryani.
When you go to Zanzibar and are walking around Stone Town, you should either go to Lukmann or Passing Show Hotel, or both. They serve similar dishes, and both are fantastic places to get local Zanzibari food.
Passing Show Hotel – Stone Town Zanzibar
How to get there: Passing Show Hotel is located just a 2 minute walk from the Stone Town ferry terminal. From the ferry, walk down Malawi road, you'll pass Mukhy's, and then just after Zenji Hotel, you'll see Passing Show on your right hand side.
Open hours: 7 am – 9 pm daily
Get exclusive updates
Enter your email and I'll send you the best travel food content.