Unlike Ethiopia, Costa Rica, Colombia, or even Indonesia, Thailand is not really known for its coffee.
Sweet tea with an abundance of sweetened condensed milk is one of the most popular drinks of choice in Thailand, but coffee culture, is not a part of the traditional Thai society (that being said, there are some wonderful up and coming coffee shops in Bangkok and other cities).
But in the village of Doi Chang, high in the hills near Chiang Rai, they are producing some of the world's finest coffee, and if you're a coffee lover visiting Thailand, you should make an effort to visit.
Since I'm a huge coffee lover, one of the things I had been looking forward to when I was in Chiang Rai, was taking a day trip to the famous Doi Chaang coffee village.
(As a quick note so you're not confused: The village is normally spelled Doi Chang, while the coffee company is spelled Doi Chaang)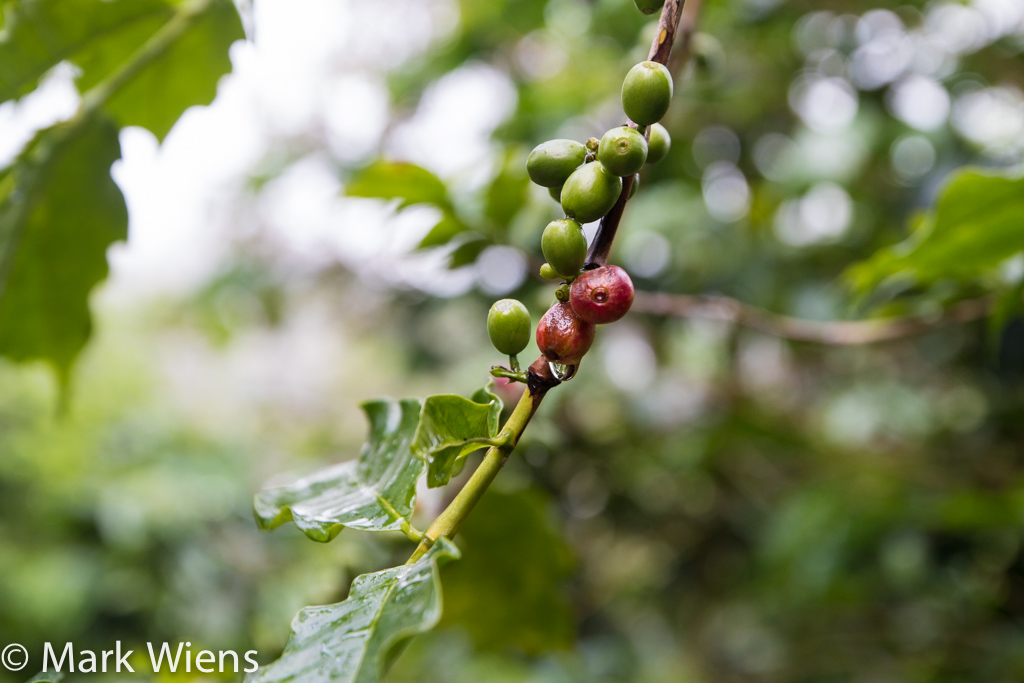 History of Doi Chaang Coffee (ดอยช้าง)
Located in the Golden Triangle region of Thailand, the village of Doi Chang has not always been known for its coffee.
Instead, it was an area, that was known for its opium production and trade, and many grew the cash crop in order to survive and take care of their families.
With the help of a Royal initiative of Thailand in 1983, farmers were given Arabica coffee plants to grow. The rich soil in the north of Thailand and the cooler weather helped the coffee to flourish.
After producing coffee for over 20 years, and frustrated with the efforts of dealing with third party coffee dealers, the farmers in Doi Chang decided to form their own coalition and sell coffee directly themselves, calling themselves Doi Chaang Coffee.
You can read more about the history on their website.
Day trip to Doi Chaang coffee farm
There are a few guest houses / lodges, if you'd like to stay in Doi Chang overnight, so it could be nice to relax and stay for a night or two, but I just took a day trip from Chiang Rai.
We still had our car rental, as the previous day we had taken a different day trip to Mae Salong (highly recommended too).
We left to Doi Chaang at about 7 am, to get a relatively early start.
From Chiang Rai you first have to drive along the main Chiang Mai / Chiang Rai highway 1, but as soon as you turn off onto highway 118, the views start getting better.
Just keep following the signs for Doi Chaang, and it's pretty easy to get there (more thorough directions at the bottom of this post).
On the last stretch of the road to Doi Chaang, it was still early in the morning, about 8 am, and we caught some serious fog.
Visibility was very low, and I could only see about 20 meters in front of me driving, so we just took it extremely slow and kept our headlights on.
The road was fine, though they were in the process of doing some repairs. Our little Toyota Vios did just fine.
For basically 15 km, through the mountains, we could not see the view at all, because the fog was so heavy (but on our way back, the air had cleared and we were presented with some beautiful views).
Doi Chaang Coffee House
We arrived to Doi Chaang coffee processing facility and plantation at about 9 am, and the drive should take approximately 1.5 hours (but since there was so much fog on the last 15 km, it took us more like 2 hours to get there).
By the time we arrived, my mouth was salivating for some coffee…
My first stop, before doing anything else, was to stop at the official Doi Chaang coffee house for a cup of the good stuff.
The menu was nice and simple, and I ordered a hot Americano.
The coffee house had both a downstairs, where the barista was located, and an upstairs, with a nice view and a cool breeze.
I loved the open air design, and the big planks of hard wood.
The thermometer read 22 C (about 71 F, and this was in mid-September), so with a hot cup of coffee in hand, and the fresh mountain air, I felt incredible.
I can imagine in winter, in December, it could get quite cold.
Cappuccino
Ying ordered a cappuccino, which was very smooth and creamy, but I don't think it was quite strong enough for me.
However, I could definitely taste the quality of the coffee beneath the milk.
Americano
I'm a big fan of strong black coffee, or if I use milk, I like just a regular cup of brewed coffee with a splash of fresh milk.
Anyway, I ordered a hot Americano, which was incredible.
Even though it was black and without sugar, the flavor was slightly fruity, had almost no sourness to it, and had a very mellow tone – it was very easy and soft to drink.
It was indeed a marvelous cup of Americano, and after my first cup, I was ready to explore the area more.
Academy of Coffee
Just behind the official coffee house, is the Doi Chaang Academy of Coffee, sort of an office, but sort of a small museum of coffee explaining the history of growing coffee in this region of Thailand.
We just browsed through for a few minutes before moving outside to check out the coffee plants.
Coffee trees
I think you can arrange a tour of the coffee plantation ahead of time, but if you just go by yourself, like we did, there's no real structure of what to do or see… you just walk around by yourself and check out all the coffee plants all over the place.
Filling the sides of the hills and in plots all along the side of the hills you'll find healthy and beautiful looking coffee plants.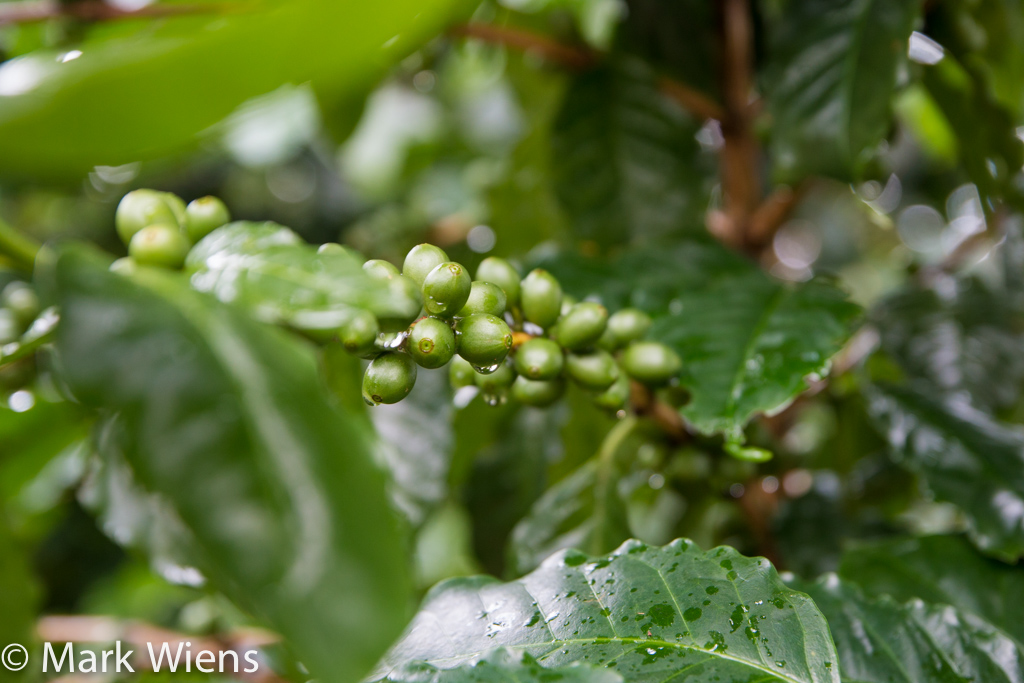 You're basically free to just walk around however you please, looking at the coffee beans and admiring the beauty of the landscapes.
Most of the coffee at Doi Chang is farmed in little plots owned by individual families, who take great care to produce single origin, organic coffee, of the highest quality.
Along with coffee, I saw plenty of other small patches of other crops like corn and vegetables.
I liked that the Doi Chaang estates weren't set up touristy with any restrictions, they just let you wander, at your own discretion, wherever you pleased.
Walking around, every so often, there would be a black tarp, covering a small nursery of baby coffee plants, being nurtured and preparing to be transferred into the real world.
I loved how everything wasn't cookie cutter at all at Doi Chaang – nothing looked overly commercialized or standardized – but looked natural.
This coffee plant had gotten cut down, not sure if it wasn't good anymore of if there was a problem, but it was full of beautiful, and some rotting, coffee beans.
I just thought it looked nice, with the many shades of different coffee beans.
Doi Chaang processing
Unfortunately, when Ying and I visited Doi Chang, Thailand (it was in the middle of September), it wasn't the main coffee season, so they told us they weren't running the processing plant at this time.
So we weren't able to see the Doi Chaang facility at work, but it was still interesting to see the processing plant.
Mini Mart
About 100 meters down the road from the official coffee house, is the Mart, a small mini-mart, kind of like 7-Eleven, but with better coffee.
This is the place where you can go to buy bags of coffee to bring home, and also if you're in need of any supplies like drinks, and small snacks, this is a place you'll find them.
What I bought…
When I went, there were about 6 different choices of coffee beans to choose from, and it took me a bit of contemplation to finally choose what to buy.
Even at the source though, the prices for the beans were still not cheap – but then again, paying for top quality coffee, that's speciality organic, and approved as fair trade, is worth dishing out a little extra for.
I bought three bags of official Doi Chaang coffee, from left to right:
Doi Chaang peaberry, certified organic and faire trade – 450 THB (this was one of the most expensive, apart from the Civet coffee, so it was my splurge bag)
Best Koff, 100% organic and single origin – 180 THB
Whole beans AA premium dark roast – 350 THB (this is the only one I've consumed so far, and it was amazing)
Lunch at Small Restaurant
I visited the coffee plantation, not only during off coffee season, but also during off visitor / tourist season (the main season when most Thais would visit, would be in December for the cold weather).
So all that to say, it was a bit difficult to find food for lunch, but we were very hungry after walking around for a bit.
After asking around, some staff pointed at a small restaurant across the road from Doi Chaang Coffee Farm (another coffee shop in Doi Chaang, more on this below).
We ordered a few simple dishes, including an omelet with pork (kai jeow moo sab ไข่เจียวหมูสับ), stir fried melon leaves with minced pork (ผักยอดมะระ), mung bean noodle salad (yam woon sen ยำวุ้นเส้น), and finally a dish just called gaeng doi (แกงดอย).
The food was all simple, but what I really loved was that everything tasted so incredibly fresh – I'm sure many of the vegetables were just picked right from the garden that morning.
The gaeng doi (แกงดอย), was just a plain soup, made with some kind of green vegetable (maybe mustard greens), simmered with a few bits of pork, chilies, and lots of ginger. It was so plain, but so soothing, and so fresh tasting.
I'm also a huge fan of stir fried melon leaves, and this plate was fantastic as well, nice and fresh.
Eating lunch, here was the beautiful view we enjoyed – coffee plants all over the place, surrounding local homes.
Doi Chang Coffee Farm
After a wonderfully simple, but such a fresh tasting lunch, there was only one thing to do… have another coffee.
I didn't know about it at first, but this time we went to Doi Chang Coffee Farm, a different coffee shop (not the same as the other Doi Chaang label), and it turned out to be one of the best experiences of the day.
Doi Chang Coffee Farm is located just down the road, about 100 meters, from Doi Chaang, and it's situated overlooking the road (if you're driving around, you won't miss it).
The coffee farm house, had a similar feel, nice and open air, with a friendly atmosphere.
You can even get a cup of the famous civet cat coffee as well.
At first I ordered an espresso, a wonderful coffee to drink after a satisfying lunch.
The coffee came thick and dark, strong, and marvelously delicious.
I thoroughly enjoyed my espresso at Doi Chang Coffee Farm, and I also loved the atmosphere of the coffee shop.
The entire coffee shop was made of hard wood, and there were plants and vines wrapping around the roof and beams. There was also a nice view of the village, and the mountain breeze was wonderful.
After finishing my coffee, I then went to see if I could buy more beans to take home.
Previously when I had ordered my espresso, the owner was busy in a meeting, but when I went to pay for my espresso she came over, and we started chatting about coffee.
Coffee sampling
Soon, the owner kindly asked if we'd like some samples of coffee, and there was no way I was going to say no to that.
She first loaded up some beans that she said were "as little processed as possible." Basically they were beans in almost their most natural form, roasted, but organic and with as few extras as possible.
The beans almost had a floral aroma to them.
The coffee was amazing, brewed so strong, yet so smooth and flavorful at the same time.
Next she made me a sample of organic peaberry, which are the select coffee beans that grow as single beans in the pod (not a duo as usual).
Tanzanian peaberry is especially famous in the coffee world, and before visiting Doi Chang, I had no idea peaberries were being produced in Thailand (that's probably because they all get exported, without really being sold in Thailand itself).
The sample of peaberry espresso, was even better than the most unprocessed sample before – it was so floral tasting, and so rich.
I bought a bag of peaberry from Doi Chaang, but unfortunately, at Doi Chang Coffee Farm, she was all out of her stock, or I probably would have bought more.
The owner and the atmosphere of Doi Chang Coffee Farm was fantastic, the service was so friendly, and the owner really went the extra mile to connect with us – her passion for coffee shined.
Happily caffeinated, I bought a couple more bags of AA premium Doi Chang Coffee Farm coffee, and then it was time for us get back in the car and start heading back to Chiang Rai.
Price – 250 THB per bag
When we had driven to Doi Chang in the early morning, the most beautiful part of the drive was completely covered in fog, and we missed all the views.
But when we returned, the fog had cleared, and we were blessed with nice clear weather (apart from a few sprinkles).
The rolling green landscapes, and the huts every now and then, reminded me quite a bit of Ethiopia, driving from Lalibela to the churches of Yemrehanna Kristos (or perhaps it was just the coffee on my brain).
Conclusion
As a coffee lover, taking a day trip to visit the Doi Chaang coffee plantation and village in Chiang Rai, Thailand, was a dream come true.
My wife and I decided to rent a car to get there, and it took us just under 2 hours to drive there from Chiang Rai City (mainly because of the fog in the mountains).
Once you're at Doi Chaang, you can walk around the facilities, the processing plants, the small museum, and even spend some time trekking through the beautiful coffee plants.
But probably the best part of visiting Doi Chaang, if you love coffee as much as I do, is just drinking some of the most pure and amazing coffee you'll ever taste – all while enjoying breaths of fresh air and beautiful scenery.
Doi Chaang is truly Thailand's coffee paradise!
Information for your visit
Doi Chaang Coffee
Address: Doi Chang village, Chiang Rai, Thailand
Website: https://doichaangcoffee.com/
Doi Chang Coffee Farm (ดอยช้างคอฟฟี่ฟาร์ม)
Address: 707 Doi Chang, Moo 3 Wawee, Mae Suai , Chaiang Rai 57180
ที่อยู่ 707 ดอยช้าง หมู่ 3 ต.วาวี อ.แม่สรวย จ.เชียงราย 57180
Website: www.doichangcoffeefarm.com
How to get to Doi Chang village:
Doi Chang village is located about a 1.5 hour drive from Chiang Rai city, and the easiest way to get there is to either take your own motorbike or car.
I rented a car, which cost us 1,000 THB per day, and it took about 500 THB of fuel roundtrip. For more info about how I rented a car in Chiang Rai read this.
(NOTE: Beware though, while it is possible to take a motorbike, the main highway roads in Thailand aren't too motorbike friendly, so do be very careful if you go this route)
From Chiang Rai city, head south towards Chiang Mai, on Highway 1
Pass the famous White Temple, and then turn (will be right if you're coming from Chiang Rai) on Highway 118
Keep an eye out for a sign for Doi Chaang, and after about 30 minutes driving on highway 118, you should see the turn off onto a small road to the right
Follow the road until you reach another fork, with a sign for Doi Chaang again, and you'll make another right.
The plantation and facility is located right along the road, you can't miss it.
Do you love coffee?
Get exclusive updates
Enter your email and I'll send you the best travel food content.