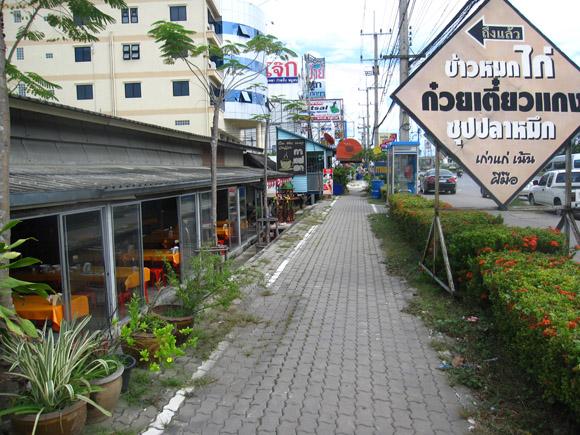 Khao Mok Gai or "chicken and rice with everything," is the Thai version of Indian Biryani or rice pilaf.  The rice is cooked with pieces of chicken and an abundance of fragrant spices to create a rich yellow rice, coated with tasty stock and bits of chicken.
The rice is served with a piece of chicken, fried onions, and a green sweet sour and spicy sauce.  Often a few cucumber slices or a variety of pickle will garnish the rice for a flavor contrasting addition.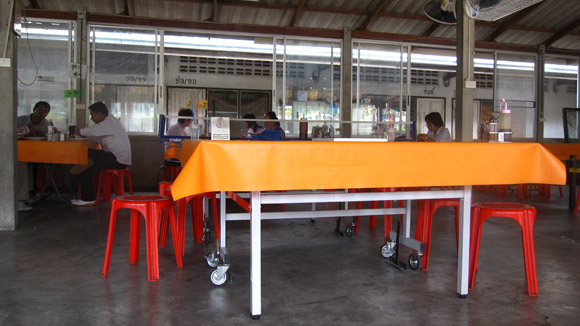 From the heart of Bangkok, Khao Mok Gai Siam is located quite a distance away on Puthamonthon Sai 4.  After traveling far through the thick of traffic and getting off the bus I was ready to devour anything set before me.
The restaurant is housed in what looks like a warehouse but doubles as a lab to experiment with the latest gastronomic khao mok gai recipes.  I quickly noticed that the tables were actually ping pong tables with bright orange table coverings.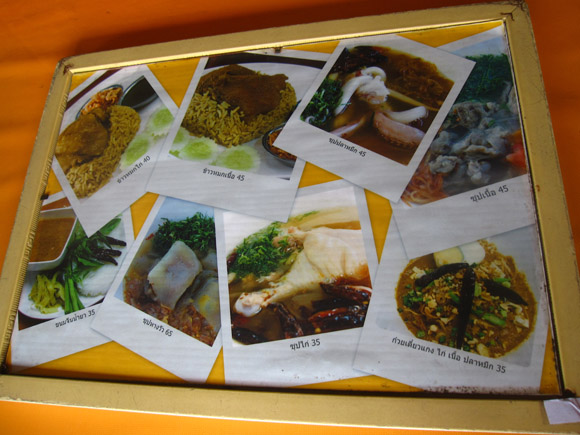 A grinning waiter was quickly at our service with a simple yet sturdy menu plastered into a picture frame (good idea!).
Chicken rice, beef rice, chicken soup, beef soup, and curry noodles made up the entirety of this specialized menu.
Get exclusive updates
Enter your email and I'll send you the best travel food content.
Though the restaurant was not by any means fancy (a street eatery moved into a warehouse), to my surprise, the waiter whipped out a PSP looking device with a touch-screen to take our order (I think he was just showing off).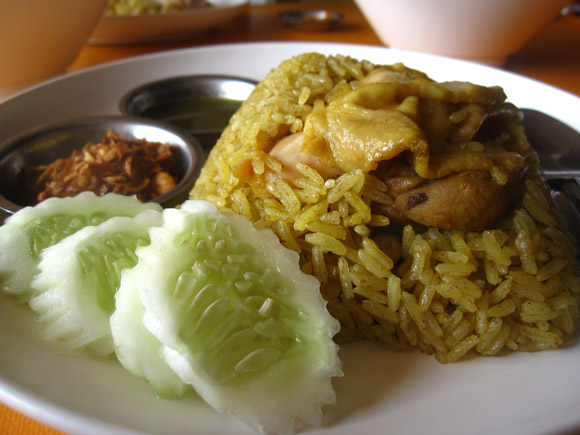 My first bite justified the hour long journey to Nakhon Pathom and instantly received my vote for award winning khao mok gai prestige.
It was incredible, the strong chicken essence, the lightly oiled grains of individual rice, the aroma of turmeric and cinnamon, and a pungent handful of fried onions.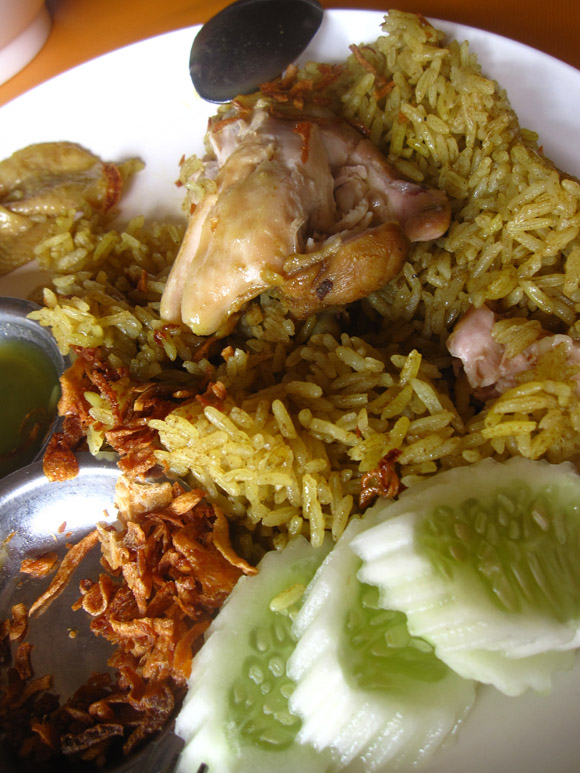 The beef soup was masterfully created with tender chunks of slow cooked beef and spices in an ingenious medley.
Each sip of broth had an intoxicating beefy-ness accompanied by a powerful burst of dried chillies, roasted tomatoes, and slices of sweet yellow onions.
A minced earthy green herb and sweet potato were added to the soup to create what could be one of my most memorable soup flavors.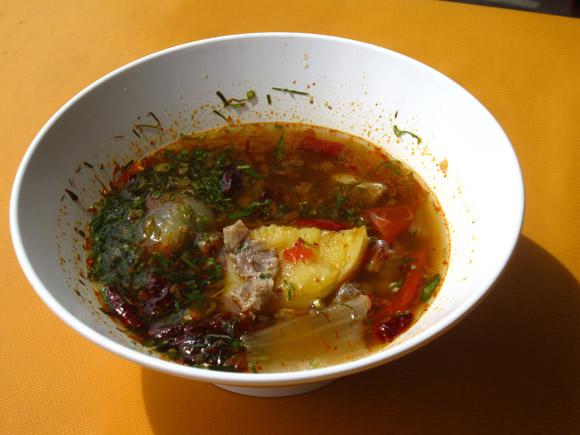 The last dish I was capable of devouring, was noodles covered in a thick curry gravy (kuay teow gaeng).
Chewy rice noodles smothered in a coconut based sweet curry, dried red chilies, thumb sized chunks of tender beef, 1/2 an egg, and a few other sprinklings of herbs and spices.
The curry was slightly over sweet, yet the nutty flavor and the dried chilies and fried onions easily made up for it.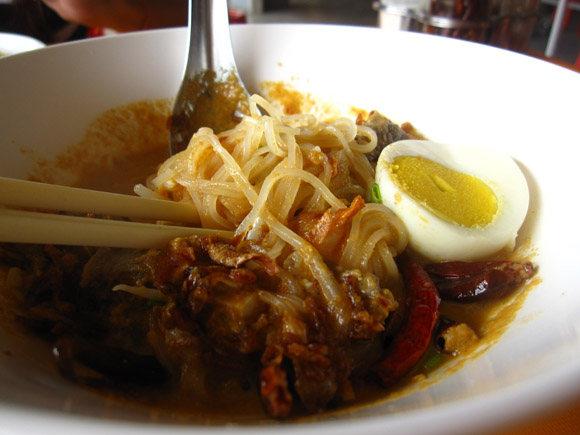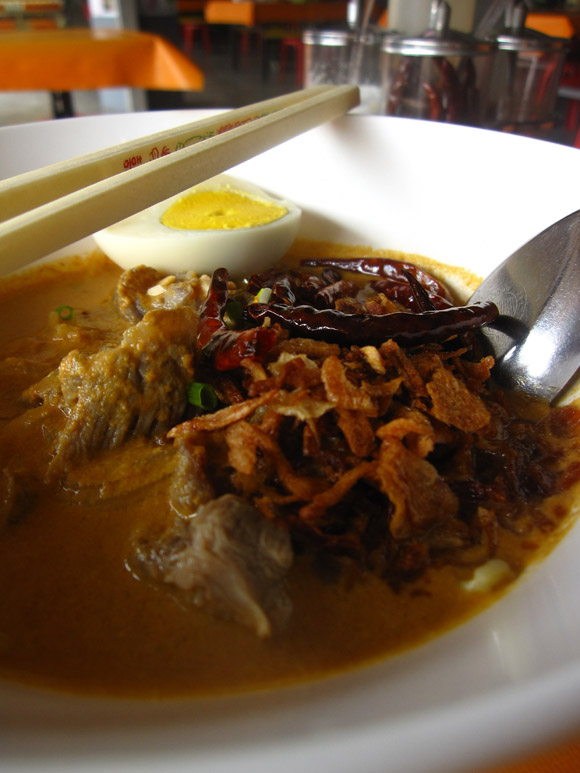 After completing the meal, my entire body rejoiced with thanksgiving for a meal well accomplished.
Khao Mok Gai Siam unleashes a Muslim Southern Thai meal that is not far away from perfection.
Their recipes are heavy on flavorful spices and I was impressed at the generous use of pungent dried chillies to spruce things up.
Though it might be a bit of a haul to make the journey, the award at the end is an enriching and satisfactory achievement that will leave you in awe.
Get exclusive updates
Enter your email and I'll send you the best travel food content.