Kolkata (Calcutta) is a city located in the West Bengal state, on the Eastern edge of India. It is a huge city that teems with never ending streams of honking traffic, businesses, restaurants and street food, and a share of attractions.
I had an incredible 2 week visit to Kolkata and was able to explore the city and visit quite a few interesting places. Known as the "City of Joy," here are a few of the top things to do in Kolkata!
1. Mother Teresa House (Above)
Mother Teresa, an Albanian Roman Catholic missionary, did a lot of her work in India, especially right in the heart of Kolkata. Her former home and charity in Kolkata is now known as the Motherhouse, and inside the modest mission is Mother Teresa's tomb.
After paying respect, you can walk through a small museum that displays a few of her personal belongings, and proceed to go up a flight of stairs to view into the room where Mother Teresa sat at her desk and wrote letters, prayed, and lived.
Price – Free
2. Kalighat Kali Temple
Dedicated to the Hindu goddess of Kali, Kolkata's Kalighat Kali Temple is one of the most visited and sacred sites in the city. The temple attracts thousands of pilgrims and other Hindu devotees each day. Walking to the temple, you'll pass through a street that's packed on both sides with religious items for sale.
The line to get in the actual temple and see the statue of Kali is sometimes crazy long, and you have to remove you shoes to get in. However, you can choose to just walk around the outside of the temple, and the interior outer side, with your shoes on.
Be aware of the many scams that are around the temple. When I entered a nice man (who said he was a Brahmin that worked at the temple) tried to take me around the temple for a tour. After about 10 minutes he brought me to the pool room and gave me a flower. He then pulled out a notebook and asked for a donation to the temple. The ridiculous thing was that in the notebook, which was shown clearly visible so that I could see, was a list of other travelers that had donated and the amount. John from USA – 3,000 Rupees, Mark from France – 5,000 Rupees, and so on (clearly absurd and fake donations). He then asked me to write how much I would donate – pressured by what others had given. Having read about this exact scam, I was prepared and walked away.
Price – Free
3. South Park Street Cemetery
Looking for one of the spookiest things to do in Kolkata? Head on over to the South Park Street Cemetery. Right off the busy (and loud) Park street, I was surprised how quiet and peaceful it was within this decaying ancient cemetery. The cemetery was set up in 1767 and includes around 1,600 tombs.
If the weeping trees and the moss covered tombs aren't already scary enough, the occasional squawk of a crow will make things a little freakier!
Price – Free, but they'll ask for an official donation – I gave 30 INR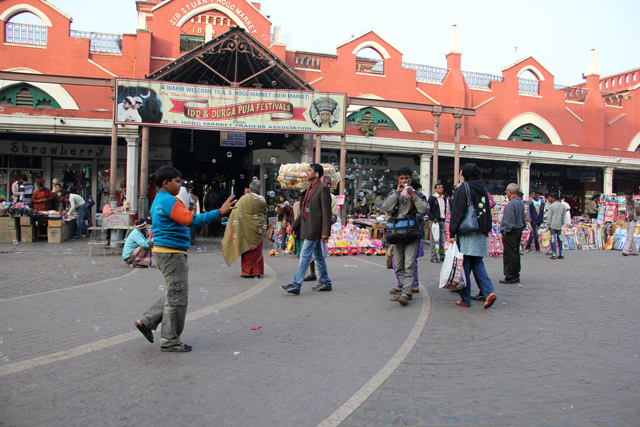 4. New Market (Sir Stuart Hogg Market)
One of the top things to do in Kolkata is explore the Sir Stuart Hogg Market, which is more commonly referred to just as New Market.
Get exclusive updates
Enter your email and I'll send you the best travel food content.
Inside the market itself is sort of just like any other market in the world, there are sections for just about anything you could want. But the real beauty of New Market is the chaotic action that surrounds the market on all sides.
Delicious restaurants, Kolkata street food stalls, pushcart transporters, and swarms of people are a few of the interesting things to observe. The action seems to never slow down.
If you are staying in the popular backpacker area of Sudder street, the New Market is just a 1 minute walk away.
5. Victoria Memorial Hall
Rather than being in West Bengali, when visiting the Victoria Memorial Hall, you'll feel like you've been transported to Europe. The iconic structure in Kolkata is dedicated to Queen Victoria of the United Kingdom who is also referred to as the Empress of India.
Along with its British and European architecture, the hall also includes some Mughal Indian design elements. Victoria Memorial is 103 meters in length, 69 meters wide, and 56 meters high.
Victoria Memorial is now open to the public for its surrounding gardens and interior museum.
Price – 8 INR for garden
6. Mullik Ghat Flower Market
Located directly under the Howrah Bridge is the bustling Mullik Ghat flower market. The market, which is open all hours of the day, is a lively scene of bright yellow and orange flowers. Vendors and porters continually walk and run up and down the market, auctioning off their stock. Makes a great place to take photos.
Walking across the Howrah Bridge, which is one of the world's busiest pedestrian bridges, is another one of the top things to do in Kolkata. After browsing and observing the flower market, take a walk across the bridge for great views of Kolkata, the Hooghly River, and the constant stream of people crossing the bridge while carrying giant loads.
Price – Free
7. Indian Museum
Kolkata's Indian Museum is one of the most significant, and the first museum to be founded in India. The huge museum has collections and galleries spanning many different subjects; Archeology, art, geology, and even an exhibition on Egypt (and a mummy) can be found in the museum.
Especially on the weekends, the Indian Museum can be pretty packed – so either go early to avoid the crowds or just enjoy it with the crowds.
Price – 150 INR
8. Belur Math
Unlike the chaos and constant scams around the Khalighat Kali Temple, Belur Math is clean, peaceful, safe, and a perfect place to relax.
The Temple, located on the banks of the Hooghly River (branches off from the Ganges), was founded by Swami Vivekananda and is now the headquarters of the Ramakrishna Math religious organization. The temple incorporates architecture and designs from Hinduism, Islam, and Christianity.
You can choose to walk around the gardens, and if you choose to enter the temple, you can securely leave your shoes (for free) at the shoe counter. Photography is strictly prohibited at Belur Math and they have plenty of security guards making sure you don't snap any photos.
I took a taxi from the Sudder street area to Belur Math for 200 INR.
Price – Free
9. Dakshineswar Kali Temple
On the opposite side of the Hooghly River and a boat ride away is Kolkata's Dakshineswar Kali Temple. The huge Hindu temple attracts big crowds of worshippers and Hindus that bathe in the adjacent river. Seeing the temple, it almost looked like a painting to me.
The entire compound is sort of like a fair, set up with lots of Kolkata street food snacks, shopping stalls, and plenty of Hindu religious objects for sale.
Note: After visiting Belur Math, I walked down to the river pier and caught a boat upstream to Dakshineswar Kali Temple. On the public boat it takes about 20 minutes and costs just 10 INR per person. Also, heading back to Sudder street, I took a taxi for 300 INR.
Price – Free
10. Terreti Morning Market (Bazar)
The first morning I arrived in Kolkata, I woke up quite early, put on my clothes and headed out to find some breakfast – it was about 7:30 am – and there wasn't anything happening but a few people bathing on the street and a lots of people huddled around fires: no breakfast.
I soon realized India doesn't wake up too early, especially in the winter.
But there is one local market in Kolkata that's known for its breakfast, often attracting hungry diners that have just finished a night of partying: Terreti Market (Bazar).
Every morning along Sun Yat-sen Street, both Chinese and Indian vendors set up stalls and serve up a mouthwatering array of momo dumplings, Chinese baozi, and soup noodles. You'll also find fresh fruits and vegetables, fish and meat. Having breakfast at Terreti Market is one of the top things to do in Kolkata.
11. Kolkata Street Food
There are plenty of things to do and see in Kolkata, but as a lover of all things food, there's nothing more rewarding than hitting the sidewalks for a bite of Kolkata street food.
Vendors are friendly and willing to serve you their delicious creations. From one man run snacks like ghugni chaat and pani puri, to full meals of rice and curry, your taste buds will rejoice. After you're stuffed, don't forget to nurse down a cup of chai in a clay cup or slurp down a mango lassi.
Now, here's a video…
(Note: if you can't see it, watch 11 things to do in Kolkata here)
Have a great time exploring Kolkata, and take a look at my Kolkata travel guide article for many more useful tips.
Get exclusive updates
Enter your email and I'll send you the best travel food content.