Since the day I was born, I've been a lover of dips and chili sauces.
What could be better than adding more flavor, plus extra spice, to every bite?
That's the way I like to think of it.
When I first traveled to Southeast Asia and started exploring the cuisine, I was fascinated (and I still am), with the crucial importance of chili pastes, sauces, and dips, which so many different dishes rely upon.
From Sri Lankan pol sambol and lunu miris, to the full array or Indonesian sambal chili sauces, and back to my home in Thailand, where sauces and dips are an everyday condiment.
There are hundreds of delicious Thai foods to try, and I cover most of my Thai food discoveries over on EatingThaiFood.com. But I decided to write about this Thai meal experience right here, because chili sauces are one of my favorite things in the world.
I'm not talking about ketchup or bottled sweet and sour sauce, we're talking about hand-made chili sauces, prepared with a selection of fresh ingredients (and some fermented ingredients too).
What is nam prik (น้ำพริก)?
Nam prik (also sometimes spelled nam phrik น้ำพริก), is the Thai word for chili sauce, and can refer to a wide variety of dipping sauces, most of them packed with pungent ingredients like chilies, garlic, shrimp paste, and lime juice.
Most of the time in Thailand, nam prik is eaten with a selection of boiled vegetables, fried fish (usually small deep fried fish), omelets or boiled eggs, plus a plate of rice.
Popularity of nam prik in Thailand
In Thailand, different types of nam prik (น้ำพริก) along with vegetables, fish, and rice, are an extremely common meal.
Go to any ready-made street food market in Bangkok, and you'll find a food vendor, with a huge pile of about 15 different kinds of boiled vegetables, and a selection of red and maroon colored sauces on the side.
It's customary to walk up to the vendor, get a plate and tongs, and self-serve yourself whatever boiled vegetables (pak dom ผักต้ม) and pieces of fish you'd like.
The vendor will then bag everything up, and include another bag of the Thai nam prik (น้ำพริก) sauce that you choose, and off you'll go.
Along with takeaway vendors that sell nam prik, you'll also sometimes find versions of nam prik at sit-down restaurants, for example this southern curry restaurant in Bangkok, or this northern Thai restaurant in Chiang Mai.
These restaurants don't really specialize specifically only in nam prik, but usually serve a full menu, and offer nam prik (น้ำพริก) almost like an appetizer of veggies and dip.
Everyday, yet not common?
Like I said above, nam prik is extremely common for takeaway, and also available at some sit down restaurants.
BUT for some reason, it's rare to find a street food vendor, especially in Bangkok, who exclusively sells Thai nam prik chili sauces, and offers street side tables to eat at.
Same goes for a dish like khao kluk kapi (another one of my favorites) – it's common to find at markets for takeaway, but it's relatively hard to find a place where you can sit down and eat it.
Where to eat nam prik in Bangkok?
You can imagine, I was pretty thrilled to find a stall, at the base of Sukhumvit Soi 101 in Bangkok, that sold a gorgeous variety of nam prik, vegetables, fish, and rice, where you could sit down to enjoy the meal, without having to take it away.
The no-name street food stall, is one of the most popular stalls in the area, always attracting a crowd during the lunchtime rush.
Get exclusive updates
Enter your email and I'll send you the best travel food content.
They make all their Thai chili sauces, vegetables, and fried fish before arriving, and once they arrive to their base of Sukhumvit Soi 101, they unpack everything and display the different choices in a beautiful and colorful array.
Even as they are setting up, a handful of people (myself included), begin to start hovering around their stall, checking to see what's available, hoping to place an early order.
While some people choose to takeaway, they do have about 10 tables setup along the side of the sidewalk, where if you're lucky, you can grab a seat.
Sometimes, especially during the office lunch rush hour, from about 12 noon – 1 pm or so, all tables will be full. So if you go, it's wise to either get there by 11:30 am, or to go more around 2 pm, though some of the popular chili sauces will be out by then.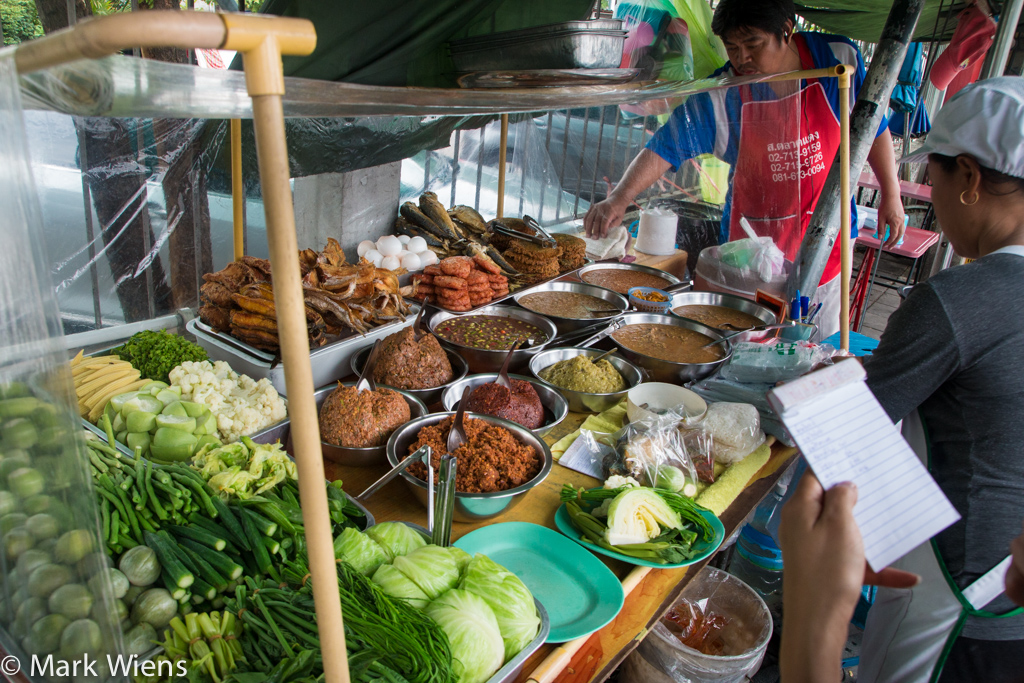 Ordering nam prik (น้ำพริก)
The first thing to do when you arrive to this glorious nam prik stand in Bangkok, is to place your order.
Since things can get a little hectic with all the hungry people, there's a little paper pad where you can write down your order to makes things easier for the vendor.
However, the vendors are extremely nice, and if you don't write Thai, you can always pick your own vegetables, and then point to the chili sauces that you'd like.
Once you've made your order, they will bring it to your table, and you'll be ready to feast.
The colors of the green vegetables, the red chili sauces, and the fried fish, make for a truly picturesque contrast of colors – it's such a beautiful meal.
You can honestly knock yourself out when it comes to picking your own boiled vegetables (pak dom ผักต้ม), there's so much to choose from.
I went with cabbage, cauliflower, eggplant, okra, morning glory, cha om (wandering wattle shoots), and some other random vegetables that I don't even know the names of.
I didn't see any bitter melon on the day I went, but that's also something I normally enjoy eating with Thai nam pirk sauces. Perhaps bitter melon wasn't good at the market this particular day.
For protein, I got a pla too tod (fried mackerel ปลาทูทอด), a few pieces of pla tod krob (crispy fish ปลาทอดกรอบ), and finally a small cha om kai (omelet stuffed with climbing wattle shoots ชะอมไข่, and I got some on the boiled vegetable plate too).
There were other types of fried fish also available, plus fried pork, and I think they might occasionally have some types of Thai sausages too.
When I eat Thai nam prik, I like to stick with mainly fish, and omelets, and of course all the veggies, as I really think they go well with the chili sauces.
The nam prik chili sauces (น้ำพริก)
Ok, we've got to keep moving here, onto the chili sauces; This meal would be pretty bland without the nam prik!
This particular vendor literally has about fifteen different types of Thai nam prik to choose from, all of them made from a variety of different ingredients, and each one looking spectacular.
I only wish I could have chosen all of them (for more info on types of nam prik, check out my guide here).
After some contemplation, my wife and I decided to try three different versions: nam prik kapi (น้ำพริกกะปิ), nam prik da daeng (น้ำพริกตาแดง), and nam prik pla ra (น้ำพริกปลาร้า).
Nam prik kapi (น้ำพริกกะปิ)
Nam prik kapi (น้ำพริกกะปิ) is what I would call the classic, most widely available, and probably one of the overall most beloved versions of Thai nam prik.
Kapi (กะปิ) is the Thai word for fermented shrimp paste, and that's what makes up the base of this sauce.
It's flavored with lots of chilies and lime juice to balance out the salty shrimp paste. Though it does have a shrimp flavor to it, I think the lime juice tones it out, and for myself, it's one of my favorites.
Nam prik da daeng (น้ำพริกตาแดง)
Known as red eye chili sauce in Thai, this is one of the spicier versions.
However, I think it looks a lot spicier than it is. It was slightly spicy, but I think they used dry spur chilies, as opposed to the hotter Thai bird chilies, so it wasn't nearly as fiery as it looked.
The nam prik da daeng (น้ำพริกตาแดง) was very fragrant, slightly sweet, and more like a relish or paste, than a dip.
It went well with rice, fish, and the omelet.
Nam prik pla ra (น้ำพริกปลาร้า)
Pla ra (ปลาร้า), or fermented fish sauce, is a popular flavor enhancer in Thai cuisine, often used in green papaya salad (som tam pla ra).
To me it tasted like there was a bit of grilled fish in this chili sauce as well, and it also had roasted green chilies and garlic, which added a wonderful fragrance.
The nam prik pla ra (น้ำพริกปลาร้า), was again, nicely balanced, and it wasn't overly pungent with the fermented fish sauce. It had a slightly cheesy flavor, but along with chilies and garlic, and a hit of lime juice, it tasted wonderful.
This nam prik went especially well with the vegetables in my opinion.
How to eat nam prik
When it comes to eating Thai nam prik (น้ำพริก), you have a couple of different choices:
Put bites on your plate, then add nam prik, and then eat with rice, or you can just grab vegetables or fish with your hand, and dip straight into the chili sauce and take a bite.
I can seriously say that one of the things I love about Thailand is…
Double dipping is allowed.
(Double dipping is always the way to go – it's like refreshing and renewing extra flavor, and you should double dip too – as long as you're not sick).
Anyway, for eating the vegetables, I like to usually grab some bites, and put them on my rice, then dip into the nam prik, and spread it over my vegetables.
This method makes it easier to get some rice mixed in with each bite.
Other times, it's nice to just dip straight in, especially with things like the crispy fish, or other things that wouldn't work too well to place on top of your rice first.
Either way your choose… and I can say it will taste fantastic.
The crispy fried fish was like a giant fish cracker, completely crispy through and through, and yet, not overly oily. It was salty, and went extremely well with everyone of the nam priks.
The pla too tod (ปลาทูทอด mackerel) was excellent too.
I've always loved small fish, there's so much flavor packed into little fish. This mackerel was deep fried as well, slightly crispy on the outside skin, and there was some nice moist meat on it.
My favorite chili sauce to eat with the mackerel was nam prik kapi (น้ำพริกกะปิ), which complemented it nicely.
For myself, this is the type of street food I travel for, the entire experience, the combination of food and atmosphere – I was in absolute street food paradise.
This is exactly the type of meal I would travel to eat.
If you're interested, you can watch the full video of this meal here:
(Or watch it on YouTube here: http://youtu.be/F0OwjlIDaFM)
Conclusion
Thai nam prik chili sauces in Thailand are so common, I think they are not always given the attention they deserve in Thai cuisine.
My wife Ying (she's Thai) admitted that nam prik (น้ำพริก) is such an everyday market food, that she hardly would ever think of sitting down to only eat nam prik at a street food stall (not talking about at home).
Nam prik (น้ำพริก) is typically bought for takeaway, or eaten sort of like a garnish or appetizer, at some nicer sit down restaurants, but accompanied with other dishes as well.
It's very rare to find a Thai street food stall, where you can sit down and exclusively eat nam prik (น้ำพริก).
For myself, nam prik makes one of my favorite Thai meals.
I absolutely love the fresh combination of boiled vegetables, fried fish, and rice, paired with spicy, pungent, and flavorful chili sauces.
How you can eat here:
Open hours: 11:30 am – about 3 pm Tuesday – Friday (but just so you know, this is street food, so sometimes they are closed without warning)
Prices: Our full meal here, everything pictured plus 2 plates of rice, cost 130 THB (about $4)
How to get there: The place is located right at the base of Sukhumvit Soi 101 in Bangkok, and it's really easy to get there, almost right below Punnawithi BTS station. Take the BTS skytrain to Punnawithi, exit #1, and once you go down the stairs, you'll need to make a u-turn to go back to Soi 101. Restaurant will be on your left hand side, about 20 meters down the road, along the gate of Hua Seng Hong Chinese restaurant.
Get exclusive updates
Enter your email and I'll send you the best travel food content.