Manila is a huge city that offers a real diverse range of international restaurants.
During our stay at the elegant Discovery Primea Hotel in Makati, on our first day for lunch Ying and I were invited to eat at Restaurant Tapenade, their Mediterranean restaurant.
I'm about to share with you everything we ate for lunch at Tapenade…
Lunch menu
There are two main sections of the menu at Tapenade, the salad room, which is a self service salad bar option that offers a small, yet well selected assortment of a mixture of Mediterranean style salads, and the main menu that includes a range of main dishes originating from Italy to Spain to Morocco.
For our meal at Restaurant Tapenade the chef had already chosen a list of his favorite signature dishes for us to sample.
All we had to do was sit and eat… and serve ourselves from the salad bar.
The Tapenade Salad Room
One of the highlights of eating at Restaurant Tapenade is the salad room, a small room right off the side of the main dining area that's filled with a range of salad items set up for self service.
The staff at Discovery Primea told me that the salad bar room was one of the most popular attractions at Tapenade, and for good reason.
You know how at a typical buffet everything is laid out in mass quantity, and typically even the salads are all flopped onto a big tray or bowl and sit there until they run out?
At Tapenade the salad bar was much more intimate – it was buffet style – but at the same time the ingredients were very fresh, put out in smaller quantities (but replenished more frequently), and the selection of both greens and other items were really fresh and high quality.
We started our lunch at Restaurant Tapenade with few trips to the all-you-can-eat salad bar.
I scarfed down a few plates of salad greens to get some vitamins (I missed taking a photo of them), and then I returned for a few plates of the meaty protein supplies at the salad bar.
They had a nice selection of cheeses and cured meats, not too huge of a selection where it was hard to decide what to take, but a few different items, all of which were good.
Another highlight of the Tapenade salad bar in Manila were the fresh oysters, which are locally caught in the Philippines and flown in each morning so they are as fresh as possible.
The oysters, as is the case with any freshly caught oysters, were superb melt-in-you-mouth bites of goodness.
There was also a good collection of bread at the salad bar, but I decided to save my appetite for the main courses which were still to come.
Price – 690 PHP for all you can eat salad bar, which you could make a full meal
Get exclusive updates
Enter your email and I'll send you the best travel food content.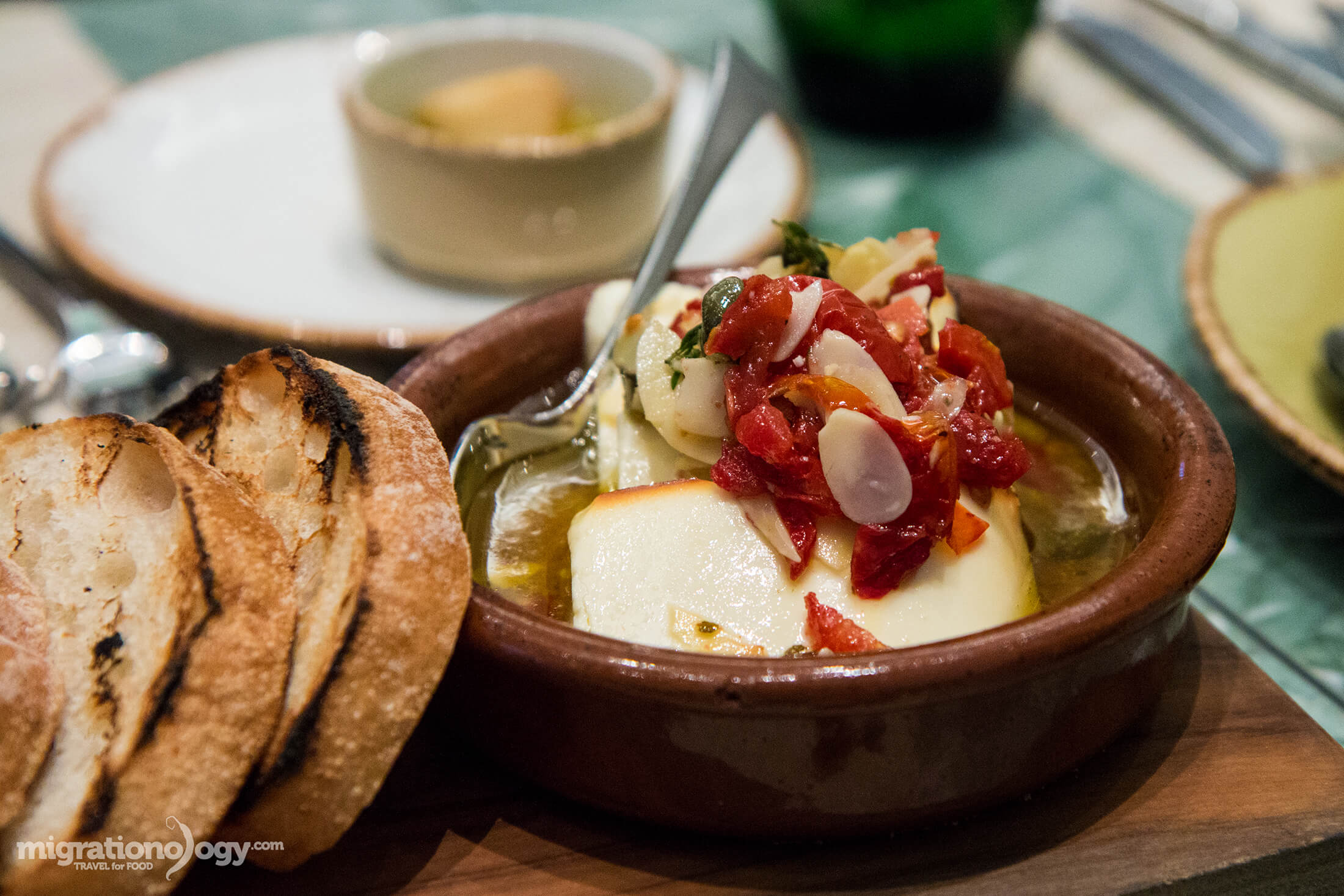 Stone baked feta cheese
Living and traveling in Asia, and eating mostly the local food wherever I go, I honestly rarely have the chance to eat cheese – not that I don't like it, but I just don't have the opportunity to eat it often.
But when I have a chance to eat cheese, I do love it.
Along with cheese from the salad bar, one of the signature dishes at Restaurant Tapenade at Discovery Primea is the stone baked feta cheese – slices of feta, baked in a clay bowl, then seasoned with a hot mixture of olive oil, tomatoes, capers, a splash of brandy, and a touch of honey for fragrance. It was served with hot toasted bread.
I thought it was going to just be like typical cheese and toast. But my taste buds were blown away after taking the first bite.
The cheese, was extremely soft and not crumbly, but smooth. It had a slight tartness from the tomatoes and capers, and just a hint of brandy and sweet honey.
I honestly didn't expect it to be as good as it was. It was simply stunning, one of the best versions of a cheese dish I've had in a long time, and I think it's a must eat if you go to Tapenade.
Price – 460 PHP
Bacon wrapped dates
Our next course for lunch at Tapenade was bacon wrapped dates, which also included Spanish chorizo and piquillo pepper sauce, a type of Spanish red pepper.
I was expecting the dates to be a little overpoweringly sweet as dates can often be, but instead it was mostly spiced chorizo, wrapped with bacon, and just a nice balanced sweetness from the dates.
I enjoyed the baked feta cheese better, but the bacon wrapped dates also made a delicious appetizer for the main dishes about to come.
Price – 490 PHP
Greek shrimp rissoni
Risoni, also known as orzo, is a type of pasta that looks to me a lot more like short grain Japanese rice than pasta, but nevertheless, it's pasta.
For this Greek inspired dish, the rissoni pasta was cooked in a rich tomatoey sauce that tasted of both fresh and dried tomatoes, with a wonderful balance of salty and naturally sweet, while still very light and refreshing at the same time.
Additionally there was a handful of baby spinach that looked like it was folded into the hot rissoni to give it color and an extra fresh touch.
Along with the excellent tomato flavor of the pasta, a couple of jumbo prawns were placed standing up in the middle of the plate which was then topped with a few chunks of feta cheese and a few wedges of lemon.
The flavors and ingredients complemented each other well, and the shrimp were firm, meaty, and cooked perfectly.
Price – 590 PHP
Porcini-crusted US Angus rib-eye steak
When we sat down a Restaurant Tapenade for lunch and got our menus for the meal, although everything looked good, somehow there's just about nothing that excites me more than rib-eye steak.
So while everything else we ate prior to the steak was delicious, I was still building my anticipation for the rib-eye.
There were four of us eating together for lunch, and the steak, rather than being served individually on a plate, was served family style, sliced into strips, and served on a single plate for all of us.
I ordered our steak medium rare, the chef's recommendation, and along with the fragrant porcini crust on the meat, it was also topped with a handful of fresh rocket to give it another dimension of fresh flavor.
The outside crust of the meat was crispy and smokey flavored, while the pink insides of the rib-eye meat was miraculously tender and juicy.
The rocket with a bite of the tender rib-eye was good enough to have me closing my eyes and rejoicing. Everything was good, but this Angus rib-eye just put me over the top when it comes to food joy.
Price – 2,950 PHP
Manchego cheesecake
I'm not a huge sweets eater, so normally my wife has the desserts and I just have a taste and I'm satisfied.
I just had a couple bites o the manchego cheesecake, one of the signature desserts at Tapenade in Manila, and it was actually not too sweet, but extremely creamy and rich, and really good.
Price – 390 PHP
Gianduja cake
The gianduja chocolate cake wasn't on our set menu for lunch, but it was a special delivery by the excellent chef at Discovery Primea.
Again, I just took a couple bites, and I can safely say that if you like sweets and if you love chocolate, there's absolutely no way that you would dislike anything about this.
It was extremely good quality, sweet and slightly bitter from the dark chocolate, and moist all the way through.
Price – 360 PHP
Turkish coffee
To finish off our exquisite and elegant Mediterranean meal at Tapenade, I nursed down a cup of stout Turkish coffee, which came in a beautifully elegant cup and tray.
It was a bit too sweet for me, as it's supposed to be, but still good.
Price – 240 PHP
I'd like to say I went to the gym or did a bunch of activities after such a meal…
But I didn't.
Instead, luckily since I happened to be staying at Discovery Primea the day we ate at Tapenade, I went straight to the pool, and did a bit of relaxation in the heated pool with a nice view of Makati.
Conclusion
Located at the beautiful Discovery Primea hotel in Makati, Restaurant Tapenade is a restaurant in Manila that excels are serving high quality and flavorful Mediterranean region cuisine.
My wife and I were invited to stay at Discovery Primea for a couple nights when we were in Manila, and we were honored to also be invited to Restaurant Tapenade on our first day for lunch.
We started with the salad bar, which was small yet really focused on quality and freshness. The local Philippine oysters were the highlight of the salad room.
Probably my favorite starter was the stone baked feta cheese and for our main course, the porcini crusted Angus rib-eye was so good, I was overjoyed.
Restaurant Tapenade is an elegant restaurant, but I was impressed with the flavors and quality of the food, as well as the excellent service – really top-notch high end dining in Manila.
Restaurant Tapenade, Manila, Philippines
Address: Tapenade is located at Discovery Primea Hotel in Makati, 6749 Ayala Avenue, Makati City 1226 Philippines
Website: http://www.discoveryprimea.com/bars-restaurants/tapenade and also you can check out their full menu with prices here.
Open hours: 10:00 am – 11:00 pm daily for a la carte, 11:30 am – 2:30 pm for a la carte lunch with Tapenade salad room, and 6:30 pm – 10:30 pm for a la carte dinner with Tapenade salad room
Prices: Eating at Tapenade is not a cheap meal, but the quality and the elegance of the restaurant I think are worth the prices on a special occasion. If you eat the salad bar with a couple other dishes, you're likely to pay about 1,500 – 2,000 PHP per person.
Disclosure: Ying and I were invited to eat at Tapenade Restaurant when we were staying at Discovery Primea in Manila. I didn't pay for our meal, but all opinions, photos, and thoughts are my own. I thought the food, service, and ambiance, were all top notch.
Get exclusive updates
Enter your email and I'll send you the best travel food content.