You're coming to BANGKOK!
You're excited and ready, but don't quite know how to go about renting an apartment…
… As a result of writing an article about how I live in Bangkok for under $300 per month, I've received a number of e-mails asking me about the best way of renting cheap apartments in Bangkok.
I decided to put together a few tips and suggestions about things I've learned while semi-permanently living in Bangkok for the last few years.
Basic Apartments in Bangkok
Basic apartments in Bangkok are normally single room studio apartments with an ensuite bathroom and balcony, but NO kitchen.
Apartments often come with basic furnishings that include a bed, a small table and maybe a closet to hang your clothes – if you're lucky you might get a desk and chair. Anything else you desire is up to you to furnish.
1 bedroom and 2 bedroom apartments often have the added bonus of a kitchen – and they should still come semi-furnished.
Even in budget rental apartments in Bangkok, most buildings are kept very tidy, clean and are even secured by key card front doors and a night guard.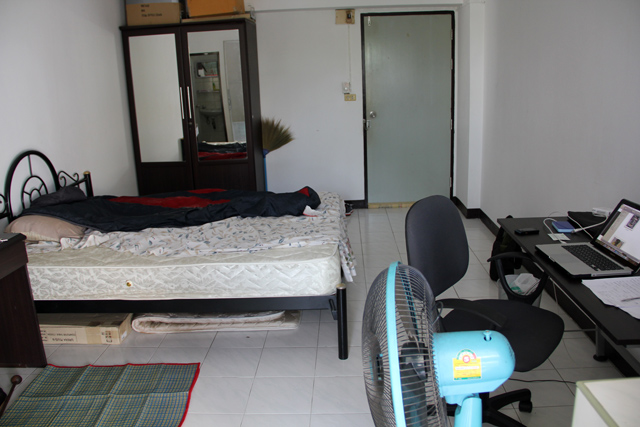 Cost of Renting an Apartment in Bangkok
Note: 1000 THB is about $32
2,000 – 4,000 THB ($64 -$128)  per month – basic studio rooms with attached bathroom and balcony, comes with bed and closet
5,000 – 10,000 THB ($160 – $330) per month – studio apartment in a better / more convenient location, nicer amenities, possible swimming pool or fitness room
11,000 – 20,000 THB ($363 – $661) per month – very fancy studios, 1 or 2 bedroom apartments (with kitchen), good location, nice furnishings, possible swimming pool or fitness room
21,000 – 35,000 THB ($694 – $1,156) per month – 1, 2, even 3 bedroom apartments, great location, very fancy, really nice place
36,000 THB ($1,189) and up – plush apartments – 3 – 5 rooms or more
As a budget traveler, I've always rented in the 2000 – 4000 THB range and I've been very happy and satisfied with the conditions – but I'm easy to please and don't require too much.
Get exclusive updates
Enter your email and I'll send you the best travel food content.
Areas to Look for Apartments in Bangkok:
Like living in any city in the world, location is of utmost importance.
You need to ask yourself if you want to be in the center of town, close to the BTS or MRT train lines, or are you alright to live away from the center of town in a more local neighborhood?
1. Victory Monument and Rangnam (Victory Monument BTS)
With a fantastic network of transportation, tons of Thai street food, and lots of apartments to choose from, Victory Monument is a great place to live.
Thanon Rangnam, a road that is perpendicular to Victory Monument BTS station, is a pleasant street that hosts Thai and international restaurants, some cosy cafes and a couple small laid back bars. There are quite a number of nice serviced apartments and rentals. You may also want to head to Ratchaprarop Road where there's also a lot of cheaper apartments to choose from.
2. Soi Ari and Saphan Kwai (Ari BTS, Saphan Kwai BTS)
Just north of Victory Monument (approaching Mo Chit) is Soi Ari, an area of Bangkok that offers plenty of apartment rentals, a few guest houses and a mixture of cheap street food, quaint cafes and garden style sit down restaurants.
There are quite a few little places to catch wi-fi and a lot of hidden neighborhood restaurant hang outs. It's a really nice area to live in.
3. Sukhumvit (Thong Lor BTS, Ekamai BTS, Phra Khanong BTS, On Nut BTS, Udom Suk BTS)
One of Bangkok's main central road arteries is Sukhhumvit, home to countless businesses, restaurants, the BTS skytrain, and lots of entertainment. There are lots of Thais and expats that choose to live somewhere close to Sukhumvit because it's easy and convenient.
Asoke, Thong Lor and Ekkamai are all great areas of town, but you'll find that prices are quite high. If you go a little further down to Phra Khanong and On Nut, there are loads of little apartments and condos for rent. Even further towards Udom Suk there's a growing amount of decent budget apartments.
Remember if you get further from the main street and the BTS station, you'll have a better chance at finding cheaper apartments.
4. More Local Areas of Bangkok
If you want to get more into the really local areas of Bangkok for even cheaper apartments, here are a few areas of town that I would recommend: Ramkhamhaeng, Lat Prao, Ratchada, Pinklao, and Thapra, or Bang Na.
Some of these places are accessible by MRT or BTS, but most you'll probably have to start taking buses or taxis.
Nevertheless, all of these areas are all still busy parts of Bangkok where you'll be able to find endless cheap rental apartments!
How to Rent a Cheap Apartment in Bangkok
Once you've chosen a suitable area of town, it's time to start the hunt.
Two of the best website search engines for apartments in Bangkok are Mr Room Finder and 9 Apartments. You can browse by price or by area of town, making it convenient to do research.
But not all (especially the cheapest) apartments are listed on websites, so in my opinion, one of the best ways to search for an apartment is to take the hands on approach.
Physically walk around an area of town that you want to live in and visit apartments that looks suitable.
All apartments in Bangkok have an information office on the bottom floor that is normally open from at least 9 am to 5 pm and usually longer. If you show interest, they will be happy to show you a room and give you the criteria for renting with them.
Now keep in mind that unless you're in very central (tourist areas) of Bangkok, the apartment officer probably won't speak English. If you don't speak Thai, it's easiest to have a Thai friend talk to the apartment for you and work things out, but if not, be sure to figure out the price per month, contract length and amount of money required for deposit.




Contract and Deposit
Basically if you have enough money, you can quite easily rent an apartment in Bangkok.
The apartment will need your name and contact information on a rental form that you probably won't even read and then require a signature.
Here's the catch – many cheap apartments in Bangkok will want you to sign a time contract for about 3 – 6 months. Now this figure does vary (and you can try to negotiate), but keep in mind that to get the best rates, you'll have to make a commitment.
Most apartments will require you to put down 2 extra months of payment for deposit. So if I wanted to rent a 3,000 THB per month apartment, I'd need to pay 9,000 THB the first month – and then 3,000 THB per month every following month. Of course, if I didn't destroy the apartment upon leaving and completed my time contract, I'd get my 6,000 THB back.
Water and Power
Water is charged by the unit and normally costs around 17 THB ($0.53) per unit. Living in Bangkok, my bill is anywhere from 100 – 200 THB ($3.13 – $6.25) per month.
Power normally costs around 7 THB ($0.22) per unit and my bill each month is around 120 THB ($3.75) – this is the price for a studio apartment with a light, power for my electronics and a fan (price will go way up if you choose to use an AC).
Conclusion
Like I mentioned above, the best way to find the cheapest apartments in Bangkok is to physically walk around. You may be able to find some decent options on 9 Apartments, Mr Room Finder or Thai Apartment, but visiting in person may be the most successful.
If you are looking to live on a tight budget in Bangkok, don't forget to check out my costs of living in Bangkok!
Also don't miss these 101 things to do in Bangkok while you're here.
Hope this helps and enjoy your stay in Bangkok!
NOTE: Do you have a question about renting a place in Bangkok? Instead of writing me a private e-mail, please post your question below as a comment so others can see your question and response. Thanks! – Mark
Get exclusive updates
Enter your email and I'll send you the best travel food content.