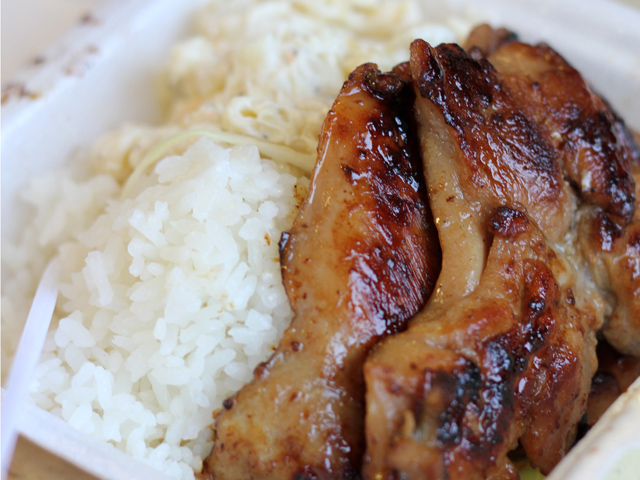 After traveling for a number of years, I recently returned to the United States for about a month long visit. I visited family in Hawaii, friends in Washington D.C., and more family in Phoenix, Arizona.
Just like traveling anywhere else in the world, food is one of my ultimate passions and motivations.
But what exactly is REAL American food?
American food is as diverse as its people – spanning the entire globe. I'll let the photos do the talking – here are the kinds of "Real American Food" that I love so much!
I flew into Honolulu where I was greeted by relatives and immediately began eating some of my favorite culinary comfort dishes.
These Hong Kong street food style ribs are available throughout Chinatown's in the United States – and WOW were these tasty!
From Alicia's Market in Honolulu, Hawaii.
Japanese food is popular around the world and there are lots of places to eat delicious sushi in the United States. I could barely control myself at this Japanese sushi buffet!
From Tsukiji Fish Market in Honolulu, Hawaii.
I'm a huge lover of dim sum, and to be honest, I think some parts of the United States (particularly Honolulu and San Francisco) have dim sum that rivals Hong Kong.
Since many of my relatives are Chinese, I was able to indulge is some outrageously delicious Chinese dishes – like this pile of crab!
Get exclusive updates
Enter your email and I'll send you the best travel food content.
This Japanese Hawaiian inspired inari roll, known as a Spicy Bomb, was stuffed with rice and piled with spicy tuna – it was insanely delicious.
Get it at Genki Sushi in Honolulu, Hawaii.
Hawaii also has some of my favorite home-grown creations – like poke bowls – raw ahi fish marinated in spices and placed over a bed of rice. It just doesn't get much better in my opinion.
Traditional Hawaiian food is also fantastic – dishes like lomi salmon, laulau and kalua pig.
Nothing in Hawaii is more famous than a plate lunch. Plate lunches normally consist of steamed rice, macaroni salad, and a choice of Asian influenced meat such as teriyaki beef, chicken katsu, or fried mahi mahi (pictured above).
This plate is from the famous Rainbow Drive-In in Honolulu, Hawaii.
The hamburger is one of the most well recognized American foods – but during my 1 month visit, I only managed to eat a burger once – there are just so many other things to eat!
Da Spot in Honolulu, is an awesome restaurant that serves intense international flavors. The owner is Egyptian American while his wife is Japanese – the duo combine to make dishes that are beyond delicious.
Malasadas are soft pillows of deep fried dough sprinkled with sugar. Originally Portuguese, Hawaii has continued their production on the islands.
From Leonard's Bakery in Honolulu, Hawaii.
After a few weeks in Honolulu, I caught a flight to Washington DC where I connected with some friends and attended a Korean American wedding.
The food needs no explanation – just look at the photo. I was in food heaven, limitless plates of South Korean food, seafood and a mixture of Japanese delights.
There are lots of Ethiopians in Washington DC, so there are tons of outstanding Ethiopian restaurants in the DC area. My mouth was able to reacquaint itself with the vibrant tastes of Ethiopia in DC and also in Phoenix, Arizona.
Phoenix, Arizona is an interesting place. It's like a mini version of Los Angeles. Nearly everything is available from nearly every country on the planet if you look in the right place.
This Italian inspired meatball sub at a small Italian deli in Scottsdale, Arizona was magnificent.
From DeFalco's Deli in Scottsdale, Arizona.
I was able to visit some Peruvian friends while in Phoenix and enjoy a few plates of grilled meat, Peruvian style rice (kind of like Thai khao man gai rice), and spicy Peruvian "aji" chili sauce.
Lebanese food is high on my list of world cuisines, so eating authentic Lebanese kofta kebabs, hummus and tabbouleh is always a joy! I'm glad I can also eat delicious Lebanese food in Bangkok too!
From Haji Baba in Tempe, Arizona.
One cuisine that I really miss living in Asia is good Mexican food.
Some of my best friends in Phoenix are originally from Mexico – and they really know their food! This scrumptiously messy plate of huevos rancheros was heartwarming for breakfast!
One of the last meals I ate on my visit back to the US was this platter consisting of a carne asada burrito lathered in enchilada sauce with rice and beans on the side – made me very happy.
From Moreno's Mexican Grill in Chandler, Arizona.
So there you have a few of my favorite examples of real American food.
Sure, the US has burgers and fries and pizzas and pancakes, but in REALITY, the United States is an international melting pot of diverse cultures and cuisines.
What do you think? What's your idea of "Real American Food?"
Get exclusive updates
Enter your email and I'll send you the best travel food content.