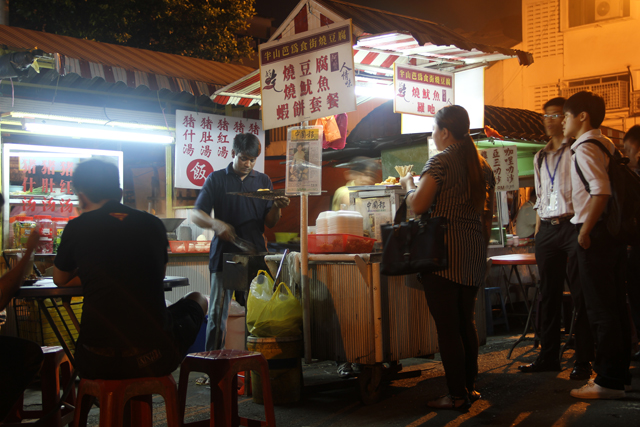 One of the worst realities of city development is how humble establishments are forced to make way for the big guys.
Kuala Lumpur, the rapidly progressing largest city of Malaysia, is evidence.
Legendary eateries, famous street stalls, and even historical sit down restaurants have all succumbed to the power of modern glass and steel.
The good news is, Kuala Lumpur still retains a few spots where food is served the traditional way – places where recipes haven't changed for generations and where diners sit peacefully on plastic stools street side – all within the backdrop of mega sky scrapers.
While in KL, I had the opportunity to hang out with David Jr from Malaysia Asia.
Like most good conversations, our talk eventually led us to food…
And not just any food, but one of the last remaining local hawker streets in the heart of Kuala Lumpur.
Pudu Wai Sek Kai (Pudu Hawker Street)
Rojak – Penang Style
This was my first time to eat a proper Malaysian Penang Rojak – this version was the dried seafood mix rather than the alternative fruit rojak.
The artful combination of dried squid, cuttlefish, tofu, shrimp fritters and peanuts doused in sticky sweet prawn paste boasted such a complex flavor it's nearly impossible to fully describe in words.
Get exclusive updates
Enter your email and I'll send you the best travel food content.
Each ingredient was first roasted over charcoal until slightly charred to create a noticeably smokey flavor.
After compiling the assortment, the vendor then lathered it with her secret prawn paste dressing. The intense flavor tasted like a combination of seafood and molasses.
Crushed peanuts on top added an extra beautiful dimension.
A skewer to poke a bite, and a dip in the chili sauce made each mouthful sensational.
Sweet or savory, snack or dessert… I still have no idea where exactly rojak would fall, but I do know it is truly unique, a magical mixture that I found wonderfully tasty.
Fried Kuey Teow w/ Salted Chicken Egg
Flat rice noodles stir fried over high flamed heat with a few pieces of meat, bean sprouts, and green onions is the foundation of fried kuay teow.
This version included a little extra goodie – salted chicken egg.
The egg coated each noodle with a film of yolk, making the kuey teow rich and flavorful.
Chee Cheong Fun
Approaching the back of Pudu Hawker Street is an ancient stall serving traditional chee cheong fun.
As we waited for our plate of fish balls, tofu and assorted bean curd to get sliced up and combined with wide flat rice noodles, David  and I both snapped some shots of the tempting bubbling vat.
As a lover of foo jook (Chinese bean curd), I knew I'd like this.
After fishing out chunks from the communal pot, you then tell the vendor how many rolls of rice noodles you require, and she proceeds to chop it all into bite sized pieces.
Smothered in sauce, sprinkled with sesame seeds and paired with chili sauce, this plate of steamed Chee Cheong Fun was excellent.
Lin Chee Kang
Rounding out this fantastic Malaysian street food tour, we ended things with a bowl of lin chee kang.
Though it can be served either hot or cold, I chose the iced version.
Herbs, barley, gingko nuts, and a quail egg all went into the mixture before it was drowned in lightly sweet soup and crushed ice.
Unlike Thai nam kang sai, lin chee kang included no candy flavor but was more of a natural tasting herbal dessert.
I particularly enjoyed it because it wasn't overly sweet, but just right.
Sinking my teeth into the icy sweet yolky quail egg was quite a memorable bite as well!
Despite the unavoidable modernization of Kuala Lumpur, let's hope places like Pudu Wai Sek Kai (Pudu Hawker Street) and its legendary selection of classic Malaysian Chinese street food survive.
Big thanks to David Jr for this awesome food tour – check out Malaysia Asia for fantastic Malaysia travel tips.
Get exclusive updates
Enter your email and I'll send you the best travel food content.