PLEASE READ (April 2016): This restaurant is ONLY open to members, no longer open to the public. If you show up to eat here, you'll be turned away.
Soba, or thin noodles made form buckwheat, is a popular dish of Japanese cuisine.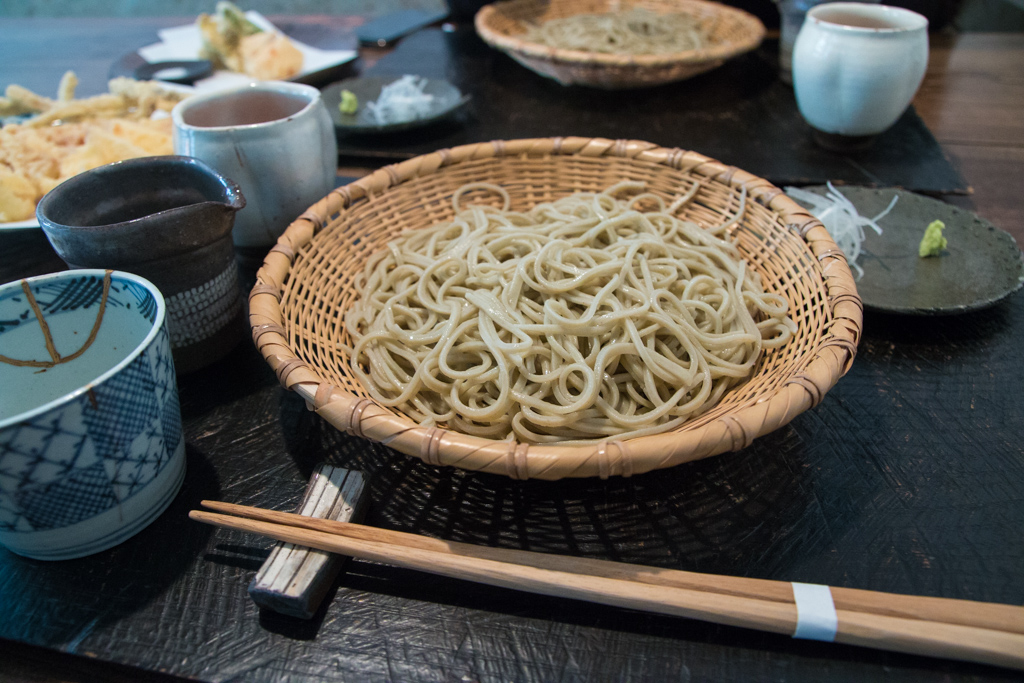 When I was in Tokyo, I noticed that soba noodles were served at both cheap fast food restaurants as well as at specialty upscale artisan style restaurants.
One day, I decided it was time to experience an authentic and high quality version of soba.
Narutomi Soba (手打ち蕎麦 成冨)
On the Chowzter list of best eats in Tokyo, I discovered Narutomi Soba, a restaurant recommended by my friend Yukari for their soba noodles.
The menu at Narutomi Soba was all in Japanese, but luckily the waitress, at least when I went, spoke some English, and all the staff were extremely friendly.
I had also written down a few of the versions of dishes that I wanted try.
Yes, indeed we arrived at the restaurant about 15 minutes early, but luckily on the day we went it wasn't actually all that busy so we didn't really need to show up too early – though it did get busy at the main lunch rush.
The restaurant is very friendly, and the staff were immediately very kind from the start.
The waitress handed us the menu, which was all in Japanese, so instead I just ordered the dishes that I had read about and wanted to sample.
Narutomi Soba (手打ち蕎麦 成冨) is famous mainly for two things, the soba buckwheat noodles, and tempura, which makes a great combination.
I immediately loved the decorations, and all the neatly designed plates and cups that were used at Narutomi Soba (手打ち蕎麦 成冨).
Get exclusive updates
Enter your email and I'll send you the best travel food content.
The waitress explained to us that some of the cups they used were actually from the Edo period of Tokyo's history.
Just like at many restaurants in Japan, presentation was of utmost importance.
The chef at Naurtomi Soba is a purveyor of 100% hand-made (teuchi) buckwheat noodles, which gives his signature dish an incredible level of quality.
There are mainly two versions of soda noodles that you can order, the dry version which is served on a basket (mori soba 盛り蕎麦), which is what I ordered, and the soba noodles in soup (kake soba 掛け蕎麦).
The beautiful plate of dried soba noodles (seiro soba or mori soba 盛り蕎麦) was served cold on a traditional basket plate, and came accompanied by a light sauce dressing, a tiny dab of wasabi, and a few shreds of radish.
I can honestly say this was the first time I had ever eaten real soba noodles in my life – before this experience I had only eaten soba noodles at Japanese buffets – which really wasn't anything special.
The waitress advised us to first add the dipping sauce into the extra little cup proved, and then mix in a little bit of wasabi to the sauce (known as tsuyu).
From there it was time to start digging into the noodles.
The first step was to grab a bite of noodles with my chopsticks, and then give them a little dip in the sauce, and take a bite. Slurping is very alright when it comes to eating soba.
The soba was wonderful, chewy yet soft at the same time, and starchy yet smooth. The subtle soy sauce based dressing added just the right amount of flavor, without distracting from the real taste of the buckwheat.
Price – 840 JPY ($8.22)
No really knowing what I was ordering, or how much it cost, I went a little overboard and ended up ordering 3 plates of tempura to go along with our soba.
I ordered 2 plates of the normal mixed vegetable tempura, and 1 plate of tempura with a nice scallop on the side.
Unlike the other tempura restaurant I ate at, which was served with a light soy sauce based sauce for dipping, the tempura at Narutomi Soba came with a side of salt.
And actually, the tempura was fried so fresh, it didn't really need any seasoning to me at all.
I ate it straight without even using the salt.
After looking around the restaurant, I noticed a lot of other diners only ordered 1 plate of tempura to share with their table… and when I saw our bill I realized why!
But nevertheless, it was really delicious, especially with alternating bites of soba.
Price – 1,260 JPY ($12.33) per plate
While eating in Japan, one thing I learned was that, it's not always about getting full, but it's about enjoying things in smaller portion sizes, but with extreme quality – I'm still learning.
At the end of our meal, the waitress brought us little cups of soup, which she explained was the water which the soba noodles were cooked in.
I added a little bit of dipping sauce into the soup, before taking a drink.
It was thick almost like a gravy, but at the same time it was creamy like milk. But instead of that silky texture, it it had a little bit of grainy texture, from that buckwheat.
It was actually really good, and a nice way to end a satisfying meal.
Here's the video of the complete soba and tempura meal I ate at Narutomi Soba (手打ち蕎麦 成冨). Watch it below now…
(If you can't see the video, watch it here: http://youtu.be/nw1whY-8NbY)
Narutomi Soba (手打ち蕎麦 成冨)
To be honest, it was a little on the expensive side for me to eat noodles, but it was extremely good, and you can just taste, in each bite, the care that the chef puts into his cooking.
Address: 8-18-6 Ginza, Chuo-ku,Tokyo
Open hours: 11:30 am – 2:30 pm  and 6 pm – 8:45 pm on Monday -Friday,  11:30 am – 3 pm on Saturday, closed on Sunday
Prices: Expect to pay about 1,500 – 2,000 JPY per person ($14.68 – $19.57)
How to get there
The restaurant is located very near Tsukijishijo Station, but I actually took a walk from Ginza, which only took about 10 minutes. It's also very close to the Tsukiji Fish Market.
PLEASE READ (April 2016): This restaurant is ONLY open to members, no longer open to the public. If you show up to eat here, you'll be turned away.
Check out more of my Tokyo travel tips here.
Get exclusive updates
Enter your email and I'll send you the best travel food content.