You can actually feel history in the atmosphere when you step foot in Bangkok's Nang Loeng Market (ตลาดนางเลิ้ง).
Though it's located right in the heart of the city, about a 5 minute walk from Democracy Monument, follow the lane into the market from the main road, and you'll immerse yourself into one of the most well preserved historical markets in Bangkok.
Nang Loeng Market (ตลาดนางเลิ้ง) also happens to one of the best places in the city for delicious food.
Nang Loeng Market (ตลาดนางเลิ้ง) has a real community feel to it; It's like you're far removed from the chaos of Bangkok, and within a small Chinese village, where tasty things to eat are never far away.
The area of Nang Loeng (not only the market) was historically known as having a diversity of different residents from various areas of Asia including China, Vietnam, Cambodia, and Laos.
For this reason, you'll find some interesting ingredients and snacks at Nang Loeng that are not common in other parts of Bangkok.
Today, Nang Loeng Market (ตลาดนางเลิ้ง) is not so much of a fresh produce wet market (though there are some available still), but it's more of a ready to eat food market with restaurants, a food court, and a host of famous snack vendors.
History of Nang Loeng Market (ตลาดนางเลิ้ง)
The community of Nang Loeng (not just the market) has been a part of Bangkok, located in the Pom Prap Sattru Phai (ป้อมปราบศัตรูพ่าย) area of town, for over 200 years.
The actual market was officially was officially opened in the year 1900.
Sala Chaloem Chani (ศาลาเฉลิมธานี), or the Nang Loeng Cinema, is the original cinema in Thailand. Built in 1918, the cinema formerly showed films for over 75 years until finally closing in 1993.
Though you can't go inside the wooden structure anymore (it's used as a rundown warehouse), it's still one of the culture landmarks and pieces of culture.
The community today remains one of the oldest and best preserved communities in central Bangkok; Along with Ratchawat and Sriyan, it's one of my favorite food and cultural destinations in the city.
Get exclusive updates
Enter your email and I'll send you the best travel food content.
Let's hope Nang Loeng continues to thrive amidst the development in Bangkok, and remains a secure haven for tradition, culture, and food.
Food at Nang Loeng Market (ตลาดนางเลิ้ง)
Along with the culture and uniqueness of visiting Nang Loeng, the best thing to do there is eat (as is the case in all of Bangkok).
Some of the vendors selling snacks and desserts at the market have been making the same dishes for generations, the roles and recipes being passed down, some for over 200 years.
Inside the market, but sort of on the outside edge, you'll discover many of the ancient family vendors and a number of famous kanom wan (Thai dessert) vendors.
Directly in the center of the market is a food court that was renovated in 2006 in order to make it safer for eaters – I guess we wouldn't want a ancient beam of wood to fall from the roof as we're taking a bite.
The food vendors in the food court are not as traditional as the selection on the outer ring of the market, but there's still some delicious choices.
If you go to the market during lunch, people seem to appear all of a sudden out of nowhere, and the food court can get really busy.
Within the food court you'll find a host of delicious dishes, and more Thai desserts as well.
Though there are many choices of what you can eat when you visit, one of my favorite spots is the rice and curry restaurant on the corner known as Khao Gaeng Ruttana (ข้าวแกงรัตนา).
It's not only one of my favorites in the market, but among my favorites in Bangkok (and I featured it in my guide).
Khao gaeng (ข้าวแกง), in Thai, means rice and curry, and they normally have an assortment of 20 – 30 different dishes all waiting to be ordered.
Many people get their food to-go, wrapped up in plastic bags, but I prefer to eat there, in the wonderful atmosphere of Nang Loeng.
Khao Gaeng Ruttana is a true classic of a restaurant, with crusty fans wobbling back and forth, rusty rafters and cobwebs, and a flurry of hungry customers trying to point to their dish of choice and order it.
For street food lovers like you and I, this place is top quality dining.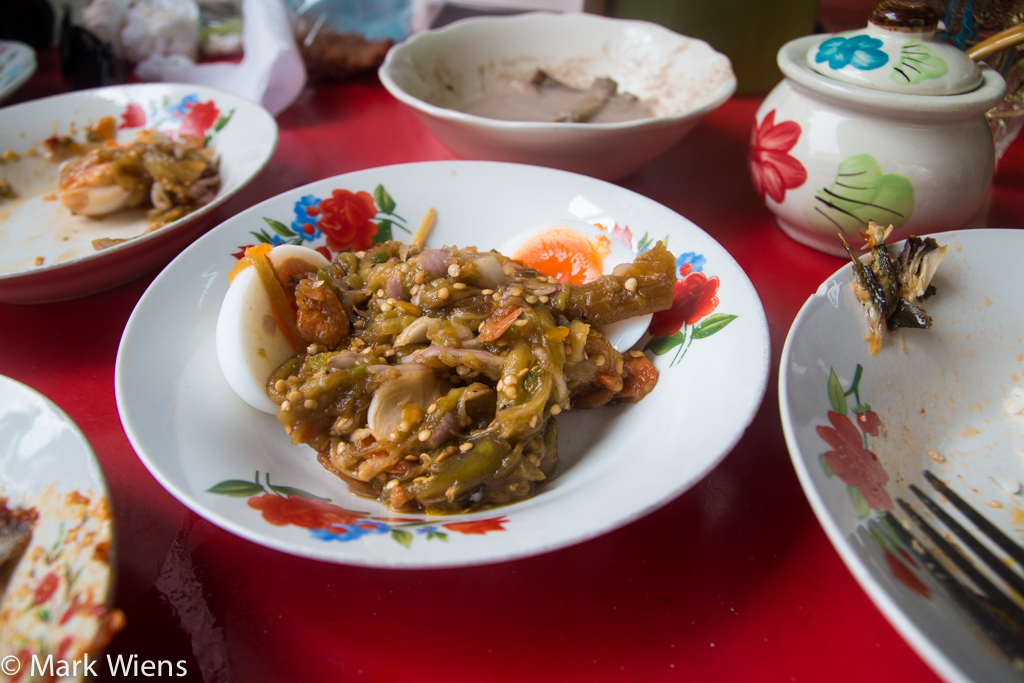 You never know exactly what a Thai curry restaurant is going to have; you just go, see what they have cooked on that day, and choose a few things that look the best to you.
However, if you go to Khao Gaeng Ruttana and happen to see that it's a day they chose to cook yam makua yao (ยำมะเขือยาว), roasted eggplant salad, order it immediately.
They'll ask you if you want it with a hard boiled egg (which is cooked so the yolk is still wet), to which you should agree. The roasted eggplant is shredded, mixed with chilies, shallots, dried shrimp, and tossed in lime juice and fish sauce.
It's impressively delicious.
Their version of gaeng sai bua pla too (แกงสายบัวปลาทู), a rich coconut milk curry of mackerel and lotus stems, is also noteworthy. The lotus stems have a unique texture, and they soak up all the curry sauce like a sponge.
Like I said, you can't really predict what a khao gaeng (ข้าวแกง) restaurants in Thailand will have the day you go, and some dishes finish early, while other are available for a long time. But whatever you choose, it will be good.
Though her shop has changed a number of times now and she's done some re-arranging, if you can find a lady named P'Thuktha, she makes some of Bangkok's, if not the world's best fruit shakes (น้ำผลไม้ปั่น).
She's always in a great mood, and pretty much the entire Nang Loeng community of residents knows her as the "go-to person" for fresh fruit shakes on a hot day in Bangkok.
Many people even bring their own cups.
While the streets directly outside of the market are constantly loud, filled with roaring buses and thundering tuk tuk's, inside Nang Loeng Market, it's a little slice of neighborhood peace.
The lanes are filled with ancient wooden homes on either side, and there are many restaurants as you stroll around.
Here's a video eating at the curry restaurant…
(If you can't see the video, watch it here: http://youtu.be/hycqNOPY8mk)
I would highly recommend, if you're interested in Thai food and Bangkok culture, to visit Nang Loeng Market (ตลาดนางเลิ้ง) when you're in Bangkok.
Nang Loeng Market (นางเล้ิง)
Open hours: Around 8 am – 3 pm
How to get there: Nang Loeng Market is not close to any mass transit train stations, so it's easiest to hop in a taxi and go directly there. It's pretty close to Democracy Monument (อนุสาวรีย์ประชาธิปไตย), about a 10 minute walk.
Are you interested in learning more about Thai food and culture? Click here to check out my Eating Thai Guide.
Get exclusive updates
Enter your email and I'll send you the best travel food content.