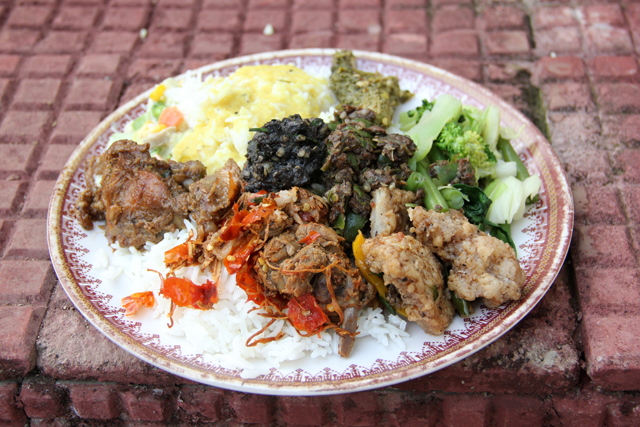 Nagaland, located in very Northeastern India, is a state that's just north of Myanmar and just south of China and Bhutan.
There are sixteen main tribes in Nagaland, each with similar yet unique traditions and practices. While food from each tribe overlaps, there are also certain dishes that are specifically known from a certain tribe. Rice, pork, chicken, dog, insects and worms, vegetables, and famous chili sauces are essential in the Naga diet.
After a 30 hour train ride on the Kamrup Express from Kolkata, I was ready to eat; Nagaland food was calling my name!
In Nagaland, as my local friends mentioned, it's most common to hang out at homes of friends and family. So not that many locals go to restaurants for meals, but eating at home or eating at friends' homes is still very much a part of their culture.
That's part of the reason why you won't find many restaurants serving traditional Naga food in Nagaland. There are quite a few restaurants serving North Indian food or Tibetan momos (similar to mandu), but real Naga cuisine is harder to come by.
For real Nagaland food, it's best to eat it at someones home.
In Nagaland many things are still done traditionally. Since I was visiting a friend, and we were celebrating a marriage in his family, I was treated to watching a number of pigs butchered for the occasion.
The huge pigs were chopped up using traditional long handled Naga knives on top of a stilted bamboo slaughterhouse.
Our pig was fresh, and for an entire week we kept eating from the same pigs, meal after meal, happy stomach after happy stomach.
Since it was winter, and quite chilly at night, we'd normally eat all our meals around a fire, eating and drinking hot tea from bamboo cups.
A normal Naga food meal would include rice, some kind of meat (either dry or pork with bamboo shoots), boiled vegetables, and spicy chili sauces. Just like Sri Lankan food or Indian food, meals are eaten with your hands.
Some of the dishes reminded me of Burmese cuisine while others even tasted similar to Northern Thai dishes, yet all the foods were uniquely Naga.
Get exclusive updates
Enter your email and I'll send you the best travel food content.
Dried Pork
A traditional Naga kitchen is outdoors because a fire is one of the most essential components of cooking. Hanging above any Naga kitchen fire will be pieces of meat (both pork and beef), that slowly dry out and smoke high above the flames.
After weeks or sometimes much longer than that, the meat is ready to be consumed. For one meal we just ate some of the smoked pork, and another time we enjoyed a stew made from the meat.
It was crispy on the outside, a little like jerky, but just saturated with an intensely delicious smokiness. It was so good along with rice.
Smoked Pork Stew
Just as good as the plain smoked meat, was the smoked pork stew. The dried smoky pork was chopped into bite sized pieces before being boiled in a thin soup that included potatoes, tomatoes, and chillies.
It was salty, and so smoky that I could almost taste the fire – a great thing in my books!
Nagaland Pork w/ Dry Bamboo Shoots
One of the most famous Nagaland food dishes is dry bamboo shoots cooked with pork. This was one of the first dishes I had as soon as I arrived to Nagaland, and I was thrilled.
In Nagaland, just like in Thailand or Korea, they are serious when it comes to pork. So you won't be eating thin strips of bite sized pork, they cook with huge chunks of pig. Often the pork is quite fatty, often big cubes of pork belly mixed in. If you're a pork lover, you'll have a blast in Nagaland.
To make this dish, the pork is fried with the Naga signature dry bamboo shoots and lots of chilies. The bamboo gives the pork a lovely aroma and unique flavor. I thought it was wonderful.
Boiled Vegetables
With nearly every meal I ate in Nagaland, we had a number of different boiled vegetables – most of the time cabbage, long beans, and melon. Vegetables are most commonly boiled without any seasoning.
The boiled vegetables accompany the meat and rice and also go with the different chili sauces (more listed below). Boiled vegetables are a big part of Nagaland food.
Bamboo Steamed Fish
Bamboo grows everywhere in Nagaland, and it has many different uses. One of the common ways to cook is using tubes of bamboo.
Cooked by Grandfather himself, fish were stuffed into a hollow tube of bamboo with a few light spices and then placed in the ash of the fire to cook.
After the fish were cooked, they were simply emptied out of the bamboo into a bowl and ready to be served. They were quite plain and boney, but I could detect a nice hint of bamboo flavor in the fish. Along with some of the chili sauce, they were really good.
Roasted Intestines
Since pig is such a huge part of Naga food culture, you can be assured that nothing is wasted, and internal organs happen to be some of the most prized possessions (and rightfully so, they are some of the most flavorful).
These roasted intestines were amazing, like naturally cured strips of bacon combined with sausage!
Beans Mix
This healthy earthy mixture included beans, tomatoes, peas, cabbage and all sort of other natural Nagaland ingredients. It was a delicious concoction that wasn't overly strong in flavor, but more of a garnish for rice and intended to be eaten with other stronger chili sauces and curries.
Bitter Melon
Being a huge fan of bitter melon, I was happy to see a big bowl of it for one of our meals in Nagaland. They were the little Indian bitter melons.
I think they were just boiled, as they were quite shriveled up with little flavor other than their bitterness, but the chili sauce again is what made them so delightful.
Chicken Glutinous Rice Soup
Few things are as pleasing a purchasing a live chicken at the market and eating her just a few moments later.
We went to the market in Dimapur, chose a nice little chicken, a free range village chicken that is, and went back to the house. The chicken was cooked in a glutinous rice sauce. Just like many other Nagaland foods, it wasn't cooked overly spiced, but it was served along with some chili sauced which provided extreme flavor.
I particularly loved this chicken glutinous rice soup. It was extremely soothing, similar to eating congee or Thai joke, and it was warm and comforting… and the chicken was tasty too!
Kongshia Lon – Eel Chili Sauce
Of all the Nagaland food I was able to sample on my weeklong visit to Nagaland, it was the different assortment of chili sauces and garnishes that I enjoyed most.
This eel chili sauce was excellent, dry eel pounded with lots of chilies, garlic, and salt. I was quite satisfied with just a spoonful of this eel chili sauce and rice.
Crab Chili Sauce
Another great combination was the crab version. It was a little runnier than the dry eel chili sauce, but this was also very good. I was surprised how non-fishy it tasted.
Naga Ghost Chili Sauce
On my last night in Nagaland, a friend cooked up a feast that contained dishes specifically from her home village in Nagaland. This blend of ingredients (I'm sorry, I honestly don't know what all was in here) was miraculous.
There were only 4 Naga ghost chillies (the world's hottest chili) within this sauce, and that was enough to make it tear flowing spicy. It wasn't a long lasting hot chili spice though, it was more of an extreme sharp pain in your mouth that didn't last too long, but really added wonderful flavor.
The entire chili sauce tasted kind of like mashed beans mixed with all sorts of herbs, onions, garlic and the Naga ghost chillies.
Though in a week I was barely able to scratch the surface of Nagaland food, what I was able to try I really enjoyed.
Let me know if you can recommend any other Nagaland foods!
Get exclusive updates
Enter your email and I'll send you the best travel food content.