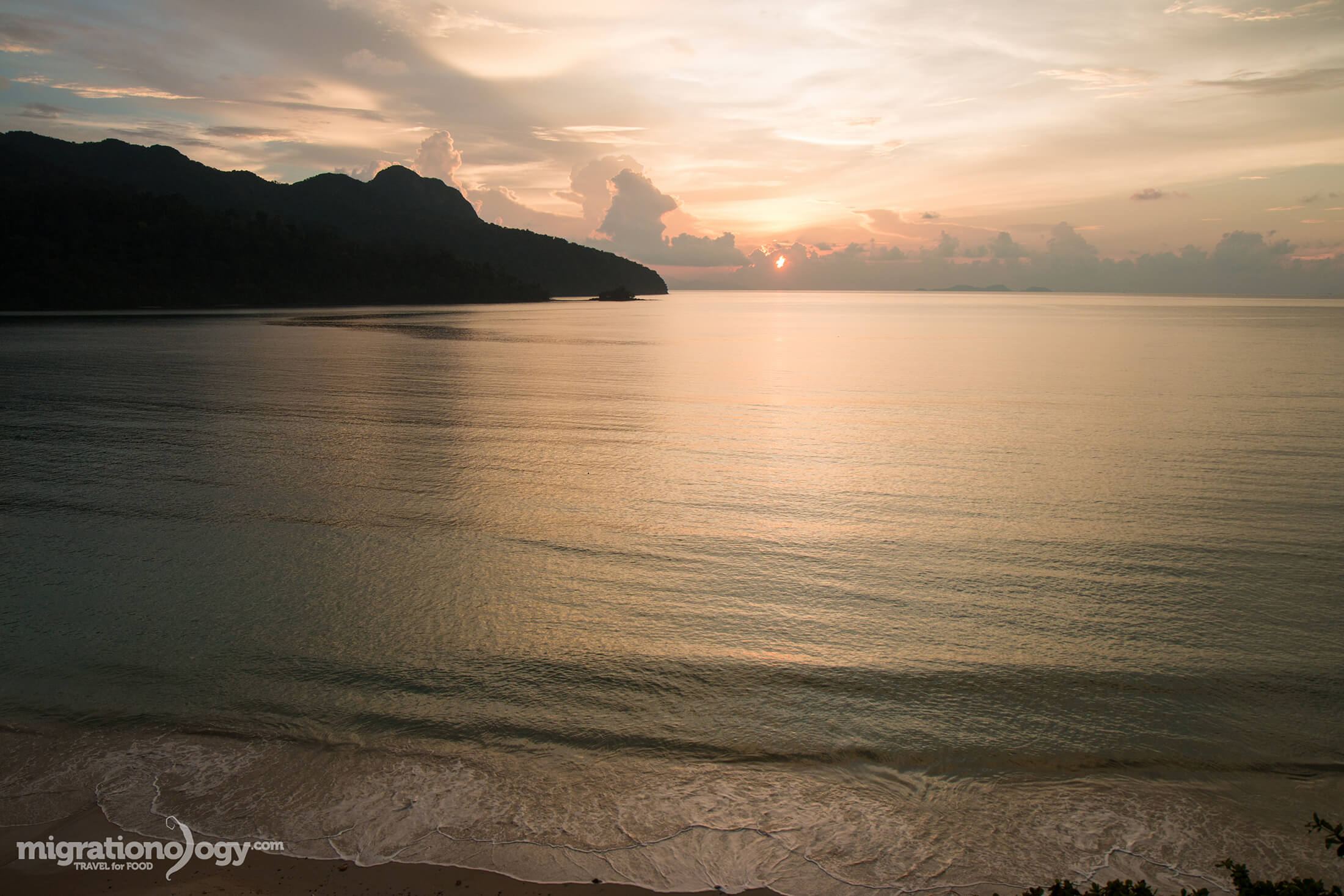 About 500 years ago there was a stunningly beautiful girl on an island.
She was so beautiful that she attracted everyone in her small village, and both men and women were jealous of her beauty.
And so, the village council decided they needed to get rid of her for good.
To make a long story short, they killed her.
But as she breathed her last few breaths, she put a curse on the island, that it would fail and be utterly miserable for 7 generations.
The girl's name was Mahsuri, and she lived on the island of Langkawi, just off the coast or what is today Malaysia, very close to Thailand.
This true story, although there may be some added imaginary details, pretty much sums up the past history in Langkawi.
The island really did suffer for many years.
It wasn't until the 1990's, after the 7 generations of the spell were over, that Langkawi began to prosper again.
And since then, it's become one of the largest vacation island tourism destinations in Malaysia, especially for local Malaysians from other parts of the country.
How I Went to Langkawi:
My wife Ying and I were invited by LADA (Langkawi Development Authority) and Naturally Langkawi, both under the Tourism Authority of Malaysia, to spend 7 days in Langkawi to experience a wide range of attractions, things to do, and, as I requested, eat a lot of local Langkawi food.
We were set up with an amazing guide named Wan Kash with Kash Island Adventures, a room at The Andaman Hotel*, transportation, and an itinerary packed full of some of the top things to do in Langkawi.
Our schedule for 7 days was so filled with activities that I decided to publish a video about each day, which you can watch below if you're interested (or check out the playlist on YouTube here).
The friendly people we met, the adventure activities we did, and the delicious Malaysian food we ate, all contributed to making our trip to Langkawi successful.
After spending a busy week in Langkawi, here are 10 of what I think are the best things to do in Langkawi.
Where to Stay in Langkawi
Since Langkawi is a huge vacation island for Malaysians and also for visitors, there's quite a large range of different accommodation throughout the island.
Many of the budget guest houses and hostels are located in the Pantai Cenang Beach area*, while more luxury hotels and resorts are scattered throughout the island.
My wife and I stayed for our entire trip at The Andaman*, a very nice hotel on a private beach in the northern part of the island. It was very exclusive, but a great place to stay if you're looking for privacy and an escape from busyness or crowds.
How to Get Around Langkawi
One thing that's challenging about visiting Langkawi, and could use some improvement, is getting around.
The island has a small enough population, and I'm assuming a decent economic level, to the point where there isn't really a public bus or transportation system.
Most locals get around the island either by private car or by motorbike.
So for tourists visiting the island, the options range from renting your own motorbike or car, using a taxi (but it can get really expensive), or having a private driver and vehicle.
Since our trip was arranged by LADA and since we had a guide as well, my wife and I also had a private vehicle to be able to visit all the destinations and make our videos. I normally like to take public transportation when I travel, but it was very convenient to have a private car in Langkawi.
That being said, public transportation in Langkawi could be better.
Alright, now let's move on to these top things to do in Langkawi:
1. Jet Ski Tour
Before going to Langkawi, I had never ridden a jet ski.
So as you can imagine, I was pretty excited to try it out, and not only to ride around the water near the beach, but to actually ride in the open sea, and take a full 4 hour jet ski tour.
Our tour began at Cenang Beach, where we arrived in the afternoon, got registered with Mega Water Sports, and then went over a few safety instructions with the other people on our tour.
They supplied us with waterproof boots, and lifejackets, and first gave us about 10 minutes to get the hang of riding a jet ski. The first few minutes felt a little wobbly, but it didn't take long to figure out the movement of riding a jet ski.
Traveling as a group, we stopped off at a number of different locations, including Dayang Bunting (Pregnant Maiden) island for a swim, and made our way to a number of different rock formations in the sea.
Our guide was both knowledgable about Langkawi and the locations we visited, as well as he handled safety very responsibly.
The highlight of the jet ski tour for me was flying through the calm water in an area known as The Fjords (because it kind of looks like a miniature version of Norway's famous attraction), surrounded by green covered karst mountain peaks, while gliding at 45 mph on the glassy surface of the ocean.
It was amazing.
We took our Langkawi jet ski tour with Mega Water Sports, located on Cenang Beach.
Get exclusive updates
Enter your email and I'll send you the best travel food content.
Tour Price: We did Tour #2 for 4 hours, and riding with a passenger (I drove, my wife was behind me): 800 MYR ($211.40)
2. Parasailing at Tanjung Rhu Beach
By the way, if you love action water sports, Langkawi is an excellent place to visit.
They have nearly all water-sports available somewhere on the island, and there are a number of very reputable companies, that take safety seriously.
To keep the action sports alive, along with riding a jet ski for the first time, when we were in Langkawi I also had the chance to go parasailing for the first time.
I have to admit that I'm a little afraid of heights, but I decided to not worry and just go for it.
To go parasailing, we went with a company called Naam Watersports (they offer all sorts of water-sports around Langkawi), and we headed to a beach called Tanjung Rhu, located in the northern part of the island.
We first watched a brief video about parasailing, and then we strapped on our lifejackets, and went to the boat.
After getting strapped into our harnesses, and when the captain gave us the OK, we strapped ourselves (we did it with 3 of us at once) into the parachute, and we quickly were let out on the rope, sailing higher and higher into the sky.
The view of Tanjung Rhu from above, while peacefully floating through the air, was unbelievable. We were in the air for a total of 10 minutes, before we were reeled back in slowly, right back onto the boat.
Ok, I will admit that I was a little scared at times, but luckily I got myself to relax, and the view and the feeling of just sitting in the air, was absolutely magical.
Parasailing Price: 537 MYR ($141.90) – that was the price for 3 of us for 10 minutes, if you just have 1 or 2 the price is less.
3. Ayer Hangat Night Market – Friday
As much as I enjoyed the extreme water-sports, food is the real reason I travel.
Every Friday night, there's a night market (or maybe more of an afternoon / evening market) in an area called Ayer Hangat.
The market, which is very local, offers a little bit of everything, but I think probably the best reason to go there is to experience the local side of Langkawi (not the touristy side), and to take advantage of an over supply of delicious food available.
After doing some wandering around and analyzing all of our food options, we settled pretty quickly for a dish called nasi kerabu, and this particular version had influence from Pattani in the south of Thailand.
When I was in Kuala Lumpur a few years previously I had nasi kerabu, and it was amazing, and so I couldn't wait to eat it again.
The rice, made colorful from a flower (sometimes butterfly pea), was topped with a handful of toasted coconut, sliced up herbs, and then I had a choice of what extra toppings to add – so I went with a fried mackerel, a minced patty of some kind, and a chili stuffed with fish.
Along with a few scoops of chili, it was an outstanding mixture of ingredients and flavors.
At Ayer Hangat night market, there was also a vendor selling beef stew in an irresistible wok of bubbling juices and oils. Eaten with sticky riced steamed in a bamboo pole, known in Malay as lemang, it was incredibly good.
These are just a few of the many things you can eat at Ayer Hangat night market on a Friday in Langkawi.
Food prices: Local street food prices, the nasi kerabu cost 5 MYR ($1.37)
Address: Not too far from Tanjung Rhu Beach, on Jalan Tanjung Rhu
Open hours: About 5 pm on Friday
4. Langkawi SkyCab and SkyBridge
If you enjoy views, taking the SkyCab and walking across the SkyBridge is one of the great things to do in Langkawi.
The SkyCab is a cable car that goes directly up the steep face of Langkawi's Machinchang mountain (second tallest mountain in Langkawi). It stops at a first viewpoint, and then continues across a ravine to the next peak, where there's a big look out view point.
There are a number of different cable cars to choose from, including the normal communal cable car, a private cable car, and a glass bottom cable car, all differing in price.
We took the glass bottom cable car, which had a glass bottom so we could see a view of the tree tops below us.
Once at the top of the SkyCab cable car, we took a short hike down to the base of the SkyBridge, a suspended bridge that they call "The Longest Free Span and Curved Bridge In The World."
For the SkyBridge, you just walk across it, and enjoy the views of the mountains and oceans below. Some of the views reminded me of being back in Hawaii. There's not much else to do here, other than just enjoy the views.
Also located in the same area are a bunch of other entertainment attractions like Art in Paradise, a 3d wall painting museum made for taking pictures, a number of theaters or short interactive films, and plenty of other shopping and entertainment options.
Just to let you know, everything around this area is very touristy, and there are often big crowds, but there are many attractions within the complex, and it's also a good place to bring kids.
Website: http://www.panoramalangkawi.com/
Address: Panorama Langkawi Sdn Bhd Cable Car Station, Oriental Village, Burau Bay, 07000 Langkawi, Kedah, MALAYSIA
Open hours: 9:30 am – 7:00 pm
Prices: Basic price is 35 MYR ($9.25) per person, but for private or glass bottom gondola on the cable car prices go way higher
5. Mahsuri Tomb and Museum
Remember the story at the beginning of this blog post?
Mahsuri is quite a legend in Langkawi, and one of the attractions that nearly everyone, especially Malaysian tourists, don't miss in Langkawi.
The first section of the museum is filled with life size scenes and sculptures of the story of Mahsuri, and how her beauty led her to being condemned on the island and put to death. The exhibitions were a little on the old side and a little freaky as well.
One of the highlights of visiting the museum is the tomb of Mahsuri, which is located right in the middle of the compound.
Also within the cultural complex, you'll find Mahsuri's old home, as well as a number of snack vendors that sells local sweets.
The Mahsuri Tomb and Museum is a good place to visit to learn about the interesting history of Langkawi island, and how it was put under a curse for many generations, and how it became the tourist vacation island that it is today.
Address: Kampung Mawat, Mukim Ulu Melaka, Langkawi
Open hours: 8 am – 6 pm daily
Entrance Price: 5 MYR ($1.32)
6. Mangrove Tour at Kilim Geopark
Mangroves are very important in Langkawi, and during the massive tsunami off the coast of Sumatra in 2004, the mangrove trees are said to have played an essential part of protecting the island.
One of the major things to do in Langkawi is go on a mangrove tour – at least the day we went there were hundreds of others who also decided to go for a mangrove tour.
It was a little on the touristy side, but I thought it was still pretty fun.
After we boarded into our boat, we stopped at a number of places, where we could get off the boat and walk around. We stopped at a cave filled with bats, a pool of water surrounded by mountains, and then just glided through the natural mangrove forests on the banks of Langkawi.
While touring through the mangrove forest I couldn't stop thinking about shipworms!
Part way through our boat ride though the mangrove forest, we stopped at a restaurant and fish farm called Hole In The Wall.
Before eating, we took a tour of the fish farm, which included a series of pools filled with huge and amazing fish.
The guide fed the fish as we walked around the fish farm. The highlight for me was seeing a couple of stingrays and getting to touch one. It felt like a slimy elephant, really leathery and tough.
We had lunch at Hole In The Wall, but overall, the food wasn't very good – I would not recommend the food here.
Our mangrove tour in Langkawi lasted for about 2 – 3 hours, and we just showed up at Kilim Forest and arranged a boat.
Website: Here's more information about a mangrove tour
Price: I believe our boat cost 250 MYR ($66.06), and we could have included about 10 people
7. Air Hangat Village – Natural Salt Water Jacuzzi
Are you into relaxation? 
Despite the already hot and humid weather of Langkawi, one of the best places to enjoy some therapeutic relaxation is at a place called the Air Hangat Village, which is a spa that makes use of a natural salt water spring.
I didn't get to spend too much time here during my visit to Langkawi, but we made a pre-booking for one of the private rooms, and so my wife and I had our own open air, yet private jacuzzi – it was completely walled off to everyone else – yet it was open air on the top.
After taking a shower with fresh water, I jumped into the jacuzzi, which was extremely hot and salty, and soothed my body in the water for a while.
The water was extremely hot, but it definitely felt relaxing and it had a therapeutic element to it.
The local Malaysians in the area say that the water is naturally healing, and a great place to come if you have aches or pains.
I didn't get to have a massage, or do any of the other activities they offer at the Air Hangat Village, but I thought it was a pretty enjoyable place to chill out and relax.
Address: Jalan Air Hangat, Mukim Air Hangat, 07000, Langkawi, Kedah Darul Aman
Open hours: 9 am – 6 pm daily, but they are open at night for private guests upon request
8. MARDI Langkawi Agro Technology Park
The name of this park sounds kind of complicated, but you can think of it just like a fruit farm where you can see a variety of the local fruit that grows in Langkawi – and get a taste of them as well.
Southeast Asia is an area of the world blessed with a tropical environment and where an abundance of tropical fresh fruit grows.
The MARDI Langkawi Agro Technology Park is a Malaysian government sponsored park that aims to naturally preserve and show native Malaysian fruits, and to research and improve natural ways to grow fruits and vegetables.
Our tour of the park started off in the back of a truck where we drove around the farm, stopping at a variety of fruit trees to see them being grown.
There were mangoes, mangosteen, rambutan, durian, cempedak, jackfruit, dragon fruit, star fruit, rose apples, and some others.
The farm itself was quite small and manageable, smaller than some of the fruit farms in Thailand that I've been to, but it was still good to see.
At the end of the tour, you can then sample some of the fruits, but it really depends on what season you happen to be there at, which will determine which fruits are available.
Unfortunately, durian, mangosteen, and cempedak, weren't ripe when I was there.
What I really liked about MARDI Langkawi Agro Technology Park is that it's quick and easy and convenient, and you can get an introduction to fruit grown in its natural environment in Langkawi.
Address: Jalan Padang Gaong, Lubuk Semilang, Kedah Darul Aman 07000 Langkawi, Malaysia
Open hours: From Saturday – Thursday from 8.30 am – 5.00 pm, closed on Friday
Entrance price: 25 MYR ($6.61) per person for the farm tour
9. Sunset Dinner Cruise
Sunset, dinner, and cruise, are three words that fit together perfectly.
Using the same company that took us parasailing, Naam Watersports, my wife and I went on a dinner cruise on a boat called the Sea Falcon.
The cruise launched from the main boat pier in Langkawi, near Kuah town, at about 5 pm, and there were about 12 others on the boat – just the right amount so it wasn't over crowded and we had plenty of space to either chat with others, or to keep to ourselves.
I have to say that the luxury boat, known as the Sea Falcon in their fleet – a custom-built two-tiered catamaran – was easily the nicest and most luxurious boat I've ever been on.
After sailing for about an hour, we stopped when the sun had gone partly down, and a few of us decided to go for an evening swim in the warm water. The swim was fantastic.
The dinner on the sunset cruise, which included a buffet of mostly western and a few mixed in Malaysian dishes, wasn't very good, but the view of the sunset, the ocean, and hanging out on the boat, was truly memorable. I only wish the food had been better.
If you're looking for a romantic, or just a special thing to do when you're in Langkawi, a sunset cruise is an amazing option.
I really enjoyed it, mostly for the views and the treat of being on the luxury catamaran.
Hours: Starts at 5 pm each day
Price: 285 MYR ($75.31) per person, included cruise, dinner, and all you can drink beverages
10. Dig in to local food
The island of Langkawi, unlike Penang island located only nearly a stones throw away, isn't known for being a food paradise.
But after spending time in Langkawi, I have a different opinion.
I think one of the best things about Langkawi and the food in Langkawi is that many of the residents of the island come from all over Malaysia, and even from parts of Thailand.
So instead of just having local specialities available (which there are a couple dishes only available in Langkawi), there are dishes available to eat in Langkawi from all over Malaysia.
I mentioned above in Attraction #3, the Friday night Ayer Hangat Market, is an excellent place to find local and dishes from the entire Malay region. But there are also many other restaurants and street food stalls scattered throughout the island.
Nasi dagang is a Malaysian food of rice and fish curry typically associated with the eastern Malaysian states of Kelantan and Terengganu.
At Nasi Dagang Pak Malau, a restaurant where I had one of the best meals I ate in Langkawi, the owner and his wife are from each of those eastern Malaysian states, and they chose to live in Langkawi and open a restaurant highlighting their local home food. If you have a chance to eat here when you're in Langkawi, go for it.
Another popular style of food in Langkawi is Thai food, much of which is from the southern Thai province of Pattani. One night we ate at a local restaurant called Kedai Sempang, the food was surprising good, Thai style, but with a little bit of a local twist. The pla kapong neung mango, barramundi steamed in sour lime juice, was excellent.
Finally, for a mind blowing local meal, another restaurant in Langkawi that I'll never forget is Kak Yan that serves nasi campur – rice and assorted dishes.
And lastly, if you are on the western side of Langkawi in the late afternoon, eating laksa and rojak at Hafiz Rojak is an absolute must.
A local Langkawi specialty is a dish called bronok, a type of sea cucumber which is diced up, mixed with shredded green mango, shallots, chilies, and other spices. I thought it was going to be more gelatinous, but it was actually very firm, and had a crispness to it like fresh squid or sea snails.
You might have to drive and search out some local spots to find the best food in Langkawi, but there's some amazing food waiting to be eaten.
In addition to this list of 10 attractions in Langkawi, there are quite a few other things to do in Langkawi as well, like going to a variety of different beaches around the island, swimming at waterfalls, visiting the Langkawi Art Complex for handicrafts from around Malaysia, and wildlife viewing.
Also, if you happen to be in Langkawi during the annual Laksa Carnival, a celebration of one of Malaysia's favorite foods, it's a great opportunity to sample some delicious bowls of curry noodles when you're there. My favorite was Sarawak laksa.
Langkawi Travel Video Guides:
During our trip to Langkawi, I decided to make a video blog (vlog) about each day of our trip. The videos on the playlist below include just about everything we did, ate, and saw during our trip.
(If you can't see the video, watch it here)
Conclusion
Langkawi is an island located just off the coast of northwestern Malaysia.
Although it was previously cursed under a spell and unprosperous for 7 generations, the island has bounced back to become one of Malaysia's favorite tourist and vacation destinations.
I was invited by LADA and Naturally Langkawi (the Tourism Authority of Malaysia) to visit Langkawi with my wife on a 7 day adventure excursion.
We toured around the island, did a mixture of some of the best attractions on the island, ate lots of delicious food, attended a local Langkawi wedding, and made a series of travel videos.
After an excellent trip to Langkawi, I put together these 10 things to do in Langkawi to offer some ideas of what the island has to offer.
I hope you have a wonderful trip when you go to Langkawi!
Get exclusive updates
Enter your email and I'll send you the best travel food content.