Kolkata (Calcutta), literally translates to: "The City of Joy!"
And while not everything about visiting Kolkata is smooth and easy (it's crowded and chaotic), there are some really cool joys within the city.
One of those ever-present joys in Kolkata is the chai.
It's not just any chai, it's piping hot bubbling chai that's nearly always served in never before used clay cups; That's right, clay cups are the paper cups in Kolkata!
Throughout much of North India, I enjoyed many things served in clay bowls and cups (especially things like yoghurt lassi and desserts), but throughout my India trip, no other city used clay cups as frequently as Kolkata did.
Get exclusive updates
Enter your email and I'll send you the best travel food content.
Walk up to any street side vendor in Kolkata, order a cup of chai, and in seconds you'll be poured a fresh one, served in a clay cup.
It was winter when I visited, so the hot chai was soothing and comforting to nurse down. In my opinion, one of the best things to do in Kolkata after you have a belly full of Kolkata street food, is to sit on a chaotic street and sip an overflowing cup of chai from a clay cup.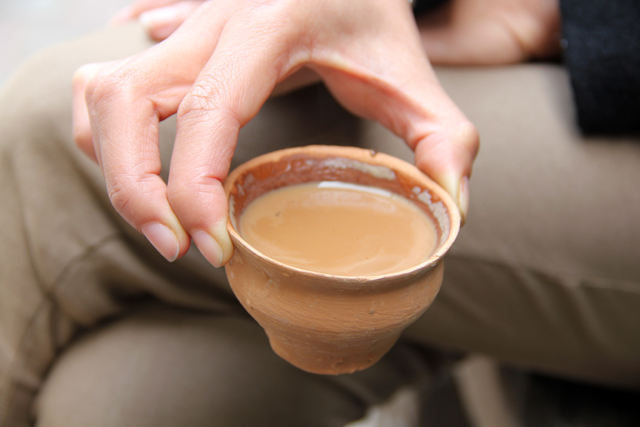 Now you might think that they bump up the price due to the fancy clay cups, but that's hardly the case. A cup of chai served in a clay cup will set you back just 4 – 6 Rupees ($0.07 – $0.11), depending on what size you choose.
At first you'll probably want to save the cup, like I did, but after a few days in Kolkata you'll realize that they are so common (and not very strong) and so you probably won't bother anymore.
After you're done sipping, you simply toss your clay cup on the side of the street, the way everyone does.
Here's a quick video of drinking chai in Kolakta. Enjoy!
Get exclusive updates
Enter your email and I'll send you the best travel food content.