Finding Kategna, a famous local Ethiopian restaurant in Addis Ababa, was my mission of the day.
Recommended by the crew at Addis Eats, I knew Kategna restaurant was a place I needed to eat at, the sooner the better.
Though we switched hotels a number of times while staying in Addis, on that particular day, we were staying at Afro Land Lodge, conveniently located just up the road from Kategna.
We arrived early before the main lunch rush, and already there were a few tables occupied.
Kategna is the type of restaurant where you can expect delicious food from the moment you walk in the door.
The aroma of roasting coffee beans hits you like a wave of perfume, and then you get that all familiar scent of berbere, the Ethiopian spice blend mixture that pours out of every Ethiopian kitchen in the world – it's beautiful!
There are a number of locations, but the one I went was the Meskel Flower branch, just off Gabon street (the other location is off Bole Road near the airport – and I went there too later – same quality of delicious food).
The menu at Kategna restaurant is extremely extensive – you can really eat just about anything you'd like to eat when it comes to Ethiopian food.
There's tibs, kitfo, firfir, dirkosh, and countless other things to choose from.
One reason Kategna is such a great restaurant is because they have the full range of Ethiopian cuisine readily available.
Get exclusive updates
Enter your email and I'll send you the best travel food content.
On my first visit I decided to order the vegetarian beyaynetu, a huge combination platter of injera topped with a variety of vegan stews and curries.
Along with the vegetarian combo plate, I also ordered a side of doro wat (chicken stew) and a bowl of Ethiopian salad.
The giant platter of a feast was delivered quite quickly to my table, first came the beyaynetu followed by the pot of doro wat.
There are few things in the culinary world more pretty than a gigantic and fresh colorful platter of Ethiopian food set in front of you.
It's one of the world's great mouthwatering experiences, deciding how you're going to navigate the abstract painting before you.
The misir wat, or red lentil stew, took center stage on this beyaynetu at Kategna.
Injera, the staple of Ethiopian food, is always served.
I began to dig in ferociously, first tearing off pieces from the injera roll and dipping my way around the circular platter.
The mix was stunning, a variety of different legume stews and curries, partnered by vegetables like gomen (collard greens) and stuffed jalapenos, and finally complemented by Ethiopian dips and garnishes.
To ensure I wasn't eating too healthy from the pure vegetarian food, I took the initiative to order a side dish of doro wat, one of the most famous Ethiopian dishes.
The chicken stew is made with boiling heaps of onions with the spice combination of berbere, lots of Ethiopian butter, and finally the chicken.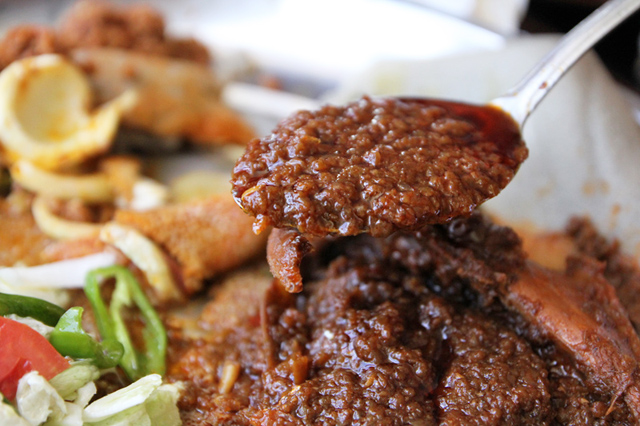 The result is an incredibly rich and flavorful sauce that melts in your mouth, the onions stewed until disintegrating in texture, and the chicken easily falls off the bone.
You scoop all that luscious doro wat sauce onto your base of injera as it soaks up all that flavor.
It was pretty greasy, and to be honest, there wasn't even much meat on the chicken bone (at least the piece I got), but with the heavenly gravy, I barely even cared about the actual chicken. The sauce was amazing!
Like I mentioned before, Kategna restaurant serves a huge variety of Ethiopian foods. No matter what you're in the mood for, you can order what you like.
Another visit to Kategna, I decided to order the shiro fit fit, shreds of injera marinated in shiro (chickpea flour curry), lemon juice, and spices. It was served cold, with ice cubes in it.
Pretty good but not my favorite.
I also tried the chechebsa, a common Ethiopian breakfast dish made from torn pieces of unleavened bread (almost like a chapati), marinated in spices and butter and served with yogurt and honey.
No meal is fully complete without either an order of a European coffee like a macchiato, or a traditional Ethiopian buna. I chose buna this time, delivered from the coffee roaster at the front of the restaurant.
Nothing quite satisfies the belly after all-you-can-eat injera and insanely flavorful stews than a cup of dark chocolatey Ethiopian coffee.
Kategna Restaurant is certainly one of the best restaurants in Addis Ababa and a place you should not miss when you're in town.
Prices: Very reasonable for a nice restaurant. For the beyaynetu, doro wat, salad, and coffee, we spent 230 ETB ($11.85). I had to actually waddle back to the hotel.
Open hours: I'm not completely sure, but sources say 7:00 am – 10:30 pm daily. I went for lunch and it was open.
Get exclusive updates
Enter your email and I'll send you the best travel food content.