Japanese Hot Dog (Japadog!)
by Bret Ahmed from TheJetpacker

Location: Japadog
Address: 530 Robson St.  Vancouver, British Columbia, Canada  V6Z2K6
Cost: $3.50 – $6.75 CAN
Website: (beware — Engrish ahead): http://www.japadog.com/en/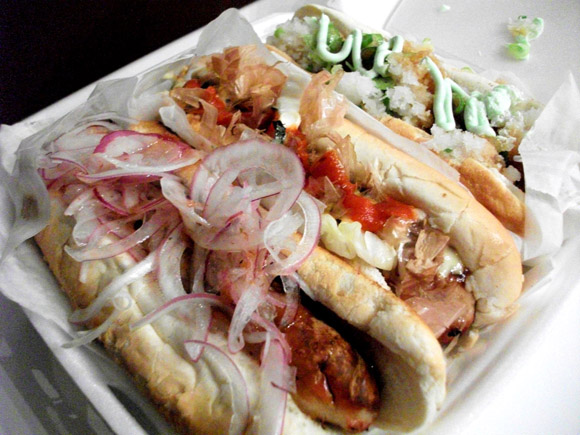 Imagine the flavor profile of a hot dog combined with sushi.  Sounds disturbing, doesn't it?  Yet for a reason that defies all logic, hot dogs topped with Japanese condiments are delicious (albeit confounding).
The Japadog street cart has become so popular in Vancouver that it's spawned two more street carts and one storefront.  But that hasn't stopped the long lines.
Get exclusive updates
Enter your email and I'll send you the best travel food content.
When we were in Vancouver for the Winter Olympics, we waited for over an hour, which made me hungry (and delusional) enough to try three of their 17 varieties:
Oroshi — a pork bratwurst covered in a sharp-tasting grated radish, sweet and savory "special" soy sauce and chopped green onion.
Ume — a bratwurst drenched in a sweet and tangy plum sauce and garnished with raw red onion.
Okonomi — a kurobuta pork sausage blanketed by fried cabbage, tangy bonito flakes (dried flakes of fish), Japanese mayo and Okonomiyaki sauce (a flavorful sauce that embodies umami: soy sauce, tomato puree, Worcestershire sauce, mustard, sake, ginger and rice vinegar).  Once you get your head around the faint fishy flavor, you realize it compliments the savory hot dog well, like surf 'n turf.
There is also a spicy cheese terimayo dog (a hot dog topped with thin strands of seaweed, jalapeno cheese and teriyaki sauce), an edamame dog and a Kobe beef dog.  Any of them work well with a squirt of wasabi mayo.
Makes ketchup and mustard seem bland, doesn't it?
Bret Ahmed is the brains (clearly not the looks) behind The Jetpacker, a fun travel blog that features humorous tales, lists, deals, tips and strange stories from the travel universe. Follow him on Facebook or @Jetpacker and have a blast!
Get exclusive updates
Enter your email and I'll send you the best travel food content.