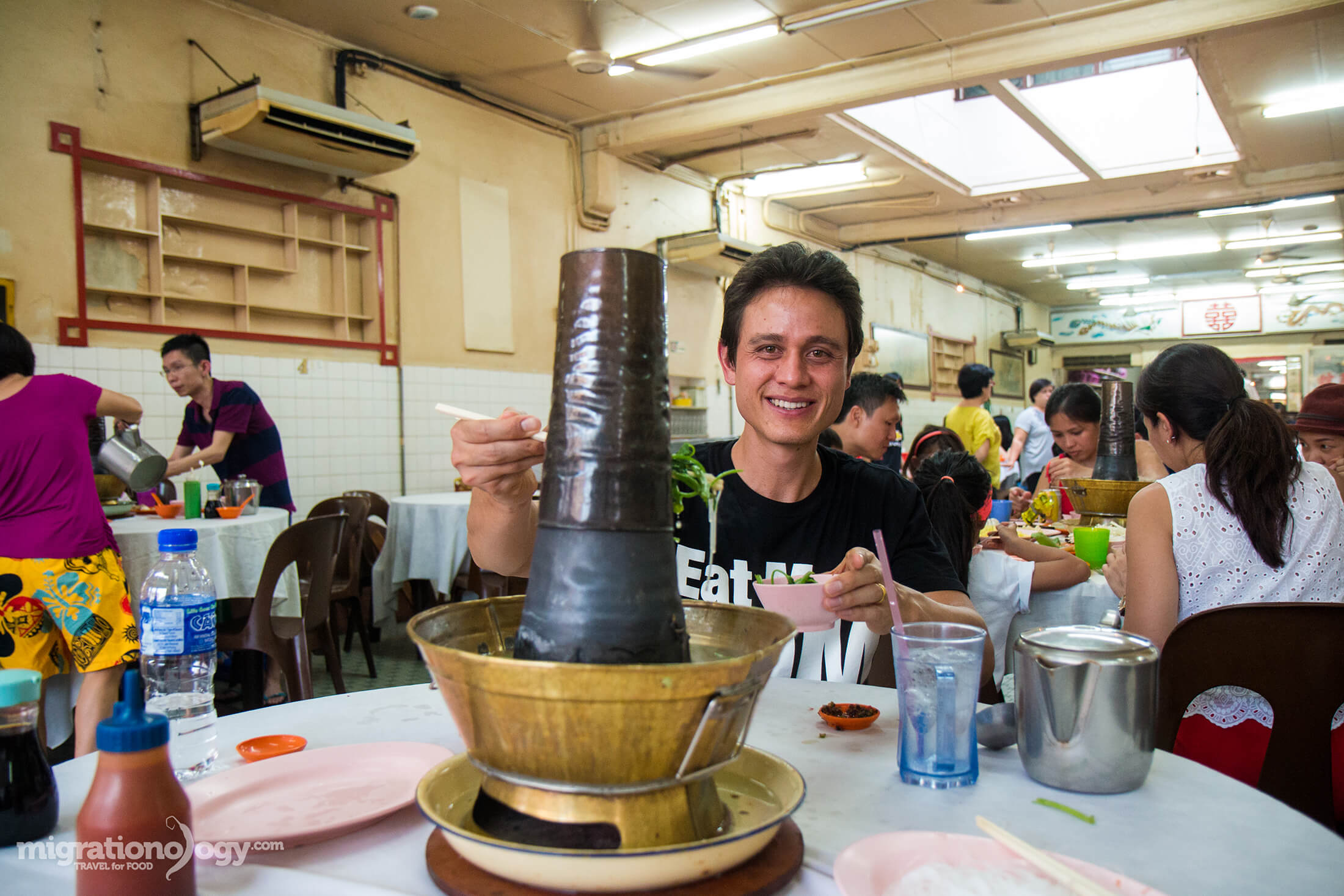 What does a steamboat have to do with eating?
Check out that photo above, doesn't that look like the chimney of a steamboat?
The only difference: one pushes a boat in water, the other cooks food in water.
There's a restaurant in Penang called Goh Huat Seng, and they serve an old-school version of a charcoal steamboat hot pot.
Though not the most flavorful of all the meals I ate in Penang, this was one of the coolest cooking devices I ate from during our trip.
What is a steamboat?
Ok, first off, let's just quickly go over what a steamboat is.
You probably have heard of a hot pot.
Some kind of soup or liquid, usually placed in a pot on your table over a burner, and you cook meat and vegetables in the soup mixture right before you.
Steamboat is another name for a hot pot, the term used especially, from my experience in Malaysia and Singapore.
According to Wikipedia, the hot pot method of cooking and eating was likely started in Mongolia and areas of northern China, before spreading through China and eventually to Southeast Asia.
Today, it's popular throughout Asia, from Japan to Singapore.
I've eaten hot pot in Thailand, Japan, Taiwan, and in mainland China, and I've eaten it from claypots, glass pans, metal pans, separated pans – all sorts of specially made hot pot devices.
But at Goh Huat Seng in Penang, Malaysia, they served their hot pot in one of the coolest steamboat hot pot pans I've seen.
The Restaurant: Goh Huat Seng
Located on Kimberly Street, just a short walk down the road from all the famous Kimberly street food stalls like char kwey teow and the amazing rolled noodles and duck, is a shophouse restaurant called Goh Huat Seng.
The specialize in one thing: steamboat.
According to this article on Timeout, Goh Huat Seng is one of the oldest Teochew restaurants in Penang, and it's been serving steamboat for over 50 years, and remains nearly the same now as it has always been.
I'm guessing the steamboat pots might be original too!
Get exclusive updates
Enter your email and I'll send you the best travel food content.
The restaurant is basically an old school shophouse, still original, with a very cool feel to it.
Within the long restaurant, there were about 20 round tables I'd guess lining the sides of the shophouse.
Hot pot is meant to be eaten communally with friends and family, so tables are big and round.
The Menu and Ordering
According to what I saw, there was no real menu at the restaurant, other than a small poster on the side of the wall.
You basically just order by the set, and they have different prices depending on the set you order which includes different plates of raw ingredients to be cooked in your personal steamboat hot pot.
It was just myself and my wife Ying, so we went just with the smallest 2 plate set.
I'm not sure if you could choose what ingredients you wanted, but we just got whatever they gave us, which came as a mixture of a little bit of everything.
Additionally with our set, we also ordered an extra plate of mung bean noodles, and a plate of water morning glory.
As soon as we ordered and started drinking Chinese tea, they brought over a plate of optional deep fried salted peanuts for an extra 2 MYR.
Being pretty hungry, and peanuts being my number 1 snack food, I took them, and finished them off before our steamboat arrived at our table.
The Steamboat
Before they brought our main event, they brought our set of two plates.
One plate included sliced pork, shrimp, needle mushrooms, fried tofu, quail eggs, and some water morning glory on the side.
The other plate included slices of fish, squid, fish balls, and dumplings.
Then it arrived, the most magnificent hot pot (steamboat) cooking device I had perhaps ever seen. It was bigger than my torso, and proudly reached high above our table.
The basic engineering of the steamboat included a bottom section where hot coals were placed, followed by a round trough that went around the bottom coal section, and then a chimney coming from the middle to release hot air and fumes.
They put a pan of water on the bottom and set the steamboat in that first – I think so it didn't burn a hole through the table.
When they delivered it to our table, the steamboat was already filled with soup broth, pieces of napa cabbage, slices of bean curd, and what appeared to me to be a handful of deep fried toasted garlic.
Probably the best thing about eating a hot pot, and the reason so many people enjoy it, is because you get to cook your food at your table yourself.
It's a great form of social dining.
When we eat hot pot at home in Thailand, Ying is the instructor, sometimes I even just sit back and let her cook.
We first added the pork and some of the quail eggs and needle mushrooms, let them cook for a bit, and then tossed in the shrimp, making sure not to overcook them.
Some ingredients are OK to keep on cooking and sitting in the hot soup, other things, like fish and shrimp, you want to monitor quite closely and remove them so they don't boil to death and turn rubbery and lose their flavor.
Once the shrimp and other ingredients were done cooking, we started to dish ourselves bowls and dig in for dinner.
Sauce is another necessary component of any hot pot meal. At Goh Huat Seng they kept the sauce pretty simple, but there was one ingredient that really made the difference: deep fried garlic.
Along with deep fried garlic, there were sliced chilies, and what tasted to me just like soy sauce, perhaps watered down just a tinge so it wasn't as salty.
The flaming hot mushrooms, vegetables, and pieces of meat and seafood were plain, but tasted excellent with the chilies and fried garlic.
The soup broth had a mild flavor, but it was very soothing and to me it almost had a mushroom fragrance.
Overall, this type of hot pot is on the plain tasting side.
However, every now and then, despite my addiction to spice and chilies and over-the-top flavors, it's nice to eat something plainer.
The ingredients were fresh, the restaurant was classic, and the steamboat was beyond cool.
The steamboat remained outrageously hot and boiling throughout our entire meal. They did add a small personal fan to the bottom of our hot pot to keep the coals going, and it kept boiling away.
As we ate, we added more ingredients, and continued cooking and eating leisurely, and fully enjoying our hot pot steamboat meal in Penang.
The soup broth started getting low as it boiled and evaporated continuously, but the staff were all quite attentive, and they would quickly add in an extra cup of broth.
We started eating at Goh Huat Seng Restaurant just as they opened for the night, and they were almost empty.
But during our meal and by the time we left, the restaurant was packed, and there were many big groups of families with lots of kids. Seems like lots of kids love to eat hot pot – maybe all the fish and pork meat balls?
Our total bill
Our total bill for 2 came to 68.05 MYR ($17.73), which included the 2 plate set, an extra plate of both mung bean noodles and water morning glory, peanuts, tea, and some tax.
It's not a street food cheap meal, that's for sure, but I thought it was worth it for a traditional Chinese Malaysian steamboat.
Conclusion
Throughout Asia, one of the many popular family meals is hot pot, known in Malaysia as a steamboat.
While my wife and I were in Penang, one night for dinner we went to Goh Huat Seng Restaurant, an old school steamboat restaurant that still uses traditional steamboat pots with charcoal.
The steamboat cooking pots were some of the coolest I've ever seen anywhere, and the ingredients were fresh, soothing, and it was a lot of fun to cook and eat.
This type of steamboat for me, can't compare to the flavors of food like nasi kandar, but for a change of taste, a plainer and soothing meal, and not forgetting those steamboat pots one more time, it was an awesome experience eating at Goh Huat Seng Restaurant in Penang.
The food is good but don't prepare yourself for a flavor explosion, because it is what it is, soothing and kind of plain.
Goh Huat Seng Restaurant – Penang, Malaysia
Address: 59-A, Lebuh Kimberly, Pulau Pinang, Malaysia
Open hours: From about 6 pm – 10 pm daily
Prices: We paid 68.05 MYR ($17.73) for 2 of us, but looking at the menu, it looks like it gets less expensive if you have more people – cheaper the more food you eat
How to get there: Goh Huat Seng Restaurant is located on Lebuh Kimberly. When I was in Penang I stayed at Armenian Street Heritage Hotel* (which I'd recommend), and this restaurant was just a 5 minute walk away.
Get exclusive updates
Enter your email and I'll send you the best travel food content.