Sumo wrestling is one of the coolest sports in the world.
Eating a lot is mandatory.
Among the many things to do in Tokyo (video), even though I wasn't there during fight season, is visit the main sumo stadium and area of Tokyo known as Ryōgoku, home to numerous sumo stables and sumo restaurants.
At the Ryōgoku Kokugikan, the main sumo stadium where most tournaments take place in Tokyo, there's a small and free sumo museum which you can browse through.
The museum mostly includes a series famous photographs of famous sumo wrestlers, and a series of sumo models that displayed different winning techniques and methods.
But then I noticed the Ryogoku map at the information desk, and in the brochure were about 20 different sumo restaurants listed, most serving a sumo food dish known as chankonabe (ちゃんこ鍋).
As you can imagine, I was thrilled.
After walking around Ryogoku for about 30 minutes and trying to decide which restaurant to eat at, we came to the conclusion to eat at Chanko Tomoegata (巴潟).
It looked quiet on the outside, but the waving sumo flags to mark the entrance, begged me to enter.
Opening the doors I was immediately pleased to see all the dedication to sumo wrestlers, the signs and pictures, and everything was sumo – there were even quite a few photos of famous wrestlers and also their giant hand prints.
My excitement for eating like a sumo wrestler had me licking my lips.
Though it didn't look too full from the outside (there wasn't a line waiting outside like at many Tokyo restaurants), the upstairs, where the dining area was located, was full.
Get exclusive updates
Enter your email and I'll send you the best travel food content.
We had to wait about 15 minutes, as my stomach growled.
Chankonabe (ちゃんこ鍋) in Tokyo
Often known as a sumo wrestlers food in Japan, chankonabe (ちゃんこ鍋) is really quite a healthy mixture of meat and vegetables in a huge hot pot.
It can include a type of meat, usually pork or beef, tofu, vegetables like napa cabbage, carrots, and mushrooms. Really it's just like a huge delicious melting pot of protein and vegetables.
Sumo wrestlers often eat chankonabe (ちゃんこ鍋) in insanely huge portion sizes, as prescribed for their weight gaining diet.
The giant chankonabe (ちゃんこ鍋) sumo pot first caught my eye on the menu, and I saw that it cost 2,940 ($28.85). So since it was Ying and I, I thought that would be great.
Unfortunately, the waitress informed us that that price was per person… a little out of my lunchtime budget…
So she pointed us to the lunch special, I guess it was just a smaller batch of chankonabe (ちゃんこ鍋) known as sumoheyafu higawari chanko, served in a bowl, not in a pot with heat on the bottom. But the price worked better for us.
I decided to order the one on the bottom with the extra sashimi side dish.
We sipped hot tea from sumo cups as we waited for the food to arrive.
I could hardly control my excitement. Eating is of course my favorite activity in the world, so eating like a sumo wrestler, I couldn't wait!
Our friendly smiling waitress took a bow and then set before us our sumo meal platters.
Just like all food in Japan, it was a beautiful assortment of dishes, each divided appropriately with all decoration having a purpose.
The soup was piping hot in a clay bowl, and the steamy aroma was heavenly.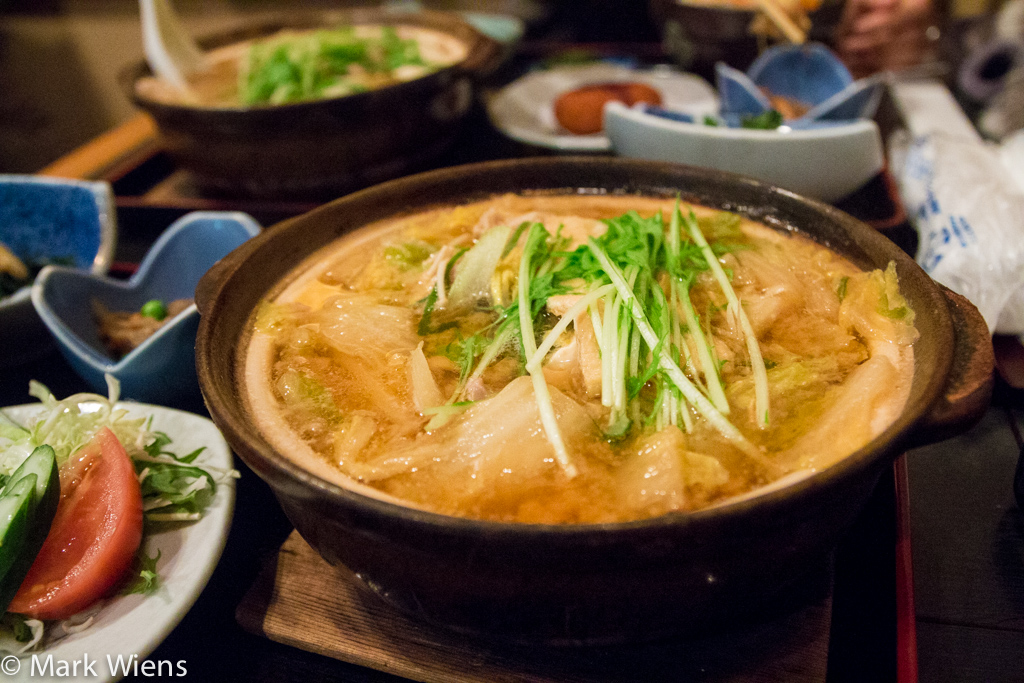 I headed straight for the chankonabe (ちゃんこ鍋), and as we observed other Japanese people in the restaurant, they first took the small bowl and added some of the soup to the small bowl before eating. Nobody was eating straight from the main bowl – not sure if it was because of how hot it was, or if that's the respectful way to eat it, I'm assuming the latter.
So we followed suit.
The broth was miso soup based, but it was the most pleasant miso soup I've ever had, far far different from that miso soup you've had at a cheap Japanese take-out.
It was rich and almost buttery, yet clear. It tasted like bones had been boiling for years to create such a sensational flavor – and that might actually be true, as soups like this in Japan are often made from a mother pot of stock that boils continuously.
Inside the soup were strips of pork, a lot of napa cabbage, some mushrooms, tofu, and some gelatin squiggly things, which I had no clue what they were, until some kind people on the YouTube video told me they are known as konjac gel in Japan.
It was so extremely delicious, plus since it was cold outside, nothing felt better than a piping hot flavorful soup.
My platter also came with rice, a few small salads, a potato croquette, which tasted to me like deep fried creamy gravy, and sashimi.
I made the decision to get the meal combo with the extra side dish of sashimi, at the last minute of ordering. Reason being, just like the tempura, all meals are better with some extra raw fish in Japan.
It was the medium fatty kind of tuna, one of my favorites, slightly diced up and topped with a handful of spring onions.
After finishing off our delicious meals, we then enjoyed a scoop of lime sorbet which came with the lunch special.
Our chankonabe (ちゃんこ鍋) sumo meal was pretty good size, and we were definitely full and happy after finishing everything, but in reality it was probably just an appetizer for a real sumo wrestler.
It was an extremely fun experience to eat like a sumo wrestler, and if you have the time when you're in Tokyo, you should enjoy it too.
Here's the video of our meal…
(If you can't see the video, watch it here: http://youtu.be/7KcFGjAUgcU)
There are a bunch of chankonabe (ちゃんこ鍋) sumo restaurants in Ryogoku, but if you want to go to this same place, here's the info:
Chanko Tomoegata (巴潟)
Website: http://www.tomoegata.com/
Price: 1,890 JPY ($18.60), but without the sashimi it was 1,260 JPY ($12.40)
Here's the map, click on "Chanko Tomoegata (巴潟)."
Get exclusive updates
Enter your email and I'll send you the best travel food content.