No shower, check, no house cleaning, check, no bad thoughts or words, check,
With the Chinese influence in Thailand, being in Bangkok, and my half Chinese American-ism, there was tremendous reason to celebrate 2010 as the year of the Tiger on Feb 14th  and 15th, 2010.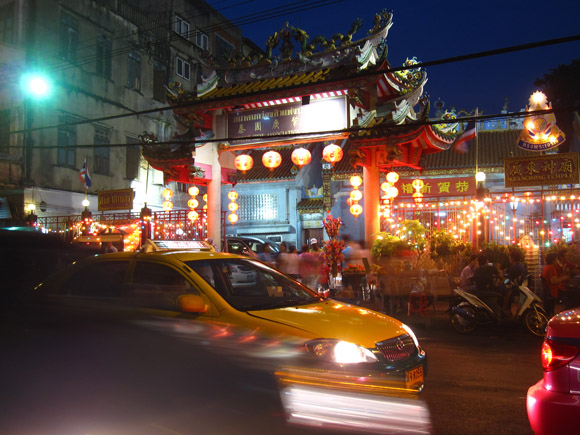 I took the initiative to ask a few of my English students and Thai friends some of the most important aspects and traditions of Chinese New Years in Thailand.  Many said that it is a crucial time to see family and especially visit elderly relatives.
Some Notable Traditions for Thai Chinese New Years:
Don't wash hair/Don't cut hair– you might wash away anything good for the year
No house cleaning– you might clean out the wealth for the year
No bad thoughts/ No cursing– will cause you to say nice things for the whole year and nice things will happen to you
Wear new and colorful (red) clothes– because you want new things during the year and a fresh start
Eat chicken or duck– you should simply eat chicken or duck or maybe fish because it's delicious and it symbolizes prosperity
One of my students said that every Chinese New Years was a time when he and his entire family would gamble with small amounts of money.  Whoever won, would then be lucky for the rest of the year. Gambling however, was not allowed in his family except on this day.
Another friend mentioned that her family kept the lights on in the house throughout the night.  This tradition symbolizes a want for everything to be bright and clear the entire year.
Get exclusive updates
Enter your email and I'll send you the best travel food content.
Hong Bao is the New Years tradition that illuminated the faces of my students the most.  Give (invest) bright colored oranges to older relatives to pay respect, and then hope for a big monetary return.  Hong Bao is the tradition where the job holders or elderly give monetary gifts to the children or non workers of the family in a red Chinese envelope.   From their emotions, some of my students seemed to have done pretty well in the past.  You should normally spend most of the money given within the next few days.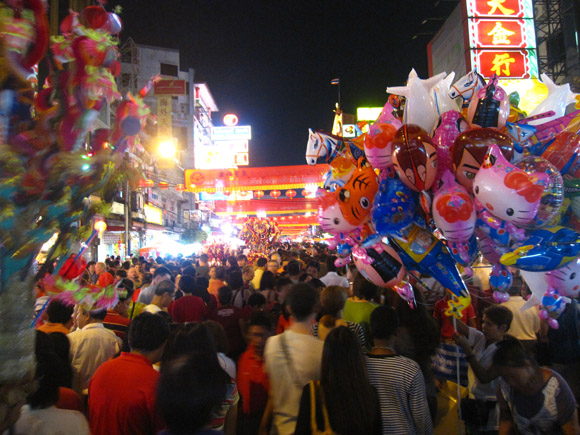 On Sunday the 14th or February, I managed my way to Yaowarat (Bangkok Chinatown) to check out the festivities and more importantly partake of most things I saw.
The raod was shut from motor traffic and a stampede of humans were tip toe-ing and shoving to gain ground with aimless direction.  No one seemed to actually know where they were going, yet everyone was mingling in nonsense.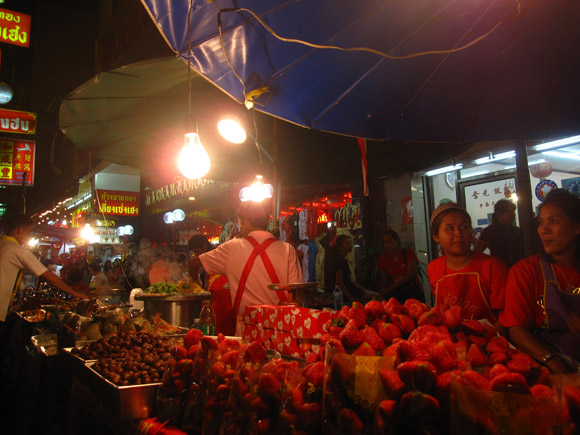 As the everlasting herded crowds were focusing on parades including the Princess, cheering to drumming dragon dances, and shopping at street stalls, my wonderful friends and I nestled into a 2nd floor restaurant to fulfill the final Chinese New Years vow; Delicious Food.
You should normally eat boiled chicken, however, duck, goose, and fish, are also acceptable  for gaining prosperity.    Dim Sum (steamed dumplings) as well as Sala Pao (steamed buns with pork inside) are also poplar menu items to munch.
To my relief Soup Number 5 is not a requirement.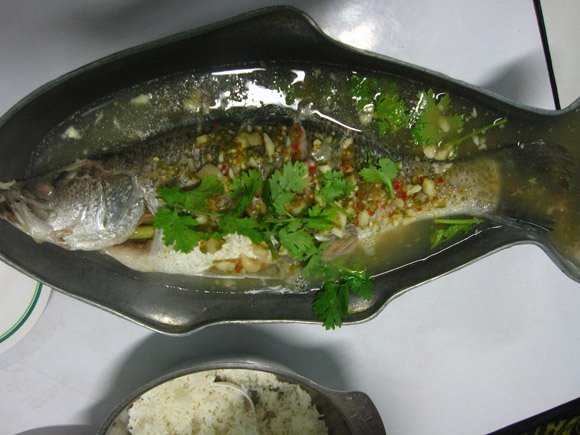 Our order was traditional Thai with Chinese influences.
The main event was a fashionable steamed Snapper swimming in boiling lemon and chili sauce (plah ka pung neung manow), with a few stunner companions consisting of Thai egg curry with squid (pad pongali plahmuk), oyster omellette on a hot plate (plasawan), stir fried morning glory (pad pak bung), and of course large bowls of steamed rice.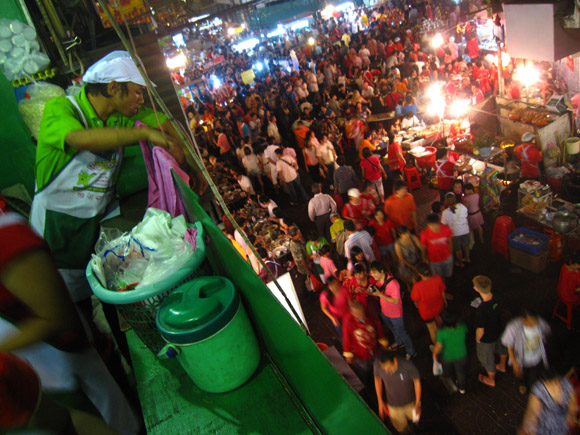 Beyond satisfied and perspiring waterfalls, it was necessary to challenge the swarms and head back across Bangkok for some rest and relaxation.
Get exclusive updates
Enter your email and I'll send you the best travel food content.