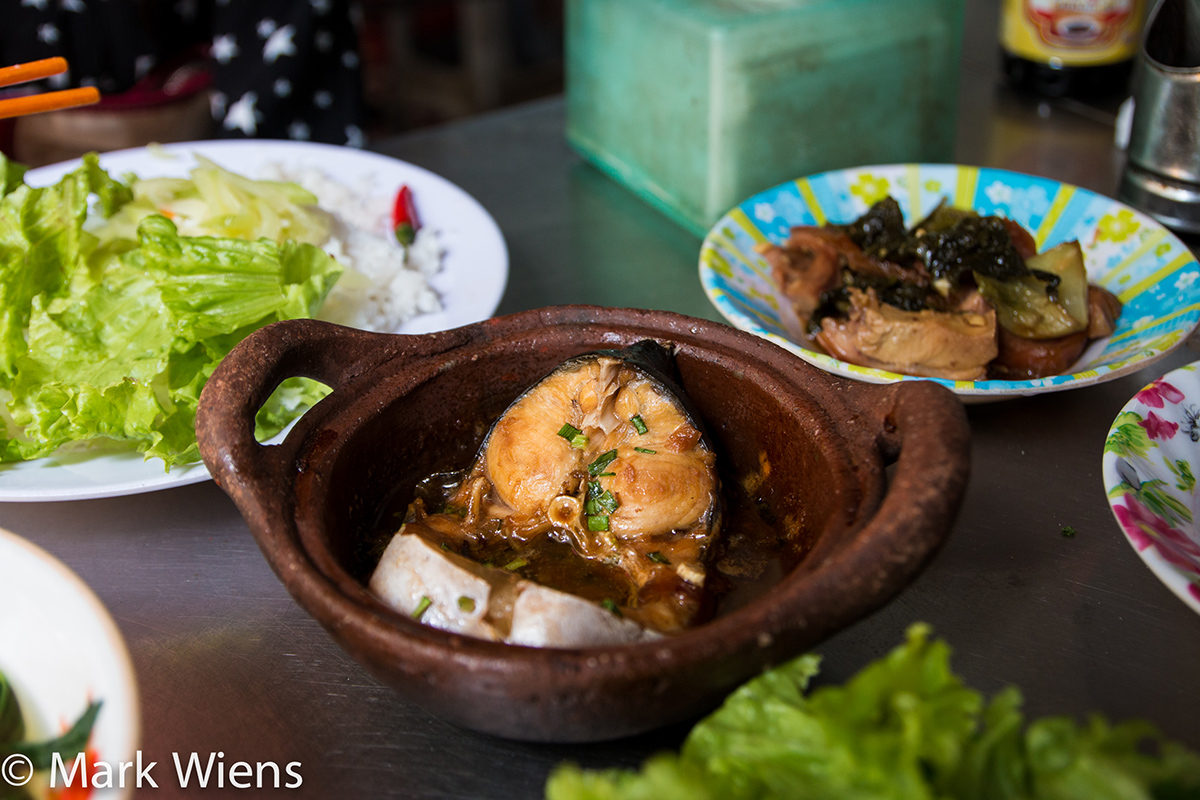 One of the greatest things about street food is that you can smell and see your meal before you eat it.
Just like the mini pancakes in the market, ca kho to (cá kho tộ) is one of the many Vietnamese dishes you'll smell way before you see it – a beautiful whiff will hit your nostrils from somewhere down an alley or side street…
…And that aroma will make you put aside whatever plans you have (or had), forget about all responsibility, and sit down immediately for a meal.
The smell is sweet and salty, almost like roasting caramel, but with a noticeable scent of onions and garlic.
Your nose won't lie.
Sitting on the grill, probably at the front of the restaurant, you'll see a line-up of individual clay pots, all slow bubbling away, each filled with a slice of catfish (or another fish) swimming in a golden sauce, and topped with green onions.
Not only is the smell amazing, but the formation of fish stashed in clay-pots, and the presentation is equally tempting.
One day while Ying and I were prowling the streets of Saigon in search of delicious things to eat (which is not a hard task), we found a stall that serving fresh clay pots of ca kho to.
The restaurant was sort of a Vietnamese home street food stall serving a full menu of rice and prepared dishes known as com binh dan, with tables lined up under the porch and along the side of the road.
But along with the full rice and curry available, what I was most interested in eating was what I had smelled: ca kho to.
Ca kho to (cá kho tộ)
Ca kho to is a Vietnamese dish of catfish, slow braised in a clay-pot.
The fish is mostly cooked in a combination of soy sauce and oil, and I think often sugar, then braised until caramelized in its own juices and seasoning.
Bryan from Hungry Huy has an awesome looking recipe where he doesn't include sugar, which looks amazing, and I'm hoping to try his recipe in the future.
But that being said, I'm pretty sure on the streets of Saigon, at this restaurant they tossed some sugar into their recipe to sweeten it and make the sauce extra gooey and caramelized.
Get exclusive updates
Enter your email and I'll send you the best travel food content.
Anyway, again, that smell of ca kho to was enough for me to drop everything and sit down.
This fish, which I think was a type of catfish, although snakehead fish is also commonly used in Vietnamese ca kho to, was extremely soft and tender, yet not mushy.
It was really easy to eat, extremely juicy and the meat of the fish was fleshy and packed with all the seasoning of the sauce.
I have to admit this ca kho to was a little on the greasy side, but it was incredibly good tasting. Scooping bites of catfish with a bit of the sauce onto my rice, I was extremely happy.
The ca kho to, served in the clay pot, reminded me a lot of eating in South Korea, where so many dishes are served in an earthenware bowl, so your food remains hot for your entire meal.
My fish stayed piping hot with every bite.
Since the restaurant was a full Vietnamese com binh dan establishment, we didn't just order ca kho to, there were also many other dishes to pick.
One of the dishes Ying, my wife, specifically wanted to eat was pork, cooked with pickled mustard greens, a dish that's also available in Thailand.
The pork tasted very similar to Thai style braised pork knuckle in a mixture of sweet soy sauce and Chinese five spice.
It was salty, and again, went very well with rice.
We also ordered a plate of fried pork, which was admittedly quite tasty, though it was a little too fatty for my liking.
The pork was crispy on the outside, and then almost creamy on the inside, seasoned with little more than probably some salt and garlic.
Also, seeing the pork being grilled at the back of the food stall, Ying and I were both craving some Vietnamese grilled pork to go with our meal.
The pork chop wasn't nearly as big as the epic one I had eaten a few day before, but nevertheless, it was excellent, marinated in soy sauce and bit of sugar, grilled with a smoky flavor and topped with a scoop of green onions and oil.
What I liked about this pork was that, apart from the topping of oil (which was by the way quite fragrant), the meat was leaner than the other meat dishes of this meal.
Finally, for good measure, we also ordered a bowl of soup, mostly because it looked like nearly everyone eating at this Vietnamese street food stall was ordering it.
The soup was clear, filled with a green vegetable that tasted similar to spinach, and flavored with a few pieces of minced pork.
It was plain, just slightly salty and peppery, and was a great addition to our feast of greasy meats.
Although everything was pretty good, including the piece of straight grilled pork, the highlight of this Saigon street food meal was the ca kho to.
Along with having a wonderful meal, the owner family was also very nice.
At first I was a little nervous, because they were extremely busy when we ate there, right during the lunch rush, and all the staff were rushing around and hustling.
But as we made a video they started to smile, and after completing our meal, one lady even asked me to hold on as she retrieved her cat from the house so I could take a photo.
Once again, the kindness of people I met and interacted with in Saigon, was humbling.
If you have a few minutes, be sure to watch the video of this meal now – it shows the full atmosphere of the food, and the energetic environment of eating in Saigon!
Press play below…
(If you can't see the video, watch it here now)
Conclusion
There are plenty of dishes you should try in Saigon, and one of them is ca kho to (cá kho tộ), a Vietnamese dish made with catfish, braised in a clay-pot along with soy sauce, sugar, and fish sauce.
The result is a tender piece of fish, soft and packed with the flavor the slow cooking process, and a caramelized glaze.
Walking around the streets of Saigon, one day I smelled out a restaurant serving com binh dan, a full street food buffet of Vietnamese pre-cooked dishes and rice, with a beautiful arrangement of ca kho to, bubbling away at the front of the restaurant.
Our meal was delicious, the ca kho to melted in my mouth, and the family that owned the restaurant were also very nice.
Total price – We ordered quite a lot of food, and our total bill came to 68,000 VND ($3.14) – that's for everything you see in the photos above. I would say it was a pretty good deal for being right in the heart of Saigon, and I think eating com binh dan is probably the most food you can get for your money in Saigon.
Open hours: I'm not totally sure, but I think it's a lunch spot, probably open from about 10 am – 2 pm at least – those are the most likely hours.
How to get there: You'll find many restaurant exactly like this throughout Saigon and Vietnam, but this particular restaurant is located somewhere on Hem 39, in between Nguyen Dinh Chieu and Vo Van Tan.
You'll find this place on the map as "Ca Kho To Restaurant." Click on it to highlight the position.
Get exclusive updates
Enter your email and I'll send you the best travel food content.