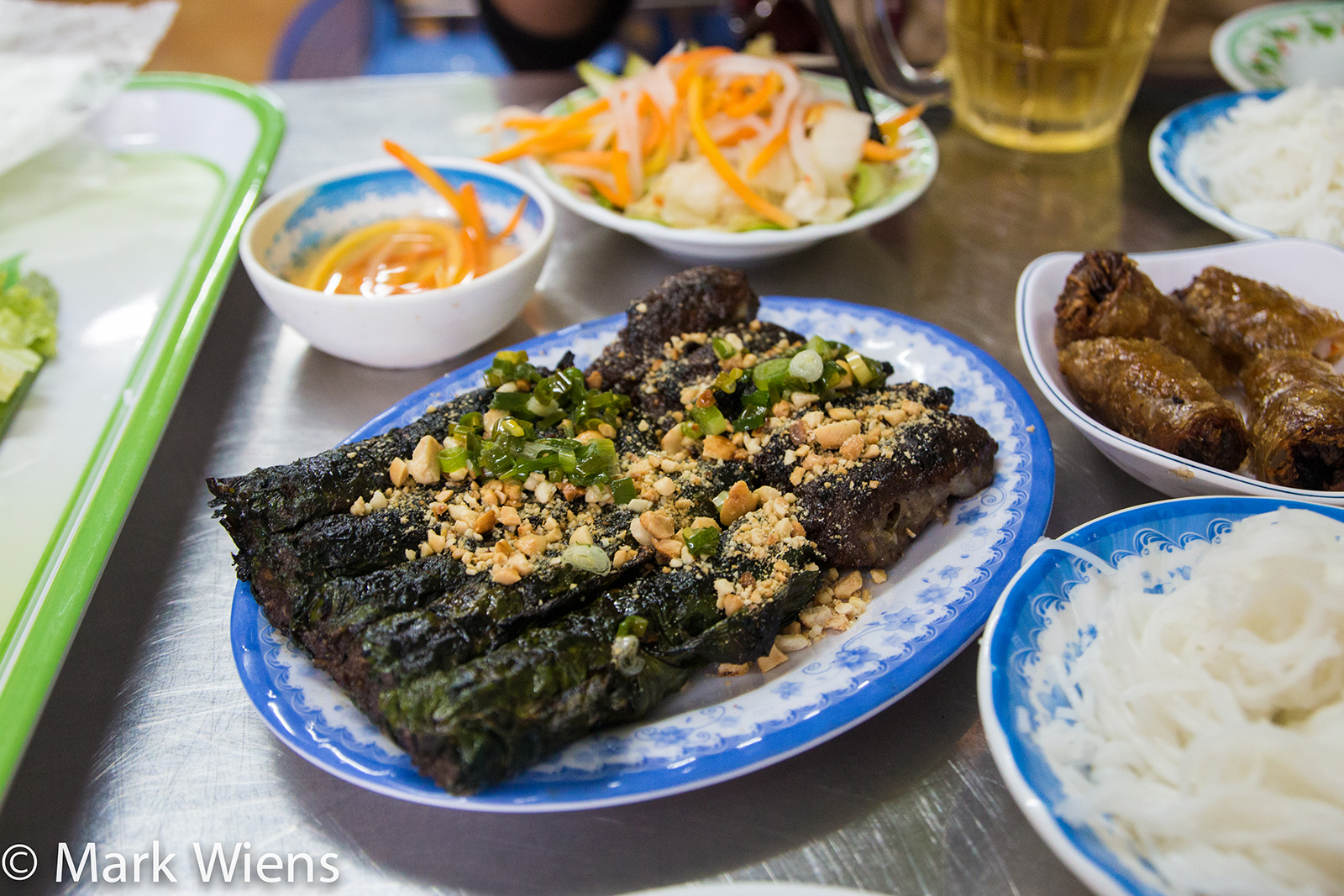 Soup noodle dishes are some of the most famous things to eat in Vietnam.
And there's no denying they are delicious.
But there are other dishes, like minced meat wrapped in herbaceous leaves and grilled over charcoal, known as bo la lot, that happens to be one of my favorite delicacies from Vietnam.
In this post I'm going to share with you one of the best (and most delicious) bo la lot eating experiences I had in Saigon.
This is a dish you don't want to miss eating when you're in Vietnam!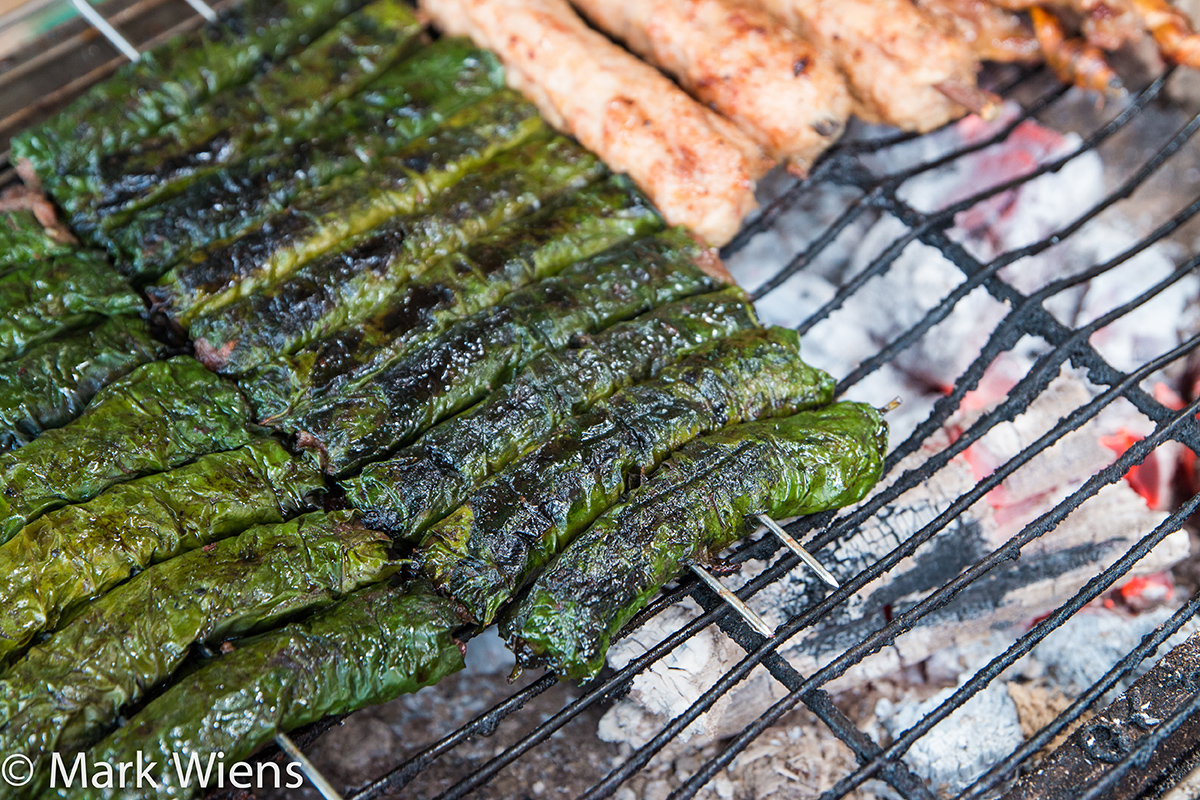 What is bo la lot?
Fully known as thit bo nuong la lot (thịt bò nướng lá lốt), this Vietnamese dish includes minced beef mixed with garlic and shallots and some simple spices, wrapped into wild betel leaves (also known as piper lolot leaves), rolled up like cigars, and grilled over hot charcoal.
After the bo la lot rolls are finished grilling, they are served accompanied by Vietnamese rice paper, bun vermicelli rice noodles, and a host of herbs and raw vegetables on the side.
Finally, some extra dipping sauces, and freshly crushed chili, is what elevates the flavor of bo la lot to even higher levels of delicious.
The mix of of flavorful meat grilled in an herbaceous leaf, paired with raw vegetables, and being able to assemble each roll yourself, are the reasons why bo la lot is such an amazing Vietnamese dish.
Where to eat bo la lot in Saigon?
When I was in Saigon I ate bo la lot at a number of different places from street food to sit-down restaurants.
One of the most famous areas in Saigon to eat bo la lot in is along Ton Duc Thang road.
The problem is:
These street food stalls that serve bo la lot are typically only open at night, and I wanted to eat it for lunch.
So I was searching online, and browsing Foursquare when I came across Cô Liên Bò Lá Lốt, and to my delight, they not only opened for lunch, but the restaurant was located just down the road from my hotel, a place I had walked past numerous times and hadn't spotted.
It didn't take my wife and I long before we headed straight there.
I immediately loved how they had all the bo la lot, and other meats neatly displayed in a cabinet facing the street.
Get exclusive updates
Enter your email and I'll send you the best travel food content.
Most of the things were pre-grilled (probably in the earlier morning) to about 80% I'm guessing, then as soon they would get an order, either take-out or dining in, they would throw the skewers of delicious meat on the grill to finish them off so they were fresh, but didn't take more than a few minutes to cook.
We were greeted with a friendly smile by the owner of the restaurant as we entered.
The menu at Cô Liên Bò Lá Lốt was simple, yet included everything you could want to eat at a bo la lot restaurant.
Ying and I decided to get one order of bo la lot, one order of bo mo chai, and then some extra cha gio, deep fried Vietnamese spring rolls, on the side.
While on the street in Saigon bo la lot might only cost 25,000 VND, the prices here were 55,000 VND, but they were much bigger size, and in my experience better quality.
Our bo la lot were tossed on the grill, right along the sidewalk at the entrance of the restaurant, and I could immediately smell the herb aroma of roasting leaves and sweet beef.
I couldn't wait to eat!
It's a little hard two see, but on the plate above, there are two different things.
At the front of the plate are the bo la lot, and then at the back of the plate are bo mo chai (we'll talk more about this later), little Vietnamese sausages without the leaf wrapping.
The entire plate was topped with crushed peanuts, then drizzled in fragrant scallion oil and diced, perhaps lightly sautéed, scallions.
The side dishes
Yet another reason why bo la lot is so delicious, just like nearly all Vietnamese dishes, is because of the generous amounts of side dishes – herbs, pickles, chilies, sauces – that always accompany any order of the dish.
Two of the most important sides, are the bun rice vermicelli (same noodles that are used in many other dishes), and thin sheets of Vietnamese rice paper for wrapping.
Additionally, green leafy vegetables and herbs, are a necessary component of eating bo la lot.
You may be served a variety of what's available, but on our platter at Cô Liên Bò Lá Lốt we got a handful of Vietnamese coriander, sweet basil, lettuce, chives, and I think there may have been a few other leaves on the bottom too.
Another delicious addition was a bowl of Vietnamese pickles that includes daikon, carrot, and slices of green un-ripe banana.
The pickles were very light, just slightly sour and salty, but still very fresh and crisp tasting, almost more like marinated vegetables, just slightly starting to pickle.
The main strategy for eating is bo la lot, just like eating miang kham or miang pla pao in Thailand, is to wrap everything up, and devour.
For bo la lot I normally like to begin with a sheet of rice paper, then I like layer on a few base leafy vegetables like lettuce, then some more herbs and noodles, then the bo la lot, and then the garnishing goodies like chilies and sauce.
How did it taste?
What I really love about eating bo la lot is the mixture of all the flavors, textures, and the combination of meat and vegetables all wrapped up together.
Starting from the center, the beef was a little bit sweet with a hint of citrus, and flavored with perhaps a hint of spice or curry powder and salt. The wild betel leaf, which has a very unique flavor (something I really love), gave each roll a very green earthy taste.
The extra herbs were crisp and fresh, and the sauce had a nice flavor of ginger, sweetness maybe from tamarind, and some fermented fish sauce.
It was incredibly delicious.
Bò mỡ chài
Along with the bo la lot, we also ordered mo chai, which was on the menu, and something that's commonly served and eaten with a meal of bo la lot.
I'm not totally sure how the recipe differs, but mo chai, to me, tastes a lot like bo la lot, minus the outer wild betel leaf wrapping. They are also a little meatier.
They were like little sausage shaped Vietnamese hamburgers, and while they were also good, I preferred the bo la lot for that extra boost of smoky green herb flavor.
Chả giò
Finally, just as another side dish, this time for something crispy, we got an order of cha gio, Vietnamese deep fried spring rolls.
What I really love about Vietnamese spring rolls is that instead of a crepe like wrapper, they are often rolled in thin rice paper then deep fried. The skin is nice and thin with layers, almost like baklava, and when it's deep fried it's insanely crispy.
In Saigon I had some cha gio filled with minced pork and mung bean noodles, but these seemed to be filled with minced pork and taro, which gave them a starchiness.
These weren't the best I've had, but they were still alright.
A lady, who I think was the owner or Cô Liên Bò Lá Lốt, was extremely kind, and as she saw us eating and loving the food, she came over with some sample plates of other dishes they served.
One of the things we hadn't ordered, yet she gave us to try, was their nem nướng sausage.
The meat was firm and a little spongy, but very fresh, and it had a wonderful salty mild flavor. Wrapped in the same way as all the other sausages, it was fantastic.
If you have a few minutes, make sure you watch the full video of this meal for more delicious views, and the atmosphere of the restaurant.
Press play below:
(If you can't see the video, watch it here).
Conclusion
If there's one Vietnamese dish I could choose to eat for the rest of my life, I would probably choose bo la lot (don't hold me accountable for this though, as a food lover I rotate through favorite foods quite frequently, but that just shows how much I love this one).
Bo la lot is a Vietnamese dish of minced beef, wrapped in wild betel (la lot) leaves, grilled over charcoal, and eaten wrapped in rice paper and dressed with herbs, sauces, and chilies.
Little did I know, apart from finding it on the day before I left, there was an excellent bo la lot restaurant just down the road from where I was staying in Saigon, known as Cô Liên Bò Lá Lốt.
For fantastic bo la lot in Saigon, check out this restaurant.
Cô Liên Bò Lá Lốt
Address: 321 Võ Văn Tần, District 3, Ho Chi Minh City, Vietnam (on the corner of Vo Van Tan and Nguyen Thuong Hien)
Open hours: 10 am – 9:30 pm daily
Price: A huge meal for two of us cost 132,000 VND ($6.09), and we got an nice spread of bo la lot and sausages and spring rolls, and the owner even gave us some free plates of some delicious extras as well.
To see my Saigon food map, click here (on the map, scroll down until you see Cô Liên Bò Lá Lốt)
How about you, what's your favorite Vietnamese food?
Get exclusive updates
Enter your email and I'll send you the best travel food content.