Who else loves visiting markets?
When I was in Saigon (Ho Chi Minh City), I heard and read a lot about the famous Ben Thanh Market.
And as good, and worthwhile, as Ben Thanh Market was to explore, there's another market, a little further out of the touristy area of town, within Saigon's Chinatown, that I liked even better.
Binh Tay Market (known in Vietnamese as Chợ Bình Tây) is one of the major markets in Saigon. It's the dominant business hub and attraction in Cholon, Saigon's Chinatown.
Visiting markets, because it directly relates to food (and eating), is always one of the top things I look forward to doing when I travel, so I was extremely excited to visit Binh Tay Market one day when I was in Saigon… and I thoroughly enjoyed my visit.
This post is about everything I did and saw at the market, and some of the temples I visited as well.
Cholon (Chợ Lớn) – Chinatown in Saigon
Unlike Chinatown in Bangkok or Manila, or even in other places around the world like Honolulu or London, Chinatown in Saigon isn't all that praised, or recognized as a real main area of Saigon to visit.
One of the reasons I guess, is because Cholon is actually so huge, that it takes up half of District 5 – it's not one of those cute and condensed little Chinatowns, with flashing lights and Chinese signs, like in some other cities – and it doesn't even have a real main "Chinatown looking," street.
Instead Cholon (Chợ Lớn) is a sprawling section of Saigon, where life rapidly flows, and because all of Saigon has so much Chinese influence already, it really sort of blends into other parts of the city.
While there are many markets within Cholon, Binh Tay is the central market – the largest and distribution hub for all things food and clothes in the area.
The market, along with a few scattered temples, are the main draws for visiting Chinatown in Saigon.
Sections of the Binh Tay Market
There are a few different parts to visiting Binh Tay Market: the outside wet market street, and the inside section of the market.
If you look at map layout closely (see photo above), you'll see that the numbers, which are stalls in the market, go up the 600's!
I'm not sure if all numbers starting at 1 are included, but I can say there are hundreds of stalls in the markets – it's literally a maze of clothes and fabric, and there's even a park and shrine in the center.
But before I get started with the inside of the market, I'll begin with some photos of the outdoor market street, located to the side and behind the market. That's where I began my exploration of Binh Tay as soon as I arrived in the morning.
Outdoor wet market
If you're a lover of fresh wet markets, like I certainly am, the lanes outside of the back of Binh Tay Market, mostly along Phan Van Khoe street, will fulfill all your senses.
I got the tip to visit the wet market in the morning from Robyn Eckhardt over at Eating Asia.
The market, which I believe is only open in the morning, from probably 5 am or so until it wraps up around 8 or 9 am, is filled with all fresh ingredients you can imagine used to cook Vietnamese and Chinese food.
I arrived at about 8 am, so I honestly was a little on the late side, but luckily the market was still thriving, and though it was still chaotic and energetic, I would guess it to be even busier a little earlier – like from 6 am – 7 am or so.
As soon as I stepped onto Phan Van Khoe street, that beautiful organized chaos of Vietnamese markets overwhelmed me, and made feel right at home.
Other than sitting down to eat, there's nothing I enjoy more than visiting wet fresh markets – it's not only an opportunity to see what ingredients go into cooking, but also to observe the local culture.
Get exclusive updates
Enter your email and I'll send you the best travel food content.
I ended up walking back and forth a number of times, taking lots of photos and videos, and stopping every now and then to see unique ingredients or say hello to one of the many friendly vendors.
The market included a mixture of meat and seafood of all kinds, plus plenty of fruit and vegetable vendors scattered along the street, some selling off tables, others just selling off tarps on the ground.
The market, with its eclectic mix of ingredients and energy, reminded me of both the amazing street food markets in Yangon and in also the interesting Chinese morning market in Kolkata.
Along with all the fresh colorful assortment of ingredients, there were also stalls selling pre-cooked food, most of which was for takeaway eating.
I'm not a big desserts eater, in fact, I barely ever seek out sweet things to eat.
But while walking around and stopping to take photos, a lady caught my attention, smiled at me, and asked me to take her photo.
After taking her photo, I was just peeking around at what she was selling, and though everything she sold was Vietnamese desserts, I decided to purchase a little bag of something she called "bap."
The bag of dessert cost just 5,000 Vietnamese Dong ($0.19), and after buying for takeaway I sampled it when we sat down for breakfast a little while later.
It tasted very similar to something you'd find in Thailand – later found out it was corn with sticky rice, combined with thick coconut cream.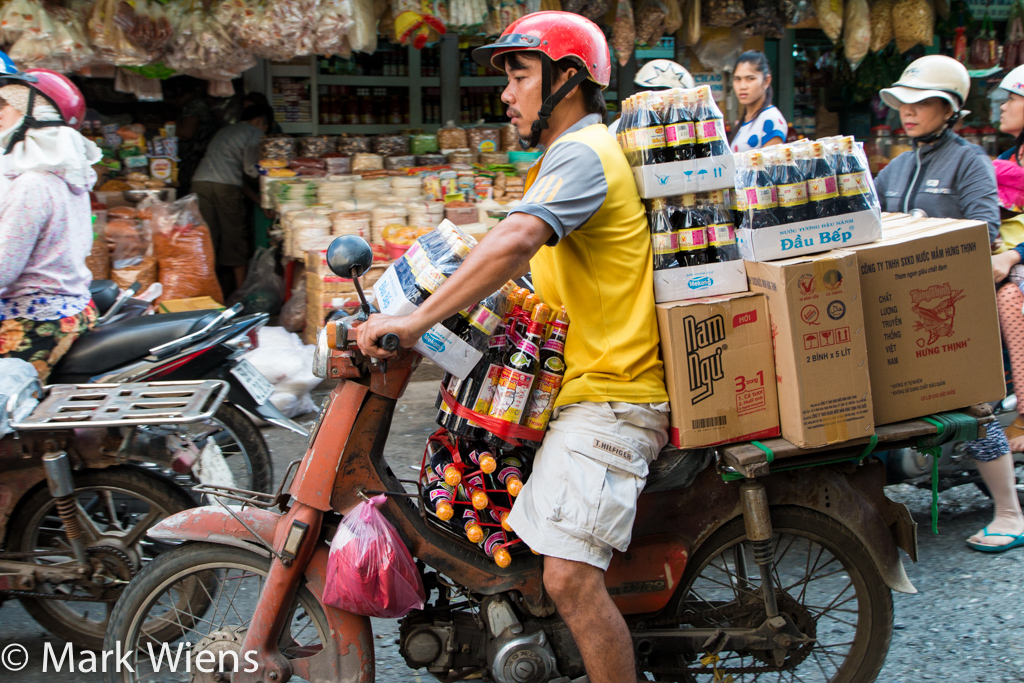 Binh Tay Market food court
After exploring the outside wet market for at least an hour, I was hot and sweaty, and I all I wanted to do was take a break and sit down for some food and drink.
Luckily, positioned at the back end of Binh Tay Market, is a beautiful food court, which includes a long line of vendors.
Many sell takeaway food, or food to deliver to other markets sellers, but most have a few small tables, or bar countertops, where you can slurp down some delicious food on spot.
Within the same food court section, there were also some fresh meat vendors, and some Chinese sausage vendors as well. I guess the meat served at the food court was nice and fresh.
After making multiple loops around the food court, contemplating what delicious Vietnamese food I wanted to eat, I finally settled on a stall that was one of busiest, located on the far right hand side (while facing the food court entrance).
Breakfast – mì gói xào bò
I ordered up the special, a plate of curly noodles topped with stir fried beef mixed with a few onions, peppers, and bean sprouts, and finally topped with a sprinkle of black pepper and cilantro.
I'm not a huge fan of instant noodles, and I actually didn't know I was ordering stir fried instant noodles when I ordered this, but since I ordered it, I decided to enjoy it anyways.
Though they were instant noodles, I have to admit, they were very tasty. And the beef, which was sautéed in oil and soy sauce, was tender, and delicious.
Indoor section of Binh Tay Market
After a great breakfast at the food court, and a cup of coffee to wash it down, I was ready to start walking around the indoor section of Binh Tay Market.
The small courtyard in the middle of the market is a great place to get your bearings and proceed in a desired direction. It's also a nice place to catch a breath of fresh air from the tightly packed stalls and alleys of the market.
Within the lanes of Binh Tay Market, it was surprisingly quiet and peaceful – though I'm sure when it's really busy it can be a bit hectic with other shoppers and people delivering this and that.
But compared to the outside fresh wet market, inside was calm and sleepy, and many vendors just sort of hung out and waited for customers.
You'll find just about everything food-wise you can imagine within the market, but mostly the dried and preserved types of ingredients, rather than fresh ingredients (which are available at the market outside).
I was amazed at the vast quantity of nuts and dried fruits available. Being a lover of nuts, I was highly tempted to buy a few kilos of cashews and almonds, but ended up not getting anything.
There were all sorts of interesting Vietnamese and Chinese ingredients, from spices to dried seafood to herbs and snacks.
From what I saw, the prices seemed to be quite a bit lower than the prices I noticed at Ben Thanh Market for the same things.
So if you plan on doing a lot of food shopping when you're in Saigon, you'll probably want to make it a point to get to Binh Tay Market.
Along with dried food and spices, the markets was well stocked with hundreds of vendors selling every type of Vietnamese clothing you could ever want.
If you're looking for face masks, with everything from polka dots to Burberry, you're in luck.
There were also numerous stores stashed high with every type of Vietnamese cookware imaginable, from pots and pans to dishes and utensils. If I had more space, I would have definitely purchased some cookware to bring back to Thailand with me.
Around Cholon (Chợ Lớn)
After spending a few hours wandering though the colorful packed lanes of Binh Tay Market, and cruising through both floors and countless little passageways, I was ready to move on and explore a few of the other attractions in Cholon.
Because Saigon's Chinatown is so spread out, and since the city doesn't exactly have nice wide pedestrian sidewalk system, it's not all that convenient to walk around.
But I like to walk, so I decided to walk to some of the famous temples and churches in Cholon – but you could alternatively jump in a taxi or on the back of a motorbike.
Cha Tam Church (Nhà thờ Cha Tam)
Located within Cholon, is Cha Tam Church, and it took me about 15 minutes to walk there from the market.
The Catholic church is famous for being the place where Ngo Dinh Diem, the first president of South Vietnam, was arrested.
According to the article by Lonely Planet, the church is still used frequently, and has a congregation of both Vietnamese and Chinese, with services held daily.
It's not the most fascinating church to visit, but if you happen to be exploring Cholon, it's not a bad place to take a rest from the busy streets outside.
Phuoc An Hoi Quan
Moving on, I continued walking to Phuoc An Hoi Quan, a Chinese Taoist temple, located right along the busy Hong Bang street.
The view from the street made it looks like just an average temple with an old entrance, and it really didn't look like there was going to be much inside – it actually almost looked like someone's home.
But as soon as I stepped inside, the room opened into an incredibly ornate and decorated hall, with red and gold Chinese characters filling the pillars and walls.
The Phuoc An Hoi Quan temple was quiet, and peaceful, and it made another good off-the-beaten-path stop off.
Thien Hau Temple (Chùa Bà Thiên Hậu)
For my final stop in Saigon's Chinatown, I headed over to the well known Thien Hau Temple, another Taoist temple in Saigon. There are many Thien Hau temples around the world, I actually visited one in Kuala Lumpur as well.
From the outside, the temple looked incredibly old and dark from years of being weathered.
Inside, it was much larger than Phuoc An Hoi Quan, and not nearly as ornate with gold, although it was still well decorated.
At the front of the temple was the main shrine, dedicated to the Taoist goddess Mazu.
In front of the main shrine at Thien Hau Temple was a courtyard filled with burning incense, and dozens of incense coils hanging from the ceiling, slowly burning and smoking.
The entire temple seemed to be rising in smoke.
Some people that visited the temple offered sticks of incense, while others purchased the big coils, lit them, and hung them from the ceiling.
Another part of Thien Hau Temple that was interesting to see were the intricately carved sculptures within the top facades of the building.
The colorful scenes had been black-washed by years of incense smoke.
If you have a few minutes, make sure you watch the full video exploring Binh Tay Market – it was one of the highlights of my trip to Saigon!
Press play below…
(If you can't see the video, watch it here: http://youtu.be/vglgFtQzBtw)
Conclusion
Binh Tay Market is one of the largest markets in Saigon, Vietnam, located within Chinatown, which is better known as Cholon.
It's quite similar to Saigon's Ben Thanh Market, but it caters more towards local Vietnamese and Chinese shoppers, and less to tourists, so it has fewer souvenirs and more local Vietnamese products.
While I was in Saigon, I spent a day wandering around Cholon and Binh Tay Market. I especially enjoyed the outside fresh wet market in the early morning and the wonderful food court.
If you enjoy exploring markets, or if you like to shop, Binh Tay Market is a place you must visit when you're in Saigon. Whatever you're looking for, if it's made or used in Vietnam, you'll probably find it somewhere within Binh Tay Market.
Binh Tay Market
Open hours: 6 am – 7 pm daily for the main market, but for the outdoor wet market street, I think is open only from about 5 am – 9 am or so
Safety: Be careful of your belongings when you're walking around both Binh Tay Market and other parts of Saigon. While walking around with my cameras, I was warned by many local vendors to be careful. So if you like to take photos like I do, just be cautious and don't be too attached to anything you take with you.
How to get there: The market is located in Cholon, in District 5 of Saigon. The first time I went, I took a taxi from the hotel I stayed at near the center of town for 110,00 Vietnamese Dong, and the ride took about 15 minutes.
Do you enjoy visiting markets when you travel?
Get exclusive updates
Enter your email and I'll send you the best travel food content.