Mark's Note: There's no better place to get expert food advice and tips than from a local of that country. Agness, a Polish traveler and blogger, shares with us some of her favorite things to eat when she's at home. So when you're in Poland, don't miss her expert food advice!
About Polish Food
Traditional Polish cuisine is a real calories bomb, but once you try it, you will not be able to resist the temptation.
It is rich in various kinds of meat (pork, chicken, beef) and famous for its excellent bread and delicious sausages (better than German!).
The basic ingredients used in Polish foods are beetroot, sauerkraut, cucumbers (pickles and gherkins), mushrooms, sausages, kohlrabi, sour cream and different herbs and species (marjoram, dill, caraway, parsley and pepper).
A Polish menu is constantly enriched with new flavours, sometimes even exotic.
Here are my top 10 best Polish foods made according to traditional recipes:
1. Pierogi (Polish dumplings)
Dumplings are made of thinly rolled-out dough filled with a variety of fillings. The most popular fillings are meat, sauerkraut and mushrooms, seasonal fruit (blueberries, strawberries and cherries), buckwheat, sweet cottage cheese or boiled potatoes with fried onions (called Russian dumplings). Pierogi is a Polish food that's always served for Christmas.
Get exclusive updates
Enter your email and I'll send you the best travel food content.
2. Rosół (broth/ chicken soup)
Rosół is the most common soup served in Poland. It tastes best after Sunday's church on cold days. It is very easy and quick to prepare, commonly served with homemade noodles. The ingredients needed for the soup are water, any piece of chicken, onion, small leek, onion, green celery, parsley, cabbage, salt and pepper.
3. Gołąbki (cabbage roll)
Gołąbki is a typical traditional Polish food made of minced pork with some rice, onion, mushrooms, wrapped in white cabbage leaves. There are also other variations of fillings such as poultry, mutton or without meat. Before serving cabbage are simmered / fried in fat.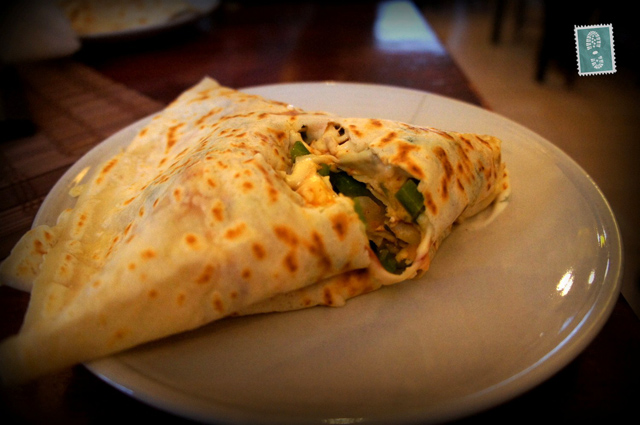 4. Polskie naleśniki (Polish pancakes)
Polish pancakes are very thin and they are served either with cheese, quark previously mixed with sugar, jam, fruits and powdered sugar or with meat and vegetables- all equally tasty.
5. Łazanki z kapustą i grzybami
It is a very simple dish consisting cabbage, pork meat, homemade pasta noodles and vegetables (chopped onions and sliced carrot). It is delicious and easy to make.
6.  Śledź w oleju z cebulą (herring in oil with onion)
Herring is a fish you can prepare in various ways. However in Poland, there are two traditional ways of serving the herring, either with sour cream and pickled onions or with oil and garlic.
7. Bigos (Hunter's stew)
It is a very traditional Polish dish and its basic ingredients are shreds sauerkraut, fresh cabbage (sometimes used only sauerkraut), various types of meat and sausages, dried mushrooms, prunes, onions and spices.
8. Kotlet schabowy (breaded pork cutlet)
Kotlet schabowy is one of the most delicious and the oldest Polish foods. The pork breaded cutlet coated with breadcrumbs (served with bones or without) can be perfectly served with buttered potatoes and cabbage salad. If you don't like pork meat, try to eat chicken cutlet made the same way as the pork one.
9. Gulasz (Goulash)
This dish is originally from Hungary, but the Polish recipe has been slightly changed. It is a stew of meat served with potatoes and vegetables, seasoned with friend onion and peppers.
10. Dessert – Polish croissant cookies
If you feel like having something sweet for your snack time, you can try traditional Polish croissant cookies. They are filled with jam and made of puff pastry or yeast.
Have you ever tried Polish food? If so, what was your favourite? Share your food experience with me!
About the Author
Agness is a Polish vagabond who, after graduation, left her comfort zone and set off for a journey of her lifetime to China in 2011.
She has been constantly travelling the world since then (slowly, but surely as she says), living like a local for less than $25 a day, and blogging her experiences on eTramping.com.
She is passionate about photography and adventure blogging and shares her life enthusiasm and travel experience with everyone around. Follow her on Twitter and Facebook.
Get exclusive updates
Enter your email and I'll send you the best travel food content.