We've come to the end of another year — another delicious food year!
Last year in 2015 it was Bhutanese food in Thimphu and Kobe beef in Japan that topped the list.
This year from 2016 you'll find some unique and incredibly delicious meals that I can't wait to share with you below. And before we start, just wanted to quickly mention that the meals in this best food of 2016 blog post are in consecutive time order, not in most delicious order.
First, thank you!
It's always a challenge to narrow down all the meals you've eaten in an entire year and try to choose the best of the best.
But what I like so much about reflecting is that it gives yourself an opportunity to remember not only the meals, but the experiences that went along with the meals, the people you met, and how you yourself have grown throughout the year.
I want to start off by saying thank you for your support. Without you reading and watching, I couldn't do what I do, and I'm extremely grateful.
Note: The restaurant above is Soei, one of my favorite restaurants in Bangkok that I ate at with Andrew Zimmern filming Driven by Food (available to watch on Amazon). I didn't include this restaurant on this list this year because I've been eating there for years and included it on many previous lists.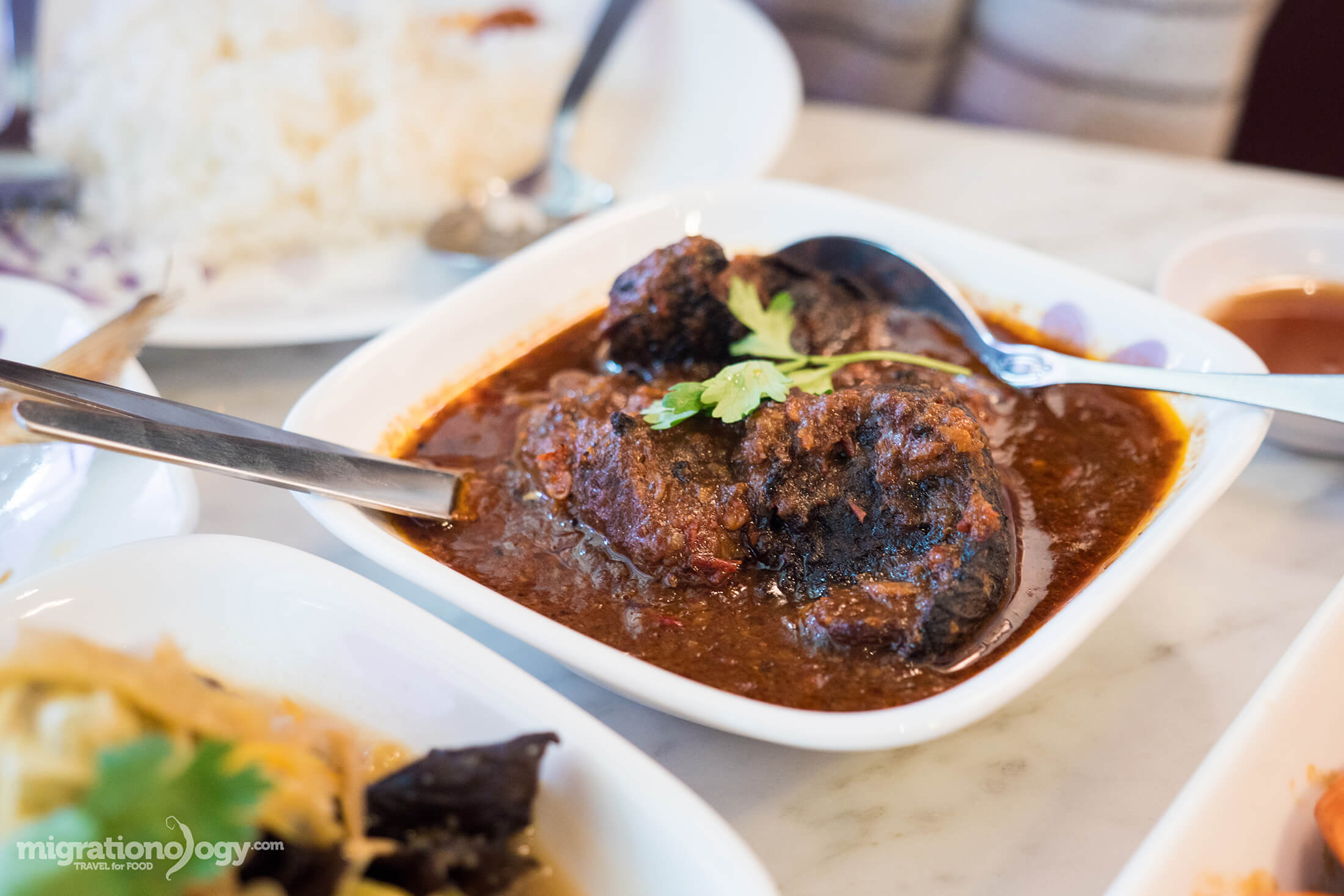 When I was in eating my way through Singapore, a friend of mine who is now living in Bangkok, but is originally from Singapore, invited me to his family restaurant known as Daisy's Dream Kitchen.
Peranakan refers to a group of people that are Straits born Chinese (in this case the straits of Malacca off the coast of Malaysia, Singapore and Thailand). Pernakan food therefore is a unique and outrageously delicious combination of Chinese and Malays ingredients and cooking techniques.
My favorite dish at Daisy's Dream Kitchen was babi buah keluak (pangium edule), a type of nut cooked for a long time and in this case with pork.
Address: Block 517 West Coast Road #01-571 S120517, Singapore 120517
Open hours: 11 am – 2:30 pm and 6 pm – 10 pm on Tuesday to Sunday (closed on Mondays)
Prices: Most dishes range from $10 – 15 SGD
2. Sundanese feast in Bogor, Indonesia
After spending a few weeks in Singapore, my wife and I decided to take a trip to Indonesia, mostly to Jakarta, with an aim to eat as much Indonesian food as possible.
During our time in Jakarta, we met up with Ken and Grat from Cowokrakus a couple of times to eat. One weekend they invited Ying and I to their country family home in Bogor (about an hour from Jakarta), where we were treated to a Sundanese family feast.
Placing a mat of banana leaves down on the ground first, rice was piled in the center and all the spicy and richly flavorful dishes were placed surrounding the rice. We ate family style, feasting on one of the best and most memorable Indonesian meals I've ever had.
Get exclusive updates
Enter your email and I'll send you the best travel food content.
Visiting and eating in Jordan was a highlight of 2016 for me, partly because it was so different from where I normally travel in Southeast Asia. And everything from the food to the culture was fascinating.
Along with Fadi from Biblical Jordan and the Jordan Tourism Board, on one of our last days in Amman, we went to eat mansaf, what is considered the national dish of Jordan. Mansaf is a combination of rice, lamb, and jameed, which is a fermented goat yogurt (you can even buy it on Amazon!), all prepared into a feast that will leave you breathless.
Tawaheen Al Hawa – Don Quixote (watch the video)
Address: Wasfi al-Tal Road, Jubilee Gardens, Amman, Jordan
Open hours: 6 am – 2 am daily
Prices: You'll probably spend about 10 – 20 JD per person for a feast
4. Makgeolli in Jeonju, South Korea
Makgeolli is a type of Korean alcoholic drink normally made from rice and often consumed socially. While you can experience makgeolli around South Korea, one of the best places to consume it, because of the food culture that surrounds it, is in Jeonju. Lonely Planet even says makgeolli is one of the top reasons to visit Jeonju, and I wouldn't disagree.
Eating at Yetchon Makgeolli was one of the best meals I had of 2016. You order a kettle of makgeolli, and they start bringing out so many dishes to go with the drink that you'll lose track and won't be able to count every dish. From braised pigs feet to live octopus, get ready for a serious Korean feast.
Address: 8 Jungsanjungang-ro, Junghwasan 2(i)-dong, Wansan-gu, Jeonju, Jeollabuk-do, South Korea
Open hours: 4 pm – 2 am daily
Prices: We spent a total of  65,000 Won ($55.46) for everything for 4 people
When I visited Mumbai in 2016, there were a lot of amazing Indian foods I wanted to try, including some of the most famous Mumbai street foods.
But the one thing on my list that I wanted to eat was bombil fry, or known by its nickname, Bombay duck fry. Not actually duck at all, Bombay duck is a type of lizardfish that likely got its nickname from the Bombay Dak, an old transport train that was known for smelling foul.
Anyway, I'm happy to report, Bombay duck fry is absolutely delicious, especially when accompanied by Malvani side curries.
Address: 301 Miranda Chawl, Kelkar Road, Dadar West, Mumbai
Open hours: 11 am – 3:30 pm and 7:30 pm – 11:30 pm daily
Price: Our total price for both my wife and I came to 710 INR ($10.60)
6. Camel meal in Muscat, Oman
If you're looking for an incredible destination with a combination of natural beauty, cultural charm, friendly people, and delicious food, Muscat, Oman is a place you should consider.
My wife and I only had a few days in Muscat and during our time there Mustafa took us around. On our first evening in Muscat, we headed to a local restaurant known as Mathabi Salalah (مطعم مظابي صلالة) to eat camel.
We ordered camel curry and fried camel, which was served on a giant communal tray over rice. The camel was insanely tender and flavorful and the camel hump in particular will melt in your mouth.
Mathabi Salalah مطعم مظابي صلالة (watch the video)
To be honest I'm not totally sure about all the details for eating here, but it is listed on my Muscat guide, and they are definitely open for dinner. Prices are about $ 3 – 5 per person. Thank you Mustafa!
7. Lamb kebabs in Istanbul, Turkey
There are few things in the world that sound as fun as going to Istanbul to eat lamb kebabs.
Istanbul is a city that I had wanted to visit ever since I was in high school learning about Western civilization. The history and attractions in Istanbul are fascinating and will blow your mind, but the food and people is what will keep you coming back for more.
Thanks to my friend David Califa for recommending me to eat at Zübeyir Ocakbaşı, a grill restaurant in Istanbul where you'll find some of the most incredibly delicious lamb Adana kebabs you might ever eat. Adana kebabs are a mixture of lamb and lamb tail fat, mixed with spices like sumac and Aleppo pepper, grilled over a smoky hot fire.
Address: Şehit Muhtar Mh. Bekar Sk. No 28 Beyoğlu/İstanbul, 34435
Open hours: 12 noon – 12 midnight daily
Price: Total price for 2 of us came to 100 TL ($33.55)
8. Seafood feast in Lisbon, Portugal
Portugal is known for having some of the best seafood in the entire world, and when you eat at Cervejaria Ramiro in Lisbon, you'll immediately know why.
Just mention seafood in Lisbon and it won't be long before this legendary restaurant is mentioned. It's famous for both locals and tourists — everyone who loves seafood and wants to experience the best of the best.
Everyday they serve an assortment of mainly shellfish and crustaceans including crab, clams, prawns of all sizes, oysters, and the unique goose barnacles. Everything was good, but the gigantic tiger prawns and scarlet prawns were impossible to beat.
And one more thing, don't miss the steak sandwich (prego) for dessert!
Address: Avenida Almirante Reis, 1H, Mouraria, Lisboa
Open hours: 12 noon – 1 am from Tuesday to Sunday (closed on Monday)
Prices: For an all out Portuguese seafood feast we spent around 100 Euros for 2
9. Spicy cumin lamb noodles in New York City, USA
When I was in New York City, along with a lot of other must-eat NYC restaurants, one of the places I was most looking forward to trying was Xi'an Famous Foods. Though they have multiple locations, I decided to take the pilgrimage out to Flushing to go to their original location in the basement of the Golden Shopping Mall. It was the perfect atmosphere.
I ordered the spicy cumin lamb hand pulled noodles, which came smothered in healthy and flavor packed chili oil, cumin, and Sichuan pepper, with thick doughy noodles and pieces of lamb. It was simply outstanding — bites of noodles that I never wanted to end.
Address: Golden Shopping Mall, 41-28 Main St Basement, Suite 36, Flushing, NY 11355
Open hours: 10:30 am 9:15 on Sunday to Thursday and 10:30 am – 9:30 pm on Saturday and Sunday
Prices: Hand pulled plates of exquisite noodles cost in the $7 – $9 per plate range
10. Brisket curry in Hong Kong
There's a lot of incredible food to eat in Hong Kong from dim sum to roast goose. And while it's all so good, one of the dishes that absolutely blew my tastebuds this year in Hong Kong was brisket curry at the legendary Kau Kee Restaurant.
Kau Kee is not exactly an off the beaten path restaurant, it's hugely famous throughout Hong Kong for their perfect brisket noodles and brisket tendon curry. If you see a line out the door, which you normally will, don't let it intimidate you. The wait, which usually moves pretty fast, is worth it for the bowl of brisket curry you're about to eat.
(Hong Kong travel food guide coming soon!)
Kau Kee Restaurant (video coming soon)
Address: 21 Gough St, Central, Hong Kong
Opening hours: 12:30 pm – 10:30 pm on Monday – Saturday (closed on Sunday)
Prices: Around 40 HKD for a bowl
Watch the video
Watch the full video of all these meals of 2016:
(Or you can watch it on YouTube here)
Conclusion
So there you have it, the 10 best travel food meals I ate in 2016 — meals that I think are worth traveling for.
I want to say a huge thank you again for your support throughout 2016 and proceeding on to 2017. Not only do you and I share a common love for food and travel, but I think our passion for eating brings us together and I'm grateful to have this opportunity to connect with so many food lovers around the world.
And now I want to hear from you.
What was your best meal of 2016?
Leave me a comment below, I'd love to hear from you.
Get exclusive updates
Enter your email and I'll send you the best travel food content.