Located in South Phoenix, Ethiopian Famous Restaurant is for all practical purposes located in the heart of Mexico.
But as soon as you crack the door to the Somalian mini-mart, the aromas change from fresh tortillas and tamales to blasts of berbere and intoxicating African spices.
In the minimart you'll see gunny sacks of the staple grain known as teff piled on palettes, a humble selection of Somalian and Ethiopian food products, and a decent amount of traditional Islamic and Orthodox clothing and religious paraphernalia.
In the back is where most of the outstanding smells are created – an authentic Ethiopian restaurant known as Ethiopian Famous Restaurant and Coffee.
Cook, mother, and owner Abebech, is the type of person you want on your food team. She immediately produced an aura of food expertise just like mama chapati in Morogoro.
Just like The Smart Village, Famous Ethiopian Restaurant is not even like a restaurant, it's like eating in an Ethiopian home – and the food boasts the same home comforting flavors.
Get exclusive updates
Enter your email and I'll send you the best travel food content.
One of the standard Ethiopian dishes I can't do without is Key Wat. The dish could be called just Ethiopian beef stew, but in reality it's a complex curry filled with all sorts of pungent spices and loaded with garlic and onions.
Along with the mixed vegetable platter and the mixed meat platter came a nice dosage of Doro Wat, one of Ethiopia's most famous dishes. The sauce is an intricate combination of spices and onions simmered until they turn into a rich sauce blend. The hard boiled egg made it even better.
Every single bite of Ethiopian food is an explosion of delightful taste – and I can't get enough of it. Abebech makes here own injera (pancake bread) daily, so it's soft and spongy.
As normal, I stuffed in a lot of food very fast, and when I started to think about the amount I had already eaten, I started to surrender — to slow down at the mercy of the food.
If you're interested, watch this quick video on how to eat Ethiopian food – it's one of the first videos I've ever made, so feel free to laugh a litte!
Unfortunately, Ethiopian Famous Restaurant wasn't able to obtain fresh enough beef for the Kitfo (Ethiopian raw beef tartare) the night I went, but one of the best dishes was the extra spicy bowl of Doro Wat (different version from the one above).
It was nothing but the purest ambrosia in a bowl.
To round out the meal, Abebech performed an outstanding Ethiopian coffee ceremony. She did just about everything in the traditional manner beginning with green coffee beans, which she roasted in front of us and proceeded to hand pound the beans and then brew it in the traditional Ethiopian clay coffee pot.
The aroma of freshly roasted coffee paired with the distinct scent of frankincense filled the air of the restaurant. The coffee was sweetened with sugar, perfectly smooth with not even a hint of acidity.
If you enjoy coffee, you won't want to miss the Ethiopian coffee ceremony at the end of your meal (you can watch my video here).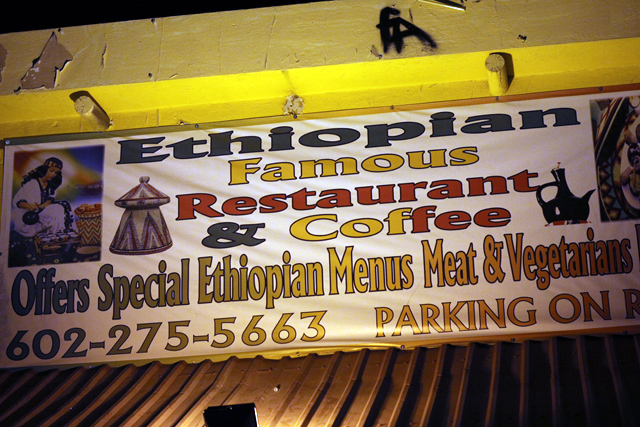 Ethiopian food and I go way back, it's been one of my most beloved cuisines since growing up in Nairobi. Any chance I get to eat Ethiopian food, I jump at it!
Ethiopian Famous Restaurant was purely delicious – seriously a mandatory restaurant to eat at when you visit Phoenix, Arizona!
Here are the details:
Ethiopian Famous Restaurant & Coffee – Offers Special Ethiopian Menus Meat & Vegetarians
Address: 905 North 16th Street
Phone: 602-275-5663 (you can even call to order or to confirm that the restaurant is open)
Prices: Our total bill came to about $12 per person
Hours: 11 a.m. to 9 p.m. daily
Don't miss out!
Get exclusive updates
Enter your email and I'll send you the best travel food content.