Amphawa Floating Market is a Thai amusement park thrill ride for the stomach, eye sight, and all other human organs.  The brilliant array of sounds, smells, tastes, and sights, are a mind rushing and energizing display of Thai culture at it's finest.  In the world of Bangkok that so caters to the Western tourist, Amphawa is still very much a local Thai oriented market.  It can be a relief to know that everything displayed is not just a show to please foreigners, but more to enthrall Bangkok residents on a weekend outing.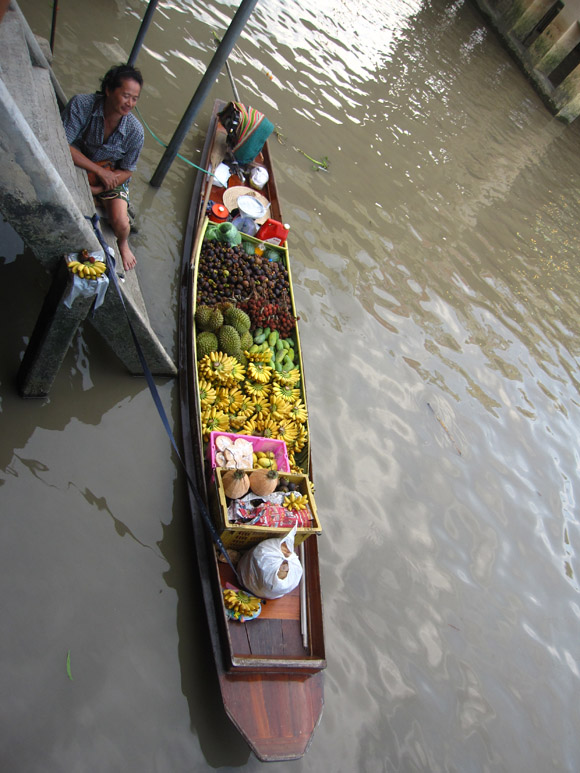 What It Is:
The sleepy canal in the town of Samut Songkhram, Thailand, is revved into full gear on the weekends to become the utopian Amphawa Floating Market.  It is dotted with boutiques selling clothes, restaurants serving eloquent treats, woks producing unworldly aromas, and people baby stepping from stall to stall, following their noses or lust of shopping.  Floating in the canal are numerous wooden boats all weighted down with food and produce, propane tanks, and all other cooking accessories necessary for a self sufficient boat bobbing eatery.  Each boat owner proudly specializes in their own particular Thai dishes and delivers an immaculate dish right off the wake.  Browsing the colorful and artistic scene of helter-skelter is like being part of a modern ready-made piece of artwork or a drama that was well rehearsed.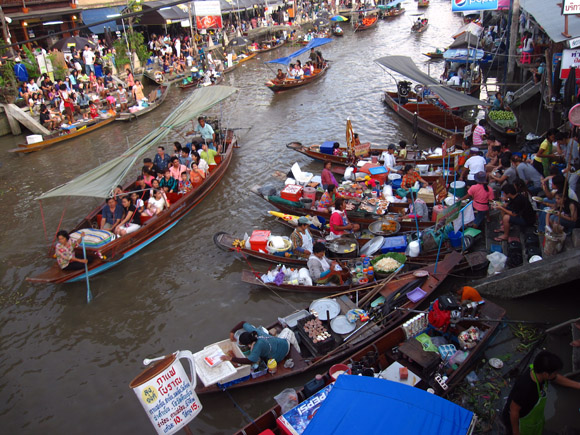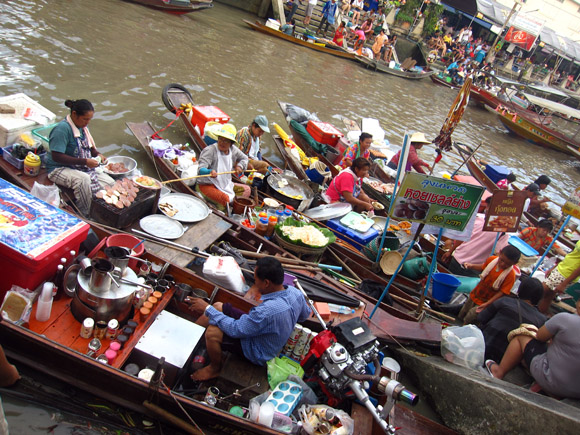 What to Eat:
The food quality along with the vibrant ambiance is more than enough to be considered a 3 Star Michelin heaven.  Sitting on bleachers similar to a baseball game among the chaos of fans, the scene is comfortable to order must eat Thai foods like hoy tod, pad thai (15 BHT), som tam (15 BHT), guay teow noodles (15 BHT), and a selection of perfectly roasted seafood.  I awarded myself with a winning plate of tender lip licking squid (100 BHT).  The accompanying sauce was an outstanding combination of lime, chili, and garlic, that dressed the squid in an exciting flavor and made me gasp and uncontrollably groan with "awwwwwww!"
Get exclusive updates
Enter your email and I'll send you the best travel food content.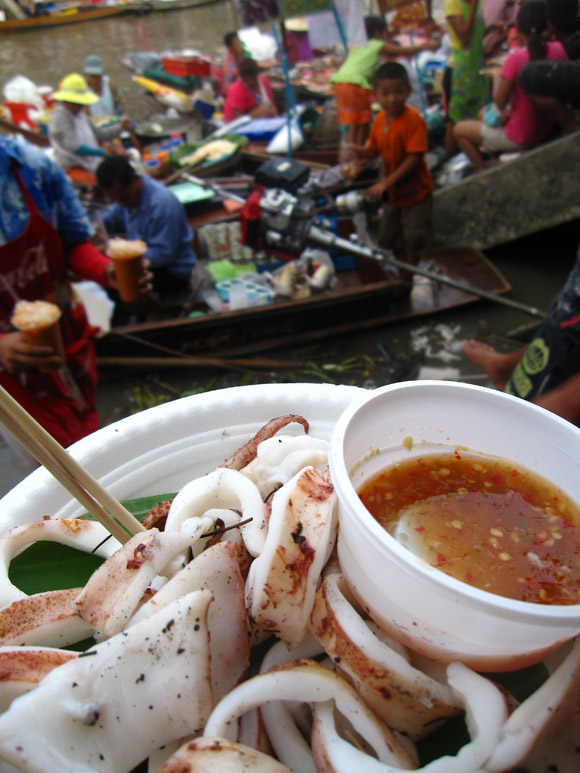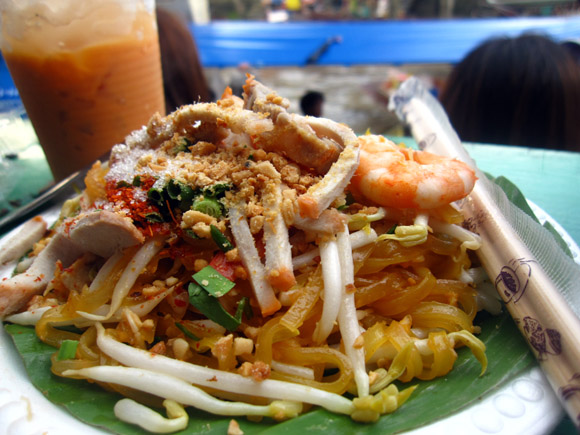 Interesting Observation:
One of the most interesting things to watch at Amphawa Floating Market is the movement of food and money from boat vendor to server, then to customers, and vice versa.  The boaters who happen to be jammed in the middle or on the outer edges of the heavenly floating blob are forced to use a lengthy bamboo pole with a plate attached to the end.  This genius pole and plate device is used to deliver food as well as bring back the earnings.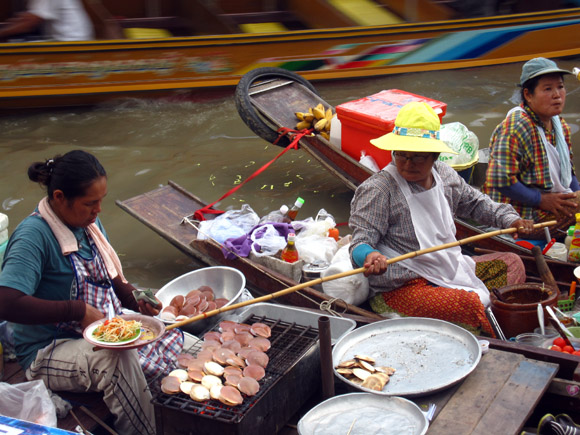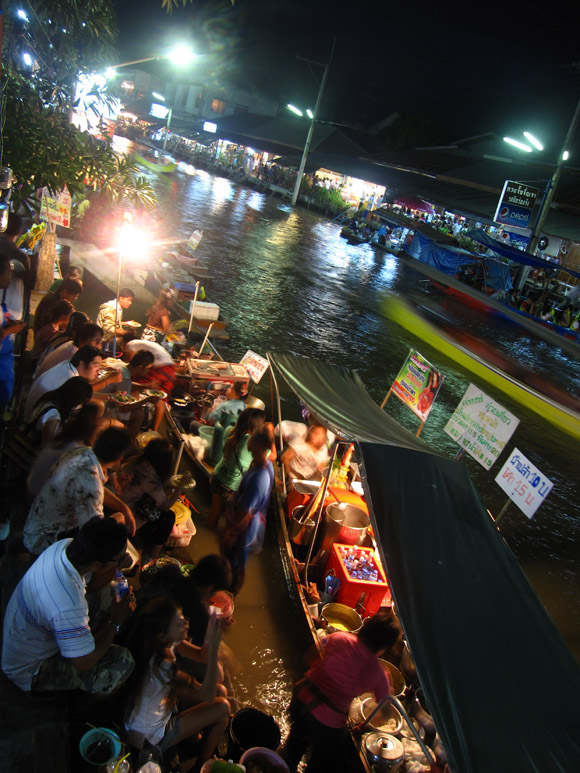 By the way, don't forget to sing a bone chilling, window breaking, karaoke track at one of the stations set up along the canal to the hundreds of unfortunate listeners.  I can say one thing, if the food wasn't so good, the singers would be in a lot more trouble.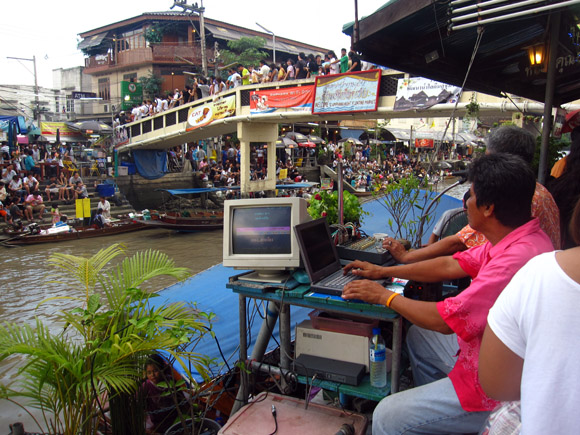 Information about Amphawa Floating Market
Open: Friday, Saturday and Sunday, from around 12.00 noon to 8.00 pm
Getting There: The market is located about 1.5 hours away from Bangkok in Samut Songkhram Province.  The easiest way to get there is to organize the excursion with a Thai friend who has transportation.  If that is not possible, a taxi or van can be hired for about 1000 or 1500 BHT to take your group there and wait on you.  Not too bad of a price when you divide the cost.  Lastly, it is possible to take a public van from around Victory Monument in Bangkok to the town of Samut Songkhram, and then walk and ask around to find the floating market.
-Migration Mark
Get exclusive updates
Enter your email and I'll send you the best travel food content.