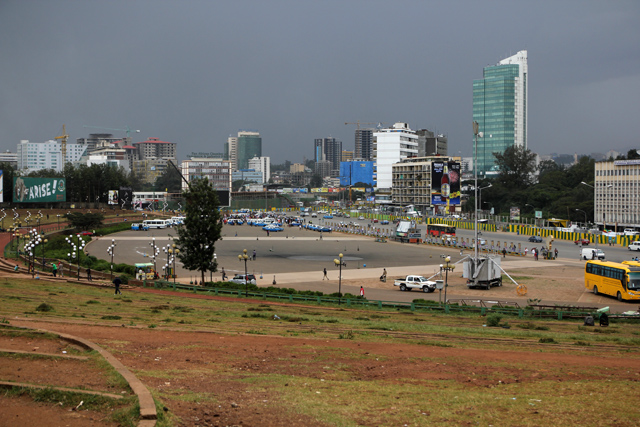 Addis Ababa is the capital and largest city of Ethiopia.
Being home to the African Union, having important United Nations branches, and with nearly every foreign embassy from around the world represented, Addis Ababa is often referred to as the capital of Africa.
Located in the beautiful Ethiopian highlands, Addis Ababa is positioned at 2,665 meters in elevation, making the weather extremely pleasant, if not a bit on the cool side.
From the marvelous array of local and international food, some of the best coffee you'll ever have in your life, to ancient churches, and fascinating museums, there are plenty of things to keep you occupied and satisfied in Addis Ababa.
1. Addis Mercato
It's crowded, it's chaotic, but the Addis Mercato is so incredibly entertaining and full of life and character, that walking around is one of the best things to do in Addis Ababa.
The Mercato, coming from the Italian word for market, claims to be the largest open air market in Africa. There are so many different sections of the market and you can buy everything from souvenirs to clothes to food. That being said, it's also a great place to buy nothing and just go to watch the crowds of people and observe the incredible loads being carried from place to place.
Do be careful, just like any busy place in the world, don't carry an unnecessary amount of belongings, and take care of your pockets. I personally thought the security was pretty good, with plenty of guards and police patrolling, but especially be aware of pickpockets.
2. St. George's Cathedral and Museum
One of the most well recognized places of worship and icons of Addis Ababa is St. George's Cathedral. The compound is located on the top of a hill, overlooking the Menelik II square.
To the side of the cathedral is a museum which is worth a quick stroll. It's filled with memorabilia from the ancient church and a collection of religious writings, Ethiopian crosses, and clothing.
Inside the church you can walk in a circle around the cathedral, observing an incredible set of paintings portraying both scenes from the Bible and from Ethiopian history.
Price – 50 ETB per person, covers the museum, but they'll want a tip for entering inside the church during off service hours – they asked for 100 ETB, but I said I'd pay 50 ETB.
3. Meskel Square and Museums
Meskel Square in Addis Ababa is sort of the central gathering place in the city, especially important during festivals and political demonstrations. Meskel Square also is a good point of reference for local transportation and for getting into the center of the city.
Unless there's an event taking place at Meskel Square, there's not a whole lot to do there. However, there is the official Ethiopian Tourism office across the street and there are two museums adjacent to the square, just off Bole Road.
Get exclusive updates
Enter your email and I'll send you the best travel food content.
The Red Terror Martyrs Memorial Museum is a small and modern museum showing and explaining the period of "Red Terror" (from 1978-1978) in Ethiopia when countless innocent people suffered. The museum is free entrance. Also next to Meskel Square is the Addis Ababa Museum.
4. Holy Trinity Cathedral (Kidist Selassie) and Museum
While St. George's Cathedral is one of the most famous in Addis Ababa, the Holy Trinity Cathedral is the most sacred Ethiopian Orthodox church in the city, and one of the most sacred sites of worship in Ethiopia after the churches of Lalibela.
The Holy Trinity Cathedral has a real medieval feel to it, the grounds surrounded by weeping pine trees and the cathedral decorated with statues and carvings.
At the back of the cathedral is another museum, where you can see more Ethiopian historical memorabilia, crowns of former Ethiopian Emperors, and a selection incredibly well preserved Amharic Bibles and religious writings.
At the front of the cathedral, if you ask the priest to open the gate, you can see the tomb of Emperor Haile Selassie.
Price – 50 ETB entrance including the museum
5. National Museum of Ethiopia
In my opinion, this is one of the best museums in Addis Ababa. The facility is home to many of the most significant relics and pieces of artwork from around the country. I also enjoyed the variety of different art and displays.
First of all, the National Museum of Ethiopia has a good collection of archaeology, like precious stelae and statues from Axum. You'll also find skeletal remains from early hominids, and a model of the famous "Lucy."
Up a floor there's a good collection of royal family memorabilia from the former emperors of Ethiopia. There's also a good selection of some Ethiopia's most famous works of art.
Price – 10 ETB
6. Ethnological Museum
Just a short distance from the National Museum of Ethiopia, located within the lush university campus, is the Ethnological Museum. If you're into museums, both the National and Ethnological Museums shop be priorities on you list of things to do in Addis Ababa.
The museum first introduces some of the major tribes of Ethiopia, goes through the history and importance of coffee in Ethiopian culture. There's also an impressive collection of Ethiopian Orthodox paintings, triptychs, and Orthodox crosses.
But the best part about the Ethnological Museum is being able to go into the former bedroom and bathroom facilities of the highly regarded Emperor Haile Selassie (Ras Tafari).
Price – 100 ETB for adults, 50 ETB for students
7. Monuments, Lion of Judah, Derg Monument
Ethiopia, with its ancient history, religious beliefs, and struggles against colonization (Ethiopia was never officially colonized like many surrounding African nations), is full of monuments and sculptures in remembrance.
There's the Derg Monument, located on Churchill Avenue, that represents the North Korean presence in the country. It's not the most well kept monument, it was quite overgrown, and there were zero other people there apart from a few random people sleeping and a pair of guards when I stopped by.
There's the Statue of the Lion of Judah, in front of the old Railway Station in Addis Ababa, representing the Ethiopian pride and the emperor. And also there's another Statue of the Lion of Judah made from black stone that sits outside the National Theater (pictured).
With its wealth of history and pride as a nation, Addis Ababa is filled with monuments at nearly every public square, place of importance, or within the large road roundabouts throughout the city. Many of the monuments are worth stopping if you happen to be driving by.
8. Entoto Hill, St. Mary's, Shiro Meda Market
At 3,200 meters in elevation, Entoto Hill is sort of the roof of Addis Ababa.
Driving up the steep road, you'll pass homes and small villages, highland growth, and as you gain elevation you'll start to get great views of Addis Ababa (on a clear day). Menelik II built his palace on the Entoto Hill and used it as his headquarters during the founding of Addis Ababa.
Towards the top of Entoto Hill is Entoto Maryam Cathedral, or St. Mary's Church. It's not the most impressive cathedral, but it's worth a stop if you take a drive up the mountain. Entrance costs 50 ETB and covers the cathedral museum as well.
If you do take a taxi, on the way back from Entoto Hill, be sure to stop by the Shiro Meda market. It's a friendly market where you can buy all sorts of Ethiopian clothes and local crafts.
A taxi to the top of Entoto Hill and a few other stops along the way should cost 300 – 500 ETB depending on where you're coming from.
9. Edna Mall and Bole Medhane Alem Cathedral
Bole Sub-city of Addis Ababa is a modern trendy district of town, packed with shopping centers, the Edna Mall cinema, condos, hotels, and plenty of both international and upscale Ethiopian restaurants. You'll find plenty of Ethiopian cultural restaurants, the most famous being Yod Abyssinia. I tried it out for lunch, it was actually pretty good and not too overpriced (though dinner might be different?).
Across the street from the fancy shopping center is the Bole Medhane Alem Cathedral, the largest Ethiopian Orthodox church in Addis, and the second largest church in Africa.
The Bole District, home also to the international airport, is a good area of town stay in when you're in Addis Ababa.
10. Ethiopian Food
I'm going to be honest with you, I traveled to Ethiopia with a main purpose to eat Ethiopian food and drink Ethiopian coffee – and neither the food nor the coffee let me down.
First of all, with a gigantic platter of a feast placed before you, and eating with your hands, eating is just so extremely fun in Ethiopia. The staple is injera, a spongy great pancake made from teff grain flour. It's fermented to become sour, and feels like a pancake.
Along with injera, Ethiopian food consists of spice filled curries, vegetables, and lots of meat (if you choose it). Eating Ethiopian food is easily one of the best things to do in Addis Ababa.
11. Ethiopian Coffee
Coffee lovers, you're in for a real treat when you travel to Ethiopia – the coffee won't let you down!
There are two main versions of coffee to sample, one is the traditional Ethiopian coffee which is roasted by hand, ground using a mortar and pestle, and brewed in a traditional clay coffee pot known as a jebena. You'll find traditional Ethiopian coffee at nearly all Ethiopian restaurants and all over the streets.
The second type of Ethiopian coffee you'll love is from the influence of Italy. Espresso machines are everywhere, busting out creamy and strong macchiatos and shots of espresso. Don't miss these best coffee shops in Addis Ababa (coming soon).
Addis Ababa is overall a very pleasant city in Africa that offers a good selection of things to do, see, and experience.
The historical museums, the Ethiopian Orthodox cathedrals, and the energetic markets are all great places to explore, and for myself, the true joy of Addis Ababa is sitting down for an Ethiopian feast followed by a couple shots of incredible coffee!
Get exclusive updates
Enter your email and I'll send you the best travel food content.