About 5 pm each evening, when the sun dies down, a number of Dar Es Salaam street food carts specializing in Indian food emerge.
From downtown Dar Es Salaam and throughout Upanga, people finish work, and head straight for a tasty snack to cover themselves over until dinner.
After just having traveled through India for two months, I was excited to see the menu including a few of my personal favorites like pani puri, bhel puri, and dahi / sev puri.
The other item on the menu, Zanzibar Mix, is homegrown Indian Zanzibari Tanzanian creation.
Fresh vegetables like bright red tomatoes, red onions, green chilies, and coriander are the beginnings of any great Indian street food snack.
We first began with a round of pani puri.
These little hollow chips are filled with spiced potatoes and chickpeas and then submerged in tangy herby flavorful liquid.
Get exclusive updates
Enter your email and I'll send you the best travel food content.
In Kolkata they were a little different, the water was more sour and a little thinner, while these Tanzanian ones were Gujarati style and the water was filled with mint and coriander and they were sweet savory.
They were outstanding – literally gushing with flavor!
Price – 3,000 TZS ($1.80)
I loved the Kolkata street food, and bhel puri was one of the first things I ate when I arrived in India.
So we were happy to sample the Dar Es Salaam version of bhel puri. It was a glorious pile of little crunchies and puffed rice stirred up with fresh tomatoes, onions, chillies, and drenched in tangy spicy sauce.
Price – 3,000 TZS ($1.80)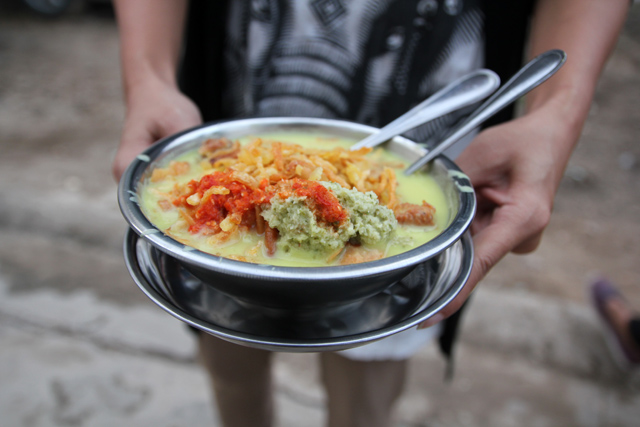 On my last visit to Dar Es Salaam, in the busy area of Kariakoo, I ate a bowl of Zanzibar Mix at Mama Mumtaz.
So I was especially looking forward to this unique creation that blends Indian and African flavors.
Zanzibar Mix (known as Urojo in Zanzibar), is an Indian inspired Zanzibari Tanzanian bowl of curry soup with lots of toppings.
Potatoes, chickpeas, fried bhajias, peanuts and an assortment of the crunchy things make the base. They are then covered in a light creamy curry sauce and finally topped with a handful of cassava of potato chips, a spoon of fresh coconut chutney, and a pile of hot pili pili (chili) sauce.
The Zanzibar Mix is then ready to consume – it's a Dar Es Salaam street food favorite – and it's packed with diverse flavors and textures.
Price – 2,000 TZS ($1.20)
To top things off, we had an avocado shake, which was creamy and extremely refreshing.
I used to think avocado could only work with salty foods, but this avocado shake changed my mind – it's marvelous when sweet as well!
Parked on the side of the road in Upanga district, Dar Es Salaam, Tanzania, this little Gujarati street food cart serves up a tasty array of street food snacks that will have you licking your fingers clean!
Get exclusive updates
Enter your email and I'll send you the best travel food content.