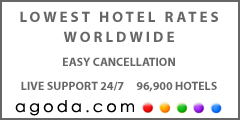 Along with football (soccer) skills, each team competing in the Fifa World Cup 2010 brings its own unique and distinct culinary flavors to South Africa creating a fusion of clashing delicacies.  The agglomeration constructs a tremendous assortment of national dishes and comfort foods that are both contrasting and complementary to each other.  All countries have mastered techniques of food cooking and distinct flavors to please their populations.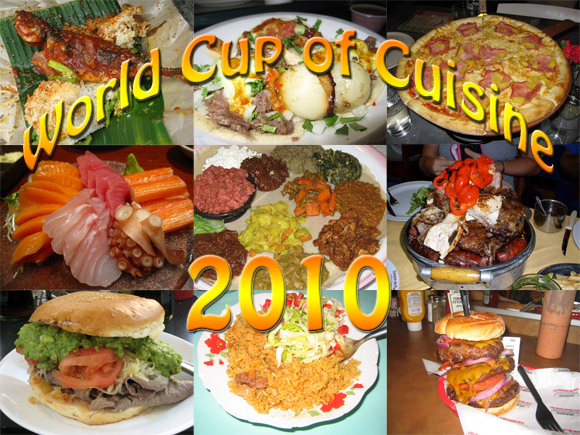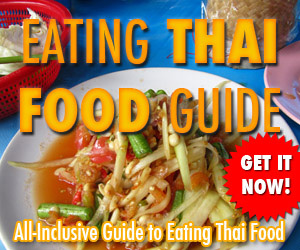 Welcome to the World Cup of Cuisine 2010!
I am aware that each country is full of dishes to be proud of and not even close to all of them have been mentioned.  If you have a favorite dish or comfort food from one of the competing nations, please let me know with a comment!
Of the 32 Nations competing for the Fifa Football World Cup, who do you think deserves the top three positions for the 2010 World Cup of Cuisine?
The decision was tough for me, but I prefer spice infested cuisines over grilled chunks of meat.  That being said, I still "loooove" grilled chunks of meat.
Mexico
Japan
South Korea
Take a look and let me know what you think.
Group A
South Africa- Braai Barbecue
The South African version of the barbecue known as a Braai is an important part of the South African way of life and culture.  Meat in the form of steaks, lamb chops, pork ribs, kebabs, and also grilled bread called Roosterkoek, are all thrown on a wire mesh grill above a bed of flaming coals.  The feast is usually eaten with a dish called mielie pap(maize meal porridge), and complimented with various sauces, breads, and salads.  I can imagine there will be an abundance of Braai South African style feasts taking place in cities throughout South Africa as the World Cup 2010 accelerates into full force.
Image courtesy of Joits

France – Bread, Pastries, Fondue
French food is characterized by elegance, innovation, and years and year of experience with cooking methods. Jen Laceda points out that the French, like many from around the world, are obsessed with food.  Flawless baked creations of crusty baguettes, sweet pastries, and other loaves, are all perfectly made in France.  Cheeses paired with wines of excellence, fondue savoyarde, chocolates, and all kinds of dairy products are all huge hits.
Image courtesy of Woaw7Provence


Mexico – Tacos
Mexico has developed a wonderful array of cuisines to be considered highly important in this gastronomic world.  The country has contributed worthy dishes of praise like burritos filled with beef and beans, tacos loaded with greasy meats and salsas (tacos de cabeza), tamales made with strong corn flavors, chili rellenos, chili con carne, mole, and a host of other famous world renowned specialties.


Uruguay- Asado, Chivito
Uruguay, much like the host South Africa as well as Argentina, is crazy about huge amounts of slow roasted meat, grilled to perfection.  The Uruguayan barbecue is a social event revolving around a monstrous grill that slow raosts a mess of meat over wood coals.  A Uruguayan Chivitois a sandwich made with a slice of fillet Mignon, mozzarella cheese, mayonnaise, olives, and sometimes bacon and tomatoes.
Group B
Argentina – Asado Parilla, Choripan, Milanesa
Argentina, like a few of the other World Cup contenders know how to grill meat to superlative standards.  Argentina Asado is ingrained into the culture and is a part of all aspects of life.  Its not uncommon to see ribs, chicken, steak, baby goat, spicy sausage choripan, black pudding sausage, and a hunk of provolone cheese, all smoking away together on an extensive grill.  The meats are heavily salted, marinated with olive oil and black pepper, and served with chimchurri salsa, and bread.
Image courtesy of dr_pablogonzalez


Greece – Souvlaki
From kebabs grilled on small sticks to eggplant casseroles like Moussaka, Greek food is fresh and full of herbs.  The extremely popular souvlaki kebabs are roasted cubes of marinated pork, chicken, or lamb embraced with spices and Greek herbs before being seared on a grill.  Pita bread, rice, herbed tomatoes and onions, french fries, and tzatziki sauce are also a vital part of the meal.
Image courtesy of robwallace


Nigeria – Groundnut Stew, Tuwo, Efo
With Africa's largest population, Nigeria has an extensive selection of cuisine.  A lot of the food is comprised of soups, stews, and vegetables, eaten with starch pastes made from corn, cassava, or yams.  Tuwo, Iyan, and Fufu, are all popular and filling staples. Ground nut stew, Nigerian spicy fish stew, pepper and leafy vegetable soups like Efo, and plantain chips, are a few other delicious treats to eat in Nigeria.
Image courtesy of kitchengeeking


South Korea – Bulgogi and Kalbi Barbecue
South Korean food is a joyous display of dainty salads and condiments along with a selection of grilled masterfully marinated tender meats, herbs, and vegetables.  Bulgogi Korean BBQ is thin slices of marinated sirloin seared and then sometimes wrapped in a lettuce leaf with raw garlic, a few chili pastes, and a chopstick full of kimchi.  Kalbi is a greasier delicious exploding version of Korean style short ribs.
Get exclusive updates
Enter your email and I'll send you the best travel food content.
Group C
England – Bangers'n'Mash, Roast Dinner
Though English food is not known for its vibrant and spice-licious flavors, locals are still passionate about a number of classic dishes.  Banger'n'Mash is comprised of mashed potatoes below a couple of traditional sausages and sometimes doused in gravy.  A traditional roast dinner consists of slowly cooked potatoes, roast beef, some vegetables, and possibly Yorkshire pudding.
Image courtesy of blackbyrd


Slovenia – Goulash
Slovenian cuisine is a fusion of Mediterranean, German, Austrian, Hungarian, and Italian foods. There is often heavy cream involved in the production of Slovenian favorite dishes.  Soups and various forms of goulash are quite popular and stocked full of vegetables, mushrooms, and barley.  Ocvirkovca is a flaky traditional bread torn off in pieces and eaten with dishes like goulash.
Image courtesy of hadaway


United States – The Cheeseburger
The United States has taken a world of cuisine and modified a lot of it to accommodate an American version and taste.  That being said, almost all forms and styles of food from around the world can be found in the United States.  Hamburgers, cheeseburgers, American pizza, and doughnuts, are a few of the everlasting selection.
Algeria – Berber Couscous, Merguez, Roasted Lamb
Located in Northern Africa, Algeria was blessed with a fusion of Mediteranian, Middle Eastern, and African cuisines, all merging together.  Lamb and fish curries, roasted lamb (Mechoui), and spicy lamb sausage (Merguez), are usually partaken of with flatbread or Algerian couscous.
Image courtesy of masha2606
Group D
Germany – Bratwursts and Sauerkraut
Beef, pork, and chicken, are extremely popular meats in Germany, and they are all eaten in abundance.  Sausages of every form, shape, size, and taste, are all important in Germany and bratwursts have spread to grilling parties around the world.  A great diversity of bread and rolls accompany almost all meals.  Don't forget a healthy dosage of sauerkraut pickled cabbage!
Image courtesy of KissMonika


Serbia – Pljeskavica
Pljeskavica, also known as the Balkan Burger, is a Serbian food of minced meat mixed up with a handful of spices and then grilled in patty form. Apparently, the Balkan Burger could be so good that its taste can unite people!  Sarma is another dish that consists of rice and minced beef encased in a cabbage roll-up. Roasted meats, cheeses, and breads, are all important parts of dining in Serbia.
Image courtesy of ywds


Australia – Vegemite, Aussie Barbie
Yeast extract made into a dark paste, spread onto toast, bread, or biscuits, and called Vegemite, is an Ausralian delicacy.  Barbecued meat is also taken quite seriously in Australia.  Lamb, beef, sometimes Kangaroo, prawns and other forms of seafood are all popular items for the Barbie!
Image courtesy of blentley


Ghana – Jollof Rice
Jollof rice is an essential and delicious part of the West African diet and is fundemental in Ghana.  Rice is mixed with meat or chicken, tomato sauce, chili pepper, some onions, ginger, nutmeg among other spices, and then cooked up altogether in a single pot.  The result is an ultra fragrant all-in-one meal of a dish.  A few fried plantain bananas go well with the Jollof rice for super satisfaction.


Group E
Netherlands – Dutch Cheese, Heineken
Holland is world famous for their exquisite Dutch cheese making skills.  From gouda to edam, cheeses are aged to perfection and extremely tasty.  Cheese is often eaten with delicious crusty bread.  Ever heard of Heineken? it's a pretty popular beverage around the world and I'm sure quite a lot will be drunk in South Africa 2010.
Image courtesy of Romedesign
Denmark – Smørrebrød, Frikadeller
Denmark is known for it's open faced sandwiches called Smørrebrød.  A hearty piece of fresh rye bread is spread with a layer of butter and then topped with an assortment of cold cuts, vegetables, seafood, cheese, or spreads.  The resulting sandwich is artfully crafted to look appealing and fully decorative.  Frikadeller are Danish style meatballs made with minced meat, eggs, milk, onions, bread, and salt and pepper.
Image courtesy of pope_jakob


Japan – Sushi
The pleasing cuisine of Japan is popular and now trendy worldwide.  Raw fish is sliced thinly in its purest form and displayed artfully before being dipped into wasabi soy mixtures.  Variations of rolled sushi with Japanese sushi rice, a bit of raw fish, a few sprigs of vegetables, and sprinkled with furikake, are all Japanese culinary gems.  Japan also has an amazing amount of cute and ever evolving niblets to snack on, like onigiri rice balls, bento boxes, gyoza, takoyaki, and tonyu doghnuts.
Cameroon – Fufu and Ndole
Ndole is considered the national Cameroonian food dish. It is a meat or fish stew cooked with bitter leaves and nuts.  Fufu is one of the staple and most filling dishes in Cameroon.  It is a thick paste or mush, usually made from cassava, yams, or corn.  The mush can be handled with the hands and bite sized pieces can be dipped into stews or gravies.


Group F
Italy – Pasta and Sauce, Gelato
From the diverse pasta dishes to evolving pizzas, Italian food has permeated countries around the world.  In it's simplest form, Italian food is made with fresh ripe ingredients and lots of herbs. Apparently the Italians brought along their own supply of pastas to South Africa!  Italian delicately made ice cream known as Gelato is a sure way to please any female worldwide.
Image courtesy of motofoto
Slovakia – Bryndzove Halushky
Slovakian cuisine is different from region to region though most of it has been influenced by Hungarian and Austrian food.  One of the national and typical Slovakian dishes is called Bryndzove halushky.  It consists of potato flour chunks (similar to gnocchi) cooked in a gravy of sheep cheese and eaten with bacon pieces or smoked fat.
Image courtesy of Oldsoft
Paraguay – Mandioca, Cassava, Yucca
Eating Mandioca also known around the world as cassava is mandatory in Paraguay with almost every meal.  The starchy potato like substance is boiled and eaten with a collection or stews.  Locro is a traditional stew made from corn and sopa Paraguaya is a bread made from corn flour and cheese.
Image courtesy of chickybuddy
New Zealand – Lamb, Sweet Potatoes, Māori potato
When thinking of New Zealand one might immediately be drawn to the famous lamb that roams the green hills.  Lamb chops with mint sauce is an entree to remember in New Zealand.  Another cuisine that resides in New Zealand lies with the traditional Māori people.  The cuisine includes kumara sweet potatoes and Māori purple potatoes cooked in various bush herbs and spices.
Image courtesy of gabrielteixeira
Group G
Brazil – Rice and Beans, Feijoada, Churrasco
Brazilian food's diversity is almost as big as the country itself.  The combination of rice and beans is a basic dish, but still ever so popular and made with highly delicious ingredients in Brazil.  Feijoada is a stew made with black beans, pork, beef, and onions. Like many South American nations, Brazil is also knowledgeable about grilled meat known as Churrasco.
Image courtesy of victoriafee
Portugal – Bacalhau
Portuguese food is a Mediterranean style culinary mixture utilizing a series of spices, herbs, and olive oil.  Bacalhau, preserved and salted cod fish, is one of the unofficial national Portuguese foods that is commonly available.  Grilled seafood is found at almost all restaurant and dishes like Arroz de Marisco (rice and seafood) are vibrant dishes to partake of.
Image courtesy of rochafoto
Cote d'Ivoire -Fried Bananas, Kedjenou
Aloko or fried bananas are ever present in the Cote d'Ivoire style cuisine.  Slightly sweet plantain bananas are cooked in oil until golden brown and served with meals or just for snacks.  Kedjenou is a delicious chicken and vegetable stew slowly cooked with only a little liquid to emphasize the chicken flavor.  Fufu like in much of West Africa is a very common starch filler.
Image courtesy of spartan_puma


North Korea – Cold Noodles
GalbiJim expresses that the big difference between North Korean and it's well known South Korean neighbor in the realm of food, deals with the selection of cold noodles in the north.  Mul Naengmyeon is one of the most popular noodles dishes made with sweet potato flour and served in a soup with cucumbers and beef.
Image courtesy of avlxyz
Group H
Spain – Paella
A Spanish paella originates from Valencia and though there is an extensive list of Spanish foods and cooking techniques, it has become symbolic as a national dish of Spain.  There are many variations of  the paella, but most consist of white rice, vegetables, a form of meat or seafood, and mild seasoning, all unified in a single pan.
Image courtesy of bpt
Switzerland – Chocolate, Rösti
Rösti is considered as one of the national dishes of Switzerland.  Grated potato mixed with salt and pepper is fried in butter or oil in the form of a patty.  Bacon, cheese, herbs, and other ingredients are also sometimes added to the rösti for extra tastiness. With a world high reputation, a flavor that will melt someones heart, and texture that's smoother than silk, Swiss chocolate is famed around the world.
Image courtesy of divania_nogueira

Chile – Churrasco Completo
Meat, avocados, and crusty loaves, are three foods that Chileans are passionate about.  A combination of all three, plus a few added extras like tomatoes, sauerkraut, and some special sauce, forms the basis of the famous Chilean Churrasco Completo.  This is an all-in-one massive sandwich meal-deal where bread is the least used ingredient.
Honduras – Plato Tipico, Beleada
Honduran cuisine is an agglomeration of South American, Spanish, and African foods.  Meat, seafood, corn, beans, tortillas, and plantains, are all Honduran specialities and sources of nutrition. A plato tipico or typical plate of food consists of barbecued beef, pork sausage, beans, rice, plantains, a small salad, and cheese.  A beleada is a Honduran tortilla filled with mashed beans, salty cheese, and various creams.
Image courtesy of cphon
Who do you think should take gold, silver, and bronze, in this 2010 World Cup of Cuisine???
Get exclusive updates
Enter your email and I'll send you the best travel food content.