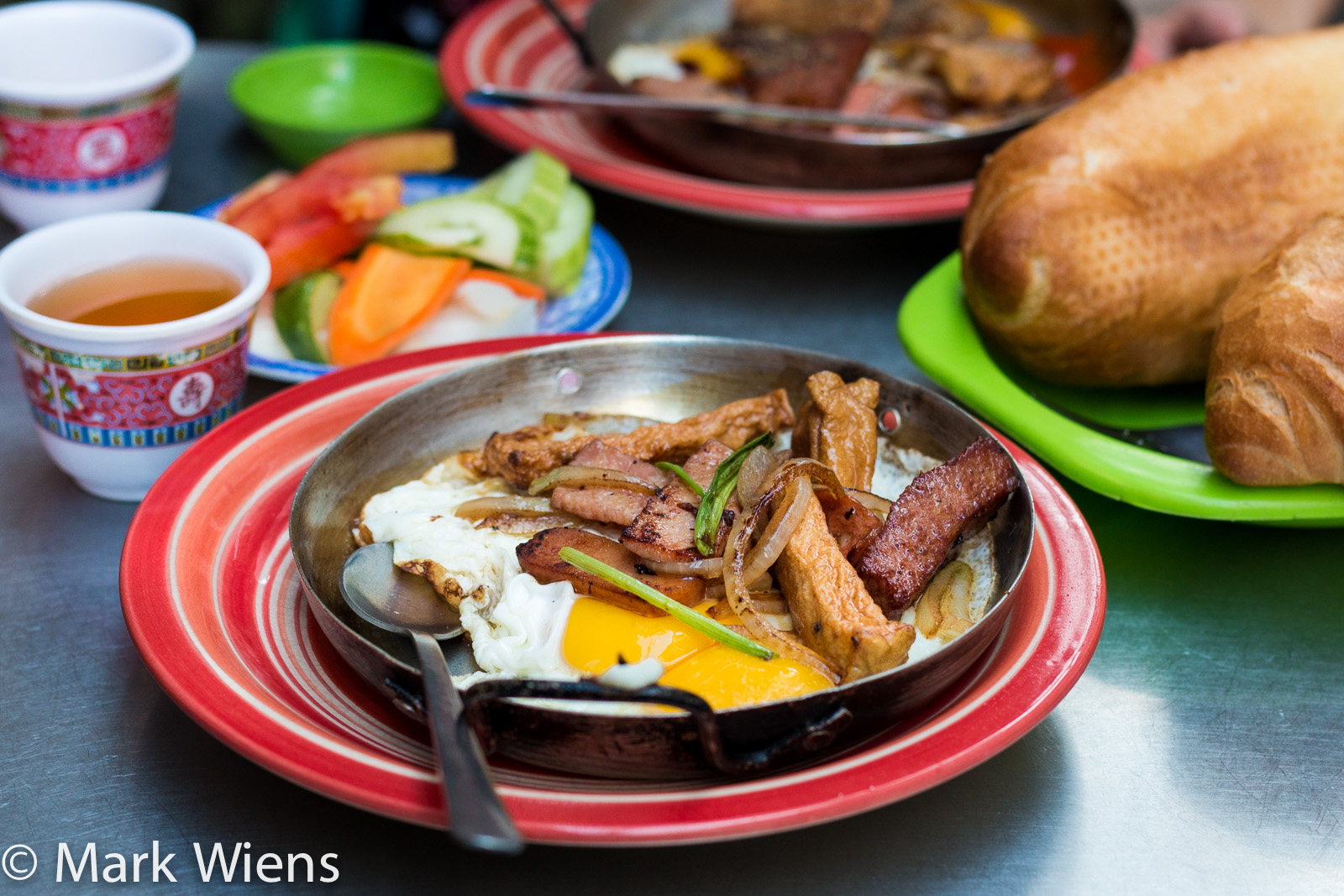 Eggs are a component of some of the world's greatest breakfasts, and in Vietnam it's no different.
Just down the road from where I was staying in Saigon (Ho Chi Minh City), was a restaurant that served, what was probably the best breakfast I ate during my visit to the city, and ever in Vietnam.
What is bánh mì ốp la?
Banh mi, although the term is often used to refer to the famous Vietnamese sandwich, actually just means bread in Vietnamese.
In Vietnam, banh mi is used to describe all sorts of different bread based items, but in this case, it's usually used for the typical personal sized baguettes.
Op la, a term that I believe originally comes from the French "oeufs au plat," means sunny side up eggs.
So all together, banh mi op la is the combination of a personal sized Vietnamese baguette served with eggs, often fried, and served in small personal sized pans.
You can find banh mi op la nearly everywhere you go when you're in Saigon, from street food vendors in alleys to indoor restaurants.
Bánh Mì Hòa Mã – Vietnamese breakfast restaurant
One of the top recommendations, which many people suggested I try during my visit to the city, from asking on YouTube, was a breakfast restaurant called Bánh Mì Hòa Mã.
One morning I got ready early, and walked over to the restaurant, eager to test their fried sunny side up eggs and baguettes.
One of the things I immediately loved most about Bánh Mì Hòa Mã, was not only the delicious food, but also the location, and the atmosphere.
Although the kitchen, and front part of the restaurant was located along the busy Cao Thang road in District 3 (I think, but really close to District 1), the tables and chairs were set up along a smaller perpendicular side street, where the atmosphere was a little calmer and more relaxing, yet always still exciting.
Small red plastic tables, and little stools were set up in a line along the side of the road, and customers  sat on the side of the wall, scarfing down breakfast with smiles on their faces.
The street food atmosphere could hardly be any better in my opinion.
Banh mi op la
I ordered the banh mi op la, and while I did also see that they offered a variety of sandwiches, this is the dish Bánh Mì Hòa Mã is most famous for, and what the majority of their customers, especially the ones eating there instead of taking away, order.
When taking my order, the waitress asked how I'd like my eggs cooked, to which I replied, sunny side up, and she nodded with understanding and a smile.
The duo of eggs were cooked on an extremely high fire, like stir frying Chinese food with the breath of the wok, except this time only with a small personal pan, and simply eggs.
The result was that the eggs were flash cooked, seared on the edges, and soft and runny on the inside, including the yolks.
I'm not sure how long they cooked the eggs, but I think only for a few seconds at most.
Along with the eggs, which covered the base of the pan, there were some slices of Vietnamese meats and Vietnamese sausage, which appeared to have been pan fried separately, before being tossed in an artful way onto the top of the eggs.
Buy my favorite part of their op la, was the addition of sautéed onions, both white onions and green onions. The onions were slightly caramelized and smoky, giving the entire pan of eggs and meat an incredibly sweet oniony flavor.
The waitress rushed our eggs down the side of the alley to our table, and I could literally hear the sizzle as it was whisked to down the alley. The Vietnamese op la was served piping hot, and my mouth watered as I anticipated my first bite.
But before digging in, I reached for the bottle of black pepper, and added the only thing that could improve it more – the pepper.
The eggs were cooked perfectly, runny yet slightly cooked on the edges, the meat tasted almost to me like SPAM, which I'm a huge lover of, and the caramelized onions added even more flavor to the already spectacular combination.
The baguette, which you'll see all over Vietnam, and you can't go more than a few steps without finding, is a personal sized loaf.
Vietnamese baguettes are usually extremely light and fluffy, yet on the other hand, extremely crusty and crunchy on the outside. When you break into a personal baguette, the crust flakes and the insides kind of collapse.
They are very light and not too filling, but go extremely well with eggs or as the holder for a Vietnamese banh mi sandwich.
I think the baguettes at Bánh Mì Hòa Mã were heated and slightly toasted to give them an even more crispy edge to go with the eggs.
We were also served a plate of pickled vegetables, a nice garnish to break the richness of the eggs and greasy meat.
In addition to my personal pan of eggs and a Vietnamese baguette, I also decided to go the extra mile and order a small plate of pâté, an idea I got after researching further about this Saigon street food stall on Eating Asia.
Though I'm not a huge fan of mayonnaise, which came stacked on top of the nice bowl of pâté, the pâté was excellent.
For a few of my bites, I took a crusty piece of Vietnamese baguette, wiped on some pâté, then scooped on some eggs and pieces of meat – it was an absolutely mouthwatering experience.
Hot tea, as well as coffee, is never far away when you're eating a meal in Vietnam.
This time around, since I had already had coffee before coming, I just chose to drink the hot Chinese tea, provided complimentary at everyone's table.
Stomach happy full of eggs and a baguette, I sipped on hot tea, enjoying the beautiful atmosphere and just loving Saigon and the culture of eating in Vietnam.
Here's the full video of this insanely delicious meals:
(Or watch the full video on YouTube here)
Conclusion
When I was visting Saigon, Vietnam, one day for breakfast I went to a well known restaurant called Bánh Mì Hòa Mã. They specialize in Vietnamese banh mi op la, a dish of eggs cooked in a personal pan, and served with a crusty baguette.
I loved everything about the restaurant, from the lively atmosphere and the seating along the side of the wall down a side street, to the perfectly cooked eggs, which had an incredibly smokey and rich flavor to them. The dish was so simple, yet prepared with such expertise.
Eating at Bánh Mì Hòa Mã was for sure one of the best breakfasts I had when I was in Vietnam. You can't go wrong with this place for breakfast.
Bánh Mì Hòa Mã
Address: 53 Cao Thắng, District 3, Ho Chi Minh City, Vietnam
Open hours: 7 am – 10 am or so daily, I got there right at 7 am, and most of the tables were empty, but within 10 minutes they were full. If you go later you may have to wait for a table, but people eat and leave quickly, so it shouldn't take too long.
Prices: My wife and I had two orders of banh mi op la, and I also got an extra side of pate, and our total bill came to 91,000 VND ($4.21)
How to get there
The restaurant is located right along Cao Thang road, on Hem 51 Cao Thang, just past Nguyen Dinh Chieu and across the street from this noodle stall.
From Pham Ngu Lao, it would take about 20 – 30 minutes to walk there, or you could take a taxi or motorbike and get there within a few minutes. On the map, click on "10. Bánh Mì Hòa Mã" to see the exact location.
How would you like some banh mi op la for breakfast?
Get exclusive updates
Enter your email and I'll send you the best travel food content.