I've seen a lot of travelers carrying around GIGANTIC backpacks, and honestly, it just looks painful.
Now I'm not a super minimalist or a crazy lightweight traveler (if you actually need and USE all those things in that huge backpack, that's totally fine), but instead I'm an advocate of traveling comfortable, and for me comfortable does mean pretty light.
The main problem is that many travelers that carry around those huge backpacks, carry a lot of unnecessary things – things they don't even really need or barely ever use.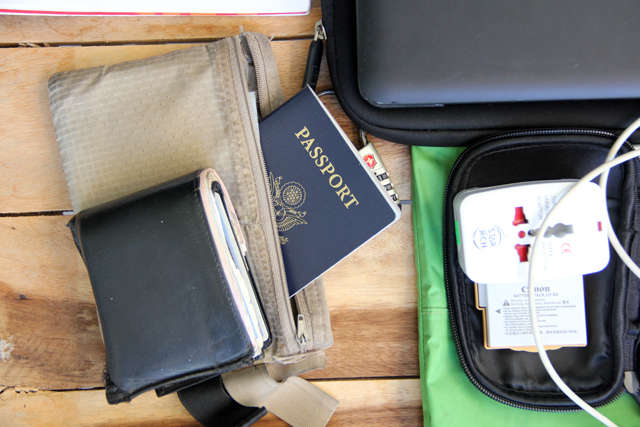 Before we go over my personal travel packing list, I'd like you to think about a few things:
You can buy things as you travel. As I mentioned in the video (below), nearly everything you could need is available in the country you'll be visiting. I have yet to visit a country where they don't sell t-shirts or toothpaste.
Limit your amount of clothes and toiletries. I've seen many travelers that include way too many clothes and toiletries on their travel packing list. Ask yourself, "do I really need 8 shirts and 6 bottles of cream?"
Get exclusive updates
Enter your email and I'll send you the best travel food content.
Consider the size of your backpack. It's an odd phenomena, but whatever size your backpack is, you'll likely fill it up. The solution is to use a smaller, more manageable backpack. I use a North Face Big Shot (more in depth suggestions below).
To be honest with you, I would pack this same list if I was going on a 1 week trip or on a 1 year trip.
One last thing, this travel packing list reflects warm weather locations, if I was going to travel to a colder destination, I'd definitely add some layers and a heavy coat. Also, I apologize that this list is male oriented (and I have no experience packing as a female!), but if you are a female, you can use these same principles.
This is a guide, adapt it to your unique personal needs. Watch the video below and then take a look at the written list.
Note: If you can't see the video, watch my travel packing list here.
Clothes
2 – 3 pairs of socks
3 – 4 pairs of underwear
1 swim / sports shorts
1 pair of cargo shorts
2 – 3 shirts
1 pair of jeans
Fleece jacket or Rain jacket – lightweight and useful
Wind pants
Flip flops
Shoes – Depending on your motivation is what type of shoes you should bring. I like to do some hiking and lots of walking, so I normally wear a pair of Salomon Men's XT Wings which is a great pair of shoes!
Cap / hat
Scarf / head protection
Toiletries
Toothbrush
Toothpaste
Hand sanitizer
Sunscreen
Toenail clippers
Tylenol
Immodium – I didn't have any in the video, but it can be a good idea, depending on your personal stomach.
Of course, if you're taking certain prescription drugs, bring them too.
Electronics
Universal World Wide Travel Charger Adapter Plug – After countless experiences arriving in a new country only to realize the power outlet is something completely different than the last country I was in, I purchased a universal power adapter. It makes life much easier!
Mobile phone – I carry just a cheap mobile phone, but anything will do.
WD My Passport 1TB Portable External Hard Drive – I mostly store my videos and photos on an external hard drive
Apple MacBook Pro – Makes blogging and video editing possible!
Canon EOS Rebel T2i 18 MP 18-135mm f/3.5-5.6 Lens – A great beginners DSLR camera, and also takes wonderful video – all the videos you've seen on Migrationology are taken with this setup.
Rode VideoMic Pro – The Canon 550D doesn't do so well with the built in microphone, so this RODE mic drastically improves sound quality on video.
Tripod – It's heavy, but really worth it occasionally for photos and videos (all depends if you're into photography or not if you should include a tripod on your travel packing list)
Traveling with electronics has tradeoffs. To be honest, if I didn't blog, or make food videos, I would probably not carry a laptop and instead just carry an iPad or smart phone. However, since I work while I travel, I need a full laptop. It's heavy, big, and gives me extra responsibility, but it's something I need.
Important Documents
Passport
Immunizations records
A few copies of passport
Extra passport photos
Credit cards
Cash (I often travel with 100 – 200 US Dollars in extra cash in case of emergency)
Multiple forms of identification
Optional Accessories (Yes, I pack these things)
Towel
Sunglasses
Lock
Books
Notebook
Pens
Travel Backpack / Luggage
The North Face Big Shot Daypack – Great backpack, in my opinion it's a perfect size, and it has a nice place to store a laptop – the reason I prefer it now over the Osprey Talon 44.
Lowepro Passport Sling Camera Bag – I absolutely love this camera bag. It fits a DSLR camera perfectly, and also includes some extra space where I often keep a bottle of water, a book, maps, and other things I need quick and easy access to. I'd highly recommend it.
Hope this packing list helps, but remember, being comfortable (whatever that means to you) is the best way to travel!
*Many of the links in this article are affiliate links, meaning if you should purchase anything, I will get a small commission. That being said, these really are the things I recommend and personally use.
Get exclusive updates
Enter your email and I'll send you the best travel food content.