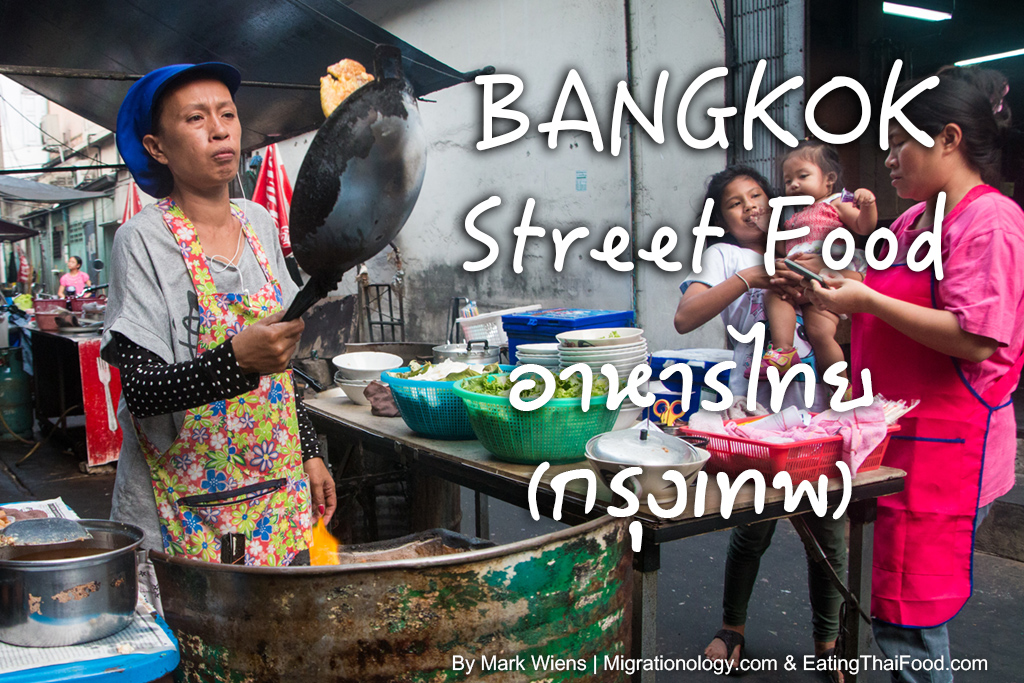 Did you know Bangkok is a synonym of street food?
Well, probably not according to the official dictionary, but having eaten and explored the street food in this culinary wonderland since 2009, I can say without doubt, Bangkok is one of the world's best cities for food.
According to Lonely Planet's survey, Bangkok tops the world as the best city to visit if you're a food lover.
In Bangkok, it goes without saying:
Where there are people, there will be food.
(Hint – this means there's food everywhere you look in Bangkok)
However, though you'll find street food everywhere in Bangkok, not all areas of this food haven of a city are created equal.
Some areas of town, and certain streets, are more blessed with beautiful things to devour than others.
So in the confusion of Bangkok's bright pink taxi's, ginormous modern shopping malls, and flashy motorbike racers, where are all these neighborhood eating coves, these dining Shangri-La's, these street food sanctuaries where a hungry soul can gobble down excessive portions of affordable and insanely delicious Bangkok street food?
Here are 16 answers…
It's not easy to narrow down the list of Bangkok's best street food streets; Anyone who has spent time navigating the city surely acknowledges that there is without stretch of the imagination, an infinite supply of street food.
But despite there being stalls everywhere you look in Bangkok, these 16 areas have an exceptionally high delicious food concentration.
Bangkok Food Tip 1: Mondays are street cleaning days in Bangkok citywide, and many street food cart vendors take the day off. You'll notice about a 50% decrease in street food in Bangkok on Mondays. So you can still find some, but don't always count on Mondays.
1. Victory Monument (Anusawari Chai Samoraphum อนุสาวรีย์ชัยสมรภูมิ)
When I first moved to Bangkok, back in 2009, I hung out mostly around Victory Monument, eating as much food as possible along with Dwight Turner.
We ate so much, we actually renamed it "Victory Munch!"
But anyways, Victory Monument is such a good area for street food because it's one of Bangkok's main transportation hubs – countless buses load and unload at this giant roundabout everyday, and it's also served by the Victory Monument BTS station. Wherever there's lots of people, there's always lots of food.
Surrounding the roundabout, and also on adjacent sois (Thai word for small neighborhood streets), you'll find a bountiful collection of restaurants, street food stalls, and snacks galore. It's like a circular buffet.
On the northeast side of the roundabout is the famous boat noodle alley, where you can choose from a variety of Thai boat noodle restaurants, and on the northwest side in the neighborhood, there are more, lesser known, and in my opinion more delicious, boat noodle spots.
Also, if you're in the Victory Monument area, you can head over to Phahon Yothin Soi 1 (พหลโยธิน ซอย.1), located just a 5 minute walk north of the monument, for another street that has a good amount of street food throughout the day and evening. Also, Rangnam (featured at #8 below) is very close.
Victory Monument serves up a smorgasbord of Thai street food that will have you massaging your stomach to maximize its capacity.
How to get there: Take the BTS Skytrain to Victory Monument station, Exit #3 or #4, and start exploring by walking around the monument first.
Hours: Daytime from about 10 am – 8 pm is good
Optional restaurants in the area:
2. Yaowarat (Chinatown เยาวราช)
There's a form of natural-selection that takes place in Yaowarat (เยาวราช); The mediocre food is weeded out and ONLY the best street food survives.
There's no denying that Bangkok's famous Chinatown (video), known in Thai as Yaowarat (เยาวราช), offers some of the most respected street food dining options in all of Bangkok. You'll discover some serious Thai street food masters.
Don't be afraid to explore down a dark side alley or follow the instinct of your nose when you smell something delicious, because Yaowarat is packed with delectable eats and full of food gem surprises.
Yaowarat road is the most famous street, cutting through the heart of Chinatown, but on the parallel Charoen Krung road, and down countless small market lanes, you'll also find endless eating options.
During the day time, you'll stumble into markets, but in the evening is when the main wave of street food vendors come to life; People hit the streets to eat.
Also, if you're looking to sample interesting things like bird's nest soup or suckling pig, Yaowarat won't disappoint you.
Just a short distance from Yoawarat (เยาวราช) is the community of Pahurat, known as Bangkok's very Little India, and home to some great Indian street food restaurants like Toney Restaurant.
How to get there: Easiest way to get to Chinatown is by taxi, but alternatively you can take the MRT to Hua Lamphong station, and then walk to Chinatown from there (10 mins) or take a tuk tuk / motorbike.
Open hours: Morning and daytime are good for browsing markets, evening and night is best for street food
Optional restaurants in the area:
3. Ratchawat Market (ราชวัตร) / Sriyan Market (ตลาดศรีย่าน)
Tucked away in the quiet and green district of Dusit, down a road known as Nakhon Chaisi, are two of the most old and traditional markets in Bangkok.
Get exclusive updates
Enter your email and I'll send you the best travel food content.
Ratchawat is first, and includes a fine selection of restaurants serving roast duck, Kobe beef noodles, and unnamed restaurant where a man in a shower cap cooks up a stir fried curry shark that burst's with so much flavor it will make you raise your hands with a "hallelujah!"
Further down the road, about a kilometer, you'll come to Sriyan Market, yet another culinary gem. First browse through the fresh wet market, and then choose from a selection of noodle restaurants, curry restaurants, one of my favorite restaurants that serves jungle curry, and street snacks that fill the sidewalk.
What I really love about both Ratchawat and Sriyan is that they filled with Bangkok street food, yet they have a relaxed and laid back feel to them – life moves at a bit of a slower pace in these areas than in the rest of the city.
How to get there: Easiest way to get to Ratchawat and Sriyan is by taking a taxi. Closest BTS station is Victory Monument, but from there it's about a 10 minute taxi ride away.
Open hours: Daytime is best, and especially a good place to eat lunch
Optional restaurants in the area:
Read my full article about Sriyan here.
4. Charoen Krung (เจริญกรุง) and Bangrak (บางรัก)
A walk down the entirety of Charoen Krung Road is bound to end with a full stomach, as there's no humanly-possible way (not that I've discovered) to resist the tempting delights that are thrown at you from every direction.
The smell of stir fried garlic, fragrant noodles, steamed dumplings, roasted duck, and freshly sliced fruit (during season), permeates and saturates the air with a cloud of marvelous Thai street food.
Right at Saphan Taksin BTS station you'll find a decent boat noodle restaurant, and just a little ways up the road, opposite the mall, is the famous Prachak duck restaurant. Also for vegetarian, just around the corner, check out Tien Sin.
Heading south on Charoen Krung, more and more street food stalls won't fail to present top quality cuisine. Khao Tom Pla Thao Thuy (ข้าวต้มปลาเต๋าเต้ย) is a restaurant that specializes in rice soup with fish; the gargantuan (I mean meter long or more) fish that hangs from the rafters of the silver cart has pure food adoring passion written all over it.
How to get there: It's easiest to take the BTS Skytrain to Saphan Taksin station and then just walk around the area. Alternatively you can get there by taxi.
Open hours: Day and night
Optional restaurants in the area:
Bangkok Food Tip #2: Are you coming to Bangkok and really interested in the best food? Click here to download the Bangkok $1 Menu for free.
5. Bang Khun Non (บางขุนนนท์)
Bang Khun Non (บางขุนนนท์) is deeply layered with a community of Thai food vendors and restaurateurs whose morals dictate them to serve Bangkok's highest quality of street food.
Whereas many of Bangkok's best street food eating scenes are marked by rambunctious traffic and dek waan (racing motorbike kids), Bang Khun Non is not nearly as rowdy – a place where you don't have to worry about getting hit while eating!
Bang Khun Non is the source of Som Tam Boo Maa (ส้มตำปูม้า), one of my all-time favorite restaurant for Isan food. There are also many other great restaurants on the streets, serving dishes like yen ta fo (เย็นตาโฟ Thai pink noodle soup), khao ka moo (pork leg over rice), and roast duck (pbet yang)
How to get there: Bang Khun Non (บางขุนนนท์) is located in the Thonburi area of Bangkok, across the river from the bulk of the city. Best way to get there is by taxi. It's not far from the awesome Baan Silapin or the Taling Chan floating market.
Open hours: Lunch and dinner
Optional restaurants in the area: Som Tam Boo Maa ส้มตำปูม้า (one of my favorite Isan restaurants in Bangkok, video), to be honest with you, I rarely eat anywhere else on Bang Khun Non, because this restaurant is so incredibly good.
6. Petchaburi Soi 5 (เพชรบุรี ซอย 5)
Hidden in-between the modern shopping area of Siam and Victory Monument, and hidden in the Phaya Thai neighborhood, is Pectchaburi Soi 5.
This soi especially comes alive in the evening, when you'll find dozens of street food carts and restaurants with their doors open, catering to many people coming home from work. Since it's a neighborhood, much of the street food in the evening is for takeaway, but there are still some places to sit down and enjoy a meal.
You'll find all sorts of noodle vendors, salad vendors, fruit stalls, and infinite snacks. It's a very local Thai market street, yet it's so close to the center of Bangkok.
Another great reason to go to Petchaburi Soi 5 is to dine at P'Aor for a delicious bowl of tom yum goong noodles. The rice noodles swim in a thick and creamy broth that sweet and sour and milky from the shrimp head oils. It's amazing.
How to get there: Take the BTS skytrain to Ratchathewi station, exit #3, then cross over Petchaburi Road, make a left on Petchaburi, and walk until you get to Soi 5, and then turn right.
Open hours: Throughout the daytime some stalls and restaurants are open, but especially in the evening starting at around 5 pm
Optional restaurants in the area: P'Aor Tom Yum Noodles (video), other than that, just walk around and eat as much as you can in the evening.
7. Talat Phlu (ตลาดพลู)
Talat Phlu (ตลาดพลู) is an old-school street food garden of Eden in Bangkok that straddles the train track coming from Wang Wian Yai.
The area is blessed with high concentration of skilled street food personnel that pride themselves on serving some of the best things to eat in Bangkok. A number of street food stalls have received local Thai awards for their dishes, including an ancient street cart serving a snack (kanom buang yuan ขนมเบื้องญวน) that is so famous it has been decorated with plaques and winning awards that dangle from the pole of the street light.
Around Talat Phlu (ตลาดพลู) there's a there's a great place for some of the best some of the best sticky rice and durian in Bangkok, and Lan Thung Khao Tom Hua Pla that serves among my favorite versions of steamed sea bass with lime sauce (pla kahpung neung manao, ปลากะพงนึ่งมะนาว).
How to get there: You can take the BTS to Talat Phlu station, and from there, the market and street food area is about a 10 minute walk away.
Open hours: Day and night
Optional restaurants in the area:
8. Rangnam (รางน้ำ)
Perpendicular to Victory Monument BTS station is the fashionable street, popular with both locals and expats, known as Rangnam.
There are a slew of trendy bars, international restaurants, hotels, massages, some fancier sit down restaurants (like Tida Esarn), and a worthy mass of street food stalls that sprout up especially in the evening time.
At the far end of Rangnam (next to Ratchaprarop Rd.) is Kuang Seafood, among my favorite Thai seafood restaurants in Bangkok.
Directly opposite Kuang Seafood, just outside the Esso petrol station is a fantastic Isan street food stall that sets up for dinner, and where you can eat just about all thing Isan.
Rangnam road also has a rib noodles stall that will have you licking your lips for days. Also, you can also occasionally find Thailand's notorious dancing shrimp from a vendor in the afternoon.
How to get there: Take the BTS Skytrain to Victory Monument station, exit #2, walk straight and make a left on Rangnam.
Open hours: Lunch and dinner
Optional restaurants in the area:
9. Sukhumvit 38 (สุขุมวิท 38)
Suk 38 is an oasis, a sanctuary of affordable street food in the midst of Bangkok's prestigious and expensive Thong Lo (ทองหล่อ) district.
Thai street stalls set up in the evening in abundance on both sides of the street, offering a solution to those who prefer open air dining conditions, instead of being cooped up in an air-conditioned overpriced restaurant.
Sukhumvit Soi 38 is frequented by tourists and expats, and I wouldn't say it has the best street food in Bangkok, but it is very convenient, the vendors are friendly, and you'll find a decent selection of Thai dishes to choose from.
All normal Thai street fare can be expected, ranging from Isan style sticky rice (khao neow, ข้าวเหนียว) and som tam (green papaya salad, ส้มตำไทย) to stir fried ahaan dtam song (อาหารตามสั่ง) Thai dishes like pad ga pao moo kai dao (rice with pork and basil + fried egg, ผัดกะเพาไก่ + ไข่ดาว) or a plate of pad Thai.
I think Suk 38 is a great introductory to Thai street food.
How to get there: Take the BTS Skytrain to Thong Lo station (ทองหล่อ). Exit #4 (you'll see the street perpendicular to the station as you are on the sky- walk), walk down the steps, then make an immediate u-turn, and you'll be there – it's impossible to miss.
Open hours: About 5 pm – 2 am daily (but to ensure most stalls are open, go more about 6:30 pm earliest). Also, Monday's are street cleaning days in Bangkok, so you'll notice less street food stalls open citywide, so if you have a choice, Mon- day is NOT the best day to go – some vendors may be closed.
Optional restaurants in the area: Just pick and choose anything that looks good. Here's a full article I wrote about what to eat (and where).
10. Tha Pra Chan / Banglamphu (ท่าพระจันทร์ บางลำภู)
Located close to the Chao Phraya river, and near Democracy Monument and Ratchadamnoen, both Tha Pra Chan and Banglamphu are old districts in Bangkok with great eating choices.
Some of the most classic and old-school restaurants that look like they've been in the food serving business for centuries can be found in this area of town.
You'll find street food carts, snack stalls, shophouse restaurants, and a number of vendors selling the famous traditional Thai snack of kanom buang (ขนมเบื้อง).
The market close to the river at Tha Pra Chan weaves around in a baffle of stalls and carts; One may as well close their eyes and just let their nostrils do the navigating.
How to get there: Public train transportation doesn't yet reach these areas, so you can either take a taxi or boat from Saphan Taksin to Phra Arthit pier or Tha Pra Chan pier.
Open hours: Day and night
Optional restaurants in the area:
11. Wang Lang Market (วังหลัง) by Siriraj Hospital (ศิริราช)
Just across the Chao Phraya river from Tha Pra Chan (as mentioned above) is a snack lovers Shangri-La, and it happens to be one of my favorite places in all of Bangkok. If you love Thai street food and you're in Bangkok, it's a requirement to visit.
At Wang Lang Market there is a mind blowing quantity of street snacks and cute things to sample. I often have to need to take a breather in an attempt to analyze what to eat in the most efficient manner to maximize my stomach space.
One the outside of the market, across the street from Siriraj Hospital, vendors line up in a row of grilled bananas, vendors selling every possible Thai dessert, grilled and fried pork, fish, chickens… basically you name it, you'll find it at Wang Lang. There's enough food at Wang Lang to write an entire book on it.
Just down the road from Wang Lang Market is one of the best southern Thai food restaurant in Bangkok.
Wang Lang is one of my favorite areas of Bangkok that I recommend in my food guide.
How to get there: The easiest way to get to Wang Lang Market is to take the public boat to Wang Lang Pier – you can easily catch the boat from Saphan Taksin (take the BTS there), and then ride the boat north until Wang Lang Pier. You can also take a boat across the river from Ta Phra Chan pier to Wang Lang Market
Open hours: Open in the daytime from about 9 am – 5 pm daily
Optional restaurants in the area: At Wang Lang market you don't really need to plan to eat somewhere, you can just walk and see what you find – there's so much to try!
Bangkok Food Tip #3: It's a sure bet to find awesome street food in 3 different locations: outside hospitals, outside universities, and outside shopping centers.
12. Nang Loeng (นางเลิ้ง)
A leisurely stroll through Nang Loeng (นางเลิ้ง) market is both an enjoyable experience and a feasting opportunity for you.
The market itself is a throwback in time, along with Ratchawat and Sriyan, it's one of the few remaining traditional neighborhood markets in Bangkok.
The market consists of picturesque ancient wooden buildings and grannies that have made the same home-made snacks and Thai desserts for the entirety of their lives. The Thai recipes of dishes at Nang Loeng are proven.
The market is especially a great weekday morning and lunch street food spot in Bangkok. Nang Loeng (นางเลิ้ง) is sort of in a square shape, with some restaurants and street stalls on the outside, and a full lunchtime food court in the middle. At lunch, the market is packed with hungry office workers.
As traffic roars outside, strolling around inside Nang Loeng (นางเลิ้ง) you might think you've escaped Bangkok for a while. The food is always worth a visit.
How to get there: The easiest way to get to Nang Loeng (นางเลิ้ง) is to hop in a taxi and go directly to the market. It's pretty close to Democracy Monument.
Open hours: Lunchtime from about 10 am – 1 pm daily (but weekdays are best)
Optional restaurants in the area:
13. Soi Ari (ซอยอารีย์)
Soi Ari, also referred to as Phahon Yothin Soi 7, is a top-notch dining extravaganza, that although is located in what could be considered main Bangkok, it retains a feeling of being in a suburban neighborhood.
Bunches of street food carts in conjunction with trendier sit down diners make Soi Ari yet another Bangkok hot-spot for devouring the best Thai dishes.
Soi Ari is adjacent to Ari BTS station, and there's also fantastic street food at the next BTS station of Saphan Kwai and the surrounding side streets.
If you are vegetarian or want to eat healthy and extremely delicious Thai street food in a cafeteria cozy cafeteria sort of setting be sure to check out Baan Suan Pai. Also, be sure to see the useful Vegetarian Thai Food Guide.
How to get there: You can take the BTS directly to Ari station, exit #3 and make a left onto Phahon Yothin Soi 7 (Soi Ari), and start eating
Open hours: Evening and night is best when you'll find a number of great Isan restaurants, among other things as well
Optional restaurants in the area: I don't have any specific recommendations, other than the marvelous vegetarian food court (above), and the street food stalls along Ari Soi 1.
14. Ramkamhaeng – Opposite University (ถ.รามคำแหง)
As I've stated many times before, there's a definite connection between Thai universities (or university anywhere in the world) and tasty food.
Outside the gates of Bangkok's biggest university, Ramkamhaeng, is a sea of Thai street food that has the potential to lure one into a state of food-confusion and happiness.
There's a sizable population of students from the South of Thailand that contributes to a brag-gable selection of Southern Thai restaurants (I'm personally a huge fan of southern Thai food). You can try dishes like kuay teow gaeng (ก๋วยเตี๋ยวแกง) and Thai dishes like khua kling (คั่วกลิ้ง), gaeng taypo (แกงเทโพ), and Southern style gaeng som ().
Along with southern food you'll find dozens of Isan restaurants, and normal general Thai food restaurants where you can order up any type of stir fried Thai dish that your taste are calling for.
How to get there: Ramkamhaeng (รามคำแหง) is quite a local area of Bangkok, and it's not connected too closely to any major public lines, other than buses. Closest trains station would be Ramkamhaeng on the Airport Link train. Other than that, the easiest way to get there is by taxi.
Open hours: Day and night everyday
Optional restaurants in the area: No specific suggestions.
15. Silom Soi 20 (สีลม ซอย 20)
Silom is the central business district of Bangkok, and the only reason that's important is because that means a lot of people; and in Thailand that translates into a lot of food!
Right at Sala Daeng, in the heart of Silom, there's a ton of street food, especially during lunchtime when all the office workers come for a bite to eat. On Soi Convent, you'll find a variety of different Thai dishes to eat, but in my opinion, the food is not always all that great – it's convenient.
About 1 kilometer further south from the main part of Silom, almost in-between Silom and Bangrak is Silom Soi 20, which I think is a great street food street. It's especially good in the morning, from about 6 am – 9 am when the road is mostly closed to traffic and turns into a fresh market with lots of takeaway food.
You'll find all sorts of Thai curries, chicken and rice, sweets and snacks, and right at the corner on Silom road, a lady who sells one of the best khao neow dam sang kaya (ข้าวเหนียวดำสังขยา) in Bangkok (black sticky rice with custard, my wife's favorite).
How to get there: Take the BTS skytrain Chong Nonsi station, exit #2, and then make a left on Silom Road, walk all the way until you reach the Sri Maha Mariamman Hindu temple, and Soi 20 is across the street on your right hand side (15 minute walk)
Open hours: Morning market from about 6 am – 9 am, and in the evening you'll find some restaurants open as well, but better in the morning
Optional restaurants in the area:
16. Sam Yan (สามย่าน)
Centrally located in Bangkok, and surround Chulalongkorn University, Sam Yan market (สามย่าน) and the whole area is a treasure chest spilling over with Thai street food that is waiting to be devoured.
The Sam Yan Market, which is both a wet market and sort of student food court, is home to Today Steak, offering cheap Thai street meat and all-things-deep-fried that will require you to use that next notch on your belt (or take it off altogether).
Then heading over to Suan Luang Market (ตลาดสวนหลวง) just a few blocks away you'll uncover numerous shophouse restaurants and street food stalls that especially make their appearance at night. You can eat any type of stir fried dishes, Isan food, plus sweets and snacks.
Due to the construction and expansion of Chulalongkorn University, things around Sam Yan (สามย่าน) have been changing over the years, but it still remains a place for food lovers.
How to get there: Sam Yan is sort of located behind MBK shopping center in Siam, but from there it's easiest to take a tuk tuk or motorbike to get there. Otherwise, you can take the MRT underground to Sam Yan station,
Open hours: Morning market from about 6 am – 9 am, and in the evening you'll find some restaurants open as well, but better in the morning
Optional restaurants in the area:
Thank you for reading!
So there it is, 16 of Bangkok's finest street food sanctuaries. I hope this can help you locate Bangkok's best street food!
I know there are plenty more Thai street food gems in Bangkok, so if I failed to mention your favorite spot for a food marathon, I'd love to hear about it with a comment below so we can all hear about it and all eat more delicious Thai food.
One more thing…
If you are really interested in eating the best food in Bangkok, take a look at the ultimate Eating Thai Food Guide, an essential guide to for eating on the streets of Bangkok.
And I've just launched my brand new guide to discovering Bangkok!
Get exclusive updates
Enter your email and I'll send you the best travel food content.