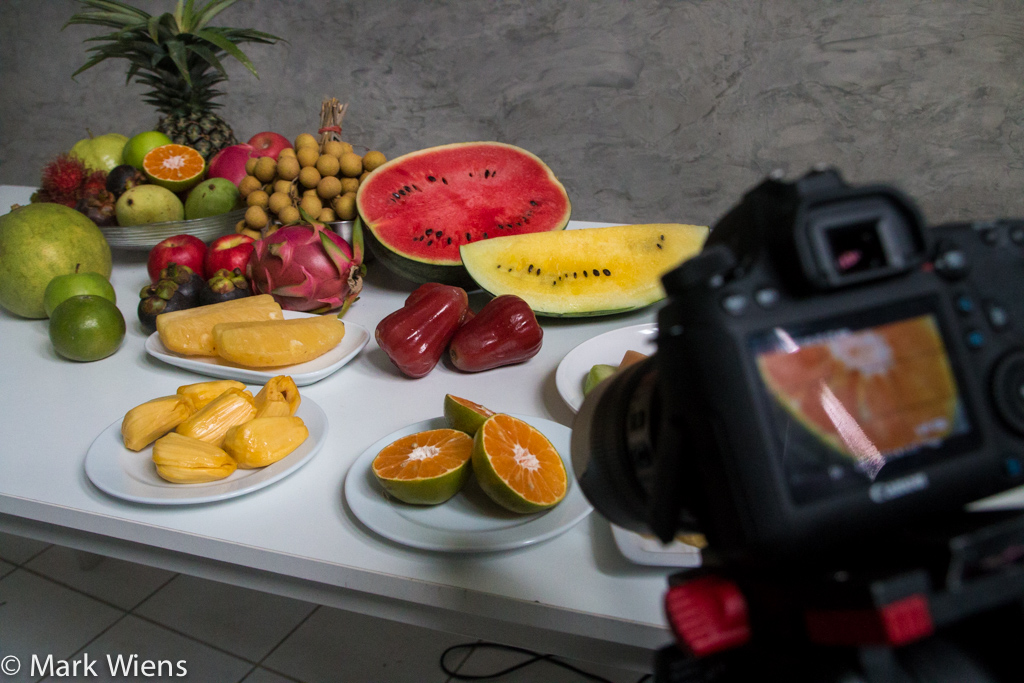 On day 3 of the Thai food tv documentary, we began at the studio of the production company.
The crew needed to get some stock style footage, including in studio shots of all of the different salads we had eaten on the first day, and more individual shots of all the beautiful Thai ingredients and herbs.
They arranged a nice selection of fruit on the table, and with a foreground of fresh Thai fruit, I talked about how Thai fruit can be used in a salad known as yam ponlamai (ยำผลไม้), or Thai fruit salad.
By the way, if you're looking for an awesome Thai fruit salad to eat in Bangkok, one of my favorites is at Chamlong's Asoke, an all vegetarian food court.
After briefly going over some of the major Thai fruits, I then ate a bunch of Thai fruits, and quickly explained to the camera how each one tasted – guavas are sour and crisp, pineapple is sweet and juicy – and so on.
My stomach full of fresh and delicious fruit, it was then time to mix up some Thai fruit salads.
I first made a bowl of fruit salad with durian, dragon fruit, jackfruit, and watermelon, and dressed it all with fish sauce, lime juice, and chili flakes. Spicy durian, not a bad combination at all.
The next fruit salad was the normal Thai fruit salad style, including apples, guava, and pineapples – firmer and more sweet and sour fruits.
Get exclusive updates
Enter your email and I'll send you the best travel food content.
Another scene the team wanted, was placing pins on a Thailand map, showing the places we'd be traveling to eat.
After wrapping up in the studio, and grabbing a quick lunch on the road, we jumped in the van, en-route to the infamous Khao San road – the backpacker hub of Bangkok.
Khao San Road is not a place I'm too fond of in Bangkok, mainly because there's not very much good food there, and it's a pretty gross depiction of what Thailand is really like.
Nevertheless, it is an interesting place, and it's definitely a place that's always alive with energy.
We shot a few scenes just walking around Khao San, before the main shoot at Khao San…
If there's any good food scene to shoot at Khao San Road, it would have to be malang tod (แมลงทอด), or fried bugs. The bugs are just deep fried and sprayed with soy sauce, so there's little room to prepare them badly (or shall I say, to make them toned down in flavor from the Thai taste).
We ordered up a mixed plate of creepy crawlers, all of them which I had tried before, apart from the tarantula.
Since I had never eaten a tarantula, I was pretty excited about the opportunity to eat one this night.
I did a lot of bug munching and crunching, and we got a lot of insanely close up footage of eating the bugs.
I'm a big fan of grasshoppers, silk worms are alright… but then it was time for the big ticket, the tarantula…
A fried tarantula definitely looks scary, but the ones you can eat are non-poisonous (at least I hope so).
The tarantula tasted almost like salt cured beef jerky, with a hint of a livery aftertaste to it – I thought it was pretty decent, and would gladly eat them again.
To get more footage, we ordered some Pad Thai from a vendor on the end of Khao San Road (ถนนข้าวสาร).
It was my first time to ever eat Pad Thai (ผัดไทย) from Khao San Road, and I can safely now admit that it's as bad as it looks – it was basically falvorless – just noodles fried in oil with no seasonings.
Pad Thai Thip Samai is a much better option for Pad Thai when you're in Bangkok.
But anyway, I mostly needed to be eating something while walking around getting footage of the action and life around Khao San Road.
A bit more filming and we called it a day. Thank you for following along on this "Thai food tv documentary" journey.
Get exclusive updates
Enter your email and I'll send you the best travel food content.