While the quality and taste of the food is obviously a fundamental part of any dining establishment, it's also the ambiance that plays a part in the excitement of eating.
When a street food stall has both outstanding food and a unique setting or character, that's when you've found a WINNER.
I normally share most of my Bangkok street food excursions on my other blog, EatingThaiFood.com, but this well known local curry stall is so good, I decided to write about it on Migrationology too.
Located in Chinatown Bangkok, in front of the most perfect aged antique wooden doors, at 4 pm each day (apart from Monday), they start to wheel the food carts and carry bucket-loads of curry to the side of the street.
A few stacks of red plastic chairs are rolled onto the sidewalk, which when busy, become the musical chairs.
Well before opening time, a few of the brave and proud (myself included), wait, longing to have first dibs on the days' selection.
The last time I went to Khao Gaeng Jake Puey ข้าวแกงเจ๊กปุ้ย (เจ้เฉี๋ย), the man in the khaki suit was sitting loyally (he may have even brought his own chair!?), waiting patiently for probably an hour before the food was ready.
He knows good food, and he was dedicated.
The customers include quite a diverse demographic of local Thais.
Being in Chinatown, many Chinese looking men stroll in, but motorbike taxi drivers, tuk tuk drivers, ambulance paramedics, gold dealer, and even some people that looked as though they'd just woken from a slumber, all take part in the action.
Get exclusive updates
Enter your email and I'll send you the best travel food content.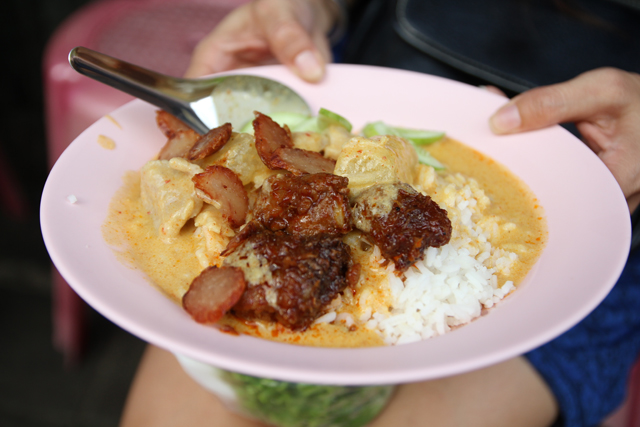 What is khao kaeng (ข้าวแกง)?
In Thailand, khao kaeng (can also be spelled "gaeng") really just means rice curry, and that's exactly what it is. You get a plate of rice and choose your toppings.
For round one, I choose a plate of their famous kaeng kari (yellow curry แกงกะหรี่หมู), topped with slices of Chinese sausage and a few pieces of caramelized pork ribs (seekong moo ob ซี่โครงหมูอบ).
Kaeng kari (yellow curry แกงกะหรี่หมู) is a mild coconut milk based Thai curry, and the version at Khao Gaeng Jake Puey ข้าวแกงเจ๊กปุ้ย (เจ้เฉี๋ย) is incredibly smooth.
With a number of sighs of delight, plate one disappeared into my stomach, and I just couldn't stop there.
The ribs in particular, were spectacular.
I decided to have an entire new plate, this time loaded with stir fried crab (pad boo ผัดปู), another popular item I observed many happy men surrounding me chowing down on, and a stewed egg on the side (kai paloe ไข่พะโล้).
The crab was equally delightful, pure crab steak stir fried with a hint of chili, pea eggplant, and broken pieces of fungus. It was rich and buttery over my rice.
The egg was a little rubbery, I'm not always a fan of kai paloe (my wife is the one who really wanted that!).
But alas, I could take it no longer and mid-way through the crab I asked the waiter to dish me another small pile of the mouthwatering ribs (seekong moo ob ซี่โครงหมูอบ).
The ribs, were of course, mind blowing.
Why you may need to play musical chairs…
In Thai, the restaurant is nicknamed the rice and curry musical chairs (kow-ee don-tree ร้านข้าวแกงเก้าอี้ดนตรี).
Why?
Because when Khao Gaeng Jake Puey ข้าวแกงเจ๊กปุ้ย (เจ้เฉี๋ย) gets busy, customers grab their plates of deliciousness, and walk around the red plastic stools, ready to pounce on a seat as soon as the music turns and someone gets up.
Of course, you could also just forego all hopes of sitting down and just stand while eating, a common dining practice in India!
Here's the video of eating at Khao Gaeng Jake Puey ข้าวแกงเจ๊กปุ้ย (เจ้เฉี๋ย).
Watch it now…
Plates of Thai curry and rice at Khao Gaeng Jake Puey ข้าวแกงเจ๊กปุ้ย (เจ้เฉี๋ย) cost 60 THB, higher than other street food rice and curry stalls due to better ingredients and also that's is in Yaowarat (video).
Open hours: 4 pm – 9 pm everyday but Monday, but they might sell out before 9 pm, so it's best to arrive just as they open when the food is fresh.
Prices: 60 Thai Baht per plate, more expensive than other Thai khao kaeng stalls, but well worth the price
How to get there: Restaurant is located in Yaowarat, right at the corner of Charoen Krung and Mangkon
ข้าวแกงเจ๊กปุ้ย (เจ้เฉี๋ย)
ซอยมังกร ถนนเจริญกรุง แขวงสัมพันธวงศ์ เขตสัมพันธวงศ์
โทร. 02-222-5229
เปิด อังคาร – อาทิตย์ เวลา 16.00 – 21.00 น.
ข้าวราดแกงกะหรี่หมู + ซี่โครงหมูอบ + กุนเชียง 60 บาท
ข้าวราดไข่พะโล้ + ผัดปู + ซี่โครงหมูอบ 60 บาท

View Bangkok Eating Thai Food Map in a larger map
Get exclusive updates
Enter your email and I'll send you the best travel food content.