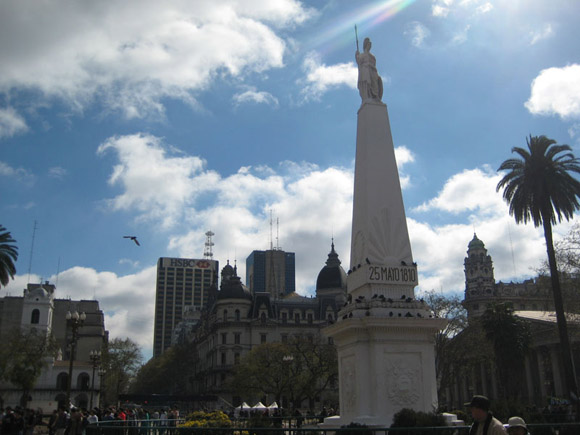 With the barest essential of all plans, I jetted to Buenos Aires, Argentina, to take a one month Teaching English to Speakers of Other Languages (TESOL) course with TEFL International Buenos Aires.  Apparently, TESOL and TEFL are practically the same thing.
Still dazzled and overwhelmed with kilos of beef due to my recent landing in Argentina, the course started off on schedule.  The course was held in the ritzy district of Recoleta in a beautiful historical mansion known as the Recoleta Institute.   The prestigious and very European area of Buenos Aires is home to  numerous fancy restaurants, delightful delicatessens, fruit stores, deep fried Empanada joints, and milanesa sandwiches.
The 4 Week Course:
The first day of class was filled with individual introductions, the confusion of trying to figure things out in a new place, and attempts to predict that the class would not be overly terrible.  Our professors made haste to give us the syllabus that turned our hopes around and made everyone cringe.  The requirements looked to be of Harvard prestige and were reinforced by the two professors letting us know that we had a lot of work to get done in the next 4 weeks.
It doesn't take long for a group of about 20 recent university grads to get to know each other better than by using the medium of dislike for "English grammar."  Indeed there is always the outliers who seem to have picked up the present perfect continuous tense and know exactly how to explain it.  As is expected, I instantly forgot most of the grammar we went over in the course.
The first week was an introduction and refresher to English grammar, a confusing introduction to phonology, and a summary of the theories of learning English as a second language.  One of our professors was Irish and taught us a basic amount of Gaelic without any usage of English in order to demonstrate how we could equally teach English to non speakers using zero of their native tongue.
The other portion of the course was dedicated to the practice of lesson planning and then the reality of teaching classes.
In order to obtain the internationally recognized certificate of TESOL, 6 hours of teaching experience are required.  The classes were in front of eight students who were eager to learn and for the most part participate.  Another 6 hours or so of observing other student teachers was required.
The nervousness I experienced being a debut professor was horrendous.   However, after just six lessons I was able to gain a better understanding of the nature of teaching English, and a beginning to overcome a fear of public speaking.  I learned that with teaching, it is important to have a well thought out mental game plan of a lesson and an activity to take up time at the end.
Our class which consisted of about 20 people, soon realized that sleep deprivation was something that would be unavoidable throughout the duration of the course due to the everlasting options of entertainment and nightly festivities Buenos Aires had to offer.  During the course, the drug of choice was coffee, which everyone sought after and gobbled up before the next person.
Our class was a wonderful group of individuals and I made some great future contacts and friends through the TESOL International Course in Buenos Aires.
Was It Worth It:
At a cost $1790 there is reason to research and think hard about the advantages and disadvantages about taking a TESOL course.  At the beginning, I justified the steep cost as a continuation to my university education and in order to obtain an internationally recognized certificate that is valid for the rest of my life.
A year later I began teaching kids at English camps in Thailand and the TESOL course provided a bit of confidence and backbone that I needed to speak in front of crowds and come up with games and activities in a flash.  When the camps ran out, I fetched a decent job teaching English in Bangkok at a private institute that required a TESOL certificate and paid a higher than average salary.  From the course, I knew a little of what to expect, and my illness of speaking in front of groups was for the most part cured.
The obvious steep price is one of the only drawbacks to the course.  There were a few other things that could have been improved.  As students we didn't really get to observe classes taught by experienced teachers which could have been a help.  The overall material could have been arranged a little more organized as sometimes we didn't know what was going on in terms of scheduling.  More insight into forming lesson plans would have made the course run smoother.
Conclusion:
I would conclude that a TESOL course is worth taking as a step in the right direction if you ever want to teach English somewhere in this world.  The course is also likely to teach you a few personal lessons that could be beneficial even if you don't want to teach. With a full one month TESOL certificate and a year or two of added teaching experience, scoring an English teaching job somewhere in the world should be effortless.
Final Word: Taking a TESOL or TEFL Course is well worth the money and Buenos Aires is an amazing place to do it.
If you do plan to take a TEFL course, I would recommend the full 1 month course instead of the online or 2 week course.
Get exclusive updates
Enter your email and I'll send you the best travel food content.