NOTE (October 2015): Unfortunately Sukhumvit Soi 38, due to a property dispute, has been shut down as a street food street.
——————
Back in 2009, when I had only been in Bangkok for a short period of time, Sukhumvit Soi 38 (สุขุมวิท ซอย 38) was one of the very first places I did a marathon…
…No, not the jogging kind of a marathon, but a street food marathon.
Fresh in Bangkok, I was thrilled with every street food cart in the city, and I literally wanted to pull up a stool at every vendor and devour whatever they served me.
Life moved on, and I kept eating more and more food in Bangkok, discovering numerous other marvelous street food areas in town, and sampling all sorts of Thai dishes I never even knew existed.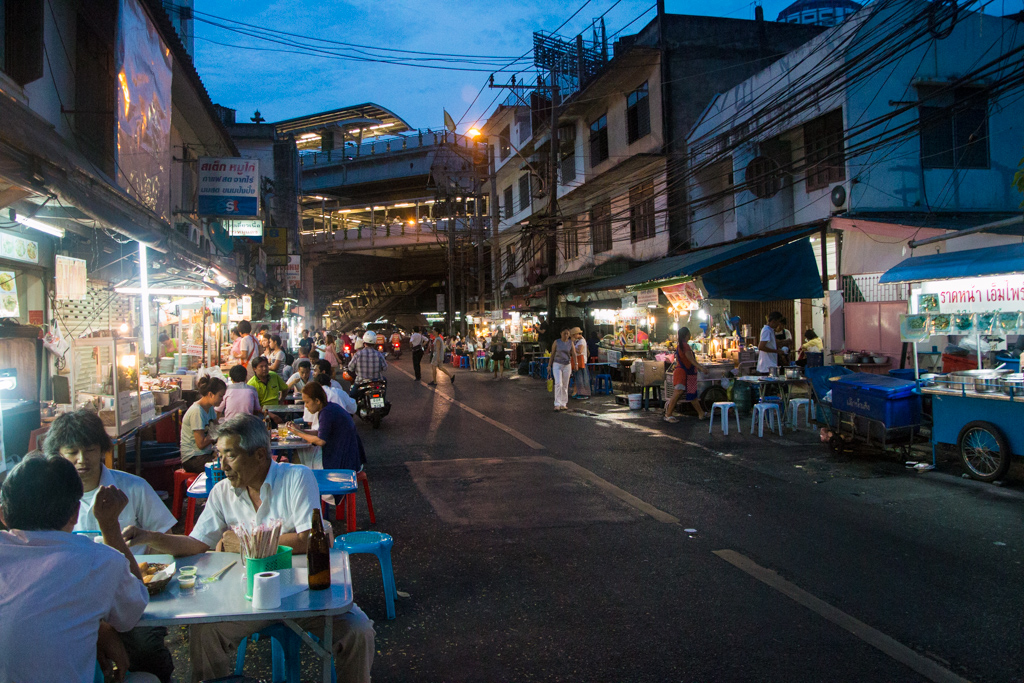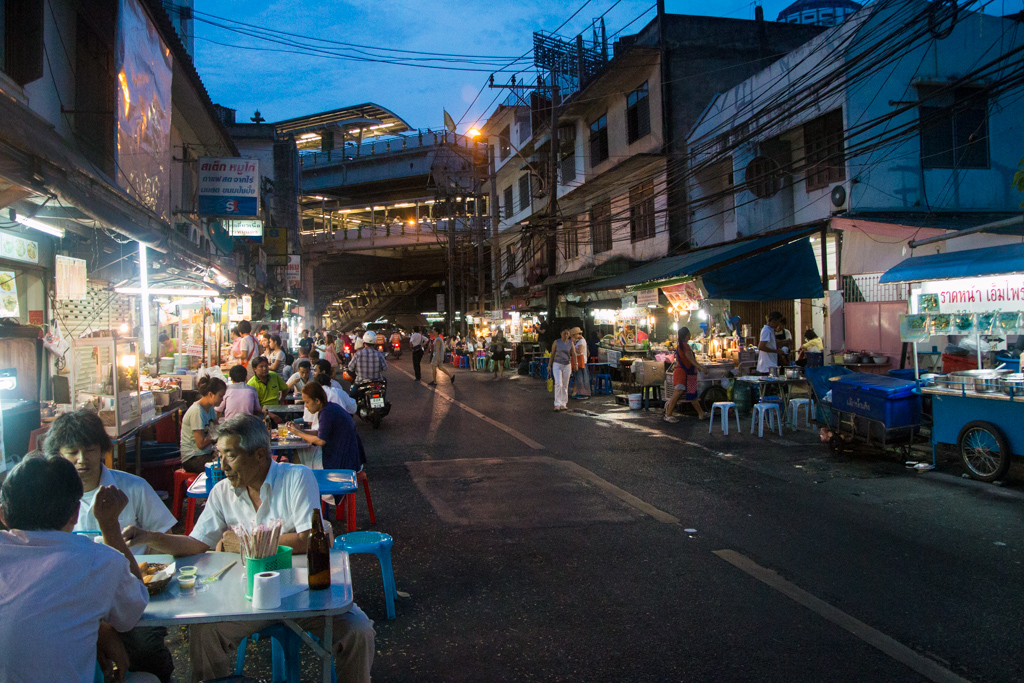 Sukhumvit Soi 38
So from eating street food a number of times on Sukhumvit Soi 38 back when I first came to Bangkok, it had honestly been years since I had been here.
I was well due for a trip back to this famous street food street in Bangkok.
Sukhumvit is one of Bangkok's main roadway veins, a street that runs through the heart of many important districts of Bangkok, from Siam to Asok to On Nut.
"Soi" is the Thai word for small or neighborhood street.
Located just below Thong Lo Station (ทองหล่อ), on the Sukhumvit Line of the BTS, Soi 38 is extremely accessible and centrally located.
Everyday, beginning at about 5 pm, a variety of street food stalls begin to set up on both sides of the road.
I arrived on the early side, just after 5 pm, and while some of the vendors were already serving, others were still setting up (to confirm all vendors are open, you might want to show up about 6:30 pm or so).
(Note: If you're looking for a sit-down meal, check out 55 Pochana across the street from Soi 38, food is pretty good)
Where and What Should You Eat?
There are a number of vendors selling things like khao moo daeng (red pork over rice), kuay jab (noodle rolls), khao ka moo (pork leg), khao man gai (chicken rice), and a few other types of noodle dishes.
There's a good variety of different dishes to sample, but some of the vendors do sell repeat items – like 2 or 3 vendors selling the same dish.
Best thing to do is first have a walk down to the end or the soi, see what looks the best, and then start to eat.
As a side note, towards the end of the street food stalls you'll find a small mini-van known as Daniel Thaiger. They serve some pretty awesome looking burgers – I haven't eaten there yet, but my buddy Dwight has.
A good place to start eating is the small food court.
Located on the right hand side, about 20 meters down the road or so, with food court style seating in the back, is this famous "ยำ Yam" stall.
My wife had said that the " ยำ (Yam)" – Thai salad – stall was quite famous and that many Thai people recommended it, so that was our first stop.
Get exclusive updates
Enter your email and I'll send you the best travel food content.
The lady selling the som tam (ส้มตำ) here was really nice.
You'll notice that there's often Japanese and English written on some of the menus in this area.
This area of Bangkok, around Thong Lo (ทองหล่อ) and Ekkamai, is one of the main Japanese areas of town, and many Japanese expats come to eat on Sukhumvit Soi 38.
She serves the full range of different Thai som tams (green papaya salads), the most popular version being som tam boo maa (ส้มตำปูม้า), or green papaya salad with raw blue crab.
This is the same dish that one of my favorite Isaan restaurants in Bangkok is named after.
The som tam boo maa (ส้มตำปูม้า) was very decent, a nice blend of fresh and crisp green papaya, pounded with chilies, long beans, tomatoes, and an entire blue crab chopped up into bite sized pieces.
The crab was soft and sweet, a little on the slimy side, and had great flavor.
Alternatively, if you don't want to eat the crab, you could just order "som tam Thai ส้มตำไทย" – which is just the normal version of sweet and sour papaya salad with just the vegetables.
Price – 160 THB
We also tried yam woon sen ruam talay (ยำวุ้นเส้นรวมทะเล), a mixed seafood salad that included one of my favorite vegetables, yord mara (melon leaves).
In the mix were some de-shelled blood cockles, shrimp, pieces of squid, water mimosa, melon leaves, and glass noodles. I thought it could have used a little bit of extra lime juice, but still good.
Price – 70 THB
Equally as good as the som tam boo maa (ส้มตำปูม้า) was the yam mamuang pla krob (ยำมะม่วงปลากรอบ), a salad of shredded green mango, sliced shallots, peanuts, dry shrimp, and finally some crispy fish on the top.
The mango was a little bit ripe, so it had a nice sweet and sour taste, and the dressing added some extra zing.
I'm always a big fan of yam mamuang pla krob (ยำมะม่วงปลากรอบ), no matter what stage the mango is in.
Price – 60 THB
Within the small little food court, there are about 5 street food vendors that all have menus and will, kind of aggressively, try to get you to purchase from them.
If you only want a certain dish from one stall, just kindly say no to all the other vendors and only order what you want (don't let them make you feel obligated)!
My sister in-law ordered a plate of cheese sticks from the vendor next to the salad vendor.
They were quite terrible in my opinion (I had 1/2 a bite). Don't think you're about to get some gooey mozzarella sticks – these were more on the rubbery side and there was only a tiny bit of cheese in the middle.
Price – 70 THB
Within the small cul-de-sac, located immediately on the right hand side of Sukhumvit Soi 38, you'll find a few stalls, including and Japanese and Korean street food cart (I have yet to try them), and quite a famous Pad Thai vendor.
I ate at the Pad Thai here years ago, but I'm not a huge lover of Pad Thai, so I didn't have it this time.
However, if you do love Pad Thai, you could give it a shot.
With a nice satisfying base of salad in my stomach, we walked around for a few minutes and decided what to eat next.
A couple strolls down Soi 38, and I decided to sit down next for a plate of chicken and rice at  Khao Man Gai Champ Lok (ข้าวมันไก่ แชมป์โลก).
A Thai street food name with "Champ" in it, sounded pretty good to me, and though I rarely eat khao man gai, it appeared to be one of the best things to eat that evening.
I went for the khao man gai ruam (ข้าวมันไก่รวม) a combination of both fried chicken and boiled chicken, sliced into strips, and over a pile of rice.
The rice is cooked in chicken broth, so it has a nice extra chicken-y flavor to it. What I liked about the rice was that it wasn't overly oily as it sometimes can be.
Price – 60 THB (normal plate of chicken rice with just boiled chicken is 40 THB)
The chicken, wasn't anything too high of quality, but the portion size was pretty big, and the mix of fried and boiled chicken is never a bad thing.
What I liked most though, was the communal, all-you-can-eat, bowls of shredded garlic, ginger, and sliced chillies.
I may have gone a little overboard, filling up my sauce with the trio of ingredients, but then again, to me, khao man gai, is all about those three ingredients – even more so than the rice or the chicken!
Anyway, the khao man gai was not the best I've had, but it was alright, and was satisfying.
Directly next to Khao Man Gai Champ Lok (ข้าวมันไก่ แชมป์โลก), and you can actually order and sit at the chicken rice tables, is a place that sells a couple different types of noodle dishes.
We ordered a bowl of Goy See Mee (โกยซี่หมี่), a Thai dish of yellow egg noodles and a mix of seafood in a gravy like sauce. It's kind of similar to sen yai radna (wide rice noodles in gravy), but a little different, and this time they served it in a goong ob woon sen pot.
A few spoons of chili vinegar and chili flakes, and it was actually quite tasty.
Price – 80 THB
If you have a sweet tooth, Bangkok always has you covered, and you have plenty of options of Thai sweets to sample on Sukhumvit Soi 38.
Especially during season (from March – July or so), but probably most of the year (just depends), you'll find a couple of stalls selling khao neow mamuang (ข้าวเหนียวมะม่วง sticky rice mango), one of the most praised and well known Thai desserts.
Price – 60 THB
My wife and her sister were pretty excited to try Mook Dow Tung (มุกเต้าทึง), one of the most famous Thai dessert restaurants on the street.
It's not so much a street food stall, but more of a shophouse, so you sit inside – but they still prepare the desserts on the side of the street.
We ordered a bowl of Itim Gati Kai Kaeng (ไอติมกะทิไข่แข็ง), a rich bowl of coconut ice cream topped with a coating of egg (sounds a little strange, but you've got to try it, and with a choice of toppings).
The home-made ice cream was rich and had a nice balance of coconut, and I thought I tasted some vanilla in there, but that would not normally be typical in Thai coconut ice cream.
Nevertheless, the ice cream was excellent – I might say one of the best in Bangkok!
Price – 30 THB
The nam kang sai (น้ำแข็งใส), was also quite good.
You can order whatever items you want from the selection of goodies at the front of the restaurant. The items you choose are then covered in rich coconut cream and topped with a spoon of crushed ice.
Price – 30 THB
Mook Dow Tung (มุกเต้าทึง) is an excellent shop to try Thai desserts, my wife and sister in law loved it – and they, like many Thai females, love desserts!
Overall, Sukhumvit Soi 38 is a decent place to sample Thai street food, with a range of different dishes to taste, and quite a nice friendly environment.
When you come to Bangkok, among your many other food adventures, if you are in the area, Sukhumvit Soi 38 makes a good introduction to Thai street food.
Sukhumvit Soi 38 – Thai Street Food
Pros and Cons of Sukhumvit Soi 38
Pros: Great location, decent and inviting place to sample Bangkok street food, most of the vendors I've eaten from are all very nice and friendly (this is a real bonus). Also, most vendors have English menus, and many of them can even speak a bit of English, so you shouldn't have trouble ordering if you don't speak Thai.
Cons: It's not the best street food in Bangkok, and they seem to have many stalls serving the same thing – like there's maybe 3 stalls selling khao man gai (chicken rice). Some of the food stalls cater to tourists – like the over supply of sticky rice mango – to please visitors.
Open hours: 5 pm – 2 am daily (but to ensure most stalls are open, go more about 6:30 pm earliest). Also, Monday's are street cleaning day in Bangkok, so you'll notice less street food stalls open citywide, so if you have a choice, Monday is NOT the best day to go – some vendors may be closed.
Prices: Typical street food prices – perhaps a little bit more expensive than other areas due to location. You'll spend about 40 – 60 THB per dish.
How to get to Sukhumvit Soi 38
Take the BTS Skytrain to Thong Lo station (ทองหล่อ). Exit #4 (you'll see the street perpendicular to the station as you are on the skywalk), walk down the steps, then make an immediate u-turn, and you'll be there – it's impossible to miss.
Get exclusive updates
Enter your email and I'll send you the best travel food content.