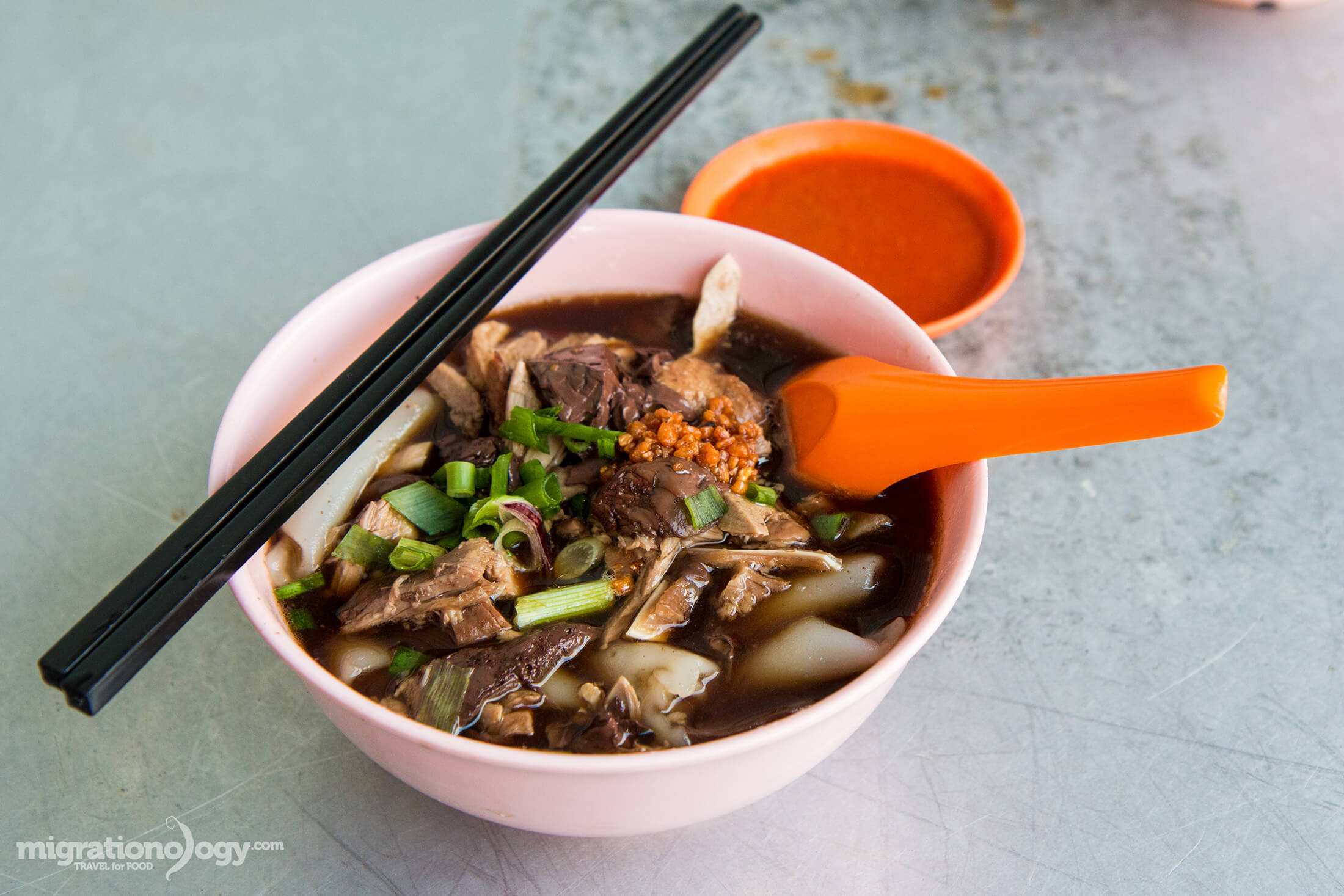 The long queue will grab your attention:
And once you see what they serve, you'll want to jump in line to order.
When my wife and I were in Penang, we walked around and explored, strolling through the street food bounty of Kimberly Street.
We noticed by far the busiest street food stall on the street was Restoran Kimberly.
After some searching and observing, I figured out they were serving a dish called kway chap, and not just any kway chap, but duck kway chap.
One late afternoon in Penang, we decided it was time for us to go to Restoran Kimberly to taste one of the most popular dishes on Kimberly Street.
Lebuh Kimberly (Kimberly Street)
Kimberly Street (Lebuh Kimberley) has long been one of the most famous street food streets in George Town, Penang, and the street has a specific Chinese influence to it.
While there are many things you can eat along the street, including a legendary place for char kuey teow, the most famous restaurant and food stall that attracts the biggest crowd each evening is Restoran Kimberly.
First, what is kway chap?
Kway chap (also sometimes spelled kuay jab) is a Chinese, more specifically Teochew, noodle soup that consists of flat wide rice noodle rolls, served in some kind of a meat based broth.
They are entirely different in looks and taste to the long thin strand mee noodles like I ate here.
Kway chap is popular and widely available throughout Southeast Asia, and it's a dish I eat from time to time in Thailand as well.
However, typically kway chap is prepared with pork, and as far as I remember, that's the only way I've had it previously.
But at Restoran Kimberly in Penang, they serve kway chap with duck.
Eating at Restoran Kimberly
Restoran Kimberly has been serving the same duck kway chap noodles for over 3 decades now.
According to this article, the noodles are still made in-house using the family recipes, and that's why their kuay chap remains so delicious. I'm willing to bet it tastes nearly the same today as it did 30 years ago.
Get exclusive updates
Enter your email and I'll send you the best travel food content.
Not knowing exactly what hours they were open, Ying and I wandered over to Restoran Kimberly one late afternoon at about 5 pm. I wasn't even expecting them to be open yet, but to my surprise, they were.
The restaurant is best called street food, or hawker food, because they serve and prepare the food from a food cart on the side of the road. However, additionally they have an indoor shophouse where there are tables set-up to dine on, as well as tables on the outside sidewalks.
You don't get a menu at Restoran Kimberly, you only have a choice of what size of duck kway chap you'd like.
Ying and I got two bowls of the 7.50 MYR ($1.98) sized bowl – this was the typical normal sized bowl I believe – but after trying it, I definitely should have gone for a larger size because it was so good.
Luckily the line wasn't long yet, so we made our order quite quickly and we found a table on the sidewalk.
When I was ordering, the lady taking my order asked if we wanted all the innards and organs, to which I gladly accepted. But I guess she asked me because you can choose if you'd like to get your bowl of kway chap without any innards.
It didn't take more than a few minutes for our 2 bowls of duck kway chap to be delivered.
The bowl of noodles came stacked with layers of goodies.
The noodle rolls were hardly even visible in the dark tea colored broth and the assortment of duck and proteins sprinkled on top.
Unlike other street food noodle restaurants where condiments like vinegar and chili flakes are often on the table to use at your own will, Restoran Kimberly was different.
Served along with the noodles came an individual side of chili dipping sauce. But nothing else, and no other condiments were on our table for communal use, just the chili sauce.
But before using the chili sauce, I first tasted the broth.
On my first taste, I immediately recognized why it was such a famous Penang street food attraction.
The broth had a wonderful depth of flavor – it was salty, with a wondrous flavor of duck and pork, a hint of perhaps cinnamon and anise, and soy sauce.
It tasted like pure braised duck juices.
Kway chap wouldn't be kway chap without the flat wide rice noodles, rolled up.
The noodles were a little thicker than in bowls of kway chap I've eaten in Thailand, but they were soft and really absorbed the broth.
Along with the noodle rolls and broth, the final third component of the kway chap were all the protein goodies.
There were pieces of braised duck, along with coagulated blood (I'm guessing duck), and pork intestines and sliced up pig's ears.
At first I thought it was exclusively duck, but I did figure out after eating a few bites that they were in fact intestines and ears from a pig.
The meat was all tender and full of the broth juices. Everything tasted like it had been braised for hours into a smooth tasting broth with pieces of meat floating around. Glorious.
A sprinkle of green onions, toasted fried garlic, and black pepper, enhanced the duck kway chap even more.
After tasting the broth and the meat, I then moved on to try the chili sauce. The chili sauce was sour and salty, and although it looked spicy, it wasn't really.
Rather than adding the chili sauce directly to my noodles, it was easier to take bites of duck or intestines, dip them into the sauce with my chopsticks, and eat from there.
The vinegary chili sauce added a nice contrast of taste to cut down the greasiness of the meat.
One of the greatest treasures of my bowl of duck kway chap were the pieces of intestines. They were extremely tender, juicy, and had an amazing texture and flavor.
As I finished slurping down my bowl of noodles, the restaurant started picking up with business, and it didn't take long before the familiar line formed along the street in front of the cart.
After eating at Restoran Kimberly, I wouldn't ever hesitate in the future to join the queue again waiting for a bowl of duck kway chap.
If you have a few minutes, watch the video of this delicious meal:
(Or watch it on YouTube here: https://www.youtube.com/watch?v=CUDs9j_GVz8)
Conclusion
Restoran Kimberly is a street food stall in George Town, Penang, that's famous for serving duck kway chap – noodle rolls with duck soup.
When my wife and I were in Penang, we passed the restaurant multiple times in the evening, always to see a buzzing crowd and a long queue waiting to order.
Finally one evening we got a table, ordered bowls of duck kway chap, and sat down for a late afternoon meal.
The flavor of the broth, the assortment of duck meat and pig innards, and the soft noodle rolls, made this bowl of duck kway chap outstandingly delicious.
Along with excellent Malay Chinese food and mind blowingly tasty nasi kandar, the duck kway chap at Restoran Kimberly ranks pretty high on my Penang best food list.
Restoran Kimberly (汕头街权记鸭粥粿汁专卖店) – Penang
Address: Lebuh Kimberley, 10100 George Town, Pulau Pinang, Malaysia
Open hours: Friday – Wednesday from 6:30 pm – 11:30 pm (closed on Thursday) – but I went on a Sunday I think at about 5:30 pm and they happen to be open early, but this may or may not be the case all the time.
Prices: 7.5 MYR ($1.98)
How to get there: Restoran Kimberly is located right along the main food section of Kimberly Street, not far from the corner of Lebuh Kimberly and Lebuh Sungai Udong. If you're anywhere in old George Town, it's an easy walk to get here.
Are you ready to eat some duck kway chap?
Get exclusive updates
Enter your email and I'll send you the best travel food content.