To be honest I had no clue where we were going…
…or even what we were doing.
The day began in the northern Sri Lankan town of Jaffna.
After devouring a huge meal of Sri Lankan food, we were walking (aimlessly) around town with nothing to do for the foreseeable future – just checking things out and exploring!
During our exploration of Jaffna, we came to a causeway that I had heard about before. Not having anything else to do, we decided to walk across it – it didn't look too far!
However, the clock stuck 10 am, and within moments the sun became brutally savage.
We began walking but I soon realized that the ray's of the sun had a mission to dehydrate us and tear us apart.
It was extremely hot, there was zero shade, and we didn't have any water.
I couldn't have been happier when the familiar sound of a normally obnoxious horn from a Sri Lankan bus sounded behind us.
One moment we were trekking on a desolate overland bridge, the next moment we were sitting on a Tamil bus rocking to the wales of Indian vocals and tabla beats while chatting with a few surprised but friendly locals.
The bus, as all Sri Lankan buses should be, drove as fast as it could, picking up and dropping passengers along the way.
Get exclusive updates
Enter your email and I'll send you the best travel food content.
After making it across the first causeway we got to an island.
The majority of the homes were blasted out; We were in an area of Sri Lanka where there had been civil war very recently.
There were army barricades with heavily armed soldiers every few kilometers.
We continued on the bus.
I fell into a trance from the blaring Indian music and staring out the window at beautiful land filled with crumbles of what were once beautiful homes.
After about 1 hour on the bus we came to halt.
At this point I hadn't even seen another vehicle on the road, but when we got out of the bus, we were oddly surrounded by lots of other Sri Lankan people.
Where did they all come from, I thought? Then I noticed a number of tour buses parked in the shade.
After talking with a few random people, we realized we were on our way to Nainativu Island – one of the 16 pilgrimage sites of Sri Lanka.
I've had some random travel experiences, but I assure you, this was my first random pilgrimage!
Though it only lasted for 15 minutes, it was the worst ferry ride I've ever been on in my life.
To be honest, it felt a bit like a slave ship; There were only tiny windows at the top and the ferry was crammed with people. The air was stale with humidity and supplemented by boat engine fumes.
I don't know how no one passed out, but we all made it to the other side.
I still had little idea of where we were, or what we were doing – we had hopped on a bus, followed, and learned we were on a pilgrimage.
The ferry dropped us off on the tiny pilgrimage island of Nainativu, in the middle of the Gulf of Manner, not far from India.
I soon learned that Nainativu Island is a Sri Lankan (also world) pilgrimage destination because it is believed that the Buddha visited the island during a full moon Bak Maha Poya Day.
The first attraction on the island was the Buddhist Temple known as Nagadeepa Purana Viharaya (Naga Vihare).
After viewing the Nagadeepa Purana Viharaya Buddhist Temple for a few minutes, we walked down the road a little ways, passing through a number of small local curio shops and arrived at the Hindu section of the island.
The large Hindu temple complex, known as Sri Naga Pooshani Amman Kovil, was another impressive site to see.
The bright colors and the interesting sculptures depicting various Hindu deities was very interesting. While we were there, some of the pilgrims were conducting a ceremony inside the temple – so that was great to observe.
Facing the temple was this large-scale brightly colored sacred cow.
The entire Nainativu Island was filled with religious pilgrims for the day, both Buddhists and Hindus.
Here's the front view of the Sri Naga Pooshani Amman Kovil on Nainativu Island.
Everything on the island seemed to be under construction – both temples were under renovation to build things up on a much grander scale.
Maybe if you follow the Nainativu pilgrimage in the future, the temples will be completed!
After a few hours of walking around, and a severe beating by the harsh Sri Lankan sun, we decided that we had had a successful pilgrimage and started heading back to Jaffna.
We got back into the horrible ferry, boarded the Tamil music blasting bus, and within 1.5 hours were standing back in the same position where we were in the middle of Jaffna 4 hours ago – but we had just completed the Nainativu Island Pilgrimage, without planning it!
Here is a map to show you where we were in Sri Lanka: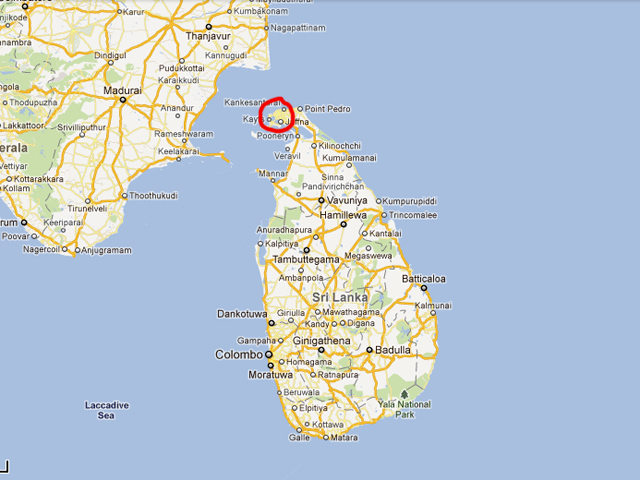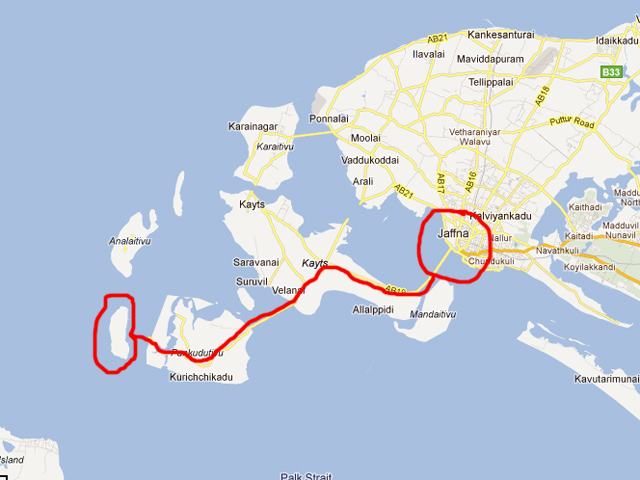 Nainativu Island Pilgrimage
Up until the beginning of 2011, the entire Nainativu Island was unreachable for over 30 years due to war in the region. Now it's possible to make the pilgrimage.
Take any local bus heading to Nagadeepa (Nagdipa) from Jaffna – 50 LKR ($0.44)
Ferry to Nainativu Island – 30 LRK ($0.26)
Double this for a round trip from Jaffna – about $1.40
Here's a short VIDEO of the pilgrimage!
Thank you for watching!
Get exclusive updates
Enter your email and I'll send you the best travel food content.