Half the fun of eating at Old Delhi's Paranthe Wali Gali, is getting there.
The other half, is of course, the food.
Slotted in the ancient narrow alleys of Delhi, India, is the legendary series of restaurants serving North Indian parathas; The lane is famously known as Paranthe Wali Gali.
Delhi's Paranthe Wali Gali
There are quite a few different restaurants to choose from, all claiming to be the best and the original, and all equally busy with customers (I assume they are all actually quite similar, but if you know otherwise please let me know!).
I chose Babu Ram Paranthe Wale.
Though it appeared to be packed with customers waiting in line outside, somehow they managed to cram us in at a corner table without having to wait more than a few minutes.
Outside, where armies of people pass by, is the kitchen, where all the action and food preparation takes place.
One man rolls out dough and fills them with topping at a mind blowing speed, while another guy fries the parathas in oil that's so hot it looks like lava.
Get exclusive updates
Enter your email and I'll send you the best travel food content.
Within just a few moments the raw dough is transformed into a crispy golden flatbread.
Now that, my friends, is a menu!
I'm guessing decades of greasy hands have touched that artifact, and I'm sure that if a scientist got his hands on that, he could probably find some pretty interesting things.
In my opinion, that's always a sign of a not so healthy, yet a quality eatery!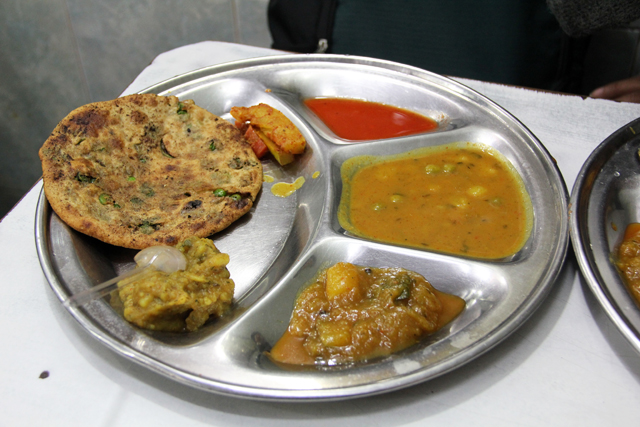 What is a paratha?
You don't come to eat tandoori chicken or curry, you come to eat parathas.
A paratha is basically a ball of dough that flattened out into a disc, filled with a choice of ingredients and spices, deep fried, and served with a variety of dipping curry sauces and chutneys (different from Sri Lankan food parathas that weren't stuffed).
At Babu Ram Paranthe Wale there are probably about 30 different kinds to order, but I had the mutter (green peas) and a couple of mixed parathas.
They came on a metal saucer with pumpkin curry, a peas curry, and a red sauce that tasted just about like the American version of Chinese sweet and sour sauce (sour tomato sauce).
While I did think the parathas were tasty and delicious, they were a little too greasy for me. I definitely couldn't eat my fill of parathas, I'd just be too greased out. 2-3 were perfect.
Paranthe Wali Gali is the type of place people are willing to wait to eat, a food locals consider special and maybe comforting.
Sitting at the table next to us (which was actually only inches away from us) was a group of ladies who were originally from Delhi, but had been living in the United States for over 10 years – they too came to get a taste of that all familiar paratha and to savor the tasty pieces of fried dough they had remembered.
And like I mentioned at the beginning of this article, the parathas are good, but in this case the atmosphere of the chaotic maze of Chandi Chowk is part of the fun!
Prices: Each one is 30 – 40 INR ($0.55 – $0.73) and you can probably eat 3 – 5, that is if you can handle the grease!
Open Hours: 9 am – 11 pm daily
Address: 1984 Gali Paranthe Wali, Chandni Chowk, Delhi
How to get there: The alley is located within Chandni Chowk in Old Delhi. To get there take the Metro to Chandni Chowk, then head east on Chandni Chowk road until you see Kanwarji's sweets shop – that's where you enter the alley. From there follow the alley and in a few moments you'll see the paratha restaurants. If you get lost, just ask anyone for "paranthe wali," and they will point you in the right direction.
Don't take this map to literally, once you get there, it's better to just walk around and have people point you in the right direction, and also look out for Kanwarji's sweets shop.

View Delhi Travel Guide – Migrationology.com in a larger map
Note: If you're going to Delhi, you might want to check out my Delhi Travel Guide, which gives you lots of tips on where to stay, what to do, and food to EAT!
Get exclusive updates
Enter your email and I'll send you the best travel food content.