When you travel, sometimes the circumstances don't always work out for you to eat wherever you wanted to, or wherever you had planned to eat.
Things happen, you get really hungry, your directions don't seem to match up… all sorts of unplanned things happen.
Yes some of my most memorable meals are a result of no planning, but just stopping in at the nearest restaurants (that looks good of course).
My wife Ying and I were in Singapore to attend an event, but we had our first morning and lunch free, and we decided to walk around a bit, and find something for lunch.
Walking around, I wanted to find a few places on my list, but the sun was hot, we were running out of time… and my wife was getting really really hungry (ok, I was too).
We were in Chinatown, so I was desperately trying to search where we should eat, and then I was contemplating do we eat at this stall, or this stall, or the restaurant 5 minutes ago that we just walked past.
While we were crossing the bridge over a road, I caught, out of the corner of my eye, a restaurant one flight of steps above the elevated walkway, and it looked to be the type of restaurant – busy with people feasting – that I wanted to eat at immediately.
The restaurant: Warung Aneka Rasa – Muslim Nasi Padang.
So Ying and I sat down for lunch.
Nasi Padang
Padang is a city on the Western coast of the island of Sumatra in Indonesia. Nasi, means rice, so nasi Padang, is rice and an assortment of curries and dishes originating from Padang.
Get exclusive updates
Enter your email and I'll send you the best travel food content.
Back in 2009, when I first moved to Southeast Asia, I traveled to Sumatra, and Nasi Padang was one of my first memories of the joys of Indonesia cuisine, and a meal that I loved and ate just about everyday I was in Sumatra.
Padang food is very similar to Malay food, and there is a large population of Sumatrans in Singapore, making Nasi Padang a very popular meal throughout Singapore.
Nasi Padang, according to CNN, is one of the must eat dishes in Singapore, and certainly for me, it's a meal I don't miss.
Warung Aneka Rasa – Muslim Nasi Padang
At first I didn't know where we were, but after finishing our lunch, I figured out the restaurant we chose to eat at, Warung Aneka Rasa – Muslim Nasi Padang, was at a mall called the People's Park Complex, located in Chinatown, Singapore.
The restaurant was setup just like any and all Nasi Padang restaurants, all the dishes precooked, and waiting to be ordered.
Ying chose a table on the outside of the restaurant, sort of on the walkway of the building, with an open air view overlooking the road, while I went up to the front of the buffet line to choose our plates.
For my wife, I got her a plate of rice, topped with squid, a piece of fried fish, and stir fried bean sprouts.
The fish was a fish steak, that was deep fried to a crisp, and probably seasoned with turmeric. It was similar to southern Thai turmeric fried fish, but a little different.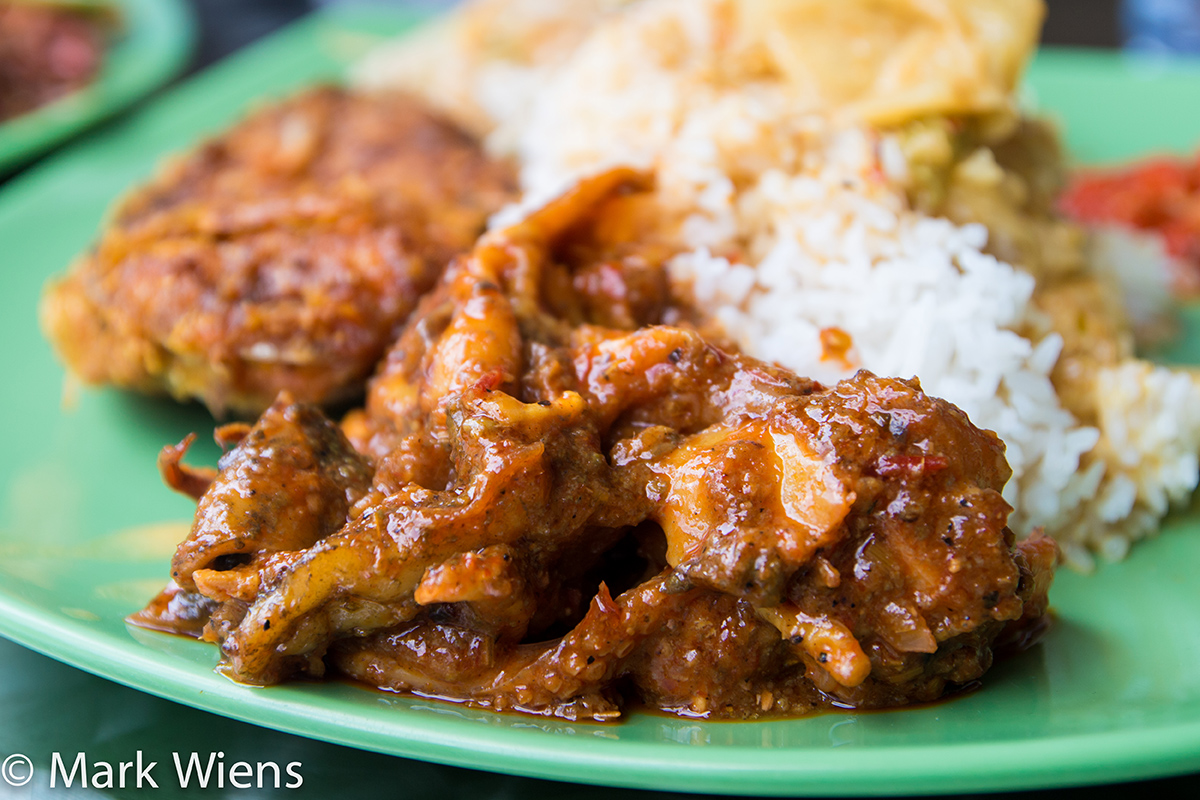 The dish I really loved that my wife got was the sambal squid – bite sized pieces of squid that were cooked in thick chili sauce. It was slightly spicy, rich with flavor, and the squid was nice and tender.
Sambal squid is one of my favorite Malay / Indonesian dishes, and when I was at the buffet counter choosing what to order, I noticed that this sambal squid was almost finished for the day – s0 when I ordered it, she scooped up the last serving.
I'm glad we got it, it was probably my favorite dish.
I got a plate that included a main portion of chicken curry, which came with lots of curry gravy on top, plus a scoop of what I think was a type of ikan bilis – peanuts fried with fish, although this was mostly peanuts with just a few fish scattered within.
On this trip to Singapore, the season for stink beans, my ultimate favorite natural ingredient, was just finishing. But in the greasy display cabinet, I saw spotted the little green beauties, and I didn't hesitate to order them.
Unfortunately, I'm assuming because the stink bean season was over, the dish included mostly anchovies (not bad), but just a few stink beans. It was a little sweeter than I had hoped for, but the dish was still good.
The chicken was a little on the dry side, but the sauce made up for it.
The sauce was thick and rich, oily from the coconut milk, and packed with flavor. Mixing all that gravy and bites of chicken together with the other dishes on my plate, made me smile with every bite.
Conclusion
Warung Aneka Rasa – Muslim Nasi Padang is a restaurant located at Singapore's People's Park Complex, that serves Padang style rice and curry and Malay food as well.
On my latest short trip to Singapore, my wife and I were just walking around, and we happen to stumble into this restaurant as I'm a huge lover of Nasi Padang, and all kinds of rice and curry.
The food, was excellent, especially the chicken curry and the sambal squid.
If you're in Singapore's Chinatown, and looking for Nasi Padang, this is a good lunch restaurant.
At the end of this particular trip to Singapore, I visited Geylang Serai Hawker Centre for the first time, an entire glorious food court of Indonesian food stalls – more about this soon.
Muslim Nasi Padang
Address: People's Park Complex Food Centre, 32 New Market Road, Singapore 050032
Open hours: 9 am – 10 pm daily, I can't confirm these hours completely, but I do know they should be open and busy for lunch
Prices: $13 SGD ($9.62 US)
Get exclusive updates
Enter your email and I'll send you the best travel food content.