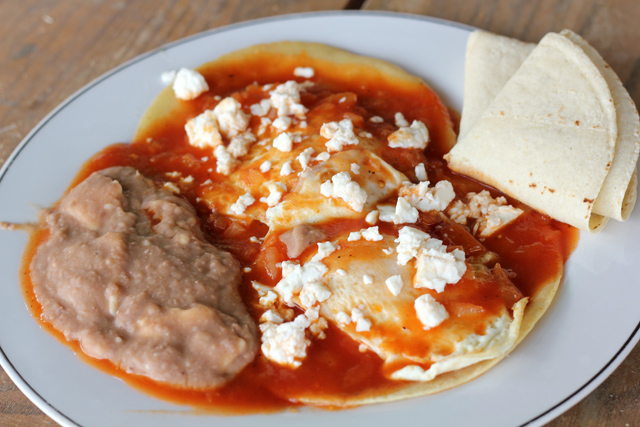 Along with chorizo and eggs, it doesn't get much more heartwarming for breakfast than a Mexican dish known as Huevos Rancheros.
When I visited the United States, I made it a point to take my fill of Mexican food. One morning I went over to visit my buddy Carlos, an expert cook and eater of all things Sonoran Mexican food.
What is Huevos Rancheros?
The general combination consists of fresh tortillas, fried runny eggs, tomato sauce, Mexican cheese, and refried beans to top things off.
The corn tortillas are fried in oil so they become slightly crispy on the edges before being placed on an empty plate.
The eggs are best when fried over-easy so the yolk remains rich and oozy. The eggs are placed on top of the tortilla foundation. Red enchilada like sauce (tomato sauce cooked with onions and garlic) is generously lathered over the glorious agglomeration.
Get exclusive updates
Enter your email and I'll send you the best travel food content.
Mexican refried beans and crumbled white cheese compliment the dish supremely.
When it's all combined on a single plate, huevos rancheros is like a creative painting, just waiting to be devoured.
Huevos rancheros is the loco moco of Sonoran Mexican food – a dish where the runny eggs are what make it so spectacular! It's best when all ingredients are mixed together in a tasty mess.
When you puncture the yolk of the egg… things get even BETTER!
The saucy combination turns into sloppy mix of juices and wonderful flavors. The yolk mingles with the tomato sauce and the refried beans in a harmonious marriage of deliciousness.
I enjoy eating my huevos rancheros with a large stack of extra corn tortillas on the side so I can sop up all the liquid flavor.
Here's just one more shot I couldn't resist sharing because it shows the mixture of ingredients on my plate.
If you're not into runny eggs, you probably won't like this, but for those of us who are, your mouth may already be watering.
Living in Thailand and eating mostly Thai breakfast dishes in the morning, it's really only Mexican food that I sometimes crave. Luckily this plate of Mexican huevos rancheros was heartwarming.
Have you ever had huevos rancheros?
Get exclusive updates
Enter your email and I'll send you the best travel food content.