Kolkata is one of the most chaotic cities I've ever visited.
Buses, taxis, trams, and rickshaws (both human powered and motor powered) look like they're aiming to hit you from every direction while you frantically walk along the roads or cross the dangerous streets.
But within the mess of humanity and insane driving are some seriously incredible gems, one of them being the mango lassi lane.
Ever since Wandering Earl labeled the mango lassi one of the best kept travel secrets in the entire world, I knew when I traveled to India I couldn't miss this spectacular beverage.
After crossing the intersection just outside the Esplanade Metro station, a Kolkata intersection where anyone who passes experiences near life threatening encounters with all things moving on the road, there's a little lane that's home to 3 or 4 stores piled artfully with fruit.
The lane also happens to conveniently be right between Bhojohori Manna, an amazing place to eat Bengali food, and a street known as James Hickey Sarani, which is my favorite Kolkata street food street.
The gorgeous colors and fruit sculptures will draw you in even before you know what they serve.
Get exclusive updates
Enter your email and I'll send you the best travel food content.
And then you'll see the sign, half blocked by hanging fruit, that reads "Mango Lassi."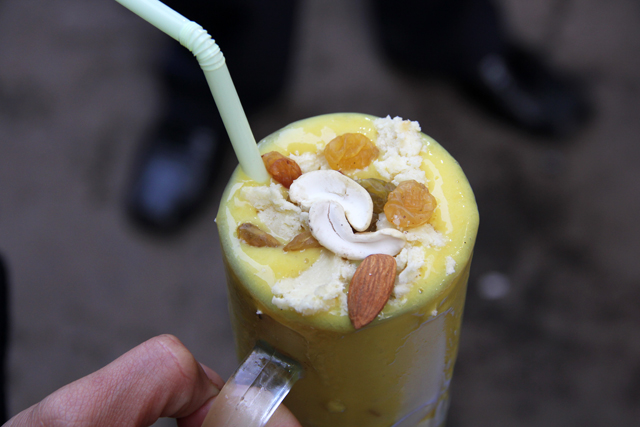 A mango lassi is basically an Indian style mango smoothie or milkshake.
It's a blended combination of sweet Indian mangoes paired mostly with thick creamy yoghurt known as lassi, and probably a lot of sugar as well.
Another phenomenal addition were the toppings, which in this case, consisted of a few cashew nuts, an almond, some raisins, and a few crumblings of something that tastes like salty cheese (and though that might sound a little weird, it really worked well).
I first began delightfully nursing my mango lassi from the straw.
It was one of the creamiest smoothies I've ever had the privilege of devouring, and the mango flavor protruded with a burst of refreshing fruitiness.
After sucking about half of my mango lassi down, I couldn't control myself any longer and ditched the slender straw so I could gulp down the cup and fish out the toppings.
I must say, the nuts, raisins, and that cheesy stuff on top were genius extra supplements. The nuts provided a wonderful nutty crunch while the cheese delivered a marvelous slightly salty contrast to the sweet creamy mango.
Just like durian ice cream in Bangkok, this mango lassi in Kolkata transported me into a brand new world of smoothie possibilities – superior to anything other I've ever had anywhere.
It cost 25 Indian rupees ($0.46), and that was the price of pure smoothie joy.
There's no doubt, the mango lassi is one of the world's greatest blended concoctions.
Here's where you'll find the Mango Lassi Lane when you visit Kolkata:

View Kolkata – Migrationology in a larger map
Get exclusive updates
Enter your email and I'll send you the best travel food content.