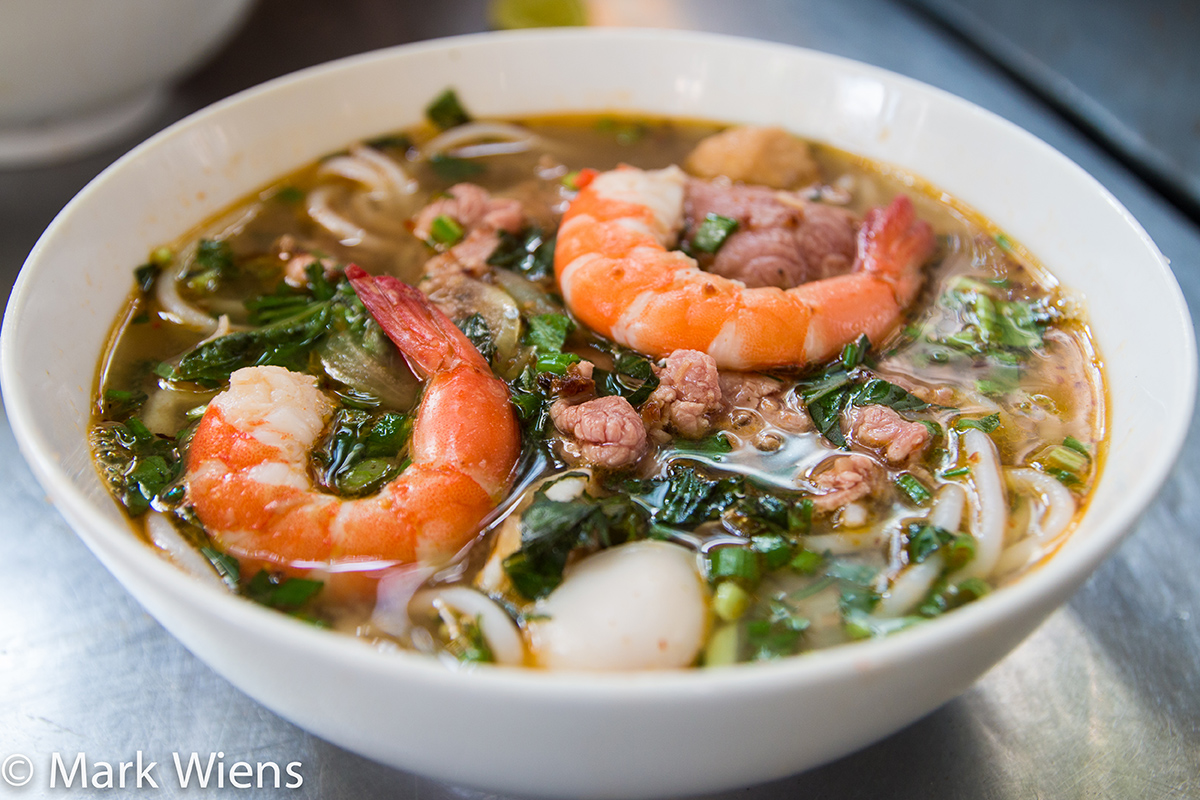 Undeniably, one of the most famous street food stalls in all of Saigon is the legendary Lunch Lady.
During the course of my trip to Saigon, I ate an incredible amount of delicious food, but I couldn't leave without getting a taste of the noodles dished out by Nguyen Thi Thanh – the Lunch Lady herself.
Anthony Bourdain, on his show No Reservations, ate at the Lunch Lady and loved everything from the noodles to the atmosphere, and he has undoubtedly boosted the street food stalls fame and popularity.
But along with Anthony Bourdain, the Lunch Lady was and still is famous for locals in the neighborhood.
On one of my final days in Saigon, I finally had a chance to go.
The Lunch Lady – Menu
The Lunch Lady specializes in serving noodles, noodle soups to be more specific.
Everyday of the week, she rotates her menu and serves a different Vietnamese noodle dish, but just one dish per day.
This is the first time I've seen a food vendor sell a different dish each day of the week, almost like an organized, well planned out cafeteria – and I thought it was a fantastic idea.
Imagine if you worked at an office in that area, you could go everyday for lunch and eat a different noodle dish each day without getting bored!
But rather than going to the Lunch Lady on her most famous day, Friday, when she serves Bun Bo Hue (I tried it at a different restaurant), I decided to go on Monday when she was serving Bún Thái, a Vietnamese Thai noodle soup.
Being a Thai food lover, I thought it would be an interesting opportunity to taste the fusion of Thai and Vietnamese noodles in a single bowl, served by none other than the legendary Lunch Lady.
For a full menu of what the Lunch Lady serves each day, check out this great guide.
When we arrived to the street food stall, it was right at noon, and the street food stall was packed out.
Luckily, there were a couple seats and plastic tables right at the base of where the Lunch Lady was serving her noodles, literally right in front of the glorious glass display cabinet.
Get exclusive updates
Enter your email and I'll send you the best travel food content.
Sitting down for lunch, I had a fantastic view of the Lunch Lady expertly assembling bowls of noodles, and I could peer directly into the supply of pork and blanched prawns – nothing better than street food front row seating.
Along with the main glass cabinet display, there was a bubbling pot of soup broth sitting on the side, plus mounds of vegetables patiently waiting to be served with noodles.
The shredded morning glory and banana blossoms were flash boiled before being served.
Bún Thái – Monday
I proceeded to order the big sized bowl of bun Thai.
Even though the street food stall was bustling, it didn't take longer than a few moments for our noodles to arrive at our table, nice and piping hot.
I immediately loved how colorful and how well decorated the noodles came. On the bottom was a handful of bun, or rice noodles, and they were of the spaghetti size variety.
Price – 40,000 VND ($1.83)
On top of the noodles were some slices of slightly cooked beef, a couple rings of squid, an assortment of chopped herbs and vegetables, and then finally a couple of the pre-blanched prawns laid on top.
The soup had a wonderful sweet and sour aroma, with both an earthy and citrusy smell to it.
Before seasoning my own bowl with chili and the extra condiments provided at the table, I first sampled the broth.
It was very similar to how it smelled, and it did have a similar Thai tom yum sour flavor, with a bit of extra sweetness.
For myself, one of the main reasons I eat noodle soup, is for the chance to dress it and add condiments to make it perfect for my taste.
Chili is my personal favorite condiment, so you can be sure I loaded up my broth with dry chili oil, which I think included some fried toasted garlic as well. I also squeezes in a few wedges of lime.
The chili sauce gave the noodles a fantastic boost of heat and a smoky dry chili flavor.
Overall, I was very satisfied with my bowl of bun Thai.
Perhaps the broth was just a little too sweet, but I loved the sourness, and the complex fruity flavor, balanced with the fresh herbs and the spicy garlicky chili sauce.
Additionally, I thought the price was pretty reasonable in comparison to other noodle restaurants in Saigon, and the portion size and ingredients were quite generous.
Gỏi cuốn – summer rolls
Right next to the main Lunch Lady noodle cart is another smaller stall that serves goi cuon, Vietnamese fresh summer rolls.
I'm not fully sure, but I think the goi cuon stand is owned and operated by relatives of the Lunch Lady, and they seemed to promote the summer rolls as part of a full meal along with the noodles.
I'm not one to turn town goi cuon as they are one of my favorite refreshing Vietnamese snacks, and so we got an order.
Price – 18,000 VND ($0.83) for 3
I was quite impressed with the goi cuon, they were extremely good.
The rolls were stuffed with a good quantity of lettuce, basil, shrimp, and what I really loved was all of the chives, poking out from the top of the roll, offering a slight mellow onion flavor.
The sauce was of the brown hoisin variety, with a small scoop of both crushed peanuts and chilies on top.
If you go to the Lunch Lady in Saigon, don't miss ordering the fresh summer rolls.
Here's a full video of our meal:
(If you can't see the video, watch it on YouTube here)
Conclusion
The Lunch Lady is one of the most well known Vietnamese street food stalls in Saigon, a restaurant Anthony Bourdain visited and deeply loved.
When I was in Saigon, I was excited to get a taste of this legendary street food stall.
Nguyen Thi Thanh, known famously as The Lunch Lady, serves a different Vietnamese noodle dish each day of the week, and I chose to go on Monday to try her version of bun Thai.
The bowl of noodles came well decorated, with a generous amount of meat, shrimp, herbs, and side vegetables. The soup was sweet and sour, slightly spicy, and nicely balanced.
Not only were the noodles fantastic and I thought the portion size was generous, but the Lunch Lady was also an extremely kind lady, and her passion for cooking and serving shined.
And just as Anthony Bourdain mentioned, sitting in the shade of the big trees with a continual breeze, removed from the chaos of motorbikes on the main roads of Saigon, the atmosphere at the Lunch Lady could hardly get better.
The Lunch Lady – Saigon, Vietnam
Address: Phường Đa Kao, District 1 (Quan 1), Hồ Chí Minh, Vietnam
Open hours: I believe she's open from at least 9 am – 3 pm, it's best to eat here for lunch. Possibly open for dinner, but I'm not sure.
Prices: 40,000 VND for the big bowl of noodles
How to get to the Lunch Lady: The street food stall is located not far from central Saigon, and just a 5 – 10 minute walk from the zoo. The easiest way to get there would be to take a taxi directly there, but I got there by taking a bus along Nguyen Thi Minh Khai, got off at the zoo, and walked from there.
For the map, scroll down and click on "The Lunch Lady," and it will highlight the correct position.
Get exclusive updates
Enter your email and I'll send you the best travel food content.