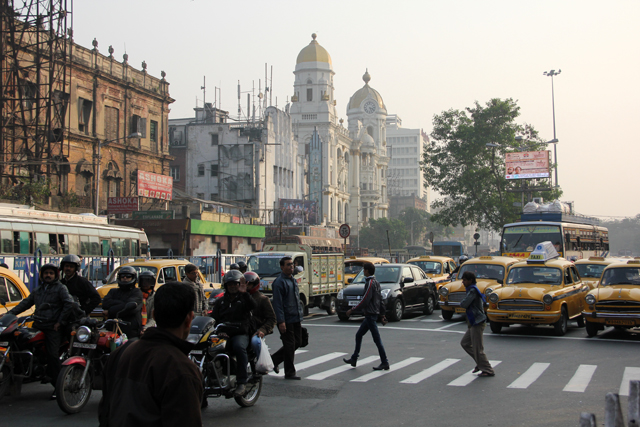 Kolkata (also spelled Calcutta) was the first city I visited in India, and after traveling around for a few months, it happens to rank as one of my favorite major cities I visited in the country.
It's India's third largest city, so it's certainly huge, chaotic, and disorganized – but somehow it manages to function – and it will probably leave you amazed at just how things manage to work. I remember one taxi ride from Dakshineswar Kali Temple back to Kolkata city center where we should have injured or killed thousands of pedestrians and others on the road, yet somehow we managed to not hurt a soul – Incredible India!
Along with having a wonderful array of Bengali food and Indian street food to enjoy, Kolkata offers quite a few interesting attractions, incredible religious temples, and some good shopping.
Below you'll find my Kolkata travel guide, packed with lots of useful tips from my visit. Here's what is included:
Arriving and Leaving
Where to Stay
How to Get Around
Things To Do
Restaurant in Kolkata
Enjoy!
1. Arriving and Leaving
When I traveled to India, I originally caught a flight from Bangkok to Kolkata. Kolkata Airport is not the nicest or the most modern airport in the world, but it does the job. After you arrive and get your bag, you can exchange some money inside or you can head outside the gate to use an ATM.
Airport: The safest and easiest way to get into Kolkata city center (Sudder Street) is by taking a prepaid taxi (Bagasara Police Official Taxi). You pay upfront, get a ticket, then go outside and across the road to the taxi booth where you'll get a driver. My ride from the airport to the center of Kolkata was 300 INR and I had no problems.
Howrah Railroad Station: I left Kolkata by train, from the Howrah Railroad Station, located across the river from main Kolkata. It's a madly busy station, but once you can ask around and find your platform number, it's pretty easy to navigate. If you book your train ticket yourself online, make sure you print your ticket before you arrive.
2. Where to Stay
Sudder Street – The main backpacker area of the city, where there's always action, is Sudder Street. You'll find plenty of accommodation options on and around Sudder street ranging from about 300 INR to 2,000 INR per night.
Afridi International Guest House – Recommended by my friend Wandering Earl, I stayed at the Afridi International Guest House. Though it's located right between Sudder street and the New Market, it's positioned on a small side lane so it's quite quiet and provides a good home base while you're in Kolkata. Also, while I was staying there, they opened a brand new additional branch to the guest house. They offer everything from private en-suite double rooms to older rooms with shared bathrooms. I paid 350 INR per night for a double room with a shared toilet, quite a deal!
Broadway Hotel – Broadway Hotel in Kolkata is a historical classic and a great place to stay. The rooms are spacious, comfortable and clean.
For many more places to stay in Kolkata, click here.
Get exclusive updates
Enter your email and I'll send you the best travel food content.
3. How to Get Around
Kolkata Taxis
The bright yellow 'Ambassador Classics' with comfy bucket seats are one of the things you'll first notice when you travel to Kolkata – they are omnipresently available, affordable, and will get you most places you need to go. All you have to do is flag an empty yellow taxi down on the side of the road, negotiate a price, hop in, and you're off.
Kolkata taxis do have meters, but I didn't have much luck, as only a few drivers were willing to use them. That being said, I normally would ask a local what the normal fair price would cost and then just negotiate a fee prior to leaving (and taxis are cheaper in Kolkata than elsewhere I visited in India).
Auto Rickshaw – An 'auto' rickshaw in India is the tuk tuk equivalent, a small little three wheeler. As opposed to human powered rickshaws, or cycle rickshaws, auto rickshaws have engines. Similar to a taxi in Kolkata, negotiate a fare prior to riding.
Human Rickshaw – As I read, Kolkata is one of the only major cities in the world that still has a large fleet of functioning rickshaws pulled by humans. Many of the human rickshaws congregate around the New Market and Sudder Street, and while I wouldn't recommend a journey too long on the major streets, a short ride is a good experience.
Kolkata Metro – Though it's not overly extensive like the Delhi metro, Kolkata does have a single line metro (but many other lines under construction, of course). I only took it a few times, once from Esplanade (near the New Market) to Khalighat Hindu Temple, and it was clean, crowded, and super cheap. I think the ticket cost just 6 INR, but the prices change according to distance. Metro can be taken a few places, but taxis in Kolkata are the more reliable option.
4. Things To Do
I wrote a complete list of what were my top things to do in Kolkata, but here's a quick rundown of some of the main attractions you'll want to check out when you visit.
New Market (Sir Stuart Hogg Market) – With an interesting history of being burned down a number of times, and being rebuilt, New Market (as it's referred to) and the area that surrounds is one of the top shopping districts in Kolkata. You can find just about anything you'd need, and there is a lot of good street food and restaurants in the area.
Mother Teresa Home – Mother Teresa, though she traveled and worked all over India, spent much of here time in Kolkata. The home and mission where Mother Teresa lived, and also her tomb, is now known throughout the city as Mother House. After visiting her tomb, you can view a small museum, and then see the room where Mother Teresa stayed and even the exact bed where she passed away.
Victoria Memorial – The Victoria Memorial Hall is one of the most iconic landmarks which Kolkata is famous for. Dedicated to Queen Victoria, the memorial (which is now a museum), was built using a combination of English and Mughal design.
Kalighat Kali Temple – One of the oldest and most important Hindu Temples, dedicated to the Kali goddess, is Kalighat Temple. Though it's chaotic and crowded, the temple is worth a visit. Be aware of the scams that are pretty common around this temple (see my things to do post for more explanation).
Mullik Ghat Flower Market and Howrah Bridge – Exploring the colorful energetic Mullik Ghat Flower Market and walking across the Howrah Bridge made some of my fondest memories of Kolkata – and it's a great place to take photos too!
Again, have a look at these things to do in Kolkata for more suggestions and also watch my Kolkata attractions video.
5. Restaurants in Kolkata
Nizam's – Located in the New Market area (across the street from Old Market to be exact), Nizam's is the Karim's (famous restaurant in Delhi) of Kolkata. It's one of the oldest and most well known restaurants – especially credited with inventing the kati roll (see Kusum rolls below). The other food on their menu was also pretty good. Try the curry, the kebabs, and the fluffy naan.
Kusum Rolls – Just off a side lane from Park Street is a stall known as Kusum Rolls that serves insanely tasty Kolkata kati rolls. A piece of dough is flattened into a paratha and fried in oil before spicy chicken or mutton, onions, and chillies are added. It's rolled up into a seriously greasy delight. There are lots of kati roll street stalls around Kolkata, but my favorite was Kusum Rolls.
Bhojohori Manna – Kolkata is situated in the West Bengal state of India, so there's no doubt that there are some restaurants serving marvelous Bengali food. Bhojohori Manna was one of my favorites. Be sure to order the crab curry and the mochar ghonto (curried banana flower)
Deckers Lane (James Hickey Sarani) – This street at lunch includes a tantalizing selection of Kolkata street food – ranging from snacks to full meals of rice and curry.
Sher-e Punjab – There are a number of locations around Kolkata, the one I ate at a few times was on AJC Bose road. The restaurant specializes in take away food, but there are also a few seats where you can sit down and enjoy some tasty North Indian and Indian Chinese meals.
Blue Sky Cafe – If you're looking for some Western food, stop by Blue Sky Cafe, located right in the center of Sudder Street. The pancakes, omelets, and even the fried rice were all pretty good.
Street Food around New Market – Kolkata street food is delicious and widely available. Though you'll find tasty snacks all over the city, my favorite place to munch while enjoying the energetic scenery was the area around the New Market. From ghugni chaat and pani puri (known in Kolkata as puchkas), to veg chowmein and dosas, you'll be extremely satisfied.
Here's a quick overview video of the top things you'll be seeing when you visit Kolkata!
(If you can't see the video, watch this Kolkata video on YouTube)
As I mentioned at the beginning of this article, Kolkata is one of my favorite major cities that I visited in India. While some things about traveling there can by frustrating (lack of space, loudness, touts, begging), at the same time nearly everything you see, do, smell, and taste is fascinating – and the energy of the city is enough to keep you constantly entertained.
Hope this Kolkata travel guide helps you during your visit!
Get exclusive updates
Enter your email and I'll send you the best travel food content.