Day 6 – Bangkok
It's been about a month since my last post about the Thai food tv show documentary (Day 5).
We had a break, mainly so the production team could edit the first episode of the show, and share it with the TV station to confirm that everything was alright.
During that time, Ying and I were able to go to Myanmar, and then come back to Bangkok for a few weeks.
It took a bit longer than expected, but the first episode was approved, and we were confirmed to proceed on with the TV show.
6 am, Khlong San Market (ตลาดคลองสาน)
The production crew picked us up in a van, and we drove straight to Khlong San Market (ตลาดคลองสาน).
Khlong San Market is located across the Chao Phraya river from Saphan Taksin, right at the base of Millennium Hilton*. It's known for being a night market, so I had been there a few times at night, but never during the morning.
We arrived at about 6 am and many of the vendors were still setting up. So while we waited, Ying and I spotted a fresh juice vendor and decided to make an order.
Something I saw on their menu was green apple, juiced with krachai (บกระชาย), which is known in English as fingerroot, similar to ginger; The combination sounded amazing, so I had to try it.
The green apples were just juiced pure with a good chunk of fingerroot, and nothing else. It was sour and sweet from the apple, and spicy and earthy from the fingerroot.
I have to say it was one of the best apple juices I've ever had in my life.
When all the vendors at the market had opened, we just did some walking around, and shot a scene where I just had to explain some things about the market and do a quick into to the next papaya salad scene.
Rom Pho Restaurant (ร้านอาหารร่มโพธิ์)
Rom Pho Restaurant (ร้านอาหารร่มโพธิ์) is a restaurant located just off a side street from the main Khlong San Market lane. They are famous for serving som tam, all sorts of versions of Thai green papaya salad.
Get exclusive updates
Enter your email and I'll send you the best travel food content.
After setting up, we did a series of scenes filming the making of the a few of the most popular version of Thai green papaya salad: som tam thai, som tam kai kem (with salted egg), tam sua (with noodles), and som tam boo pla ra (green papaya with fermented fish sauce).
If you want to make som tam, you can check out my recipe here.
All the som tam's were delicious at Rom Pho Restaurant (ร้านอาหารร่มโพธิ์), but I'm especially a fan of som tam boo pla ra (ส้มตำปูปลาร้า), papaya salad with salted crab and fermented fish sauce. The flavors are so incredibly exciting and so pungent.
After finishing filming, we then had a delicious lunch at the restaurant before heading on.
2 pm, Yaowarat (เยาวราช), Chinatown
Since Khlong San Market is located right along the river, we caught the boat to Ratchawong Pier, en-route to Bangkok's Yaowarat Chinatown.
Khao Gaeng Jake Puey (ข้าวแกงเจ๊กปุ้ย)
Our next destination was Khao Gaeng Jake Puey (ข้าวแกงเจ๊กปุ้ย), a famous street food stall in Yaowarat, and one that I had eaten at before and loved.
But the cool thing is, being with a Thai food tv show, they had arranged to film in the kitchen to get some behind the scenes footage of the cooking – something that's not so easy to do (or not always possible) on your own.
At Khao Gaeng Jake Puey (ข้าวแกงเจ๊กปุ้ย), they do not mess around.
Everything they cook is highly efficient, systemized, and the kitchen seemed to function like a charm.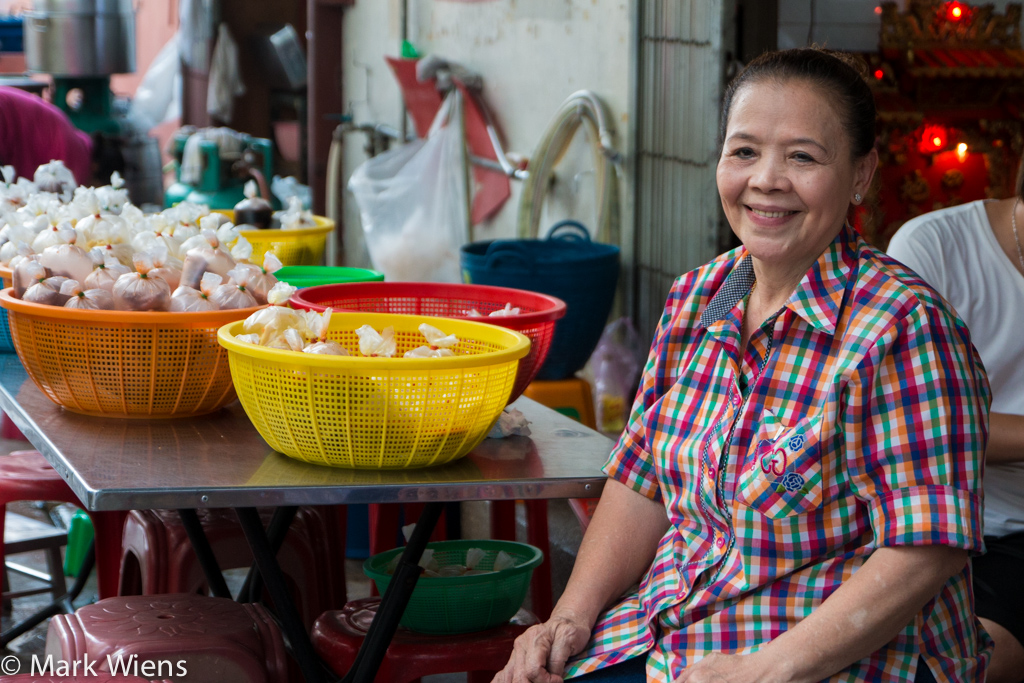 The owner is still the main cook (others prepare ingredients, but she cooks everything). Her father began selling curry in this spot, and the restaurant has been around for over 70 years.
I was amazed how the kitchen was so clean, spic and span, and it was so orderly – they had everything down to a science – from cooking to packaging and serving.
After the various curries are finished cooking, they are transferred to the next room where they are scooped into a bag, tied up with a rubberband, and put in small baskets to sell for take-away.
By 3 – 4 pm,Khao Gaeng Jake Puey (ข้าวแกงเจ๊กปุ้ย) was starting to open on the sidewalk, so we transferred over there to film a scene eating.
I had a plate of rice topped with both gaeng gari (gari curry) and gaeng keow wan (green curry), and as usual they were both delicious.
The curries at Khao Gaeng Jake Puey (ข้าวแกงเจ๊กปุ้ย) are mild in spice, but I think they are like comfort food – so rich and creamy.
Wat Mangkon Kamalawat (วัดมังกรกมลาวาส)
After that delicious plate of rice and curry, we then did a little walking around Yaowarat, filming while walking.
We didn't spend too much time at Wat Mangkon Kamalawat (วัดมังกรกมลาวาส), but we did stop for a little and walk around. Wat Mangkon Kamalawat (วัดมังกรกมลาวาส) is one of the most significant Thai Chinese temples in Bangkok.
We then had about 30 minutes to just walk around as we waited for our next restaurant to open. There's always something interesting to see in the evening in Yaowarat.
6 pm, Fikeaw Yaowarat Restaurant (ร้านไฟเขียว เยาวราช)
Our final destination for the day was a famous restaurant known as Fikeaw Yaowarat (ร้านไฟเขียว เยาวราช), famous for their pyromaniac chef.
We didn't need to get any real scenes of eating there, but the director (Chart) wanted to get some footage of the ridiculously high fire the chef cooked on.
He didn't disappoint.
We ordered a few different dishes for our dinner, one of them, pad pak bung fai daeng (ผัดผักบุ้งไฟแดง), fried morning glory. He loaded the morning glory onto a plate, along with all the seasonings, and threw it into a flaming hot oiled wok.
BOOM, a flame of fire exploded, going higher than the first story of the building behind him, like an exploding molotov cocktail.
It was incredible.
And I could actually taste the fire in the plate of morning glory. It was delicious, and he literally cooked it in about 2 seconds.
The other food at Fikeaw Yaowarat was excellent too, including the pan of pla meuk neung manao (ปลาหมึกนึ่งมะนาว), squid in lime and chili sauce.
It's a restaurant I had never been to before, but I will have to go back again.
That wrapped it up for the day, we jumped back in the van and headed home. Another day of delicious food and filming!
Watch the video of the day now…
(If you can't see the video, watch it here: http://youtu.be/w4a_6mepSxs)
[Hey everyone, it's Mark Wiens. I was hired by a Thai TV production company to host a Thai food TV documentary series (10 episodes), about eating delicious Thai food around Thailand. I'll be posting blog updates about the entire experience. If you'd like to read the full series click here.]
Get exclusive updates
Enter your email and I'll send you the best travel food content.