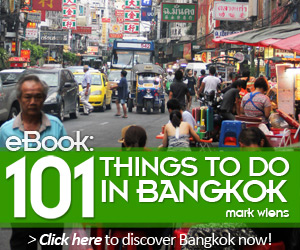 Talat Nam Khlong Lat Mayom floating market in Bangkok, Thailand, is a paradise of serenity, a place where nothing seems to be in a hurry and no one seems like they are out to get you. 
Boat vendors stir fry their dish of the day, store owners allow you to look without buying, and artists smile as you admire their handiwork. 
Everything at Khlong Lat Mayom floating market fits perfectly together like an uncomplicated all-fun puzzle…with great food.
The outskirts of Bangkok are known for famous tourist attracting and more than chaotic floating market's like Damnoen Saduak and Amphawa floating market.  These markets are wonderful for the energetic, but don't allow for peaceful relaxation.  At Khlong Lat Mayom the case is quite opposite delivering a haven for relaxation and an opportunity to have a floating market experience minus a lot of the bustle and fuss.
When I was there a boat peacefully paddled down the canal and unless I hadn't heard the chit chat or the searing sound of a flaming wok on board, I wouldn't have ever known they passed.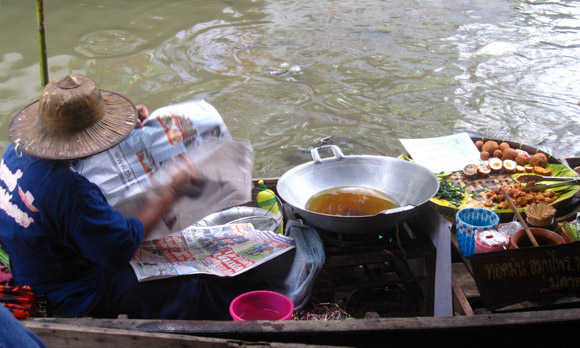 Get exclusive updates
Enter your email and I'll send you the best travel food content.
Aside from food, other things like house plants, selections of fruit, and home furnishings were all for sale directly off boats.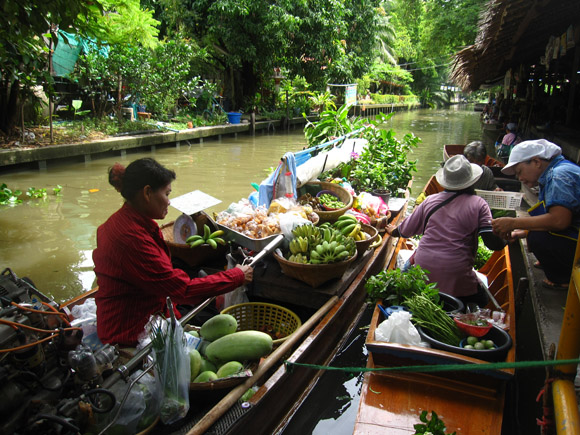 The entire scene of boat vendors on the quiet and heavily forested Khlong Lat Mayom canal enthralled me and I immediately wanted to begin looking for a dwelling in the vicinity.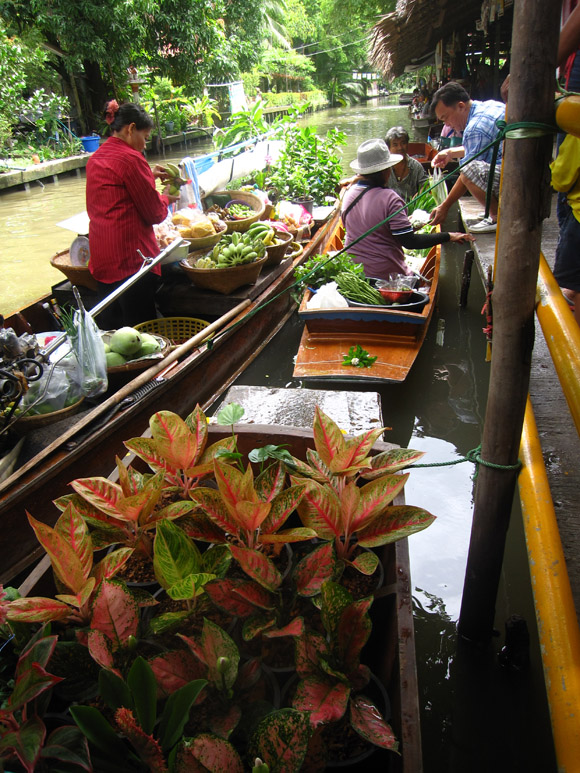 I sampled a number of dishes including guay teow khua gai fried noodles, and an uncommon traditional dish known as khao chair.  It consisted of a bowl of ice water with smokey burnt rice at the bottom, and an accompanying dish filled with an assortment of candied fish and other unidentifiable things.
The market also contains a section away from the boats yet still surrounded by a network of canals and greenery. This section is filled with little stalls selling a range of things like clay statues, local Thai souvenirs, and antiques. 
Cute restaurants on stilts, kids neatly painting pottery, and massage booths hovering over lush ponds, add to the comforting environment.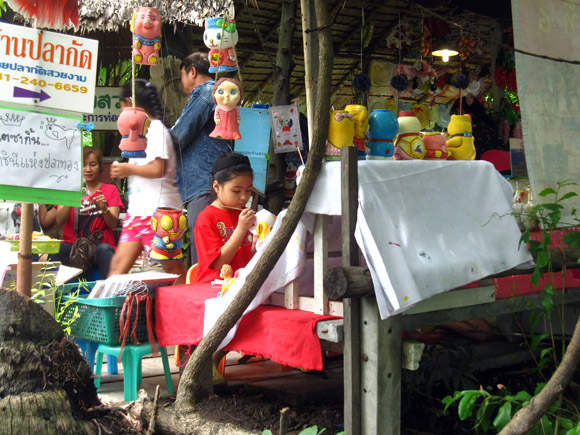 "I felt completely at home, like I could set up a lean-to on the banks of the canal and call it a night.  I would naturally wake up early with the morning sunshine to a couple of tranquil boats eager but not pushy to sell me something delicious.  I would get on a covered raft with a straw hat on and let a porter calmly paddle me through the vegetation while I sat cross legged, deep in thought.  I could really turn this market into a lifestyle…"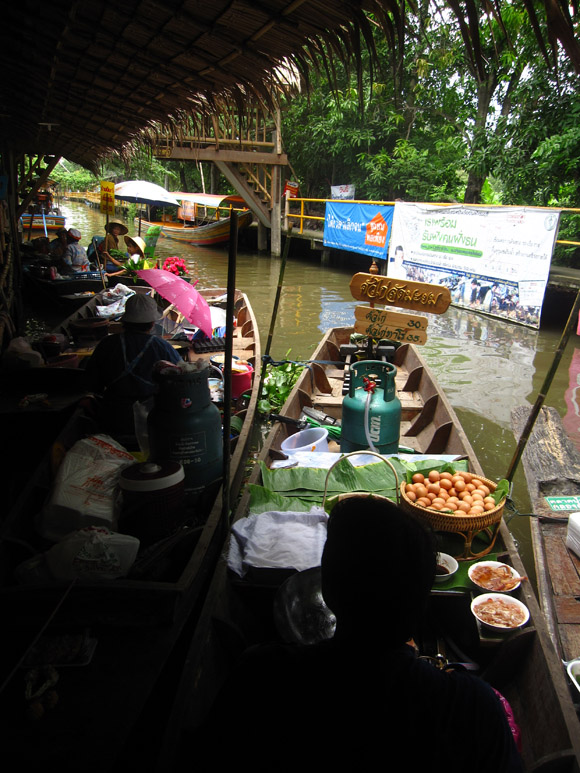 Khlong Lat Mayom floating market is friendly, unobtrusive, and extremely soothing.  Another bonus is that the market is located in Bangkok and doesn't take long to reach.
How to get to Khlong Lat Mayom Floating Market
Open only on Saturdays and Sundays and public holidays from 9:30 am to 4:30 pm.  I would recommend getting there right about 10 am when things are just getting started.

The market is located on Bang Lamad Road which is off Bang Khae-Bang Bua Thong Outer Ring Highway,
Taling Chan, Thonburi, Bangkok
The easiest way to get there is to hop in a taxi from Wang Wian Yai BTS station and tell the driver to go to Talat Nam Khlong Lat Mayom.  The taxi should only cost around 100 THB.
Check out the official directions from their website here and print off directions in Thai.
– Migration Mark
Get exclusive updates
Enter your email and I'll send you the best travel food content.