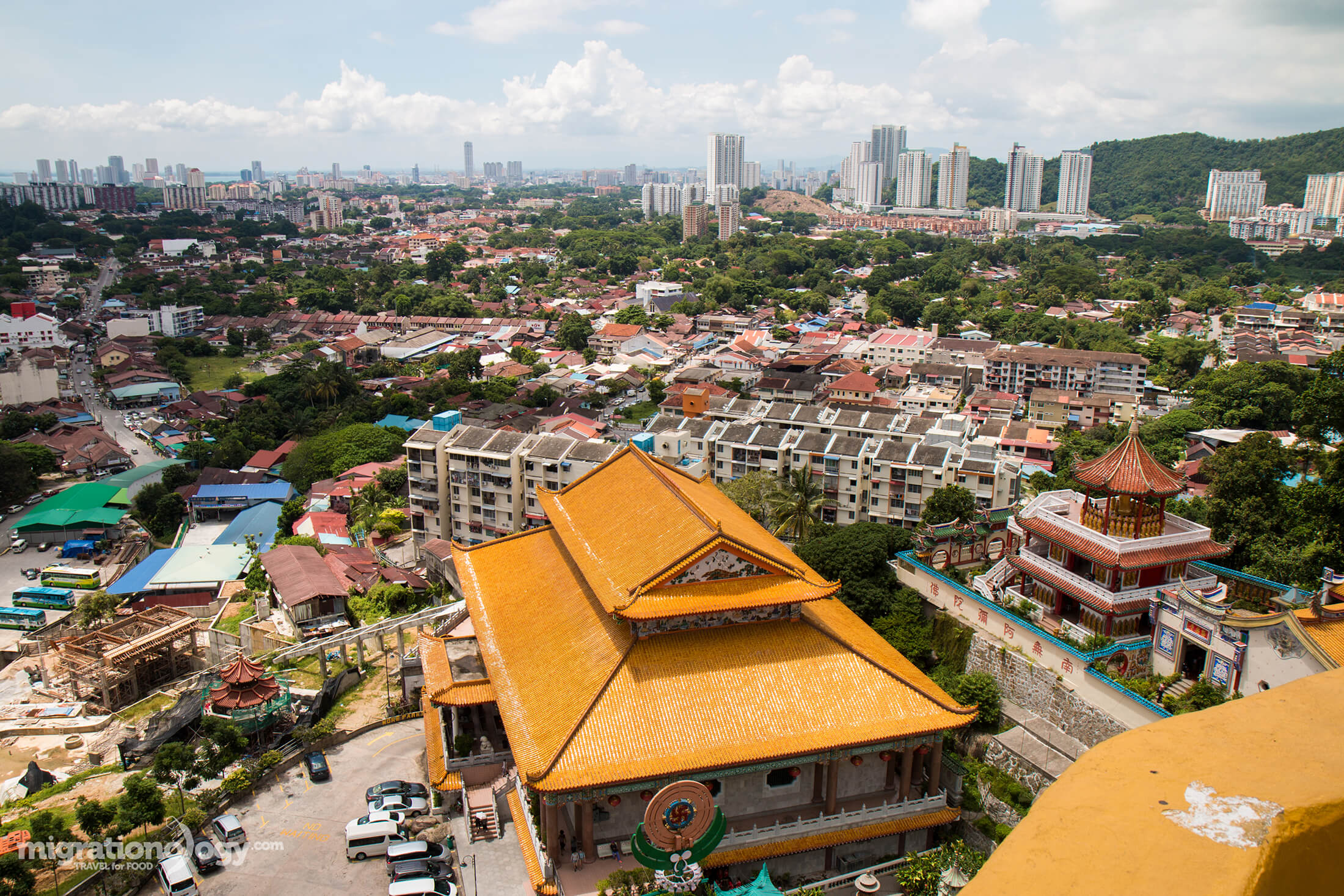 Penang, Malaysia, has a strong and influential Chinese community.
And although I mostly experienced Penang's Chinese influence on my plate, I also took the opportunity to visit one of Southeast Asia's largest Chinese Buddhist temples, known as Kek Lok Si.
Kek Lok Si is one of the most well known attractions in Penang, and a pilgrimage site for some Buddhist followers throughout Southeast Asia.
When I was in Penang, my wife and I decided to take a day, see Kek Lok Si temple, and do some eating in the area while were there.
Here's what we did on our quick day trip to Kek Lok Si Temple:
How to get to Kek Lok Si
The two main ways to get to Kek Lok Si Temple are either private taxi, which costs about 25 MYR (according to Lonely Planet), or take the public bus for 2 MYR ($0.54) per person.
My wife Ying and I were staying at Armenian Street Heritage Hotel* in George Town, and we chose to take the public bus to get there.
From our hotel, we walked over to Komtar Bus Terminal, which is the main bus terminal station for George Town. The bus station was quite organized, with the bus numbers organized by lanes. It was pretty easy to see which buses went to which destinations in Penang.
To get to Air Itam, the area where Kek Lok Si temple is located, you can either take bus #203 or #204. Bus #204 came first and so that's the one we jumped on.
The bus cost 2 MYR ($0.54) per person, and it took about 30 minutes to get to the market at Air Itam.
I didn't exactly know where we were going, but despite winding around for a bit, we eventually ended up in Air Itam, and we got off at the terminal station along Jalan Air Itam, just a short walk from the bottom base of Kek Lok Si temple.
First, Sister's Curry Mee
I'll be covering Sister's Curry Mee stall in a full blog post separately, but I just wanted to quickly share it here as well.
We got off the bus at Air Itam (also sometimes spelled Ayer Hitam), and we were immediately surrounded by a sprawling busy market with lots of tempting food.
Before proceeding to the temple, I first wanted to check out Sister's Curry Mee, a street food stall located just a stones throw from where we were let off the bus.
Run by two sisters, and started back in 1946, Sister's Curry Mee is just about everything you could hope for if you love street food – friendly Grandma's cooking, boiling pots of unknown soups and liquids, a few random stools and one table, and just a frenzy food filled environment.
We ordered two bowls of curry mee.
The curry mee included an assortment of different noodles, submerged in hot boiling curry soup, then topped with pieces of squid, and a dollop of sambal chili sauce.
The curry mee had a shrimpy flavor, it was spicy from the sambal, and wasn't overly rich, but had a hint of butteriness from coconut milk.
Part of the reason the curry mee was so good at Sister's Curry Mee was just how amazing the two sisters were.
Get exclusive updates
Enter your email and I'll send you the best travel food content.
They are absolute legends in Penang.
Visiting Kek Lok Si Temple
After slurping down my bowl of curry mee, I felt much better about heading to Kek Lok Si temple.
At the corner of Jalan Air Itam and Jalan Pasar, you'll see a big sign pointing towards the temple.
This sign is right above the ultra famous Air Itam Asam Laksa (I decided to come back and eat there after visiting the temple, but you could eat there before as well).
Follow the sign down Jalan Pasar, and when you come to the T in the road, turn left. Soon you'll see a small alleyway path, and that foot-path to the left leads to a set of stairs, which is the main walkway to Kek Lok Si temple.
To get to the temple, you first have to walk up a gradual inclining set of stairs and walkways, that are all sheltered by a labyrinth of souvenir shops.
It almost felt like a cave packed with souvenirs, and there was hardly any air or breeze walking up – so be prepared to start dripping with sweat.
It didn't take long to reach the top of the stairs and we arrived at the turtle pond, a murky algae filled pond surrounded by, you guessed it, more souvenir shops.
The pond was filled with frightening amount of turtles.
From the turtle pond, we continued walking up, winding through the beginning of the Kek Lok Si temple compound.
At this point, there was either a choice to go left and follow the path to the Kuan Yin statue, or go right to the Kek Lok Si pagoda. We chose to first see the Kuan Yin statue first.
I walked through even more souvenir shops, and then came to a dead end where there was no choice but to take the "Inclined Lift," to the top for a view of the statue.
After paying 3 MYR ($0.80), we entered the slanted elevator, which just took about a minute, and it whisked us to the top.
It was a very short ride, and I wish they would have had a flight of stairs next to the included life to be able to take alternatively, but they didn't.
Kuan Yin Statue
Probably the busiest part of Kek Lok Si temple is the 36.5 meter high bronze statue of Kuan Yin (also Guanyin), the Goddess of Mercy.
Surrounding the statue is an even bigger octagon shaped pavilion. There were also some other small shrines and pagodas in the area, as well as a deck for a view of Penang.
It looked to me like many of the local Chinese Malaysians came to Kek Lok Si mainly to visit the Kuan Yin shrine.
The Kek Lok Si Pagoda (Ban Po Thar)
After spending a few minutes walking around the Kuan Yin statue, Ying and I decided to take the road to walk down towards the pagoda, which is officially known as Ban Po Thar.
It took about 10 minutes to walk down – and from what I saw, I didn't notice an easier walkway to get to the pagoda – you just have to take the road which is a little out of the way, or you have to take the inclined lift back down.
Visiting the pagoda was the highlight of my time at Kek Lok Si.
After paying the 2 MYR ($0.53) for the entrance fee, I walked into the pagoda section, past a few temple shrines, and then onto the pagoda itself.
The Kek Lok Si Pagoda is interesting because of how it was built.
The base of the pagoda was built in a Chinese style, the center is Thai, and the top is Burmese. So there are three sections of culture and history within the pagoda, and you can really see the difference both inside and from the outside structure.
The pagoda has 7 levels, and the climb to the top took just about 5 minutes. The stairs can be a little narrow, so be careful not to slip.
Winding around the levels of the pagoda while climbing the stairs, I could see the different styles of Buddhas, shrines, and decorations, from Chinese, to Thai, to Burmese.
The view at the top of the pagoda was amazing.
And along with gorgeous views of Penang and an overview of Kek Lok Si temple and the Kuan Yin statue, when I got to the top, I was the only one there, so it was peaceful and calm with a cool breeze.
From the ground, the pagoda didn't look that high, but at the top, it looked a lot higher, and the views were fantastic.
Air Itam Asam Laksa
After walking around Kek Lok Si, we were ready to eat again.
Since we had already tried Sister's Curry Mee in the morning, this time we walked straight to Air Itam Asam Laksa, one of Penang's most famous street food stalls to eat asam laksa.
Again, I'll post a full blog about this laksa restaurant, but here's a quick overview.
We arrived to Air Itam Asam Laksa right at prime lunch time – it was about 12:30 pm – and it was packed out.
I could literally smell the aroma of the sour laksa from across the street as we approached.
It took a little while to figure out the ordering system, but soon enough I figured out that we should just grab a seat at any empty table, then a lady came around and served us a bowl.
I think everyone who sits down wants a bowl of asam laksa, so you just sit down, and they give you a bowl.
The asam laksa at Air Itam Asam Laksa was filled with sliced herbs and lettuce, topped with a handful of thick rice noodles, and filled with the asam laksa fish based broth.
It was a little on the sweet side for me, but it was still very good, and I especially loved the herbs in it.
It was quite a bit different from other versions of laksa I had tried.
Rojak
After a bowl of asam laksa, Ying and I spotted a man on a motorbike street food cart across the street serving rojak, a mixture of fruit and crispy fritters, mixed in a sweet shrimpy paste.
The rojak was alright, not nearly as good as other versions of rojak I've had in Malaysia.
Back to George Town
Sun beating down in the middle of the afternoon, Ying and I decided to head back to our hotel to relax, get some work done and take a nap.
We found a bus station across the street from the market, just down the road from Air Itam Asam Laksa, and caught bus number 203 back to George Town.
If you wanted to visit more places on this Kek Lok Si day trip, you could also proceed from here to visit Penang Hill, or vice versa.
Here's a video that covers everything in this blog post.
It's about 14 minutes long, but I think you'll enjoy it as it covers all the details of how to get there, what to do, and those delicious bowls of noodles we ate:
(Of you can watch the video here: https://www.youtube.com/watch?v=RftarTmAhXM)
Conclusion
Kek Lok Si is one of the biggest and most important Chinese Buddhist temples in Southeast Asia.
When my wife and I were in George Town, Penang, Malaysia, we took the bus to Air Itam (the area of Penang where the temple is located), just a short walk from the temple.
Though the temple is huge, the main two sections include the bronze statue of Kuan Yin, and the Kek Lok Si pagoda with its layers of architectural style. My highlight was climbing the stairs to the top of the pagoda.
Additionally, if you visit Kek Lok Si temple when you're in Penang, make sure you take advantage of the delicious street food available in the area – there are plenty of delicious foods to try.
Kek Lok Si makes an excellent day trip when you're in Penang.
Kek Lok Si Temple Information:
Address: 1000-L, Tingkat Lembah Ria 1, 11500 Ayer Itam, Penang, Malaysia
Opening hours: 7 am–9 pm daily
Entrance fee: The entrance fee is free for most of the temple, but the elevator lift costs 3 MYR ($0.80), and the entrance to the pagoda is 2 MYR ($0.54).
How to get there: I wrote more extensively about how we got here at the beginning of this post, but you can either get there by private taxi (25 MYR) or public bus (2 MYR).
Get exclusive updates
Enter your email and I'll send you the best travel food content.