Having wandered around, and walked probably the distance of a marathon that day in Tokyo, I needed to sit down for an evening snack.
We were in the always bustling business and shopping district of Shinjuku, and after just stepping out of a posh department store (like you always seem to come out of and enter in Tokyo) is when I saw some flashing lights shining the way into an alley.
At the time of going there, I actually had no clue where I was or what the alley was called, but it wasn't until returning to my hotel, and after doing some online research when I realized the lane is called Memory Lane, or Piss Alley as its often referred to (or in Japanese, Omoide Yokocho).
Choosing a Restaurant…
Along the 100 meter or so stretch of Memory Lane, there are a bunch of different little closet sized restaurants – known for their unique dishes and yakitori pubs.
In the evening, nearly all the stalls are packed with, what seemed to be Japanese from every walk of life (old, young, students, businessmen), all having a drink, smoking, and eating.
I didn't know at the time, but Izakaya Asadachi, a famous restaurant serving unique things like raw pigs penis (this one was actually in China) and grilled salamander, was just down the street from where I chose to eat… too bad I missed it.
With so many different choices of where to eat, I hardly knew where to begin.
So after some pondering, I chose a small yakitori restaurant at the beginning of the alley, one that looked welcoming and had a couple of chairs available.
This is not the place for sumo wresters!
Like all the restaurants on Memory Lane, this one was incredibly tiny.
The entire place was only made up of bar seats and a bar table, and when someone in the back wanted to get out of the restaurant, all the other people sitting had to stand up and scoot in.
Get exclusive updates
Enter your email and I'll send you the best travel food content.
The beautiful aroma of fire roasting yakitori skewers filled the air in the tiny yakitori-ya restaurant like a smoking meat sauna.
The menu was simple, and they even had an English version (which really helped in the ordering process). You could either order each stick of yakitori a la carte, or the special mixed plate.
I ordered two special mixed plates, one with sauce and one dry version.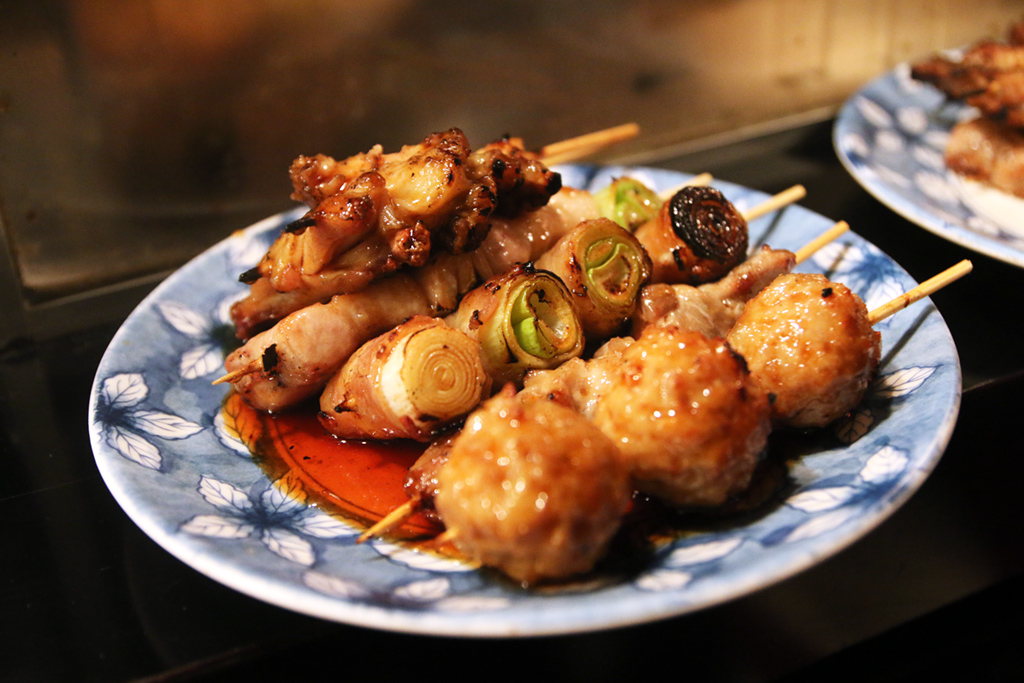 The mix of chicken and pork were cooked fresh and served immediately.
The mixed skewers of meat and vegetables were seared over flames, and the plate was then covered in a thick sauce which was like a sweet and tangy teriyaki sauce.
Each stick of meat looked beautiful, and I couldn't wait to dig in.
The dry plate of yakitori was the same mixture of meat skewers, but instead of being glazed in sauce, each skewer was just salted and dry seasoned (though I think it may have been pre-marinated in the first place).
Again, each skewer of meat was nicely grilled and roasted over a high flame for a slight char on the exterior.
The Yakitori
The special yakitori plate included these wonderful skewers:
Tsukune (つくね), chicken meatballs
Tebasaki (手羽先), chicken wing
Toriniku, all white meat on skewer
Leek wrapped in slices of bacon
Pork belly with leek
For myself, not really knowing what kind of yakitori to order on its own, this was a great combination plate to have – I'd highly recommend it.
We began to get busy with our sticks of yakitori as soon as they arrived to the table.
Like at many restaurants in Tokyo, the eating counter was so small, the plates could only sit 3/4 of the way on the table – that's part of the enriching food experience in Tokyo!
I started with a stick of leeks wrapped in bacon.
The leek was cooked through, and nice and soft, while the bacon added a wonderful salty contrast. Certainly one of my favorites items off the yakitori menu.
At first I thought it was a chicken thigh on a duo of skewers, but after taking a bite, I realized it was two chicken wings (tebakasi), flattened out to help in the grilling process.
Just simple, fresh, and tasty.
Sauce vs. Dry
Both the salt the sauce versions of the yakitori were delicious, but the sauce version was far superior to the salt version – maybe I'm just sauce obsessed – but the yakitori sauce added another glorious flavor to the already delicious meat.
Price – 750 JPY ($7.37) per plate
What I really loved about the yakitori that I ate on Tokyo's Memory Lane was that it was scorched over a hot flame so it had some wonderful crunch and charred flavor to it, yet at the same time it was only cooked until just done, and not a second longer, keeping the meat juicy.
I have to say, Japanese really excel at cooking things perfection, and never overcooking their meat!
If you visit Tokyo, heading down Memory Lane, though just steps away from Shinjuku station, is a whole different world.
Watch the video here…
(You can also watch it on YouTube here: http://youtu.be/m5RBtgpC9ZI)
Omoide Yokocho (Memory Lane) – Tokyo
How to get there: The lane is located right next to Shinjuku station, which is the largest in Tokyo, so it can be a bit confusing. I think you have to get out at the Shinjuku West Exit. But do take note of the map below or look at a map once you arrive to Shinjuku – it's a bit confusing!
Omoide Yokocho (Memory Lane) actually has an official website with a map of the restaurants – official street food! On this map, I ate at #60.
Get exclusive updates
Enter your email and I'll send you the best travel food content.