Why is Indonesian food so delicious?
As I was about to dig into a plate of Nasi Padang, a nice man sitting at the table next to me said:
"It's because Indonesian food is based on fresh spices and herbs."
And when you and I look at the list of food below, and notice the fresh herbs and multitude of spices used in Indonesian cooking, it truly is a huge contributing factor as to why Indonesian cuisine is so flavorful and exciting to eat.
In this blog post I'm going to share with you 50 incredibly delicious Indonesian foods. Get ready for a serious Indonesian culinary journey!
Related: For information on where I stayed and Jakarta travel tips check out this guide.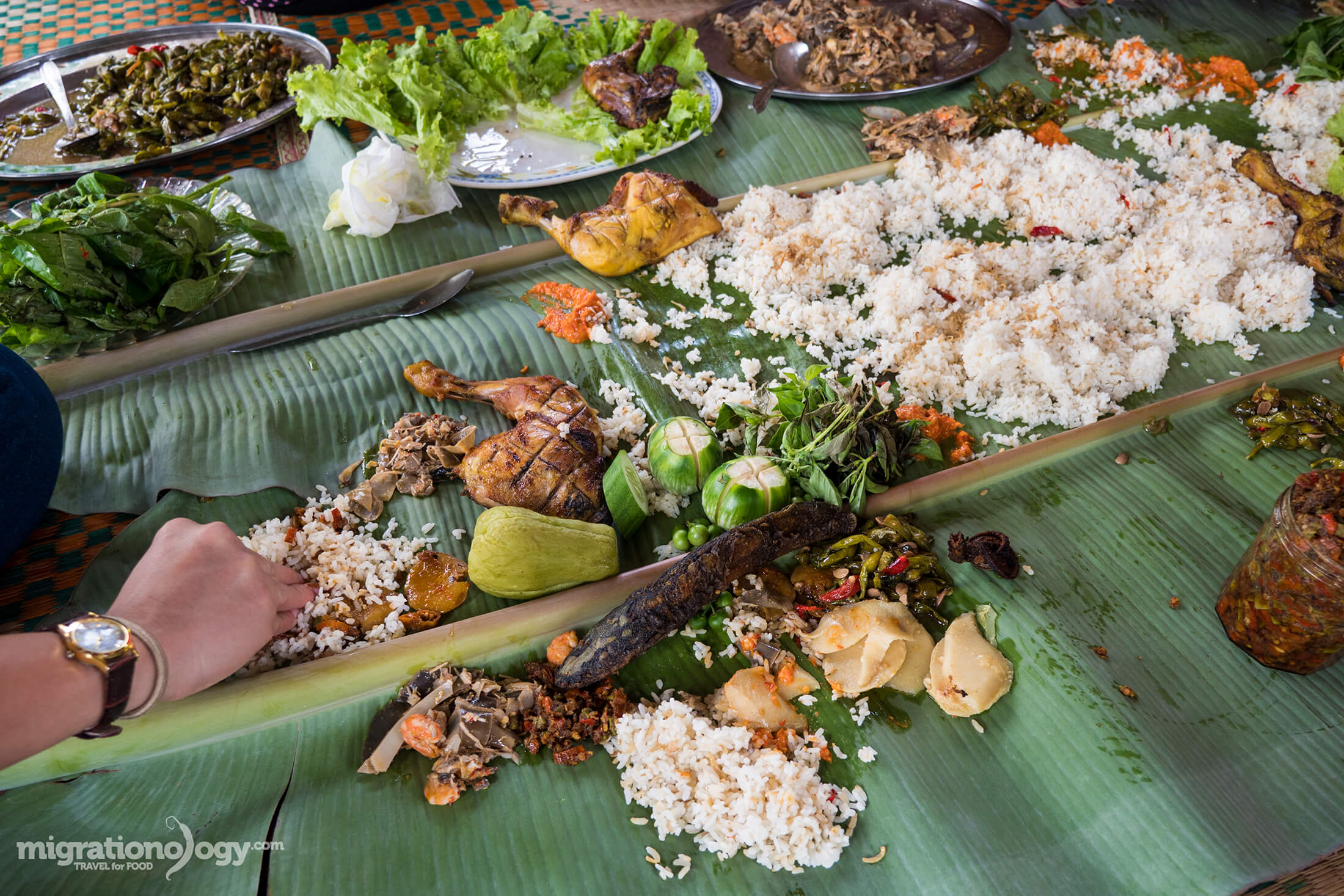 Indonesian Food: 50 Dishes
Before we get started, I just want to make it clear that this is not an exhaustive or complete list of food in Indonesia (there are thousands of Indonesian dishes), but it's a definite start to discovering the incredible cuisine of Indonesia. Some of the foods I included, such as durian and petai, are simply because I love them so much.
For each of the dishes listed in this Indonesian food guide I've included the dish, and if possible, the restaurant where I ate it in Jakarta (you may also be interested in my Jakarta travel guide).
Food is the reason you should travel!
Before we get started, I would like to invite you to receive my exclusive food and travel updates by e-mail. Enter your name and e-mail below, and click Subscribe!
This list is not in any particular order.
1. Sate Ayam / Sate Kambing (satay)
I've had a lot of different types of sate (or satay) in Southeast Asia, but there's nothing that compares to real Indonesian sate; In my opinion you'll find some of the absolute best sate in Asia within Indonesia. in Indonesia you'll find many different types and varieties of sate, but two of the common versions in Jakarta at sate ayam (chicken sate) and sate kambing (goat sate).
One of the common recipes includes the meat marinated in sweet kecap manis soy sauce, before being skewered. I think is the main reason why Indonesian sate is so good, is because the skewers of meat are typically grilled on an extremely hot charcoal fire, so the meat cooks quickly, while leaving it smoky and juicy.
Where: Sate H. Romli in south Jakarta serves delicious sate ayam and sate kambing. Address: Jalan Kyai Maja No.21, Melawai, Kby. Baru, Kota Jakarta Selatan, Daerah Khusus Ibukota Jakarta; Open hours: 10 am – 12 midnight daily; Prices: I paid 67,000 IDR ($4.99) for 2 plates of sate.
2. Sate Padang (Padang satay)
Sate Padang is such a unique (and delicious) type of Indonesian sate that I had to include it in this food guide as its own. Originally from Padang, a food lovers province on the west coast of Sumatra, Sate Padang seems to have a cult following among food lovers – and after I had my first plate, I completely understand why.
The skewers of meat, which often include beef pieces, beef tongue, and offal, are first marinated in a mixture of spices, then grilled over hot flaming charcoal, and finally they are often served over sliced up compressed rice cake, called ketupat, and then covered in a thick brown colored sauce, and sprinkled with crispy shallots. The result of Sate Padang is not the prettiest dish you'll ever see, but the taste is incredible.
Where: Ajo Ramon Sate Padang is one of the most well known names in Jakarta when it comes to Sate Padang lovers, and I couldn't believe how good it was. Address: Pasar Santa Jalan Cipaku 1 Jakarta; Open hours: 5 pm – 10 pm daily; Price: 25,000 IDR for a plate of sate and rice cakes.
3. Ayam Bakar Taliwang (grilled chicken)
Have you ever eaten three chickens by yourself in one meal? When you eat ayam bakar Taliwang, not only are the grilled chickens so good you might be able to eat three of them by yourself, but they are also very small because they either free range chickens or sometimes spring chickens.
This type of grilled chicken originates from the island of Lombok, and it's popular with spicy grilled chicken lovers throughout Indonesia. When I saw the amount of chilies caked onto my ayam bakar Taliwang, I knew I was in for a life-changing grilled chicken experience, and it was true.
The chicken itself was so flavorful, and not too tender, but with just enough texture so that with every bite it kept releasing more chicken juices, kind of like that crazily juicy chicken I ate in Osaka. But along with just being a flavorful chicken from the start, it was beautifully spicy. Ayam Bakar Taliwang is one of the dishes you don't want to miss if you love spicy food.
Where: In Jakarta, you can try Ayam Taliwang Rinjani, I thought it was amazing, especially the super extra pedas chicken. Address: Jalan Pesanggrahan Raya No. 50, Puri Indah, Jakarta; Open hours: 10 am – 10 pm daily; Prices: We had 3 chickens and a few side dishes for 165,000 IDR ($12.39).
4. Ikan Bakar (grilled fish)
Even after eating ikan bakar, Indonesian grilled fish, dozens of times, I still can't get over how good it is. Grilled fish is one of my favorite things to eat around the world, but I especially love it in Indonesia. Just like many of the grilled foods in Indonesian cuisine, what I like about ikan bakar is that it's grilled over a very hot charcoal fire and grilled quickly, giving it a really incredible flame roasted fire flavor.
There are many different types of ikan bakar, but typically the fish is butterfly cut so it lays flat, then it's rubbed in a sambal sauce marinade, and then finally it's grilled. Ikan bakar is then served with either kecap manis or a variety of different sambal chili sauces and rice.
Where: You'll find ikan bakar at many roadside restaurants and seafood restaurants. A local seafood restaurant I tried was Gebang Seafood 49 Restaurant. Address: Jalan Hidup Baru, Jakarta; Open hours: 5 pm – around midnight daily; Price: My wife and I had 2 fish and other seafood dishes for 180,000 IDR ($13.77). Watch the video here.
5. Pepes (herbal packet)
Pepes is very similar to Thai aeb, but it's the Indonesian version of an assortment of fish, meat or tofu, mixed with lots of healthy herbs and spices, wrapped in a banana leaf package, and either steamed or grilled.
Originally a Sundanese food from the Western part of Java, some of the most common versions of pepes include chicken, different types of fish, tofu, or mushrooms, mixed with shallots, garlic, chilies, turmeric, candlenut, and lemon basil. What I love so much is that the ingredients, since they are all wrapped in a banana leaf and cooked, all mesh together really well, but also the banana leaf gives an extra green essence to whatever is cooked inside.
Where: I had this pepes at a restaurant in Bogor, but you'll find it available at most Sundanese restaurants.
6. Babi Pangang (Batak grilled pork)
On a spur of the moment decision, my wife and I decided to eat at a restaurant in Jakarta that served Batak food, from the Lake Toba region of Sumatra. One of the traditional Batak dishes, is something called babi pangang (sometimes babi panggang), which is a type of grilled or roasted pork.
From my understanding, babi pangang can refer to grilled pork many different ways, but the version I had was nice and salty, and had the most incredible grill fire roasted flavor of just about any grilled pork I've ever had. And additionally, the pork itself was incredibly well marbled, not too fatty, but with a great ratio so it was still juicy and succulent.
Where: Lapo Ni Tondongta is a famous Batak restaurant in Jakarta, and the grilled pork was amazing. Address: Jalan Gelora Los A1, Senayan, Jakarta; Open hours: 10 am – 10 pm daily; Prices: I paid 88,000 IDR ($6.62) for a meal for 2 of us.
7. Ayam Goreng (fried chicken)
Is there any country in the world where fried chicken is not enjoyed?
I haven't found one yet, and in Indonesia, due to both the deliciousness of the actual chicken (more about this below), and because fried chicken, which is known in Bahasa Indonesia as ayam goreng, is always served with sambal chili sauce to dip it in.
Ayam kampung, or village chickens, are the free range country style chickens popular in Indonesia, and often used in the making of local style Indonesian fried chicken. The chickens, while small, definitely make up for their size with their flavor. Unlike big fat chickens that can sometimes be too tender and artificially juicy, ayam kampung are the types of chickens that have a slight rubber texture to them, but with every chew comes more and more chicken country flavor – and I loved them.
For many types of Indonesian fried chicken, the chicken is not heavily breaded or battered, but it's marinated in lots of pureed garlic and shallots, lightly battered, and deep fried to a serious golden crispiness. What I love about Indonesian fried chicken is that all that flavor gets embedded into the chicken instead of the batter. Here's a great recipe if you want to make Indonesian fried chicken.
Where: You'll find ayam goreng all over Jakarta but the version pictured is from Nasi Uduk Zainal Fanani. Address: Jalan Kebon Kacang 8 No. 5, Daerah Khusus Ibukota Jakarta; Open hours: 10 am – 12 am midnight daily; Prices: 75,000 IDR ($5.74) for 2; Watch the video here.
8. Bebek Goreng (fried duck)
Just like the small flavorful fried chickens in Indonesian food, bebek goreng, which is deep fried duck, is not that much different, apart from being duck. They are often very small, but you wouldn't trade the flavor of the small country ducks for a fat one.
I will admit that the bebek goreng I ate in Jakarta was pretty intensely greasy and salty, but it would be a lie for me to say that I didn't thoroughly enjoy every single bite all the way down to the bone. The duck was deep fried until crispy, even all the way through the skin to the meat some of it was crispy. Served with rice, an assortment of raw herbs like lemon basil (maybe to cut the grease), and not forgetting the sambal chili sauce, Indonesian bebek goreng is a true treat of a meal.
Where: Bebek Goreng H. Slamet is a legendary restaurant in Jakarta for deep fried duck, it's greasy but delicious. There are a number of locations around Jakarta; Prices: 28,000 IDR ($2.11) per set per set.
9. Pecel Lele (fried catfish)
Deep fried catfish, known as pecel lele, is a very famous and common Indonesian street food, often served at street side restaurants and local food tents known as warungs. In Jakarta, mostly at night, if you drive around the streets you'll see countless food stalls showcasing catfish on their banner menus.
The catfish are prepared pretty simple, just salted and sometimes rubbed with some coriander and turmeric, and then deep fried until extra crispy all the way through. The catfish I ate in Indonesia were pretty small, about the size of a sausage, so when they were deep fried they almost turned chip-like, fried solidly.
Once again, the secret of the flavor when eating pecel lele lies within the sambal that it's always served with. You take a piece of crispy catfish, mix it with your rice, add on some sambal, and that's a recipe for a delicious bite.
Where: Permata Mubarok 1 is a little far from central Jakarta, but a nice street food tend. Address: Komplek Permata Buana, Jalan Puri Kembangan, Puri Indah, Jakarta; Open hours: 5 pm – 10 pm daily; Prices: 125,000 IDR ($9.41) for 4 people.
10. Ikan Goreng (deep fried fish)
Along with ikan bakar (Indonesian grilled fish), ikan goreng or deep fried fish, is another common way to prepare different types of fish and seafood. There are probably hundreds of different types of fish that can be used to make ikan goreng, but one fried fish delicacy of Sundanese cuisine is fried freshwater gourami. The fish are sometimes cut in a way that exposes more of the skin to the oil, and then deep fried so the skin and outer layers of the fish are completely crispy.
If you love fish, fried fish in Indonesia, eaten along with rice and sambal, makes an absolutely delicious meal, or accompaniment to a full seafood meal.
Where: I had an amazing seafood meal at Seafood 212 Wiro Sableng. Address: Jalan Boulevard Raya Blok QA III No. 2, Kelapa Gading, Jakarta; Open hours: 11 am – 11 pm daily.
11. Soto Betawi (Jakarta soup)
Jakarta is the biggest city in Indonesia, and people who live in Jakarta come from the furthest regions and islands of the country. The food directly reflects this, and walking down the street you'll find a restaurant serving Padang food, Manado food, snacks from Eastern Java, and the list goes on and on.
But if there's one dish that's one of the most famous dishes, known for being homegrown right in Jakarta, it's soto Betawi, literally meaning, Jakarta soup. Soto in Indonesia is a type of soup, and every region of Indonesia has their own version, and Betawi are the people of Batavia, the Dutch colonial name for Jakarta.
Soto Betawi is usually prepared with beef, which is boiled with aromatic herbs like lemongrass and Indonesian bay leaves, and flavored with candlenut, galangal, garlic, and shallots, and finally often a combination of both fresh cow milk and coconut milk are added to make the soup creamy. The soup is usually served in a bowl, topped with some crispy fried shallots, and eaten with a plate of rice, and some Indonesian pickles (known as acar). Eating Soto Betawi when I was in Jakarta was one of the culinary highlights for me. It's truly an incredible dish that you can't miss.
Get exclusive updates
Enter your email and I'll send you the best travel food content.
Where: One of the best places in Jakarta to eat soto Betawi is Soto Betawi Haji Husein. Address: Jalan Padang Panjang No. 6C, Kel. Pasar Manggis, Jakarta; Open hours: 7 am – 2 pm from Saturday – Thursday (closed on Friday); Prices: 110,000 IDR ($8.34) for 4 bowls of soto and rice. Watch the video here.
12. Sop Kaki Kambing (goat leg soup)
With a similar flavor profile to Soto Betawi, but a bit more of an adventurous dish, sop kaki kambing is an Indonesian dish for meat lovers, and particularly for goat lovers. Walking into a warung that serves sop kaki kambing, it reminded me a lot of walking into a restaurant in Kenya or Tanzania that serves nyama choma. There were a couple fresh skinned goats hanging from a rafter of the tent, and little by little, the meat was sliced up, cooked, and then displayed at the front of the restaurant.
When you eat sop kaki kambing, you first have a chance to choose whatever parts of the goat you want to eat, which are already pre-cooked. I was hanging out with Ken from Cowokrakus, and we chose some goat feet, eye sockets, and goat brain. All the different goat ingredients were added to a bowl, then covered a lightly creamy and buttery soup.
Where: Sudi Mampir Restaurant; Address: Jalan Biak Jakarta; Open hours: Around 5 pm – Midnight daily; Prices: We paid 208,000 IDR ($15.52) for two bowls of lots of organs soup and sate.
13. Sop Buntut (oxtail soup)
Another popular Indonesian soup is sop buntut, which is oxtail soup. I've been a huge lover of oxtail dishes ever since growing up and visiting relatives in Hawaii, when I'd enjoy Chinese style oxtail stew and soup. The meat around the tail has to be some of the most tender and flavorful.
As opposed to the other two soups mentioned above that were of the creamy variety, sop buntut is often a clear soup, the oxtail simmered in broth with carrots and potatoes, and with a salty and lightly peppery broth with a hint of nutmeg and cinnamon to remove any gamey taste. Just like other Indonesian soups, you eat sop buntut accompanied by a plate of rice and condiment it with fresh chopped chilies and kecap manis (Indonesian sweet soy sauce).
Where: Sop Buntut Cut Meutia is a nice little local restaurant just down the road from Cut Meutia Mosque in Jakarta; Address: Jalan Menteng Kecil No. 4/5, Menteng, Jakarta; Open hours: 9 am – 4 pm daily; Prices: 40,000 IDR for a bowl.
14. Bakso (Indonesian meatballs)
One of the most widely available street food dishes (and in restaurants as well) and loved by nearly everyone, including President Barack Obama who grew up for some time in Jakarta, is bakso (or also known as baso), Indonesian meatballs.
There are two main versions of bakso available, one is the Chinese style and the other is the more local Indonesian style – both are delicious. The recipe for bakso typically includes minced meat mixed with some tapioca starch – and it is the tapioca starch which gives the meatballs their serious bouncy and addictive texture.
You can typically choose your choice of noodles, from thin white rice noodles, and yellow egg noodles (I'm a fan of egg noodles), and the bakso are then either served with the noodles and soup, or dry with soup on the side. This is a non spicy Indonesian dish, but there are always chilies and seasonings for you to add to your own bowl.
Where: Bakso Akiaw 99 is a popular Chinese style bakso restaurant in Jakarta. Address: Jalan Mangga Besar Raya No. 2B, Kec. Tamansari, Jakarta; Open hours: About 4 pm – 11 pm daily; Prices: I paid 93,000 IDR ($7.07) for a few bowls of meatballs and noodles. Watch the video here.
15. Sayur Asem (sour soup)
Sayur asem is a sour tamarind soup that reminded me a lot of Filipino sinigang or a number of southern Thai sour soups, because it was very sour from tamarind. Known as a Sundanese and Betawi dish in Western Java, sayur asem is a sour tamarind soup, sometimes prepared with meat stock or fish stock, that can include a mixture of different vegetables like corn, chayote, and water morning glory.
Living and eating in Thailand, I'm a huge lover of sour soups, and when I had my first spoonful of sayur asem, I immediately knew it was my kind of the dish. It's one of those sour soups that makes you almost squint when you sip it because it's so sour.
Where: Warung Mak Dower serves fantastic Betawi dishes in Jakarta. Address: Jl. Pemuda No. 72, Rawamangun, Jakarta; Open hours: 9 am – 9 pm daily; Prices: 140,800 IDR for a full spread of dishes.
16. Coto Makassar (Makassar soup)
Another version of soto, which is many types of soup, but in Makassar they call it coto (pronounced choto), is a dark beef soup or stew originally from the foodie city Makassar in southern Sulawesi.
For coto Makassar, beef as well as all the organs of the cow, are the dominant ingredients. The bowl of coto Makassar that I had in Jakarta was very beefy tasting, and included intestines, tripe, lungs (I think), and a few cubes of meat, all within a murky dark roasted peanut based soup. It had a nutty and sour taste to it. What I enjoyed about my bowl of coto Makassar was that it came completely unsalted, and so I added in my own salt, plus a squeeze of lime, and some incredible sambal. Additionally, it's common to eat coto Makassar along with ketupat rice cakes.
Where: In Jakarta, I had a bowl at Coto Makassar Senen; Address: Jalan Kramat Raya, Senen, Jakarta; Open hours: 1 pm – 8 pm daily; Prices: 25,000 IDR ($1.89 USD) per bowl of coto. Watch the video here.
17. Sop Konro (beef ribs soup)
I ate a lot of unbelievably delicious food when I was in Jakarta, and there are so many amazing restaurants, but eating sop konro for the first time was one of those dishes that just blew me away – the combination of fall apart tender cooked meat along with fresh herbs and sambal, it was breathtaking.
Again, famously known in Indonesia as a Makassar dish from southern Sulawesi, sop konro are beef ribs which are simmered in a variety of fragrant spices includes coriander, galangal, lemongrass, cinnamon, nutmeg, and bay leaves. When you eat sop konro, the meat will literally just slide off the rib bones.
Where: Sop Konro Karebosi is a restaurant located in the Kelapa Gading are of Jakarta, that serves outstanding sop konro. They also serve konro bakar, grilled beef ribs, which were equally as stunning. Address: Jalan Boulevard Raya TA 2 No.38, Kelapa Gading, Jakarta; Open hours: 10 am – 10 pm daily. Watch the video here.
18. Nasi Goreng (fried rice)
If you read any Indonesian food guide or guidebook, likely one of the most famous foods they will mention is Indonesian fried rice, known better as nasi goreng. Although just wok fried rice with a host of salty seasonings, this simple hot and fresh cooked single plate meal is a popular street food throughout Indonesia.
For myself, while nasi goreng simply can't compete with curries and more flavorful rich dishes, I do find Indonesian nasi goreng quite enjoyable from time to time, and it makes an easy cheap meal. When you find an Indonesian street food cart that sells nasi goreng, they can usually make it with whatever ingredients you see in their cabinet – vegetables, chicken, egg, and stink beans (my personal recommendation).
The rice is stir fried, often in a little margarine and oil, seasoned with crushed chili sambal and garlic and the ingredients, then mixed with kecap manis which gives the fried rice its unique Indonesian touch. You'll seriously find nasi goreng street food cards just about everywhere you look in Jakarta and across Indonesia. My favorite version to order nasi goreng with with stink beans and a fried egg – for me it's the ultimate fried rice.
Where: Any street food stall where you see "nasi goreng" written, and you will see it all over Indonesia. In Jakarta you can try the legendary goat fried rice at Nasi Goreng Kambing Kebon Sirih.
19. Nasi Uduk (coconut rice)
When I took my first bite of nasi uduk, a fragrantly type of cooked rice, I could immediately taste the rich coconut milk and a wonderful cardamom flavor.
Nasi uduk is similar to nasi lemak, rice that's cooked with a variety of aromatics like lemongrass, pandan leaves and dry spices like coriander seed, bay leaves, sometimes cardamom, and finally the all important coconut milk. The result is a rich and savory, plus hearty and flavorful, rice. There are a variety of different recipes for nasi uduk, also depending on the region of Indonesia you're in. You can eat nasi uduk accompanied by a variety of different curries and Indonesian foods, but it's also very common in Jakarta to eat along with simple fried chicken and sambal chili sauce.
Where: Nasi Uduk Zainal Fanani (also known as Nasi Uduk Kebon Kacang) serves Betawi style nasi uduk. Address: Jalan Kebon Kacang 8 No. 5, Daerah Khusus Ibukota Jakarta; Open hours: 10 am – 12 am midnight daily; Prices: 75,000 IDR ($5.74) for 2; Watch the video here.
20. Nasi Liwet (Javanese rice)
Similar to nasi uduk, nasi liwet is a traditional Javanese style of cooking rice that includes coconut milk and chicken broth, with the fragrance of bay leaves and lemongrass. It's common to eat nasi liwet along with a variety of side dishes and extra coconut cream.
When I was in Indonesia, Ken and Gracia from Cowokrakus invited me to experience an authentic local Sundanese nasi liwet feast at their home in Bogor, about an hour from Jakarta. The rice was extremely fragrant, and along with the coconut milk, it was also mixed with little fried fish to give it another added dimension of taste and texture. We ate off a communal banana leaf, piled with side dishes like grilled chicken, and a variety of curries, and fresh herbs and vegetables to garnish. It was one of the most memorable Indonesian meals I've ever had.
Where: I had this dish home cooked, but do you know of any good restaurants? I would love to hear from you in the comments section at the bottom of this post.
21. Nasi Campur (mixed rice)
Nasi campur literally just means mixed rice, and in Malaysia is typically refers to local Malay style rice and curry. But in Jakarta when you mention nasi campur it often refers to rice with a variety of Chinese meats like char siu, pork belly, roast chicken, or egg, all served with sweet tangy sauce – very similar to Thai khao moo daeng.
I had a couple plates of nasi campur in Jakarta, and each time they were both good, a good dish to eat if you enjoy rice and pork with a sweet and savory sauce.
Where: Nasi Campur Yung Yung 99 is one of the well known restaurants in Jakarta. Address: Ketapang Business Centre Blok A22, Jalan KH. Zainul Arifin, Jakarta; Open hours: 9 am – 8 pm daily; Prices: 30,000 IDR per plate.
22. Bubur Ayam (chicken congee)
Every country around southeast Asia has their own version of rice porridge (congee) a result of the massive Chinese influence across the continent. In Indonesia bubur ayam, chicken rice porridge, is one of the very common street food dishes.
The rice is cooked so it's thick and hearty, yet easy to go down, and while it can be prepared with any assortment of toppings, chicken is one of the most popular. At Bubur Ayam, one of the most famous spots in Jakarta for rice porridge, a bowl comes topped with shredded chicken, and you often eat it along with skewers of fried chicken heart and other organs.
Where: Bubur ayam is a very common Jakarta street food, but I tried it at Bubur Ayam Barito. Address: Jalan Gandaria Tengah 3, Kramat Pela, Kebayoran Baru, Jakarta; Open hours: 4 pm – 12 am midnight daily; Prices: 42,000 IDR ($3.13) for 2 bowls, 2 skewers of organs.
23. Nasi Bali /  Babi Guling (roast pork)
Nearly every region of Indonesia has their own unique mix of rice eaten with a variety of different side dishes. The island of Bali, with its mostly Hindu population, has a unique variety of food, especially because (unlike other parts of Indonesia apart from Chinese and Christian populations), pork is popular.
Balinese cuisine makes use of lots of flavorful spices and herbs like ginger, garlic, shallots, and an abundance of chilies. One of the most famous dishes in Bali is babi guling, roasted crispy pig. If you're in Bali, there's a well researched post about the best babi guling in Bali on Travelfish.
Where: Undoubtedly, the best place to eat Balinese food is in Bali, but if you're in Jakarta, I had a great Balinese plate at Little Ubud restaurant. Address: Ruko Cordoba, Blok G No. 2, Bukit Golf Mediterania, Jl. Marina Indah Raya, Pantai Indah Kapuk, Jakarta; Open hours: 10 am – 11 pm daily; Prices: About 35,000 IDR per plate.
24. Nasi Padang (Padang rice curry)
Probably one of the most famous meals to be associated with Indonesia is Nasi Padang, a mix of rice and side dishes, originally from the Padang in western Sumatra. I've included Nasi Padang on this food list because it's such an important meal, however, I've also included a few of the common dishes within Nasi Padang below in this list as well.
On my first trip to Sumatra back in 2009, I had a meal of Nasi Padang that hit every note of my tongue, and I will never forget how sensationally flavorful it was. To this day, Nasi Padang remains one of my favorite meals in the entire world. Padang food is known for being flavored with fresh curry pastes that include ingredients like galangal, turmeric, kaffir lime leaves, garlic, shallots, and lots of herbs, combined with rich curries and coconut milk.
There are two main ways Nasi Padang is served. If you go to a small food stall, you're typically dished a plate of rice and can choose from the variety of different dishes available which are places on top of your individual plate (it's called pesan in Indonesian). But if you go to a more established indoor Nasi Padang restaurant they will serve you about 20 different dishes on your table, and you pick and choose the dishes you want, only paying for the dishes you eat (this is called hidang).
Where: There are countless Padang food restaurants in Jakarta, but one of my favorites was Rumah Makan Surya. Rumah Makan Surya Masakan Padang; Address: Jalan Bendungan Hilir Raya No.15, Bendungan Hilir, Jakarta; Open hours: 9 am – 8 pm daily; Prices: I paid 165,000 IDR ($12.52) for a bunch of dishes; Watch the video here.
25. Woku (Manado soup curry)
Technically, woku is an Indonesian Sualwesi blend of different spices and herbs like chilies, lemon basil, shallots, garlic, and tomatoes, that's usually prepared with fish or chicken, and can be the consistency of anywhere from soup to more dry. When I had my first bowl of woku, it was a bit of a life-changer, one of those dishes that's so dramatically flavorful, there's nothing you can do but close your eyes and enjoy it.
Woku is both spicy and heavy on the herbs with a distinct taste of lemon basil, giving the entire dish a refreshing, yet hot and spicy, sensation. After spending 3 weeks in Jakarta and eating Manado food a number of times, I can safely say woku is one of my favorites Indonesian foods.
Where: Any Mandado food restaurant will have woku. In Jakarta, I enjoyed the version at Ikan Tude Manado; Address: Jalan Blora No. 28-29, Menteng, Jakarta; Open hours: 8 am – 11 pm daily; Prices: 325,000 IDR ($24.57) for 4. Watch the video here.
26. Rica-rica (Manado dish)
Just like woku, rica-rica is a popular blend of chilies and herbs that originates from Northern Sulawesi. But while the different versions of woku that I had were more turmeric heavy and usually cooked a bit soupy or watery, the versions or rica-rica I experience were more dry, like a sauce, teeming with red chilies, shallots, and tomatoes.
Rica-rica definitely has a bit of sweet and sour tasting components to it, but while being spicy, and full of chunky tomatoes at the same time. You'll find recipes for rica-rica using different types of meat, but the most popular is ayam rica-rica, with chicken.
Where: I had a good Manado meal at Brama Kusu; Address: Jalan Panglima Polim Raya South Jakarta; Open hours: About 11 am – 8 pm daily; Prices: 167,000 IDR for my wife and I for a full meal.
27. Gulai Kepala Ikan (fish head curry)
When I published my Singapore food guide, I received a few comments from Indonesians saying, "you have to come to Indonesia to try our fish head curry." And so there was no way I was going to miss out on Indonesian fish head curry.
Fish head curry is a pretty general term, and whole fish are eaten around Indonesia, so I guess I would classify a dish as a fish head curry when the head is the dominant piece of the fish included in the dish. You'll find fish head curry as some Nasi Padang and Sumatra restaurants, and the best fish head curry I had was at Medan Baru Restaurant in Jakarta. The fish head was covered in one of the most creamy coconut curries I've ever experienced in my life – it was unbelievable.
Where: Rumah Makan Medan Baru; Address: Jalan Krekot Bunder No. 65, Pasar Baru, Sawah Besar, Jakarta; Open hours: 9 am – 9 pm daily; Prices: Ou total bill was 406,000 IDR ($30.69) for many dishes and a huge fish head. Watch the video here.
28. Gulai Otak (brain curry)
Usually available at restaurants that serve Nasi Padang, gulai otak is curry where the main ingredient is brain. You'll find goat and lamb brains, but one of the most popular Padang versions is cow brains, which are cooked in a spice riddled creamy curry sauce.
Cow brains are intensely rich and creamy, and to me it's pretty unbelievably delicious, but at the same time, it's one of those foods that you just don't want to overdose on, or run the risk of overdoing it. For me, that means about 1 – 2 chunks. When you bite into a Padang cow brain curry, the creaminess will completely overwhelm your mouth, it's similar to panna cotta in texture, completely silky smooth.
Where: They will typically have gulai otak at any Nasi Padang restaurant. I had a good version at Nasi Padang Sari Bundo; Address: Jalan Ir Juanda No. 27, Jakarta; Open hours: 8 am – 10 pm daily; Prices: 207,000 IDR for 2 of us and we ate about 8 dishes.
29. Beef Rendang (rendang)
When CNN took a survey to come up with the world's best foods, Indonesian rendang is the dish that took the number 1 spot. Although some things on the list (potato chips?) are questionable, I'm quite alright with rendang being the winner. Rendang is truly an outstandingly delicious Indonesian food.
Often made with beef, rendang is a dish that originates in the western part of Sumatra from the Minangkabau people, and is commonly served at Nasi Padang restaurants. Rendang is popular across Indonesia and also in Malaysia and Singapore.
There are two main variations of rendang, one that's quite dry (this is supposedly the original authentic version), with all the spices coated onto the meat, and another that has a more of a curry gravy sauce to it. Both are fantastic, depending on your preference; I don't think I can pick a favorite.
In order to make rendang, spices like cinnamon, star anise, cardamom, and dry chilies, garlic, and shallots are cooked with the meat. Where the recipes differs from other curries is that one of the key ingredients is desiccated coconut, which gives the rendang curry a grainy texture of the dry coconut, mixed with all the incredible spice flavors.
Where: Again, this is a dish available at Nasi Padang restaurants throughout Indonesia. Rumah Makan Surya Masakan Padang; Address: Jalan Bendungan Hilir Raya No.15, Bendungan Hilir, Jakarta; Open hours: 9 am – 8 pm daily; Prices: I paid 165,000 IDR ($12.52) for a bunch of dishes.
30. Jengkol Pedas (jengkol chili, djenkol)
Although jengkol beans, which grow in a pod, are commonly eaten throughout Southeast Asia, and a delicacy in Indonesia (and I have to admit that I really love them) they are potentially poisonous due to their jengkolic acid.
Jengkol beans are eaten in a variety of ways, and when I'm at home in Thailand, I typically eat them raw like a garnishing nut or vegetable. But when I was in Jakarta, I enjoyed jengkol beans a few times, once while eating an amazing home-cooked Sundanese meal, and another time at a Betawi restaurant, a dish called jengkol pedas. When jengkol beans are cooked, they are starchy, kind of like potatoes, but with a gummy texture.
Where: Warung Mak Dower serves Betawi food in Jakarta, and I was especially impressed with the jengkol pedas. Address: Jl. Pemuda No. 72, Rawamangun, Jakarta; Open hours: 9 am – 9 pm daily; Prices: 140,800 IDR for a full spread of dishes.
31. Petai (stink beans)
Along with djenkol, there was no way I could leave petai, or stink beans, off this list of best Indonesian foods. Petai are little green colored beans that grow in a tree within twisted pods.
While petai itself is often cooked in a curry or stir fried with ikan bilis and lots of chilies, it's also eaten raw and dipped into sambal, or the entire stink beans pod is either grilled or deep fried and eaten like candy (at least for me, they are like vitamin candies to me). Most of all though, I just included petai on this list because it's one of my personal favorite things to eat in the world and they are extremely common and popular in Indonesian cuisine.
Where: Anywhere you see the beautiful green twisted pods, they will be available. You can order them in curry, grilled, fried, or raw.
32. Nasi Gule Solo (organ stew)
Walking around a neighborhood one morning in Jakarta I saw a friendly man selling Nasi Gule Solo from his street food cart, and so I had to stop and immediately have a bowl. The gule he was serving was sort of a cross between a soup and a curry, and his version was made with goat organs.
Balancing my plate of gule and a plate of rice and crackers on a couple of plastic stools, I enjoyed some chewy goat with a mild yet soothing curry. With the friendliness of the Indonesian uncle selling the gule, it was a wonderful food experience. Nasi Gule Solo is originally from Solo, also known as Surakarta. It's a mild curry, and goes great with rice. You'll find carts all over especially South Jakarta that serve Gule Solo.
Where: I noticed lots of Nasi Gule Solo street food carts in the Gandaria area of South Jakarta, and that's where I tried it, just a short walk from Gandaria City Mall.
33. Rawon (beef stew)
Another one of the traditional Indonesian dishes, originally from eastern Java, is rawon, a black colored beef stew. When I had my first taste of rawon, I immediately fell in love, and I knew I wanted to learn more about this exquisite and interesting dish.
Along with pieces of beef, one of the most important ingredients in cooking rawon is keluak (or kluwak), a nut that I had only previously eaten in a Peranakan dish. Keluak has a taste that reminds of dark chocolate, but more nutty, even with a hint of a rye taste. Beef rawon is served soup with rice, and complemented with baby bean sprouts, a squeeze of lime, and sambal.
Where: Nasi Gandul Bu Endang; Address: Jalan Pesanggrahan No. 14, Puri Indah, Jakarta; Open hours: 8:30 am – 10 pm daily; Prices: 148,000 IDR for 4 people, and we ate a few different dishes.
34. Gudeg (stewed jackfruit)
Considered to be the one of the national dishes of Yogyakarta (Jogja), gudeg is young jackfruit that's braised with palm sugar, coconut milk, bay leaves, lemongrass, and galangal, until it's extremely tender, and blended together.
Gudeg Jogja as it's sometimes called, is served with rice as a main dish, but accompanied with a few other common side dishes that include chicken, and curried cow skin. While I couldn't eat gudeg very often because it's a sweet dish, I did really enjoy the amazing texture of the young jackfruit after being cooked for so long.
Where: Nasi Gandul Bu Endang; Address: Jalan Pesanggrahan No. 14, Puri Indah, Jakarta; Open hours: 8:30 am – 10 pm daily; Prices: 148,000 IDR for 4 people, gudeg was alright, but my favorite was the rawon.
35. Plecing Kangkung (water spinach salad)
Originating from the island of Lombok (also where ayam Taliwang comes from), plecing kangkung is a vegetable based salad made with water morning glory, which is topped in a spicy chili and shrimp paste sambal.
When I ate plecing kangkung, I immediately loved it because the water morning glory was still fresh and crisp, while the sambal on top was spicy, with a nice balance of shrimpy saltiness from the shrimp paste. It goes really well with rice and grilled chicken.
Where: In Jakarta I had it at Ayam Taliwang Rinjani. Address: Jalan Pesanggrahan Raya No. 50, Puri Indah, Jakarta; Open hours: 10 am – 10 pm daily; Prices: I ate 3 chickens for 165,000 IDR ($12.39) plus this salad.
36. Daun Pepaya (papaya leaves)
Daun pepaya, or papaya leaves, are commonly eaten in a number of different ways throughout Indonesia. Papaya trees and their leaves are easy and fast to grow, and the leaves are full of nutrition. They have a little bit of a bitter taste to them.
If you eat Indonesian food at a Padang restaurant, you might see papaya leaves which are either blanched or steamed and served with a simple chili sambal sauce. But one of the versions I loved the most was at a Manado, Sulawesi restaurant, where they sautéed papaya leaves with papaya flowers. They tasted bitter and floral, which I thoroughly enjoyed.
Where: Ikan Tude Manado; Address: Jalan Blora No. 28-29, Menteng, Jakarta; Open hours: 8 am – 11 pm daily; Prices: 325,000 IDR ($24.57) for 4.
37. Gulai Daun Singkong (curry cassava leaves)
I grew up for a number of years in Congo with my parents, and one of the dishes we ate nearly everyday was cassava leaves, sometimes cooked with peanuts, and I used to love them.
So I was very glad that a common type of leaf vegetable you'll find in Indonesian cuisine are cassava leaves. Cassava leaves are actually toxic if you eat them raw, but they are delicious when cooked, and have a slight leathery texture to them.
Where: The best curry cassava leaves I had in Jakarta was at Rumah Makan Medan Baru; Address: Jalan Krekot Bunder No. 65, Pasar Baru, Sawah Besar, Jakarta; Open hours: 9 am – 9 pm daily; Prices: Ou total bill was 406,000 IDR ($30.69) for many dishes.
38. Bakpao and Kopi (baozi and coffee)
Indonesia is such a dominant producer of coffee, and when you're in Indonesia you're in for some delicious coffee. And there's almost nothing I can think of that goes better with coffee than a freshly steamed bakpao, or the Indonesian variation of a Chinese baozi.
Along with an abundance of higher end artisan modern coffee shops throughout Jakarta, there are also some excellent traditional shops (kopitiams). One of the places I tried, located in Kelapa Gading, looked pretty ordinary from the outside, but I was impressed with the smooth black chocolatey tasting coffee they served. For modern style coffee shops in Jakarta, check out the extensive Eats and Treats blog.
Where: Kedai Kopi & Bakpao Kwang Koan; Address: Kelapa Gading, Jakarta (more info here); Open hours: 6 am – 1 pm on Saturday and Sunday, 6 am – 3 pm on Monday – Friday.
39. Gado-gado (peanut sauce salad)
Gado gado, which is a vegetables and compressed rice salad, made with peanut sauce (or cashew nut sauce) dressing, is one of the most common Indonesian street foods available. Although technically a salad or mix, gado gado, especially when it contains compressed rice cakes, is actually quite filling and can be eaten as a main dish, or a snack.
When you step up to a street food cart that serves gado gado, the vendor will first mix up the peanut sauce on a flat slightly rounded stone mortar. Once the sauce is ready, a mixture of steamed vegetables like bean sprouts, water morning glory, and long beans, along with tofu, soybean cakes, and sometimes lontong (compressed rice cakes). The nut sauce makes the salad rich hearty, while the vegetables contribute a mix of different textures.
Gado gado is served at all different types of Indonesian restaurants, but according to this article on the Wall Street Journal, it's traditionally served as a street food, specifically from mobile kaki lima street food carts. Around Jakarta, anytime you see gado gado written on the side of a food cart, you can grab a stool and order, sit and enjoy. Also, gado gado is one of the few vegetarian dishes commonly available.
Where: Gado-gado is one of the most famous and common Jakarta street food dishes and you'll find it everywhere. There's a guy called Andy, who sets up outside of City Walk Sudirman mall, and he a delicious version. Watch the video here.
40. Mie Goreng (fried noodles)
Mie goreng (also spelled mee goreng or mi goreng) are Indonesian stir fried noodles, usually prepared with yellow noodles. Although Chinese influenced, mie goreng in Indonesia have a definite Indonesian taste, usually including a good dollop of sambal chili sauce in the mixture.
The yellow noodles are stir fried in a hot wok with plenty of oil, garlic, egg, and a combination of extra ingredients that can include cabbage, tomatoes, kailan, onions, and any choice of meat. Mie goreng is commonly available as an Indonesian street food dish, and is also popularly made with Indomie instant noodles.
Where: Many of the same street food stalls that sell nasi goreng (fried rice) can also make mie goreng. For a sit down street food version, I enjoyed it at Sin Moy Kong Chinese Food; Address: Jl. Mangga Besar Raya No.124 A Sawah Besar Kota, Jakarta; Open hours: 4 pm – 12 am midnight, closed on Sunday; Prices: 189,000 IDR ($14.31). Watch the video here.
41. Ketoprak (peanut sauce salad)
Another common Indonesian dish based on peanut sauce is ketoprak, a Jakarta originating dish that includes pieces of tofu, and rice vermicelli noodles, all flavored with sweet salty peanut sauce.
When I was in Jakarta, one day I went to one of the most well known spots in the city for ketoprak, a small little shop in the neighborhood, that stays busy from the moment they open – and they often have a long line around mealtimes. After making a batch of their special peanut sauce, they fried some tofu, chopped it on a plate with some bean sprouts, doused it in the peanut sauce, and finished it with a fried egg.
Where: Ketoprak is available all over Jakarta, but for a famous version go to Ketoprak Ciragil; Address: Jalan Ciragil II Blok Q No. 24, Kebayoran Baru, Jakarta; Open hours: 9 am – 6 pm daily; Prices: 20,000 IDR ($1.49) per plate.
42. Tempeh (fermented soybean)
Tempeh (which is also spelled tempe) is a preserved soybean cake, that's kind of similar to tofu, but it uses whole soybeans and it's fermented in a loaf sized shape. Tempe is very nutritious, packed full of protein and fiber.
One of the most common ways tempe is cooked is deep fried or pan fried. It can be eaten as a snack, or as a part of a greater meal, and dipped into sambal chili sauce for extra flavor. To me, tempeh often has a slight sour taste, and a starchy texture. And also because of its protein content and vitamins it makes a great meat substitution, so it's a favorite Indonesian vegetarian food.
Where: You'll find tempeh from street food carts to restaurants, especially restaurant that specialize in deep fried items.
43. Gorengan (deep fried snacks)
Gorengan refers to street food stalls that serve all kinds of deep fried fritters, some of which are battered, and other not. You'll find pisang goreng (deep fried bananas), fried stuffed tofu, bakwan (veggie batter fritters), fried cassava, fried breadfruit, and the list goes on.
When you're in Indonesia, eating from a gorengan cart is not the healthiest choice as the oil is often not so clean and there is question as to what's included in the batter occasionally so it remains so crispy despite the humidity, but as an occasional snack, the offerings at a gorengan cart can be very tasty. I especially like fried breadfruit, which is just slices of breadfruit (no batter), lightly salted, and deep fried.
Where: Look for street food carts that say Gorengan, and you'll also see a mountain of golden fried fritters.
44. Pempek (fishcakes)
One of the prized Indonesian foods originating from Palembang (in the south of Sumatra), pempek is a unique type of fishcake, that's very popular as a snack in Jakarta as well.
The recipe for the fishcakes or fish balls not only includes pureed fish, but also tapioca starch to give it a chewy bouncy texture. The pempek are then usually deep fried (although you can get them grilled as well), and served with noodles and a sauce that's sweet, salty, and sour. I have never been a huge meatball / fishball fan, but I have to admit that pempek was pretty good. I loved the bouncy texture and the flavorful sauce they are eaten with.
Where: I had pempek at a restaurant called Pempek Palembang & Otak – Otak 161 and they have multiple locations around Jakarta; Address: Jalan Boulevard Raya Blok FW I No. 26, Kelapa Gading, Jakarta; Open hours: 11 am – 8 pm daily.
45. Siomay (dumplings)
Soimai is a popular Indonesian food snack that has roots in China, but has been transformed as an Indonesian dish. Typical vendors that sell siomay have a steamer full of different ingredients including siomay, tofu, and a variety of fishcakes and stuffed items. Siomay can either be made with fish or sometimes shrimp or pork.
The siomay are dished onto a plate, and the Indonesian flavor touch is that they are served with a sweet and savory peanut sauce and some sambal to bump up the heat.
Where: In Glodok, Jakarta's Chinatown, you'll find many bicycle vendors that sell hot plates of siomay. But also throughout Jakarta it's a popular street food.
46. Asinan (pickled vegetable salad)
Asinan is a snack that includes pickled fruits or vegetables, but in a number of different forms and styles depending on which region of Indonesia you're in.
When I was hanging out with Hey Theresia, a local Indonesian food blogger, we stopped for a plate of Asinan Betawi, a Jakarta version of asinan. The vendor chopped up a bunch of pickled and blanched vegetables, then added on a couple of fried noodle crackers, and then doused the snack in a sweet and salty fruity tasting sauce. It was a very interesting mix, including lots of sour and salty flavors.
Where: Right outside the entrance of Ragusa Es Italia ice cream shop; Address: Kav 3-5, Komplek Pertokoan Duta Merlin, Jalan Gajah Mada, Jakarta, Indonesia (not far from the National Monument in Jakarta).
47. Kerak Telor (rice egg snack)
Kerak telor is an old style Betawi Indonesian food, that includes both sticky rice and egg, fried in a pancake or omelette shape and topped with fried shredded coconut and fried shallots. I personally think it's one of the most interesting and fun snacks to watch being prepared.
In order to make kerak telor, the vendor takes a handful of soaked sticky rice and places it on the bottom of a charcoal heated wok. An egg goes in, and then at just the right time, the entire wok is flipped over (and somehow the rice cake miraculously doesn't fall out) and roasted over the fire. For me, this was one snack that was more fun to watch being made than to eat.
Where: You'll often find kerak telor at public areas like around the National Monument in Jakarta and Fatahillah Square in mid to late afternoon.
48. Martabak Manis (sweet martabak)
Possibly one of the craziest desserts I've ever seen made in my life, martabak manis is a sweet waffle like cake, that's smothered in butter (or margarine), sugar, cheese, chocolate, or a variety of other fillings of choice, and eaten like a cross between a pancake and a birthday cake. It's insane.
I'm not really a sweets kind of guy, but martabak manis is definitely one of the most famous Indonesian desserts, and just because it's so crazy, it's something that should not be missed when you're Jakarta.
Where: Martabak 65A is one of the original and most popular places in Jakarta; Address: Jalan Pecenongan Raya No.65A, Jakarta; Open hours: 5:30 pm – 12 am midnight daily; Prices: 90,000 IDR ($6.71) for an entire giant martabak.
49. Durian (King of Fruits)
Similar to stink beans, I just couldn't leave durian off this food guide because I think it's just one of the ultimate natural things in the entire world… and it's definitely considered the King of Fruits in Indonesia. Jakarta is not nicknamed "the Big Durian," for no reason.
You'll find an abundance of fresh durian around Jakarta, many of which come from Medan or Palembang, or other islands as well. Along with eating a fresh durian, there are also many different durian treats, like durian cake, durian ice cream, and the very popular and refreshing es campur durian, durian flavored mixed shave ice. Also, be sure to check out my friend Lindsay's amazing Jakarta durian guide.
Where: I had a few Medan and Palembang durians along Mangga Besar road in the evening.
50. Sambal (chili sauce)
Although I have already mentioned sambal dozens of times in this food blog, I think due to its importance in Indonesian cuisine (and my personal love and obsession for it), it's one of the most important components of many Indonesian meals – either in the cooking or served as a side sauce.
There are about as many different recipes or types of sambal as there are islands in Indonesia, but a classic sambal might include chilies, garlic, shallots, and other local ingredients, all puréed using a mortar and pestle. Some sambals are spicy and salty, others are more sweet, and some sambals are based upon local herbs and spices only available in that specific region.
You'll find sambal on the table of just about every restaurant in Indonesia you eat at, and if they don't have any available, if you ask for some, they will make a simple sambal as soon as you ask. To me, sambal is something I look forward to consuming with every Indonesian meal. And it's not only because I'm a chili lover, but also because I think the diversity and variations of different sambals is a reflection of just how diverse Indonesia and its food are.
Where: You'll be served sambal with just about any Indonesian food you eat in Indonesia… that's part of the reason why I love Indonesia so much.
Conclusion
What I love so much about Indonesian food are the fresh and vibrant ingredients that go into the cooking – the chilies, garlic, shallots, lemongrass, lemon basil – and the list goes on. The combinations of these ingredients is what makes Indonesian cuisine so spectacular.
This guide to 50 of the best Indonesian foods is only a small sample of the multitude of dishes available for you to try in Indonesia, and I hope at least it's made your mouth water a little bit!
RELATED: You might be interested in my Jakarta Travel Guide for Food Lovers – Get information on where I stayed, things I did, and safety information.
Now, I would love to hear from you!
What is your favorite Indonesian food? Leave a comment below now!
Do you travel for food?
Let's stay connected! Enter your name and e-mail, and click Subscribe!, and I'll send you delicious food and travel updates you don't want to miss…
Get exclusive updates
Enter your email and I'll send you the best travel food content.